Virtual Headquarters Provider Roam Takes Another Big Step Forward in Helping to Craft the Future of Work
Virtual Headquarters Provider Roam Takes Another Big Step Forward in Helping to Craft the Future of Work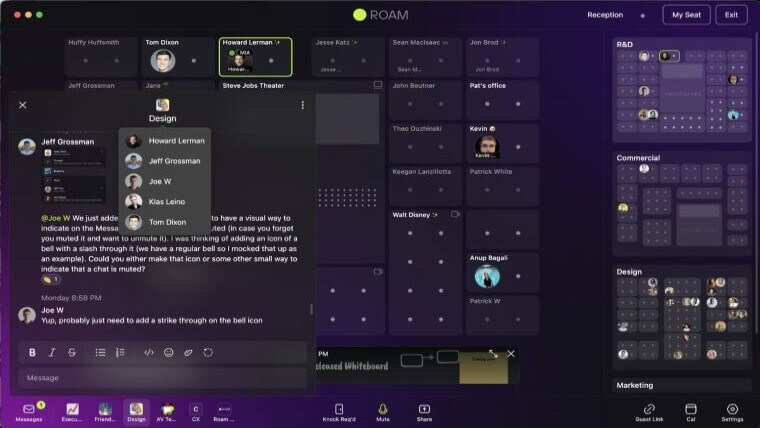 The News: Roam, a virtual headquarters service provider, has recently released a number of features and capabilities that bring it ever closer to its much anticipated general release. Enhancements to messaging (including groups, replies, and search) and new whiteboard capabilities join other recent addition to make interactions on the platform richer and more intuitive. See the release notes from Roam here.
Virtual Headquarters Provider Roam Takes Another Big Step Forward in Helping to Craft the Future of Work
Analyst Take: In recent weeks, Roam has continued to deliver on the fundamentals of modern remote meetings and messaging in a form factor that speaks to the message of virtual HQ solutions.
The virtual headquarters concept has existed for some time but has drawn increased attention as companies continue to struggle to maintain a sense of culture and purpose among distributed teams and hybrid work. The field of virtual HQ solutions offers a widely variant set of experiences, but Roam provides a purposefully familiar design layer on top of many of the communications tools in wide use today.
Roam Release Notes
Some notable enhancements and updates from Roam include the fact that meetings (both audio-only and video meetings), messaging, and sharing all exist within "rooms" organized into "floors" that are navigated in an area called the "elevator." The Roam platform's connection with the real world extends further into visible indicators of who is where and with whom they are meeting. These simple avatars provide workers with a sense of the action and flow in the office and an increased sense of connectivity. They can see client meetings happening, they can see that the Product team is huddled with engineering, and they can see if a coworker is interruptible or not, all of which supports the concept of spontaneous interaction and conversation that is essential to the lifeblood of culture and innovation in a company.
Roam's latest releases bring group chats, replies in threads, and search that spans all chats with people or groups. The Roam team recently also introduced a whiteboard capability that allows teams to prototype, wireframe and brainstorm collaboratively in their video meetings.
Roam Fills the Gap of Social Cohesion, Something Other Companies Have Largely Ignored
Many of the features in the Roam release would be considered table stakes in a modern unified communications solution, but that is actually what makes them interesting. The major communications platforms have largely left the problem of social cohesion to other companies and focused exclusively on the tools needed to work productively. Meanwhile, the virtual HQ providers have found that beyond the creation of a virtual space, they can bring customers the fundamentals of the major communications workloads (audio, video, and text) and expand their value prop without having to go head-to-head with the likes of Teams. The strategy appears to be working.
What's Ahead for Roam
What's ahead? With more than 2,000 customers currently paying for the service during their closed beta and more than 1,000 on the waitlist, the path ahead for Roam looks good. Some of the early analytics indicate that there's really something to this idea. Meetings in Roam average 8.7 minutes. Anyone that has existed in the collaboration software space for a while will tell you that the industry average is much closer to 50 minutes. This means that what is happening in Roam is somehow different. Users are using it for something else. It isn't hard to imagine that the primary difference is that Roam isn't a meeting tool in the traditional sense, but one that stimulates conversation in a much more natural way, and those conversations happen to be shorter on average than our legacy definition of meetings.
Virtual Headquarters is still a developing and maturing market. There will be bumps and twists and turns as product-market fit is ironed out. Just this week, one of the early pioneers in the space, TeamFlow, announced that they were pivoting and had sold the IP for their solution to another company. But Roam appears to have found a lane with real demand for a solution to a real problem. It will be exciting to see where this goes over the next 12ish months or so as the Roam team finishes some foundational feature work and builds to scale for the final push to GA. Looking forward to seeing what's next.
Disclosure: Wainhouse Research, part of The Futurum Group family of companies, is a research and advisory firm that engages or has engaged in research, analysis, and advisory services with many technology companies, including those mentioned in this article. The author does not hold any equity positions with any company mentioned in this article.
Analysis and opinions expressed herein are specific to the analyst individually and data and other information that might have been provided for validation, not those of Wainhouse Research as a whole.
Other insights from Wainhouse Research:
The Metaverse and Workplace Communications Series: Technologies Expected to Impact the Future of the Internet 
The Metaverse and Workplace Communications Series: Defining the Metaverse and Looking at Possibilities
Webex Calling Announces First Data Center in South America, Expanding Global Presence
The original version of this article was first published on Wainhouse Research.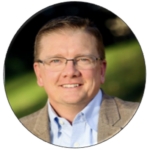 Sean Spradling is a Senior Analyst with Wainhouse — a Futurum Group company. His area of expertise is digital workplace communications technologies and services.