Twilio Delivers 65% Growth on Growing Demand for Customer Interaction
Twilio Delivers 65% Growth on Growing Demand for Customer Interaction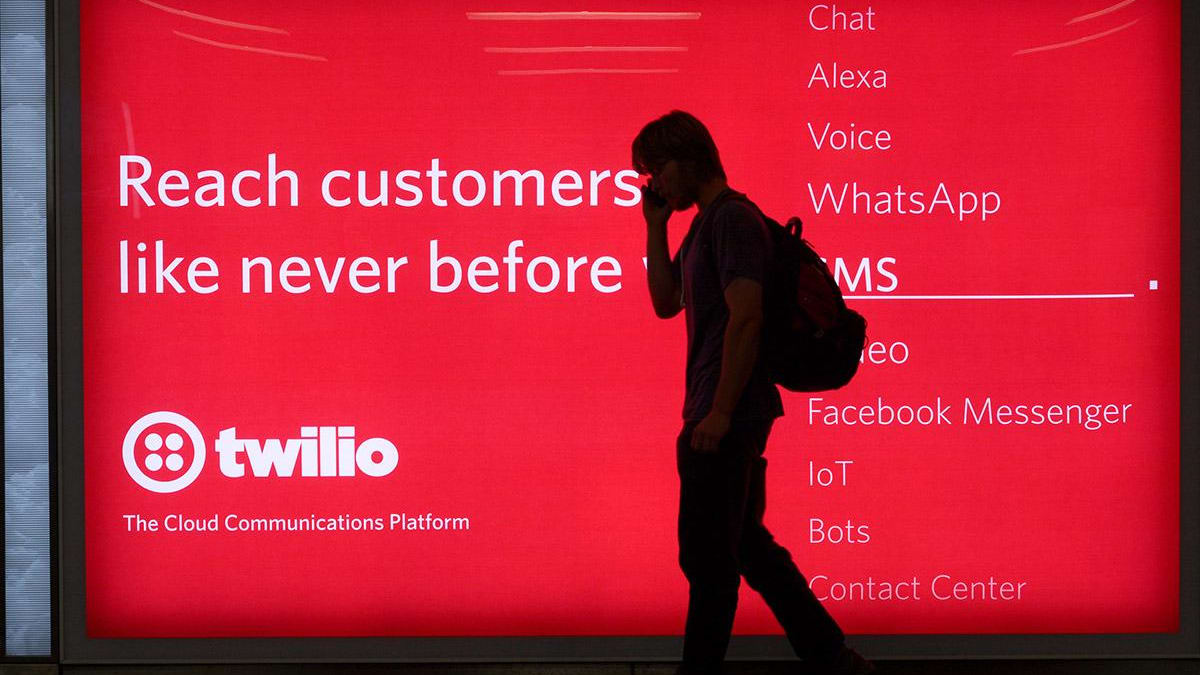 The News: SAN FRANCISCO–(BUSINESS WIRE)– Twilio (NYSE: TWLO), the leading cloud communications platform, today reported financial results for its fourth quarter and full year ended December 31, 2020.
Fourth Quarter 2020 Financial Highlights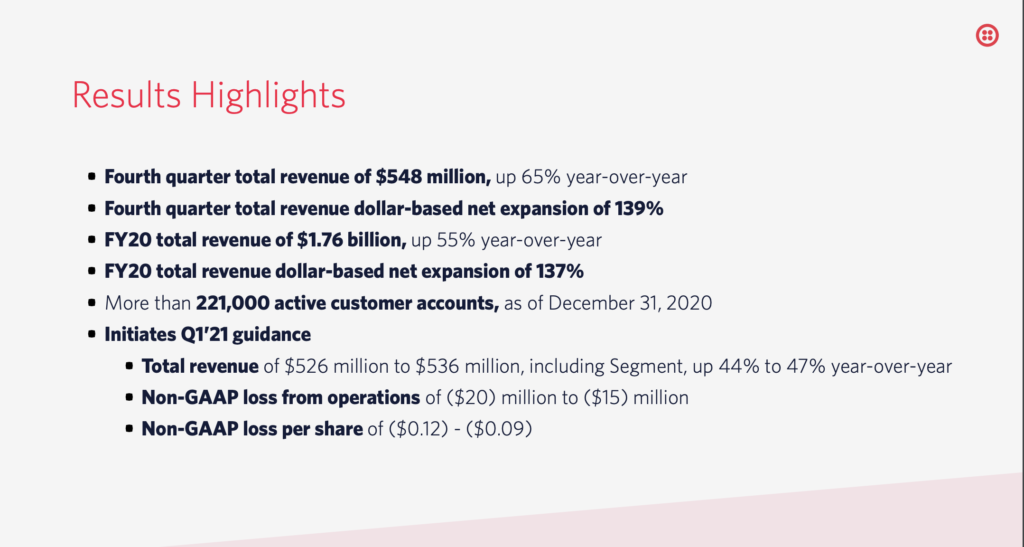 Read the full earnings release from Twilio.
Analyst Take: Twilio had a solid finish to its year as the need for brands to be able to optimize customer experience by delivering the right offer, at the right time, to the right customer served as a tailwind for Twilio.
With this tailwind, Twilio was able to significantly outperform the market delivering $548 million in revenue, representing 65% YoY growth for the quarter and $1.76 billion for the year, representing 55% YoY. 
For the 4th quarter, the company certainly benefitted from the elections that saw a material uptick in demand for Twilio services trying to reach voters at various phases leading up to November's national election cycle. 
Twilio Delivers Big Returns on Up-Leveling Customer Interactions
As this is our first earnings coverage for Twilio, I think it is important to take a moment to talk about the broader forces that are driving demand for Twilio, which has been a factor in the company's revenue growth but also in investor sentiment. The stock price is up over $453.00 today; one year ago, it sat around $123.00. This price action represents massive YoY growth, which has provided a tremendous return to investors. 
From a technology standpoint, Twilio is rapidly expanding from a platform to reach your customer via a simple text or voice message to a much more engaging platform that can do everything from outbound voice, video, text to full 360 degree customer optimization using the capabilities of Segment's CDP, which Twilio acquired in 2020 for ~$3.2 billion.
Twilio is built using a platform approach that enables its more than 10 million developers to build upon. The platform continues to be enhanced with more tools to allow developers to create more meaningful two-way engagement with customers with tools like Twilio Conversations, but also to use AI to augment human contact center interactions. 
I've never been a fan of just getting text offers, but no question, text versus email as a powerful way to get the right offer into the right hands at the right time, is a better mousetrap. 
Twilio Focuses on Big Wins, Big Customers, and Big Customer Insights 
With all of this in mind, I noted a few important take aways from Twilio's results this quarter. 
The company is winning more large deals with 7 figure deals up 93% 

The company is winning more important customers with names like JP Morgan and H&R Block turning to Twilio to solve customer engagement challenges.

Twilio identified a macro trend with the Segment CDP acquisition. CDP is a significant focus for big tech, including Microsoft, Oracle, SAP, Salesforce, and more.

WhatsApp was a disproportionately large percentage of Twilio revenue for a long time. Now that it has reached around only 5% and is being removed from being broken out, we see Twilio gaining important momentum and scale. 
Twilio Guidance Encouraging
Twilio only guides out one quarter, but the next quarter looks like growth acceleration is expected to continue with 44-47% growth over the previous year ($526-$536 million). Operating Loss on this revenue will be around $15-20 million as the company continues to pursue strong top-line growth. We saw this past quarter the company delivered a positive EPS result. Despite the guidance, I expect that the company's narrowing losses on a quarterly basis may very well be a sign of it approaching sustainable profitability with its next wave of revenue growth. 
It's important to note that political seasonality is removed from the YoY growth expectations. 
Overall Impressions of Twilio Q4 Results 
Twilio continues to find itself in the right spot in the market at the right time for growth. While not the only company tackling the customer engagement challenge, it certainly comes from the right place in terms of high-touch, real-time, attended human channels–essentially our mobile devices. 
The company saw massive growth over the past year, now able to tout more than 221,000 Active Customer Accounts as of December 31, 2020, compared to 179,000 Active Customer Accounts as of December 31, 2019. This growth represents more than 42,000 new customers in the calendar year and a clear sign of strong interest in digitizing customer engagement. 
With the goal to improve every interaction, I believe Twilio finds itself on the right track. The moves upmarket and the implementation of dynamic leading-edge technologies like AI and hyper-automation reflect its ambition to reach customers and enable the enterprise to differentiate customer experiences. All of which to say, the road ahead appears bright for Twilio. 
Futurum Research provides industry research and analysis. These columns are for educational purposes only and should not be considered in any way investment advice.
Read more analysis from Futurum Research:
Microsoft Q2 Delivers on Strength Across its Portfolio
Cisco Comes In Just Above Expectations for its Fiscal Q2
Qualcomm Shows Massive Year on Year Growth for the First Quarter
Image: Twilio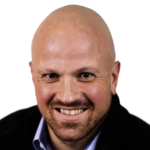 Daniel Newman is the Chief Analyst of Futurum Research and the CEO of The Futurum Group. Living his life at the intersection of people and technology, Daniel works with the world's largest technology brands exploring Digital Transformation and how it is influencing the enterprise. Read Full Bio