T-Mobile and Lucid Partner on Bringing IoT Connectivity to Next-Gen Lucid Industrial Spray Cleaning Drones
T-Mobile and Lucid Partner on Bringing IoT Connectivity to Next-Gen Lucid Industrial Spray Cleaning Drones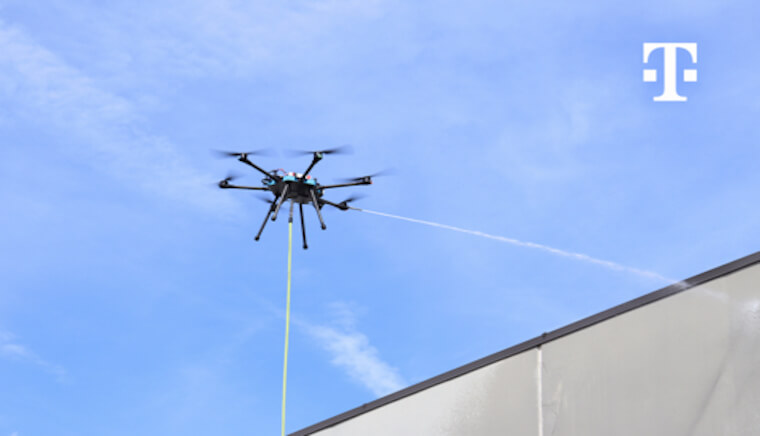 The News: T-Mobile and Lucid have partnered to bring IoT connectivity into Lucid's next-generation of powerful, commercial spray cleaning drones. Under the deal, Lucid is adding critical new IoT connectivity from T-Mobile to broaden the spray cleaning capabilities of its unmanned drones, which are purpose-built to remotely wash the exteriors of large commercial buildings, including windows. Read the full Press Release here.
T-Mobile and Lucid Partner on Bringing IoT Connectivity to Next-Gen Lucid Industrial Spray Cleaning Drones
Analyst Take: The partnership between T-Mobile and Lucid, bringing together the power of T-Mobile IoT connectivity with unmanned, specialty commercial cleaning drones from Lucid Drone Technologies is an innovative combination that shows imagination, foresight, and creative thinking.
Seeing and recognizing drones as IoT devices gives them broader potential and new possibilities — a smart and evolutionary idea for the drone marketplace. The idea of drones as IoT devices began surfacing in late 2020 as some early users began thinking of them as devices to be used for remote inspections and other tasks on buildings, bridges, communications towers, and other structures.
The T-Mobile and Lucid partnership on this front started with a challenging idea: Lucid wanted to expand its markets for its specialized cleaning drones by integrating deeper capabilities to enable commercial building maintenance workers to perform a wider range of exterior building cleaning tasks using remote techniques. With the addition of T-Mobile IoT connectivity, that mission will become possible as Lucid commercial cleaning drones will gain critical functions in the future so they can be flown by operators beyond their lines of sight by using fully featured control apps on smartphones, tablets or laptops.
Under the deal, T-Mobile's cellular network will provide connectivity that will power many of the critical data requirements of the Lucid drones, including real-time sharing of flight data, battery utilization information, hardware diagnostics for the drones in flight, and delivery of firmware and software updates. The connectivity of the commercial spraying drones, including network conditions and device behaviors, are slated to be viewed and managed with near real-time visibility using the T-Mobile Control Center platform.
Initially, the Lucid drones will use IoT data from T-Mobile's 4G LTE network, but plans call for future Lucid drones to leverage T-Mobile's faster and more powerful 5G network in the future. When the 5G connectivity arrives for the Lucid drones, that is when the line of sight flight operations will become possible for its commercial spray cleaning drones, according to the company.
We view this new collaboration between the two companies as a springboard to firmly get Lucid's dreams underway, which hopefully will be the beginning of this kind of creative thinking when it comes to a wide range of other potential uses for IoT-connected drones. Those could include using IoT-enabled drones in factories, industrial facilities, oil and gas operations, chemical plants and more. The commercial drone industry is a massive potential market and one that we are only at the nascent stages of beginning to tap into.
Smarter IoT-Connected Drones Can Also Boost Worker Safety
For the commercial cleaning industry, which includes property management and window washing companies, the T-Mobile IoT connectivity that is coming to Lucid's industrial spraying drones could be a significant aha moment. These industries have vested interests in these innovations because by enabling workers to conduct commercial spray cleaning operations remotely using human-controlled, IoT-enabled drones, risk can be mitigated. Workers can stay safer by no longer having to perform their work under dangerous conditions using scaffolding or rope and winch-operated window cleaning rigs and it's probably a solid bet that the drones can get the window washing done more expeditiously. Less risk, greater efficiency, reduced costs. Those are wins all the way around. We shall be looking forward to seeing a T-Mobile IoT-connected Lucid Industrial Spray Cleaning drone at an office building near us soon.
Disclosure: Futurum Research is a research and advisory firm that engages or has engaged in research, analysis, and advisory services with many technology companies, including those mentioned in this article. The author does not hold any equity positions with any company mentioned in this article.
Analysis and opinions expressed herein are specific to the analyst individually and data and other information that might have been provided for validation, not those of Futurum Research as a whole.
Other insights from Futurum Research:
T-Mobile Hits 100% Renewable Energy Goal: Boosts Sustainability Credentials of Mobile Industry
T-Mobile RE100 Milestone Elevates Clean Energy as a Key Consideration for Mobile Services
6G Technology Will Have a Major Impact on Devices, Materials, and Communications — Here's What's Ahead
Image Credit: T-Mobile