Salesforce Q3 2023 Revenues up 14% YoY
Salesforce Q3 2023 Revenues up 14% YoY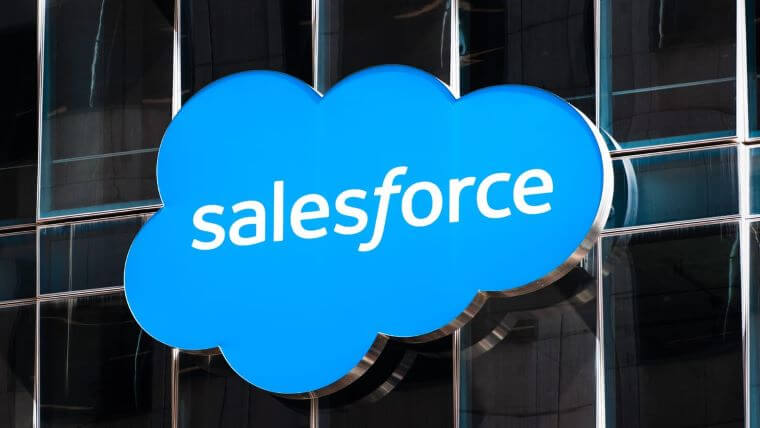 The News: Salesforce recently reported its Fiscal Q3 2023 earnings with the quarter ending on October 31, 2022. Revenues reached $7.8 billion which was up 14 percent on a year-over-year basis and 19 percent in constant currency. Read the Press Release from Salesforce.
Salesforce Q3 2023 Revenues up 14% YoY
Analyst Take: Salesforce had another good quarter with revenue up 14 percent year-over-year and 19 percent on constant currency that was in-line with analyst expectations. The company's non-GAAP operating margins were also up 22.7 percent and a nod to the management team's continued commitment to profitable growth. Like other companies in the technology sector, the company is facing a tougher macroeconomic climate coupled with greater impact to currency fluctuations. In fact, the management team indicated that certain markets experienced more pronounced headwinds such as the United States and the European region.
Here are the Salesforce Q3 2023 results by the numbers:
Salesforce Q3 2023 revenue of $7.84 billion, up 14 percent year-over-year and 19% in (C/C)
Subscription and Support revenues were $7.23, up 13 percent year-over-year
Professional services and other revenues were $0.60 billion, up 25 percent year-over-year
Non-GAAP operating margins were 22.7 percent
Non-GAAP diluted earnings per share of $1.40
Remaining performance obligation was $40.0 billion, up 10 percent year-over-year
Current remaining performance obligation ended was $20.9 billion, up 11 percent year-over-year
For its Fiscal Q4 2023 guidance, the company is now projecting its revenues to be in the range of $7.93 billion to $8.032 billion with year-over-year growth in the 8 percent to 10 percent range. For its full fiscal year 2023 guidance, the company is expected to be in the range of $30.9 billion to $31.0 billion or a 17 percent year-over-year growth rate. Non-GAAP earnings per share are expected to be in the range of $1.35 to $1.37.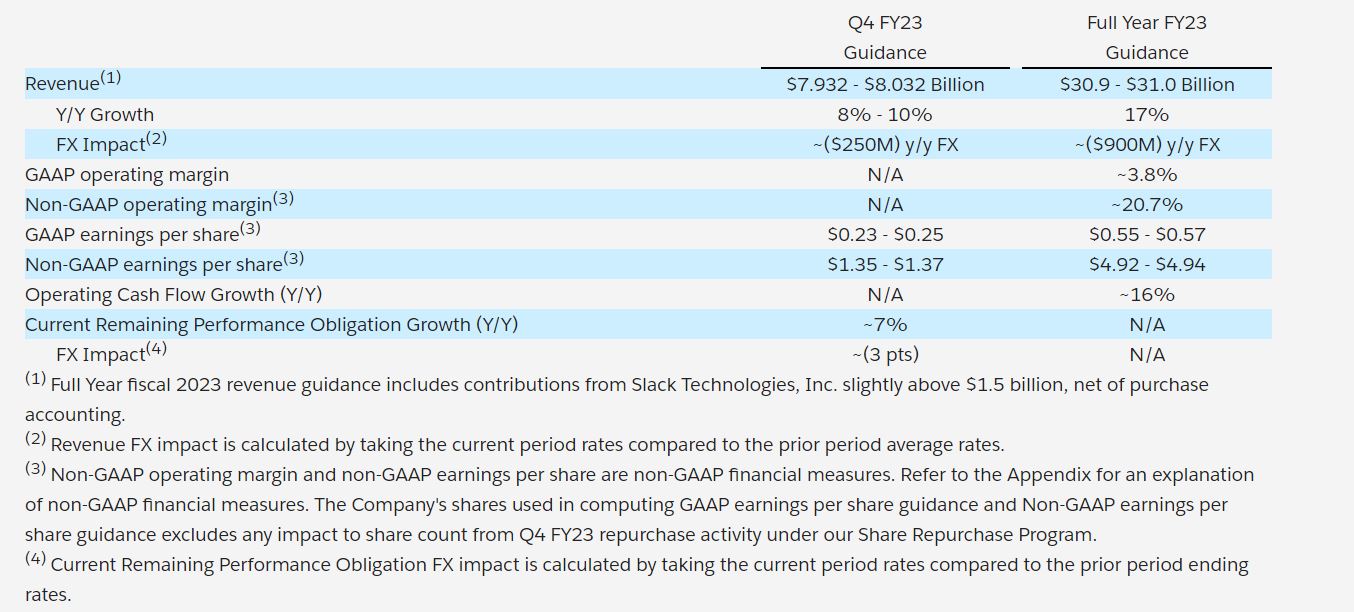 At a regional level, for Salesforce Q3 2023, the Americas, representing the bulk of the company's revenues, grew 16 percent year-over-year and in 16 percent constant currency. The European region, its second largest region, grew 10 percent year-over-year and 23 percent in constant currency followed by Asia Pacific, which grew 14 percent year-over-year and 30 percent in constant currency.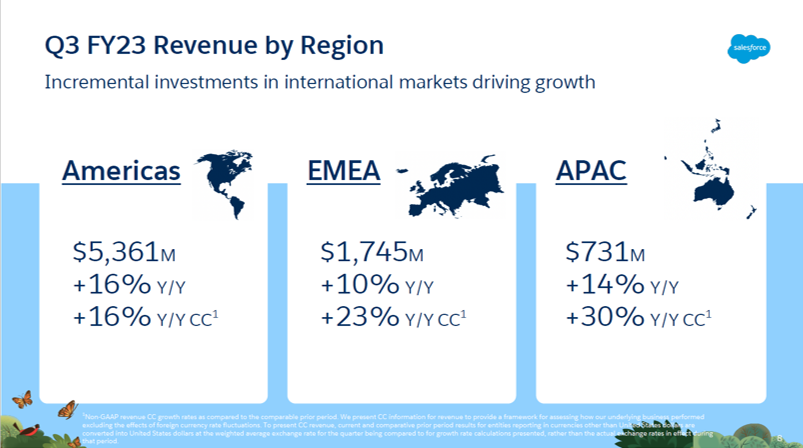 From a segment perspective, sales grew 12 percent year-over-year and 17 percent in constant currency while the service segment grew 12 percent year-over-year and 16 percent in constant currency. Platform grew 18 percent year-over-year and 22 percent in constant currency along with Marketing & Commerce grew 12 percent year-over-year and 18 percent in constant currency. Data grew 13 percent year-over-year and 16 percent in constant currency.
Although like others in the tech space and elsewhere, the company is facing a more challenging macroeconomic environment coupled with foreign exchange headwinds, Salesforce continues to gain impressive wins coupled with renewing existing contracts. In fact, in the last quarter, the company closed key deals such as Bank of America, RBC Wealth Management, and Dell Technologies to name a few. Our continued viewpoint remains intact: the company will continue to be one of the top cloud-based organizations in the future due to its critical nature of customer centricity and organizational collaboration. In fact, now, more than ever as the pressure of further economic malaise is upon us, it is imperative for organizations to remain closer to their customers than ever before.
Of import, the company also announced that Bret Taylor, co-CEO, will be stepping down in January. Taylor said the move is a desire to return to his entrepreneurial roots, but it's worth noting that this is the second co-CEO departure in a handful of years, which leads to the question whether this co-CEO arrangement with Salesforce CEO and founder Marc Benioff is the best path forward. While Benioff has declared an interest in doing more community, political, and philanthropic items, he is still the founder and carries tremendous influence both inside and externally. We do believe based upon the Keith Block transition that Benioff's return to the sole seat at the helm will be largely seamless—a transition that has come before, without much incident.
Also announced this week, Slack CEO, Stewart Butterfield, is departing the company after a few years and will be succeeded by Lidiane Jones, an executive vice president at Salesforce who joined the company in 2019. In an exclusive industry analyst briefing, Jones and Butterfield did a gracious transition of power with Butterfield sharing his transition being personal as he sought to step back and focus more on family. Jones, who has led the commerce, marketing, and experience businesses for Salesforce will be tasked with the important progression of the company's Slack + Salesforce strategy to compete more readily with Microsoft Teams, which has so far, out-executed Salesforce in terms of building the end-to-end collaboration, productivity, automation, and data suite. However, we remain confident that the Digital Headquarters vision that has been brought forward by Marc Benioff still has great potential.
Wrapping it up, Salesforce Q3 2023 by the numbers was largely a good quarter despite continued macroeconomic challenges coupled with fluctuations in currency that have impacted revenues. While revenue growth has slowed and sales cycles have elongated, the company beat expectations—however, trail historic growth rates that the market has become accustomed to. The company said that it remains committed to profitable growth, which is evidenced by its solid operating margins coupled with maintaining market share in the future. The future remains bright for Salesforce, although clearly there's a leadership transition that the company will need to address to cement investor, customer, and employee confidence over the next several quarters.
Daniel Newman and his co-host of The Six Five Webcast, Patrick Moorhead of Moor Insights and Strategy, discussed Salesforce earnings in their latest episode. Check it out here and be sure to subscribe to The Six Five Webcast so you never miss an episode.
Disclosure: Futurum Research is a research and advisory firm that engages or has engaged in research, analysis, and advisory services with many technology companies, including those mentioned in this article. The author does not hold any equity positions with any company mentioned in this article.
Analysis and opinions expressed herein are specific to the analyst individually and data and other information that might have been provided for validation, not those of Futurum Research as a whole.
Other insights from Futurum Research:
Talking AWS re:Invent, Marvell, HPE, Pure, Dell Technologies and Salesforce Earnings – The Six Five Webcast
Salesforce Genie Ready to Turn CRM into Data Powerhouse
Image Credit: pymnts.com