Qualcomm's Tiered SOC Diversification Pays Off, Expands Footprint
Qualcomm's Tiered SOC Diversification Pays Off, Expands Footprint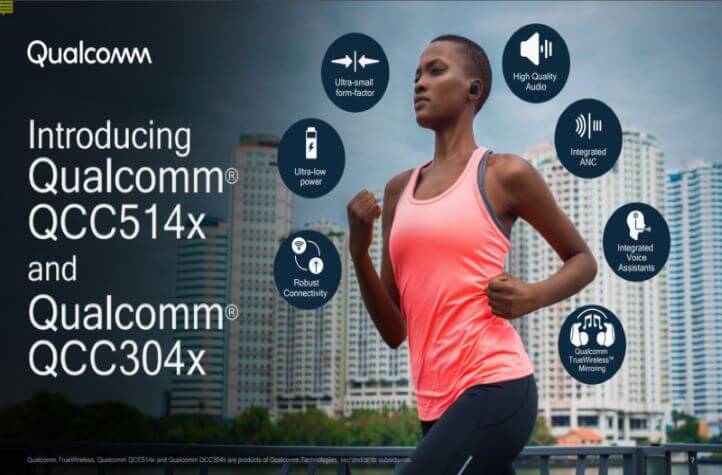 The News: Google (NASDAQ: GOOGL) and LG (LSE: LGLD) are reportedly considering not using Qualcomm's (NASDAQ: QCOM) premium 5G Snapdragon 865 SOC in their next batch of flagship phones. The companies may instead select Qualcomm's slightly more performance-streamlined 765G SOC, reportedly following a similar decision by HMD Global (Nokia) with its Nokia 8.3 smartphone. Moving away from the top tier platform is likely a cost issue. Read more at Gadgets360: Google, LG Could Ditch Qualcomm's Snapdragon 865 for Their Flagships
Google, LC Signal Move Toward Budget-Friendly High-End Phones
Analyst Take: The potential move away from Qualcomm's premium 5G Snapdragon 865 SOC as reported would signal that Google and LG might be leaving Apple and Samsung to fight for the top spot in the premium tier handset category. This move would allow Google and LG to focus instead on more budget-friendly high-end phones for consumers who enjoy premium features but don't need all of the bells and whistles of a $1,200+ phone. The decision to select Qualcomm's 765G mobile platform over the superior 865 mobile platform may initially seem like a setback for Qualcomm's flagship 5G SOC, but I don't think that's the case at all. Let's discuss.
Qualcomm's Addition of the Snapdragon 765G to its SOC Lineup is Well-Timed
For starters, price is an issue. We've seen these nods to budget-friendly consumers from smartphone makers in the past few years and, while there's undeniably a market for best-in-class devices with all the bells and whistles, there is also a solid customer base for more affordable, slightly lower-end models. As it relates to Qualcomm, I believe the company's decision to add the Snapdragon 765G to its SOC lineup may prove to be perfect timing. OEMs looking for more economically-priced high-quality 5G-compatible SOCs won't need to compromise on security or settle for the incomplete menu of features offered by mid-tier alternatives. They can still offer customers products that are best-in-class, featuring both security they can rely on and the features they seek.
More Snapdragon SOCs Equals More Market Share and Beachhead for Qualcomm
No matter which Qualcomm SOC various handset makers decide to build their flagship handsets around, their decision is a win for Qualcomm so long as they choose a Qualcomm chipset. Consider the alternatives: On the one hand, handset makers looking for a lower cost 5G-compatible option for their handsets could have decided to go with a Huawei or a MediaTek chipset instead, which might have meant missing out on mmWave compatibility and a variety of other Snapdragon features (and performance characteristics).
On the other, they might have opted for an older Qualcomm SOC — like the Snapdragon 855 —but doing so would have set them back a chipset generation, meaning missing out on significant improvements in battery life, AI, and processing power.
A More Diverse Menu of Snapdragon Chipsets is Better for Qualcomm, Better for Handset Makers, and Better for Consumers
In general, when it comes to product offerings, diverse offerings serve the greater good more often than not. If LG, Google, and HMD have a customer base to support it and want to build truly premium phones, they can. The Snapdragon 865 is there if they want it. When an OEM opts for the Snapdragon 765G instead of the 865, it speaks to the type of device that they aim to build and bring to market, and not to the value of one chipset over another.
Every OEM selects the components best suited to meet the needs of the types of devices that they want to build and the customer base for which they are building those devices.
If an OEMs selects an A- component over an A+ component, it stands to reason that this OEM probably aims to develop an A- device rather than an A+ device. And that's okay. They know their market and their customer better than anyone, and the choice is entirely theirs to make. Tiers exist for a reason, and Qualcomm was smart to not only recognize that, but create a new platform that addresses specific OEM needs that fall slightly outside of the premium category.
What's the Difference Between Qualcomm's Snapdragon 865 and Snapdragon 765G — Let's Take a Look
Here's a quick overview of the differences between Qualcomm's Snapdragon 865 and Snapdragon 765G —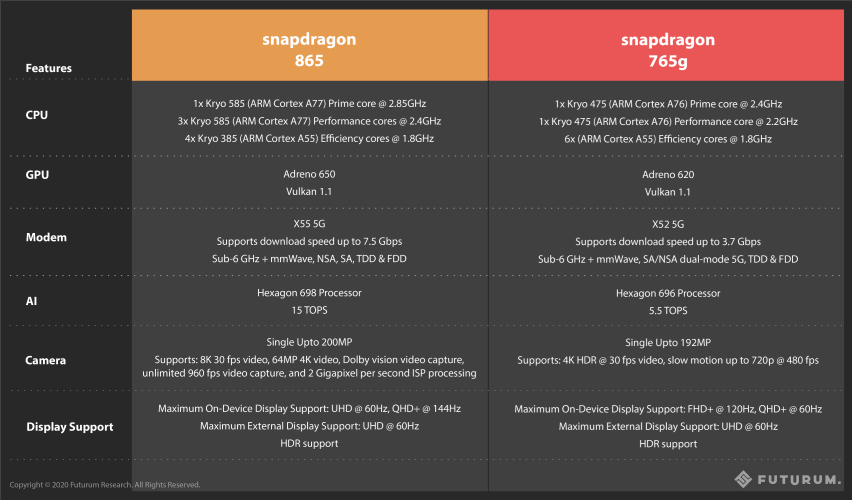 Modems and SOCs: Integrated vs. Not integrated — Does it Matter?
As we compare the two, obviously, this is often a matter of individual preference. Some OEMs prefer a fully integrated modem plus SOC platform. The Snapdragon 765G provides that kind of setup. The Snapdragon 865, however, does not. What is the difference? The difference mostly boils down to form factor, price, and power consumption.
Here's how to understand the value of both options: If you are developing a premium phone that pushes the limits of performance, and don't mind a slightly larger form factor to accommodate a bigger battery and screen, chances are good you'll opt for the Snapdragon 865 and X55 modem. If, however, you are developing a high-end phone with an inelastic price point, want to keep the device's lines as narrow and sleek as possible, and don't want to integrate premium options that require a lot of extra power, the 765G may be the better option.
While I can't speak to the factors that drove Qualcomm's decision to keep the Snapdragon 865 and its X55 modem separate, I do see where having the option to potentially upgrade or downgrade a device's modem while not sacrificing its other specs could come in handy. Yes, on the one hand, an integrated X55 built right into the Snapdragon 865 might seem elegant — at least in theory. But keeping them separate, in my view, makes the Snapdragon 865 more versatile and flexible for enterprising OEMs looking to make the most of Qualcomm's deep bench of ever-advancing technologies. And as with all tiered product lines, no matter what the industry, it tracks that the premium offering should be the most customizable.
Therefore, seeing Google, LG and other handset makers opt for the simpler and very capable Snapdragon 765G for phones that may fall just beneath the high premium tier, makes perfect sense to me. Better that than an 855, or a lesser SOC from a mid-tier vendor that might leave mobile users wanting.
This is Where Timing is Everything, and Qualcomm's Tiered SOC Diversification Pays Off, Expands Footprint
In closing, the timing of Qualcomm's tiered SOC diversification is not only paying off, it's expanding the company's footprint from premium handsets to high-end and high mid-tiers as well. The release of the Snapdragon 765G (and 765) SOCs to complement the premium-tier 865 perfectly serves the market's needs as handset makers reassess their positioning and device price-points in the era of 5G.
Snapdragon's expansion downward into high and high-mid tier handsets isn't just a clever growth strategy for the US chipmaker, but also a smart counter to block attempts by rivals to expand upward from the low and mid tiers. Given Qualcomm's continued leadership in mobile SOCs, mobile modem and RFFE solutions, and 5G innovation, this spells good things for Qualcomm, mobile OEMs, and consumers looking to finally begin enjoying Qualcomm and Snapdragon quality in more budget-friendly priced handsets.
Futurum Research provides industry research and analysis. These columns are for educational purposes only and should not be considered in any way investment advice.
Related content from our Futurum Research Team:
Qualcomm's New Snapdragon XR2 5G Reference Design Opens the Door to Truly Wireless On-Demand 8K XR Experiences 
Qualcomm's Virtual MWC Event Reveals Big Wins for Snapdragon 865
Qualcomm Announces Snapdragon X60, Its 3rd Generation 5G Modem-RF System 
Image Credit: Qualcomm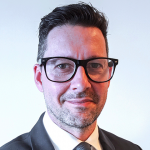 Olivier Blanchard has extensive experience managing product innovation, technology adoption, digital integration, and change management for industry leaders in the B2B, B2C, B2G sectors, and the IT channel. His passion is helping decision-makers and their organizations understand the many risks and opportunities of technology-driven disruption, and leverage innovation to build stronger, better, more competitive companies.  Read Full Bio.