Qualcomm Powers Five Key Inventions Across Newly Completed 5G NR Release 17
Qualcomm Powers Five Key Inventions Across Newly Completed 5G NR Release 17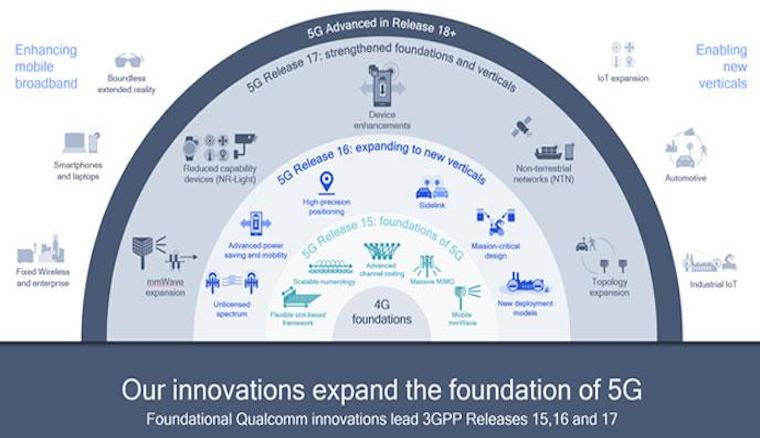 The News: Qualcomm is touting the leadership role it is playing in 3GPP Release 17 throughout five key invention areas: mmWave expansion, reduced capability devices (NR-Light), device enhancements, non-terrestrial networks, and topology expansion. Read more at the Qualcomm blog.
Qualcomm Powers Five Key Inventions Across Newly Completed 5G NR Release 17
Analyst Take: I see Qualcomm wisely capitalizing on 3GPP Release 17 to highlight its pivotal role at exercising influence across the 5G standards process and as such powering ecosystem-wide 5G innovation. In April 2022, 3GPP declared the official completion of 5G NR Release 17 – i.e., including a stage 3 freeze with ASN.1 targeted for June 2022. To recap, 3GPP Release 17 is the third major release of the 5G NR standard, wrapping up the first phase of 5G technology evolution across Releases 15, 16, and 17 in anticipation of 5G Advanced that begins in Release 18.
Highlights of the five key areas where Qualcomm played a major role shaping technology into the 5G standards consist of:
mmWave Expansion: Defines a new distinct frequent range called FR2-2 that goes from 52.6 GHz to 71 GHz. This long-anticipated enhancement to 5G mmWave makes the globally licensed 60 GHz band (57 to 71 GHz) available for 5G deployments available for both public and private networks.
5G Reduced capability (RedCap) devices (NR-Light): Enables 5G NR wideband design to scale down to 5G NR-Light that supports 20 MHz and 100 MHz bandwidths for both sub-7 GHz and mmWave. 5G NR-Light supports additional complexity reduction features, such as single Rx and half-duplex, as well as energy reduction techniques including lower transmit power and enhanced power saving modes aimed at lower complexity devices such as industrial sensors, wearables, and surveillance cameras.
Device Enhancements: Release 17 is introducing a host of new key device features. For example, support for up to eight antennas with additional layers that can deliver higher throughput and advanced MIMO enhancements that can improve capacity, throughput, and battery life as well as new power saving features across both idle and connected modes that can boost battery life.
Non-terrestrial Networks (NTN): Release 17 provides two parallel NT workstreams that address mobile broadband and low-complexity IoT use cases. The first project adapts the 5G NR framework for satellite communications, enabling fixed wireless access (FWA) backhaul from the ground to satellites. The second project supports satellite access for low-complexity eMTC and NB-IoT devices to assist global asset tracking.
Topology Expansion: Release 17 continues the expansion of 5G topologies to deliver enhanced system capabilities and new types of deployments. For integrated access and backhaul (IAB), features such as simultaneous transmission/reception (i.e., full duplex) and enhanced multi-hop operations can further improve deployment efficiency, coverage, and performance. A new project on repeaters, especially useful for mmWave deployments, can more cost-efficiently and rapidly expand the coverage areas.
Taken together, I see the five NR Release 17 inventions as further validating Qualcomm's essential role in driving the innovations key to delivering the use cases that warrant the mobile ecosystem's massive investments in 5G technology. For instance, NR positioning improvements boost the factory automation use case by targeting 20-30cm location accuracy which align with the specific requirements of customers.
I expect Qualcomm-fueled Release 17 inventions to also energize the Unmanned Aerial Vehicle (UAV) use case by supporting the communication latency, reliability, and mobility capabilities need to fulfill requirements such as mapping, navigation, and videography coupled fully with UAV Traffic Manager (and cloud server) oversight.
For example, Qualcomm's new QCS7230 chip is a recent expansion of its Vision Intelligence Platform, targeting enterprises in the public and private sector to deliver much needed intelligence at the edge by offering real-time edge compute, artificial intelligence (AI), machine learning (ML) and analytics. The support of AI/ML aligns with 5G Advanced Release 18 plans to enhance AI/ML capabilities to introduce intelligent network management and solve multi-dimensional optimization issues with respect to real-time and non-real-time network operation.
Key Takeaways on Qualcomm Powers Five Key Inventions Across 5G NR Release 17
I see Qualcomm's delivery of five key inventions across 5G NR Release 17 as further validating its hard-earned reputation for driving 5G innovation throughout the 5G ecosystem. As a result, I believe Qualcomm commands the proven R&D pedigree and portfolio foundation to play a vital role in powering 5G Advanced Release 18 and subsequent 6G ecosystem-wide innovation.
Disclosure: Futurum Research is a research and advisory firm that engages or has engaged in research, analysis, and advisory services with many technology companies, including those mentioned in this article. The author does not hold any equity positions with any company mentioned in this article.
Analysis and opinions expressed herein are specific to the analyst individually and data and other information that might have been provided for validation, not those of Futurum Research as a whole.
Other insights from Futurum Research:
MWC 2022: Qualcomm Unleashes Game Changing 5G Ecosystem Innovations
MWC 2022: Qualcomm and HPE Prep Virtual Distributed Units for 5G Prime Time
Qualcomm's New QCS7230 Chip — Expands its Vision Intelligence Platform and is Way Smarter Than You Think
Image Credit: Qualcomm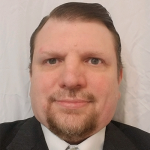 Ron is an experienced research expert and analyst, with over 20 years of experience in the digital and IT transformation markets. He is a recognized authority at tracking the evolution of and identifying the key disruptive trends within the service enablement ecosystem, including software and services, infrastructure, 5G/IoT, AI/analytics, security, cloud computing, revenue management, and regulatory issues. Read Full Bio.