Pure Storage Announces Q4 and FY 2023 Results: Data Storage Portfolio Innovations Help Drive Performance Beat
Pure Storage Announces Q4 and FY 2023 Results: Data Storage Portfolio Innovations Help Drive Performance Beat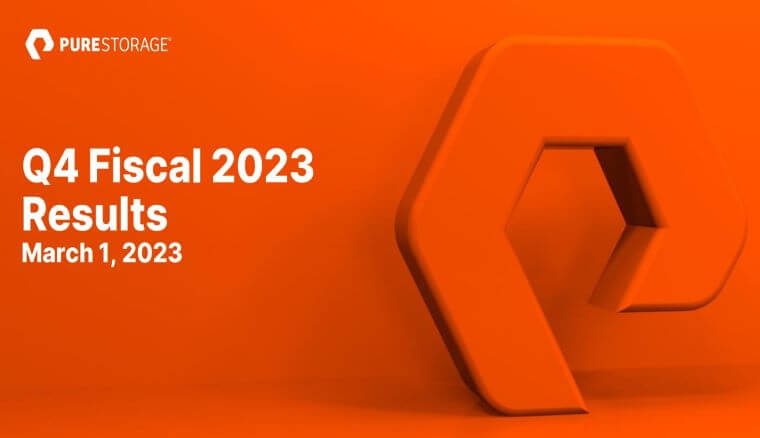 The News: Pure Storage, a data storage and management solutions provider, recently released its earnings report for the fiscal fourth quarter (Q4) and full year (FY) 2023. The report showcased the company's impressive financial performance, beating analyst expectations and posting strong growth across all key metrics. Read the full Press Release from Pure Storage here.
Pure Storage Announces Q4 and FY 2023 Results: Data Storage Portfolio Innovations Help Drive Performance Beat
Analyst Take: For the fiscal Q4 2023, Pure Storage reported total revenue of $810.2 million, a 14% increase from the same period last year. This exceeded analyst estimates. The company's subscription services revenue, also showed strong growth, increasing by 23% year-over-year (Y/Y) to $ 265.1 million. Other Q4 highlights include:
Q4 subscription annual recurring revenue (ARR) $1.1 billion, up 30% Y/Y
Q4 GAAP gross margin 69.3%; non-GAAP gross margin 70.8%
Q4 GAAP operating income $64.6 million; non-GAAP operating income $158.6 million
Q4 GAAP operating margin 8.0%; non-GAAP operating margin 19.6%
Q4 operating cash flow $233.0 million; free cash flow $172.8 million
The company's full-year results were equally impressive, with total revenue of $2.8 billion, a 26% increase from the previous year. Subscription services revenue for the full year was $961.3 million, a 30% increase from the previous year. Other full year highlights include:
Remaining performance obligations (RPO) $1.8 billion, up 24% year-over-year
Full-year GAAP gross margin 68.9%; non-GAAP gross margin 70.7%
Full-year GAAP operating income $83.5 million; non-GAAP operating income $457.2 Million
Full-year GAAP operating margin 3.0%; non-GAAP operating margin 16.6%
Full-year operating cash flow $767.2 million; free cash flow $609.1 million
We are swayed by Pure Storage's Q4 and FY 2023 financial results, especially as the company grew faster than the market overcoming the challenging macro conditions cited by Chairman and CEO Charles Giancarlo.
I had the chance to talk to CEO Charlie Giancarlo, who showed continued optimism as the company tends to do well in times of more conservative enterprise spending. This bodes particularly well for the new FlashBlade//E as well as the Evergreen offering. Furthermore, his confidence in the longer term growth was notable, which we believe to be the case as Pure has plenty of market taking capacity even if infrastructure spending was to slow considerably.
We see Pure's new FlashBlade//E offering, debuting in parallel with the announcement of the Q4 & FY 2023 results, delivering the competitive advantages key to sustaining Pure's proven ability to disrupt the traditional hard disk market, particularly as we see macro conditions improving throughout the course of 2023.
From our view, the FlashBlade//E solution targets the environmental aspects and energy use optimization that are the topmost concern for organizations that are strategically committed to fulfilling their sustainability initiatives. The new solution is designed to deliver ~1W per TB, up to one-fifth the power, up to 85% less E-Waste, up to 60% lower operational cost, up to 10-20X reliability, and up to one-fifth the space across data centers.
Plus, the solution is designed by Pure to deliver highly competitive acquisition costs versus disk, including three years of service, 40% lower TCO over six years, and non-disruptive upgrades as well as under 20 cents per GB (not including data reduction). We see such capabilities as further fueling Pure's portfolio-wide competitive advantages over legacy hard disk implementations. This includes delivering unified fast file and object platform and all-flash unstructured data repository capabilities that can deliver the final scale-out storage platforms that customers may ever need.
Such portfolio innovations provide the foundation to provide FY 2024 guidance that includes mid to high single digit Y/Y revenue growth and 15% non-GAAP operating margin. Overall, we believe Pure Storage's Q4 2023 and FY 2023 results, and portfolio innovations such as the new FlashBlade//E offering, pave the way for the company to meet its FY 2024 guidance and boost its competitive advantages over hard disk rivals.
Disclosure: Futurum Research is a research and advisory firm that engages or has engaged in research, analysis, and advisory services with many technology companies, including those mentioned in this article. The author does not hold any equity positions with any company mentioned in this article.
Analysis and opinions expressed herein are specific to the analyst individually and data and other information that might have been provided for validation, not those of Futurum Research as a whole.
Other insights from Futurum Research:
Pure Storage Flashes Data Storage Advances with FlashBlade//S Debut
Model9 Pure Storage Collaboration Designed to Help Mainframe Enterprises Manage Data
Pure Storage Q1 2023 Revenue Rises to $620.4M, up 50.3% YoY
Image Credit: Pure Storage