Oracle Revenue Rises to $12.4B in Q3 2023, up 18% YoY
Oracle Revenue Rises to $12.4B in Q3 2023, up 18% YoY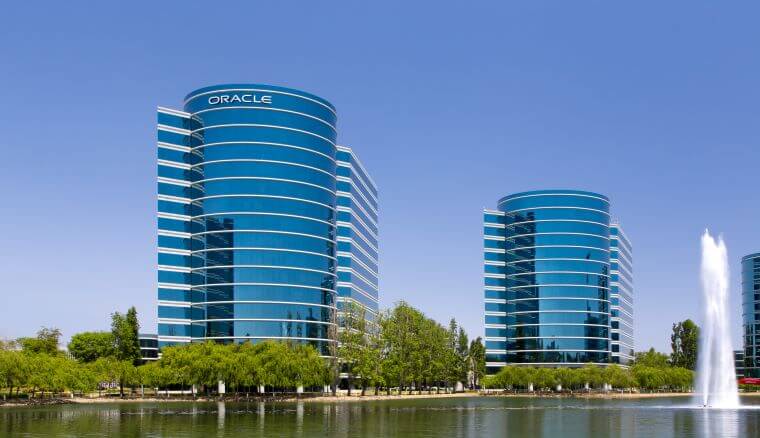 The News: Oracle revenue for the third fiscal quarter of 2023 rose to $12.4 billion, up 18 percent from $10.5 billion one year ago as the enterprise database and cloud software company reported its latest earnings for the quarter ending on February 28. Oracle reported its Q3 fiscal year 2023 (FY2023) financials on March 9, 2023. Read the full Press Release on the Oracle Investor Relations web site.
Oracle Revenue Rises to $12.4B in Q3 2023, up 18% YoY
Analyst Take: Oracle revenue for Q3 of FY2023 continues a string of quarterly growth dating back to at least Q1 of FY2022 as Oracle maintains its earnings progress despite lingering and challenging macroeconomic conditions facing many tech and consumer companies around the world.
This puts Oracle in a good place today, as we continue to argue that core infrastructure and applications demand will be robust for tech companies during this period of continuing macro-headwinds. We have seen HPE, Cisco, and Salesforce do nicely with their recent earnings, and Oracle is showing strength as well, just as we expected.
Here are the Oracle Q3 FY2023 earnings results by the numbers:
Q3 FY2023 revenue of $12.4 billion, up 18 percent from $10.5 billion for the same quarter one year ago. The $12.4 billion in revenue came in just short of analyst consensus estimates of $12.43 billion from Investing.com.
Q3 FY2023 non-GAAP net income of $3.38 billion, up nine percent from $3.1 billion one year ago.
Q3 FY2023 diluted non-GAAP earnings per share at $1.22, which is up eight percent from $1.13 one year ago. The $1.22 share price beat analyst consensus estimates of $1.21 per share from Investing.com.
Q3 FY2023 non-GAAP operating income of $5.19 billion, up eight percent from $4.81 billion one year ago.
Q3 2023 non-GAAP operating margin of 42 percent, compared to 46 percent one year ago.
Q3 FY2023 operating cash flow of $15.5 billion, up 49 percent from $10.4 billion one year ago.
These are solid overall numbers for Oracle, with a beat on the bottom and an ever-so-slight miss on the top. That miss on the top line – bringing in $12.4 billion in revenue compared to an expected $12.43 billion – was negligible for a company of this size.
Also positive was the nice addition to Oracle's Q3 dividend to $0.40 per share, which is up 25 percent from a $0.32 per share dividend one year ago. That dividend increase coming alongside the miss in top line revenue is bold and was made because Oracle wants it investors to buy the company's shares. Oracle is making a statement here that is gutsy and that will be appreciated by stockholders.
Oracle Revenue for Q3 by Business Segment
Here are Oracle's revenue figures for Q3 FY2023 by business segment:
Q3 FY2023 cloud services revenue (IaaS plus SaaS) of $4.1 billion, up 45 percent from $2.8 billion one year ago.
Q3 2023 license support revenue of $4.9 billion, unchanged from one year ago.
Q3 2023 cloud license and on-premises license revenue of $1.29 billion, unchanged from one year ago.
Q3 2023 hardware revenue of $811 million, up two percent from $798 million one year ago.
Q3 2023 services revenue of $1.38 billion, up 74 percent from $789 million one year ago.
Oracle also reported that its Oracle Fusion Cloud SaaS ERP revenue for Q3 was $700 million, which was up 25 percent from a year ago, and that its NetSuite Cloud ERP SaaS revenue was $700 million, up 23 percent from one year ago,
In addition, this was the third consecutive quarter that saw Oracle report revenue from its Cerner electronic healthcare records division, which was acquired in June of 2022 for $28.4 billion. For Q3, Cerner's business contributed $1.5 billion in revenue to Oracle's earnings.
Oracle Revenue and Earnings Overview
As we wrote one quarter ago, Oracle's healthy cloud revenue growth still has some catching up to do to get to the top line revenue level of its competitors like Amazon's AWS, Microsoft Azure, and Google Cloud, but that should not overshadow the remarkable growth it generated this quarter, which surpassed all the others with IaaS growth up 55%. As Oracle gets its messages out to show prospective customers what Oracle offers them, this is bringing in new revenue as customers streamline workloads on OCI—especially as it relates to Oracle's large existing install base. With Oracle's aggressive go to market and pricing on core infrastructure, we see this as a trend that is growing. Furthermore, as overall cloud utilization grows, the company is well positioned to be a beneficiary.
Overall, we believe that Oracle's Q3 progress is impressive, and its growth potential through its Cerner acquisition gives the company interesting opportunities in the critical healthcare marketplace compared to some of its competitors.
We expect that Oracle's business and sales performance throughout fiscal year 2023 will continue the successes it has been seeing. A combination of continued improvement in its cloud and its dependable core revenue streams make it a solid tech play in a more turbulent macroenvironment.
Daniel Newman and his co-host of The Six Five Webcast, Patrick Moorhead of Moor Insights and Strategy discussed Oracle earnings in their latest episode. Check it out here and be sure to subscribe to The Six Five Webcast so you never miss an episode.
Disclosure: Futurum Research is a research and advisory firm that engages or has engaged in research, analysis, and advisory services with many technology companies, including those mentioned in this article. The author does not hold any equity positions with any company mentioned in this article.
Analysis and opinions expressed herein are specific to the analyst individually and data and other information that might have been provided for validation, not those of Futurum Research as a whole.
Other insights from Futurum Research:
Oracle Retail Introduces New Pricing and Promotion Capabilities to Help Retailers Increase Sales
Red Hat and Oracle Strengthen Relationship: Red Hat Enterprise Linux Now Runs on OCI
Oracle Payment Modernization Coming to Iconic Big Boy Restaurants