OpenText FY Q3 2023 Earnings Rise to $1.24 Billion, Up 41% YoY
OpenText FY Q3 2023 Earnings Rise to $1.24 Billion, Up 41% YoY
The News: OpenText recently reported its third-quarter 2023 earnings that were $1.24 billion, up 41 percent (or 44.9 percent in constant currency) year-over-year for the period ending on March 31, 2023, beating estimates. See OpenText's FY Q3 2023 Earnings release here.
OpenText FY Q3 2023 Earnings Rise to $1.24 Billion, Up 41% YoY
Analyst Take: OpenText had an excellent fiscal third quarter, beating analyst estimates and growing its revenues to $1.24 billion, which was up 41 percent year-over-year. Note that 41% growth was almost all from accretively including Micro Focus post-acquisition, so these results are a bit rosier than the reality.
The company continues to deepen its focus and widen its total addressable market in the $200 billion information management market that is composed of Analytics & AI, Application Automation (delivery and modernization), Business Network, Content and Experience, Cybersecurity and Digital Operations Management. In essence, the information management category is expected to grow faster than traditional IT spending and is one of the key pillars of digital transformation as organizations want to harness the power of structured and unstructured data to help achieve competitive advantage while also maintaining a high-security posture whether on premises or off premises.
During the quarter, the company had excellent customer wins, such as one of the largest global retailers Carrefour (Micro Focus for Security), The Weinberger Group (Content Management), Conduent (Experience), and the California Employment Development Department (Application Deliver & Quality).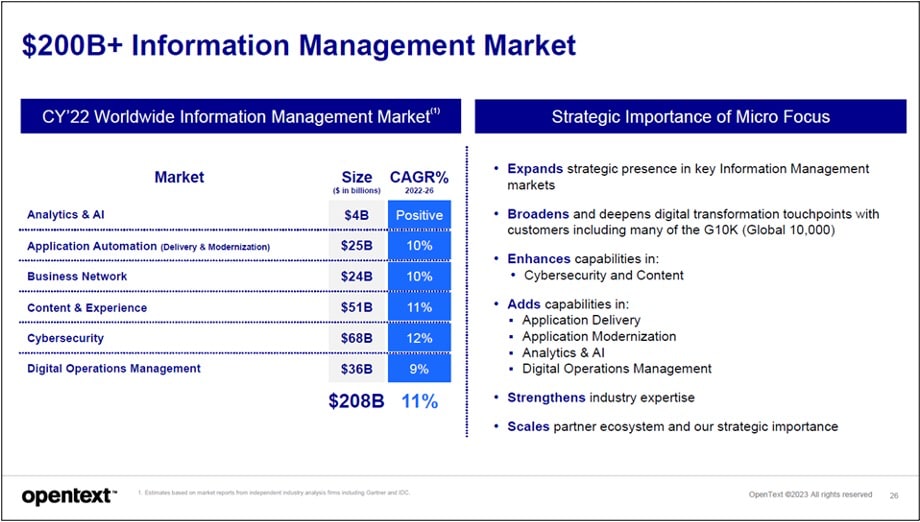 OpenText Q3 FY 23 Metrics
OpenText Q3 2023 Revenues were $1.24 billion, up 41.1 percent year-over-year and 49.9 percent in constant currency.
OpenText Q3 2023 Annual recurring revenues (ARR) representing 81 percent of revenues were $1.01 billion, up 37.7 percent year-over-year and up 41.1 percent in constant currency.
OpenText Q3 2023 Cloud Services and Subscription revenues were $435 million, up 8.3% year-over-year and up 10.4 percent in constant currency.
OpenText Q3 2023 Customer Support was $575.9 million, up 73.2 percent year-over-year and 78.3 percent in constant currency.
OpenText Q3 2023 License was $139.7 million, up 73.3 percent year-over-year and 79.9 percent in constant currency.
OpenText Q3 2023 Professional Services and Other were $93.6 million, up 39.4 percent year-over-year and 44.1 percent in constant currency.
Non-GAAP gross margins were 75.8 percent vs. 74.5 percent, up 130 basis points versus the prior-year quarter.
Non-GAAP-based diluted EPS was $0.73 vs. $0.70 in the prior-year quarter.
OpenText Q4 FY 2023 Outlook
The company expects its fiscal fourth quarter revenues to be in the range of $1.46 billion to $1.51 billion versus the prior-year quarter.
OpenText expects its ARR revenues to be in the range of $1.12 billion to $1.16 billion.
The company mentioned outlined risk factors such as a risk of a recession, inflation risks, the strength of the U.S. dollar and geopolitical risks that could impact the forecast.
OpenText showed excellent growth for the quarter where it grew its revenues organically and accretively via its acquisition of Micro Focus. The company also made smart adjustments to its cost structure in the first quarter of 2023 where it took aggressive action by reducing its workforce by ~8 percent or 2,000 associates.
Ultimately, our view is OpenText is in an excellent position for the future since it is laser-focused on a key market segment (e.g., information management) that is a critical pillar of digital transformation and more immune to adverse effects since its categories have direct ties to automation, improvements in productivity, knowledge sharing and security to name a few.
We expect the company's continued investments in artificial intelligence and cloud will pay dividends to its customers in the future that will offer them a greater level of stickiness in key verticals in the future. Thus, we are bullish on OpenText's strategy for the future.
Disclosure: The Futurum Group is a research and advisory firm that engages or has engaged in research, analysis, and advisory services with many technology companies, including those mentioned in this article. The author does not hold any equity positions with any company mentioned in this article.
Analysis and opinions expressed herein are specific to the analyst individually and data and other information that might have been provided for validation, not those of The Futurum Group as a whole.
Other insights from The Futurum Group:
OpenText Uses its OpenText World EMEA Event to Break Cover
OpenText Further Invests in Europe to Fuel Continued Growth
Making Markets EP43: OpenText CEO and CTO Mark Barrenechea on Market Growth, the Macro Economy, and Information Management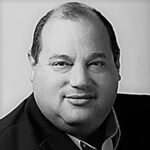 Michael Diamond is an industry analyst and foresight professional with 25 years of experience in the IT channel and market research industry. He is a route-to-market expert covering desktop and mobile devices, collaboration, contact center, ProAV, data center infrastructure, and cybersecurity. Prior to joining Futurum Research, Michael worked for The NPD Group as the sole industry analyst covering indirect channels, cybersecurity, SMB and vertical market trends, data center infrastructure (e.g., enterprise storage, servers, networking), ProAV and PCs. He has been quoted by media outlets such as Bloomberg, Kiplinger, TWICE, OPI (Office Products International), Apple World today, Dark Reading, Enterprise Storage Forum, Credit-Suisse, Footwear News, CRN (Computer Reseller News), Channel Futures and Into Tomorrow.  Michael has presented at myriad events including The Channel Company's Xchange, The Global Technology Distribution Council's summit, SMB TechFest and more.