NVIDIA Q3 Includes Record Breaking Gaming and Datacenter Results
NVIDIA Q3 Includes Record Breaking Gaming and Datacenter Results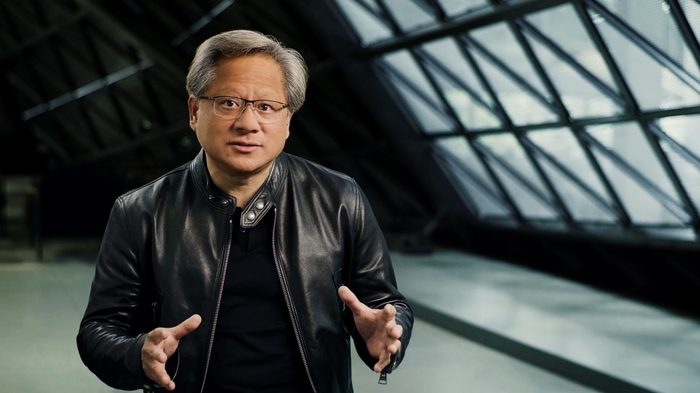 The News: NVIDIA beat analyst expectations on both earnings and revenue in its fiscal fourth quarter but shares barely moved in extended trading.
Here's how NVIDIA did in the quarter ending in October:
Earnings: $2.91 per share, adjusted, vs. $2.57 per share as expected by analysts, according to Refinitiv.
Revenue: $4.73 billion, vs. $4.41 billion as expected by analysts, according to Refinitiv.
Analysts had been expecting a big quarter from the Santa Clara chipmaker driven by sales of its graphics processing unit chips, which are increasingly important for both games and artificial intelligence developers who need processing power. Read the full news piece on CNBC.
Analyst Take: NVIDIA's momentum continues into its fiscal third quarter as the company sees several record-breaking results, including:
Record revenue of $4.73 billion, up 57 percent from a year earlier.
Record Gaming revenue of $2.27 billion, up 37 percent from a year earlier.
Record datacenter revenue of $1.90 billion, up 162 percent from a year earlier.
These numbers are extremely impressive at face value, and as you dig deeper, there isn't much not to like. Having said that, the results do warrant a bit of a deeper dive as the growth is being materially impacted now by the acquisition of Mellanox, which has been included in the past two quarters' results. As you can see, the billion-plus dollar YoY jump in datacenter shows up in Q2 of FY21. Either way, the growth is sound, and the trajectory seems to be pointing in only one direction.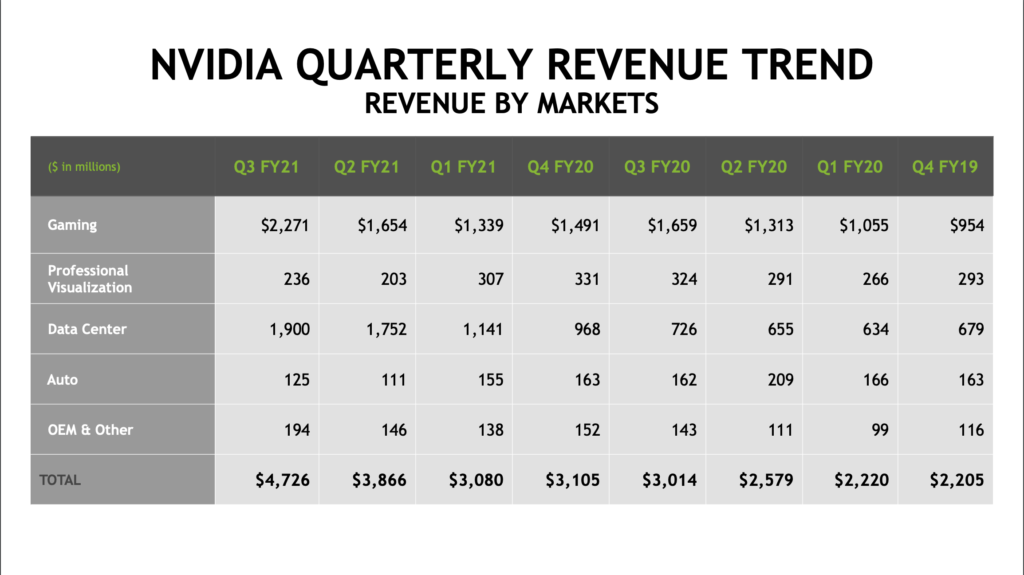 Furthermore, the pending acquisition of Arm is driving even more buzz around NVIDIA as investors are beginning to fully understand the implications that this acquisition will have for NVIDIA's long term trajectory. This, of course, will be a complicated transaction that will all but certainly face legal challenges and regulatory scrutiny, but I do believe it will get done, and that will be very good for NVIDIA.
Let's dive into the results a bit more on a category by category basis.
Gaming Sees Record-Breaking Revenue
Gaming reached a new record-breaking number at $2.27 billion, reflecting a growth of 37% sequential and 37% YoY. These numbers were backed by the company's announcement of it's new GeForce RTX 30 Series GPUs, Fortnight's adoption of RTX real-time ray tracing, and the new NVIDIA broadcast offering improving interaction between gamers.
NVIDIA's gaming business remains a pillar of its upward trajectory, representing nearly 50% of its revenue this quarter. The brand also continues to build both advocacy and a growing portfolio of both devices and games being delivered on NVIDIA's platforms. I expect this momentum to continue.
Datacenter Also Breaks a Record With This Quarter's Results 
Datacenter continues to be the fastest-growing part of NVIDIA's business seeing growth both through acquisition and organic adoption of its leading AI solutions. This quarter marked a record-breaking revenue number, coming in at $1.9 billion. This includes a significant contribution from Mellanox at ~$614 million. This reflects an all-inclusive YoY growth number of 162% and an organic growth (without Mellanox) of ~77%. Sequential growth for datacenter was about 8% QoQ.
The datacenter business serves as a major strength for the company. I expect that it will continue to thrive as the company's investments in AI are rapidly evolving to address much more than training, addressing the significant opportunities for enterprise AI, especially inference technologies for conversational AI technology as well as recommendation engines used for consumer and business decision making.
View NVIDIA's complete list of quarterly highlights for datacenter in its earnings press release.
The company's other business segments of Automotive and Proviz also saw QoQ growth of 16% and 13%, respectively; however, these businesses remain off the pace on a YoY basis seeing revenues fall by 27% and 23%, respectively, during the same period last year.
Overall Impression of NVIDIA Q2 Earnings
NVIDIA continues its strong fiscal year into its final quarter, and the momentum for the company seems to be gaining steam through innovation, acquisition, and of course, record-breaking results.
For me, the most notable thing is the rapid momentum of its datacenter business. With back-to-back quarters delivering triple-digit growth YoY, it is clear that AI adoption is accelerating, and NVIDIA is continuing to operate as the market leader in this space while holding onto its AI Training market share and expanding its influence in the inference space.
With forward-looking revenue suggesting another strong quarter ahead, coming in just above this quarter's result at $4.8 billion, the company's successful run looks set to continue in its fiscal fourth quarter. Despite all of these great outcomes, traders showed a bit of caution as the stock price dropped about 3% in the hours following the result. The sell-off isn't immediately clear in the number, but some investors may see this as a moment to take profits. However, with the impending Arm deal, I believe there is further room to run.
Futurum Research provides industry research and analysis. These columns are for educational purposes only and should not be considered in any way investment advice.
Read more analysis from Futurum Research:
Apple M1 Silicon Marks the Next Generation and Challenge for the Mac
Dell, Switch and FedEx Build Edge Data Centers
IBM Deepens its Observability Bench, Announcing Instana Acquisition
Image: NVIDIA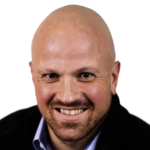 Daniel Newman is the Chief Analyst of Futurum Research and the CEO of The Futurum Group. Living his life at the intersection of people and technology, Daniel works with the world's largest technology brands exploring Digital Transformation and how it is influencing the enterprise. Read Full Bio