Nutanix .NEXT 2023: A Focus on Multi-Cloud Puts the New in Nutanix
Nutanix .NEXT 2023: A Focus on Multi-Cloud Puts the New in Nutanix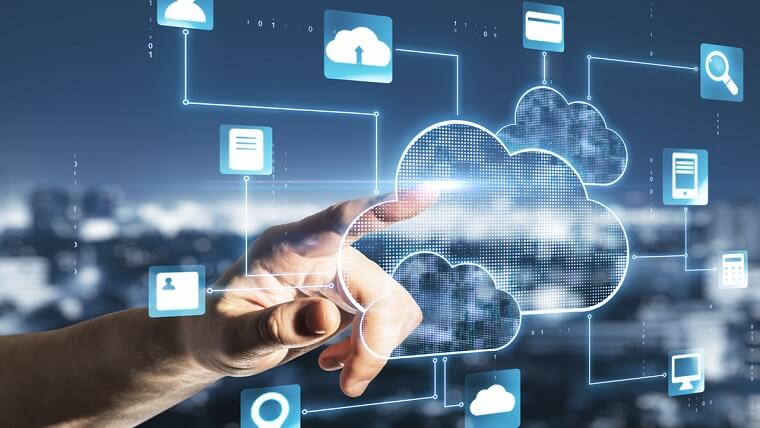 The News: Nutanix announced the addition of new capabilities in the Nutanix Cloud Platform at its Nutanix .NEXT user conference in Chicago earlier this week, designed to add support for cross-cloud mobility and Kubernetes. See the Nutanix Press Release here.
Nutanix .NEXT 2023: A Focus on Multi-Cloud Puts the New in Nutanix
Analyst Take: Nutanix used its first in-person .NEXT user conference since 2019 to perform what its executives called a "re-launch." The rebranding of Nutanix went beyond changing its logo and color from blue and green to purple, and the company shifted its focus from hyper-converged infrastructure (HCI), a software-defined data center model that the IT world credits Nutanix for starting.
Instead of positioning Nutanix as an alternative to three-tier architecture, Nutanix now sees HCI as the foundation of its cloud operational model. Its new mission is to make hybrid multi-cloud simple to deploy and manage. Of course, that's a complex task.
The Message Isn't New, But Nutanix's Leadership Team Has Evolved and its Technology Offerings Focused on Multi-Cloud Have Matured
The message isn't new. Nutanix has been talking about becoming a hybrid multi-cloud company for years, including its 2019 show and the last virtual .NEXT event held in 2021. Nutanix Cloud Clusters (NC2) already let customers manage Nutanix clusters hosted in AWS and Azure. But this is a different Nutanix. The company has new leadership – this was Rajiv Ramaswami's first live .NEXT as CEO and that goes for most of its top executives. Beyond leadership changes, Nutanix's cloud and containers technologies have matured since its previous .NEXT conferences.
Most products and services launched at .NEXT 2023 are in preview, but they provide a good peek at the Nutanix hybrid multi-cloud strategy:
Nutanix Central – Nutanix Central is a SaaS application that provides a cloud operating model across Nutanix deployments running on prem or in public clouds. It will serve as a global control plane and replace the need to manage multi-cloud deployments through separate Prism Central consoles. The Nutanix Central dashboard will show domain and cluster-level metrics such as capacity utilization and alert summaries.
Nutanix Central is in early access, available to customers with Nutanix Cloud Infrastructure (NCI) and Nutanix Cloud Clusters (NC2) licenses.
Nutanix Data Services for Kubernetes (NDK) — NDK will enable Nutanix's storage features in Kubernetes. It will add storage provisioning, snapshots, and disaster recovery operations to Kubernetes pods and application namespaces. The goal is to give Kubernetes developers self-service capabilities to manage storage and data services, while also giving IT with visibility and governance over consumption. Nutanix plans to make NDK available initially for its own Nutanix Kubernetes Engine (NKE) and Red Hat OpenShift Kubernetes distributions.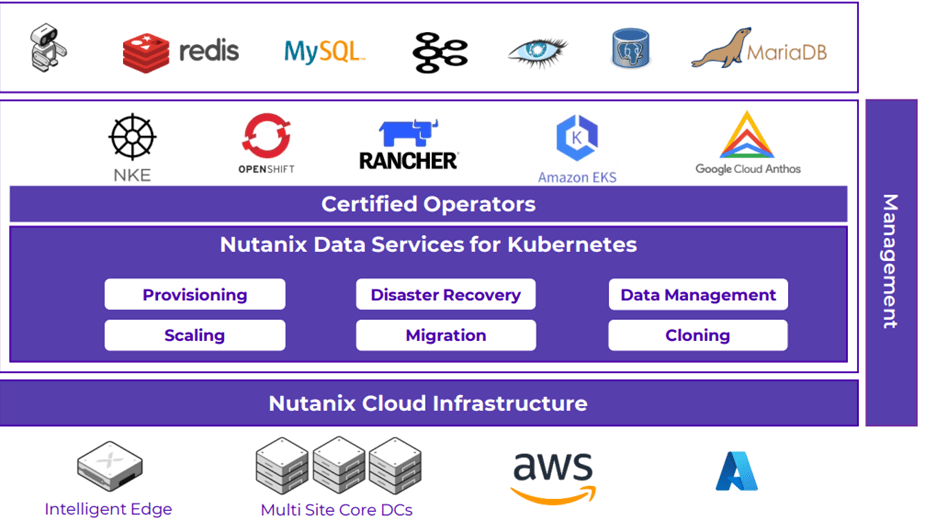 Multi-cloud Snapshot Technology – Nutanix's MST will allow customers to send snapshots directly to AWS S3 or Azure Blob object storage and recover them anywhere. Target use cases include disaster recovery and backup for containerized and virtualized applications, cross-cloud data migration, and the ability to share data for test/dev and long-term retention.
Project Beacon – Project Beacon is the first step in Nutanix's plan to decouple application and data from infrastructure by making data available from anywhere. It will start by making the Nutanix Database Service (NDB) available as a managed service in the public cloud. The goal is to allow developers to write applications once and run them anywhere. Nutanix plans to eventually deliver platform services with a single API and console integrated with Kubernetes. The Project Beacon roadmap includes data streaming, messaging, caching, and AI/ML.

Nutanix also added compute-only nodes running Nutanix AHV or VMware ESXi hypervisors for independent scaling of compute and storage nodes in its flagship Nutanix Cloud Platform. The compute-only nodes are available in Nutanix's Acropolis Operation System (AOS) 6.6.2 release.
In addition, an integration with the Snowflake Data Cloud lets customers use Snowflake to analyze data directly on Nutanix Objects.
Can Nutanix Change its Identity?
The long-term goal for Nutanix is to implement an identical operational model across any cloud, and for virtual machines and containers in Kubernetes.
Nutanix's early success came from convincing customers to move off the established three-tier IT architecture to HCI. Now Nutanix is trying to ride the waves of multi-cloud and containers, which it did not invent. The challenge here is that the competition is much tougher now. Nutanix was among few viable options in the early days of HCI, but most large IT vendors now have the same multi-cloud goals. Nutanix's success moving forward relies less on convincing people of its model, and more on proving itself better than the rest.
The 2023 .NEXT event was a first step, with most of the new offerings still in development. I think the Nutanix strategy is sound, and its building blocks should position it well if the company can execute. Uncertainty around VMware – Nutanix's rival in HCI and hybrid cloud – could also help if the Broadcom acquisition of VMware drags on.
Disclosure: The Futurum Group is a research and advisory firm that engages or has engaged in research, analysis, and advisory services with many technology companies, including those mentioned in this article. The author does not hold any equity positions with any company mentioned in this article.
Analysis and opinions expressed herein are specific to the analyst individually and data and other information that might have been provided for validation, not those of The Futurum Group as a whole.
Other insights from The Futurum Group:
Understanding and Embracing the Hybrid Multi-Cloud
Why Multi-Cloud Data Services are Critical to the Modern Digital Organization
Oracle Database Analyst Summit: Powering the Multi-Cloud Era and Liberating Developers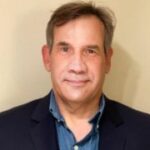 Dave Raffo is a senior analyst with Futurum Research (formerly Evaluator Group) and part of The Futurum Group, covering data storage and IT management. Dave spent 25 years as a technology journalist and has covered enterprise tech for a significant portion of that time. He spent 13 years at Tech Target as the Editorial Director and Executive News Editor covering storage, data protection, and converged infrastructure. Prior to his tenure at Tech Target, Dave worked as the news editor for Byte and Switch and as the managing editor of EdTech Magazine. In 2020, Dave was the recipient of an American Society of Business Professional Editors (ASBPE) national award for column writing.