MWC 2023: Qualcomm Technologies Unveils the Qualcomm Aware Platform, Designed to Help Enterprises Drive Operational Efficiencies
MWC 2023: Qualcomm Technologies Unveils the Qualcomm Aware Platform, Designed to Help Enterprises Drive Operational Efficiencies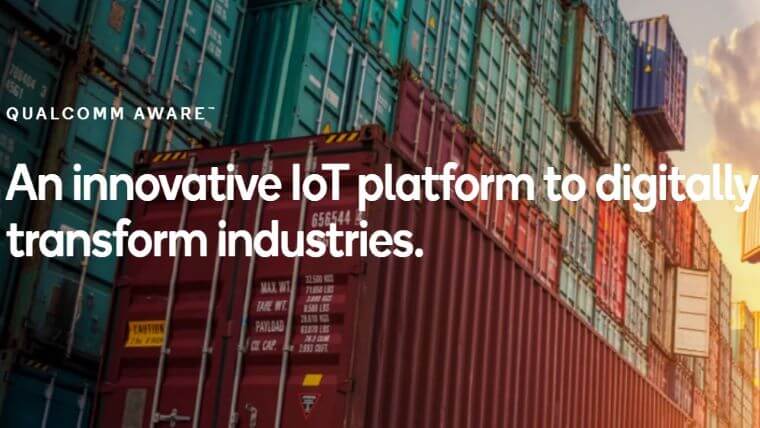 The News: Qualcomm Technologies unveils the Qualcomm Aware platform, designed to empower developers and enterprises to harness real-time information and data insights to accelerate their digital transformation programs. Qualcomm Aware will initially target real-time supply chain visibility and intelligence. Read the full release from Qualcomm.
MWC 2023: Qualcomm Technologies Unveils the Qualcomm Aware Platform Helping Enterprises Drive Operational Efficiencies
Analyst Take: Navigating a global pandemic for two plus years highlighted the critical need for supply chain companies to modernize their operations, quickly demonstrating how business supply chains are prone to disruptions and the challenges in planning for unexpected shifts in supply and demand. The lack of visibility and tracking of goods results in delays, spoilage, lost revenues and, of course, frustrated customers. As if that's not enough, supply chain disruptions can also lead to severe environmental impact.
The good news, at least the way I choose to reflect on it, is that slogging through a global pandemic resulted in some silver linings in terms of awareness and a commitment to remedy some of the challenges we discovered along the way. This is especially true as it relates to all things supply chain. The pandemic accelerated and magnified problems that already existed in the supply chain and caused some very real pain the world over, for consumers and businesses alike. As a result, we've seen some much-needed focus on and investment in technical capabilities such as real-time supply chain visibility and resilience.
That's where Qualcomm Aware comes in. Qualcomm Aware provides real-time visibility into the location and condition of assets, enabling better inventory management, greater efficiency, and reduced product losses. Qualcomm Aware combines industry-leading edge and cloud technologies, coupled with API-first architecture and developer-friendly tools to simplify and scale the digital transformation. Qualcomm Aware critical use cases include cold chain distribution, utility asset monitoring, cargo shipment tracking, warehouse, and inventory management.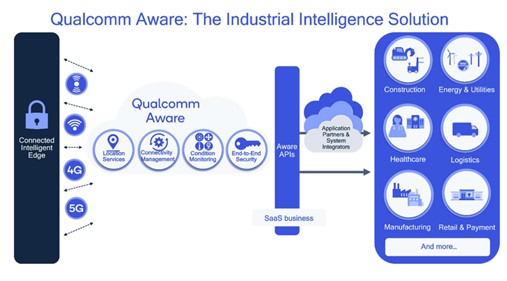 How Qualcomm Aware Works and What the Partner Ecosystem Looks Like Today
So, how does Qualcomm Aware work? One of the things that I immediately noticed about the Qualcomm Aware solution is that it is designed to meet customers where they are on their individual digital transformation journeys. Qualcomm Aware allows customers to design a solution that meets their specific business needs by offering a highly customizable framework and implementing standard APIs designed to provide seamless interoperability with private clouds, industry-specific application platforms, existing enterprise software tools for enterprise resource planning (ERP), supply chain management, inventory management and more. This interoperability of software and hardware systems is an integral part of the value proposition here, and key to delivering IoT solutions designed to enhance customer experiences and increase operational efficiencies. One of the first of these integrations Qualcomm Aware announced will be with Microsoft Dynamics 365.
As to be expected, Qualcomm Aware brings together an ecosystem of hardware and software partners to quickly and efficiently develop connected solutions tailored to different use cases and the company is engaged with a large and growing list of leading hardware and software companies to develop Qualcomm Aware-ready products.
Here's a look at some of the enterprises across a wide range of industries who are already showing ecosystem support for the release of the Qualcomm Aware platform:
Powering the Connected Intelligent Edge
We've seen Qualcomm's commitment to diversification playing out over the course of the past several years, and this new IoT milestone is yet another diversification move — there's no question that solutions that power the connected intelligent edge are well-timed. Due to today's challenging macroeconomic conditions, customers working to move forward their digital transformation initiatives need data-driven solutions that are cost-effective, scalable, and which can shorten time to market, as well as provide insights that can help them make more informed business decisions and navigate challenges along the way.
Qualcomm Aware will be available later this year. The initial launch of Qualcomm Aware will focus on companies operating in supply chains and logistics, providing the necessary tools for the logistics industry to more efficiently manage its assets throughout its journey. With delivery of accurate and precise location in a power-optimized manner, it is not difficult at all to see Qualcomm Aware quickly becoming a critical piece in the future efficiency of supply chain management.
Although there's an initial focus on supply chain, I see this Industrial Intelligence solution as helping speed digital transformation journeys across a number of industries and verticals, and I'm looking forward to hearing more from customers as the Qualcomm Aware solution gets in market.
Disclosure: Futurum Research is a research and advisory firm that engages or has engaged in research, analysis, and advisory services with many technology companies, including those mentioned in this article. The author does not hold any equity positions with any company mentioned in this article.
Analysis and opinions expressed herein are specific to the analyst individually and data and other information that might have been provided for validation, not those of Futurum Research as a whole.
Other insights from Futurum Research:
MWC 2023: Qualcomm's Customers are Adding Snapdragon Satellite to their Devices
Qualcomm Snapdragon Latest Auto 5G Modem-RF Unveiled at MWC
Qualcomm AI Demonstrates Stable Diffusion on Android Phone
Image Credit: Qualcomm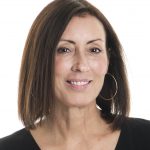 Shelly Kramer is a Principal Analyst and Founding Partner at Futurum Research. A serial entrepreneur with a technology centric focus, she has worked alongside some of the world's largest brands to embrace disruption and spur innovation, understand and address the realities of the connected customer, and help navigate the process of digital transformation. She brings 20 years' experience as a brand strategist to her work at Futurum, and has deep experience helping global companies with marketing challenges, GTM strategies, messaging development, and driving strategy and digital transformation for B2B brands across multiple verticals. Shelly's coverage areas include Collaboration/CX/SaaS, platforms, ESG, and Cybersecurity, as well as topics and trends related to the Future of Work, the transformation of the workplace and how people and technology are driving that transformation. A transplanted New Yorker, she has learned to love life in the Midwest, and has firsthand experience that some of the most innovative minds and most successful companies in the world also happen to live in "flyover country."