MWC 2023: Azure for Operators Offers New Solutions and Services to Spur Telco to Techco Journey
MWC 2023: Azure for Operators Offers New Solutions and Services to Spur Telco to Techco Journey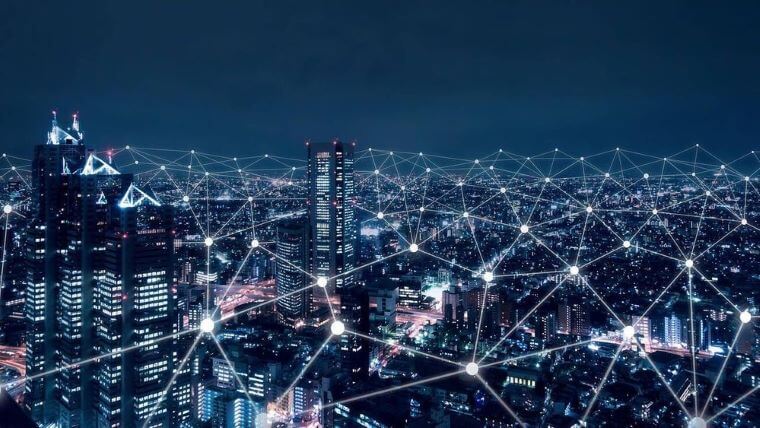 The News: Azure for Operators announced the next wave of its solutions and services targeted at transforming telco to techco. This included introducing the next-generation hybrid cloud platform for operators – Azure Operator Nexus – which combines the enhanced version of the acquired AT&T Network Cloud 2.7 Software technology with new Azure capabilities including security, monitoring, analytics, AI, machine learning, and more. Read the Azure for Operators blog here.
MWC 2023: Azure for Operators Offers New Solutions and Services to Spur Telco to Techco Journey
Analyst Take: Azure for Operators used MWC 2023 to up its influence and competitiveness across the mobile ecosystem with the launch of Azure Operator Nexus. The new solution targets fulfilling the security, resiliency, observability, manageability, and performance needs demanded by operators to improve business outcomes, including the ability to run all their workloads, such as core, RAN, OSS/BSS, mobile & voice core, on a single carrier-grade hybrid platform.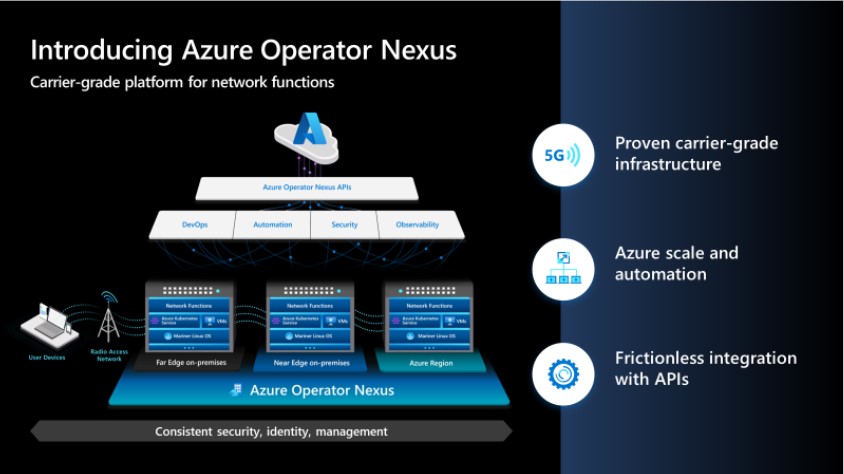 Through Azure Operator Nexus, business operations can be streamlined, providing operators with simplified management, policy, and automation delivered through unified cloud management using Azure Services, Azure Arc management, Azure Security, and platform as a service with Azure. It can provide flexibility and scalability key to supporting customer deployments at the edge of the cloud, network, and enterprise as well as ignite operator monetization of their network in alignment with using customer insights to enable proactive decision-making and a better experience.
With Azure Operator Nexus, high-profile customer AT&T can run its workloads on-premises or on the Azure public cloud, supporting the AT&T mobile core network that spans more than 60 containerized network functions (CNFs) and virtual network functions (VNFs) from 15 different vendors, which already are deployed and running on the AT&T Network Cloud platform. Critically, AT&T can continue to select and manage CNFs and VNFs and their configurations to deliver mobility services. AT&T and Microsoft plan to deploy Azure Operator Nexus with initial testing stages planned for later in 2023.
Of key importance, Microsoft cannot access or see customer data when operators use Azure Operator Nexus. I see this aspect as critical to the overall Azure for Operators value proposition as operators increasingly prioritize delivering new services faster across Azure public cloud and on-premises with common tooling & services, accelerating time-to-market using a cloud-native approach with customer data assurances built-in. From my view, Microsoft's ongoing collaboration throughout the broader ecosystem, including Ericsson and Nokia, can prove a major selling point in boosting operator adoption of its next-gen hybrid cloud platform.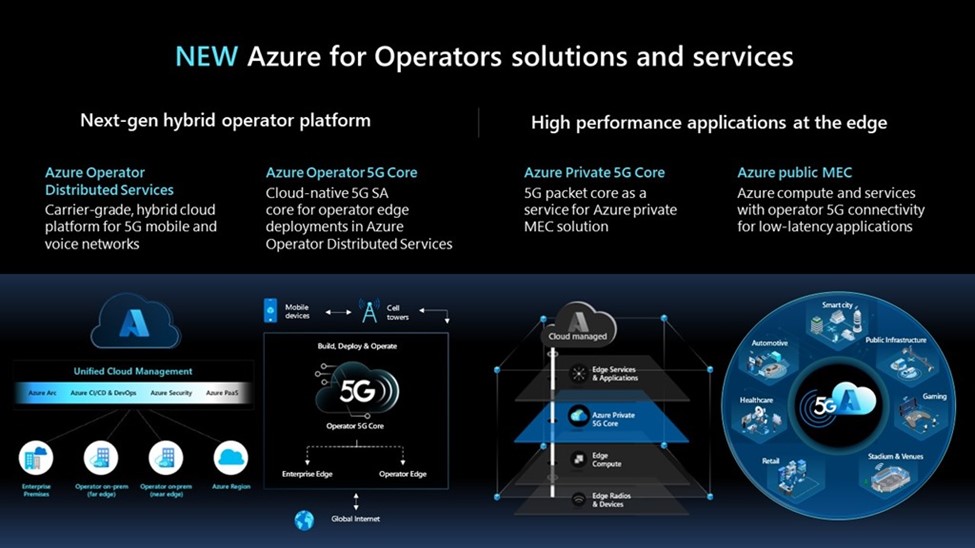 In alignment with the Azure Operator Nexus debut, Microsoft announced the private preview of Azure Operator 5G Core and GA for Azure Private 5G Core. The Azure Operator 5G Core deploys on the Azure Operator Nexus and is designed to scale massively to support hundreds of millions of subscribers and devices. Azure Private 5G Core is available as part of the Azure private MEC solution, enabling operators and integrators to provide deployment of private 4G and 5G networks at the enterprise edge, managed through Azure.
Notably, Azure is collaborating with an impressive array of global partners including systems integrators such as Accenture, Amdocs, ATOS, Capgemini, Cognizant, Harman, HCL, Intelsat, Lockheed Martin, Northrop Grumman, Tampnet, TCS, and Tech Mahindra with Azure Private 5G Core enlisting RAN partners such as ASOCS, AirSpan, CommScope, Fujitsu, Parallel Wireless, and Qualcomm to streamline solution validation. Operators developing solutions using Azure private MEC include AT&T, Etisalat, Swisscom, and Telefonica.
Azure public MEC aims to allow enterprises and developers to select the low-latency components they require from the cloud to deliver at the edge while administering all else in the cloud. Microsoft is working with independent software vendors (ISVs), such as Check Point, Couchbase, Game Cloud, Summit Tech, and VMware, to deliver public MEC solutions including announcing Azure public MEC with AT&T and Singtel.
AI Ready to Prove Key Differentiator for Azure for Operators
I believe Microsoft's AI portfolio is ready to play a key role in differentiating Azure for Operators, particularly in areas such as AIOps. Microsoft announced it was extending its investment in OpenAI, the company behind ChatGPT, and planned to deploy AI models across its consumer and enterprise products. This announcement and the series of events it started are a clear signal to the world that the battle for the AI market is on.
Also, Microsoft launched Teams Premium with a number of smart features based on GPT3, the most recent version of the Large Language Model (LLM) behind ChatGPT. Microsoft revealed a new Edge browser and Bing search engine with capabilities powered by a new version of the OpenAI LLM coined "Prometheus" in place of the more obvious name, "GPT4". It seems that Microsoft will handle the marketing for the output of their partnership with OpenAI, which is probably a good idea.
The new version of Bing allows users to "talk" to the search engine and task it with more complex searches like "create a 5-day itinerary for a family trip" and has integration to Edge with "chat" and "compose" features that allow users to ask questions about the page or document they're reading or get help writing emails, social media posts or other text with a few prompts.
From my view, Microsoft gained a significant sales and marketing boost across its portfolio in boldly touting its AI innovations and breakthroughs, causing AI stalwart Google to swiftly counter with the introduction of BARD, its own conversational AI based on the Google-owned LLM LaMDA. Unfortunately for Google the BARD debut proved disjointed. Between a lost cellphone making a demonstration of some compelling new Lens capabilities impossible, BARD getting basic facts about the James Webb Telescope wrong, and a fair number of virtual attendees getting dropped during the live stream, it was a tough debut.
Key Takeaways: Azure for Operators Gains Key Differentiation and Advances the Telco to Techco Journey
I believe Azure for Operators is better positioned to expand its mobile ecosystem influence and win more telco mind share, directly countering the recent moves by AWS for Telco and Google Cloud. For example, Google Cloud unveiled three new services at MWC 2023 – Telecom Network Automation, Telecom Data Fabric, and Telecom Subscriber Insights – with the goal of winning more telco business by delivering a unified cloud solution that combines cloud native advantages with existing telco network elements.
Now Azure for Operators can gain critical mind share in touting the AI-enabled operations key to driving strategic adoption of the Azure Operator portfolio. From my perspective, AIOps is vital for powering the telco journey toward a true techno identity by enabling telcos to break down their existing data silos and attain full visibility across their core, RAN, OSS/BSS, mobile & voice core environments. I anticipate that 2023 is a pivotal year for telcos to cost justify their vast investments in 5G by bringing cloud and edge closer together to modernize their networks and delivering the customer experiences critical to improving monetization and business outcomes.
Disclosure: Futurum Research is a research and advisory firm that engages or has engaged in research, analysis, and advisory services with many technology companies, including those mentioned in this article. The author does not hold any equity positions with any company mentioned in this article.
Analysis and opinions expressed herein are specific to the analyst individually and data and other information that might have been provided for validation, not those of Futurum Research as a whole.
Other insights from Futurum Research:
Oracle Database Service for Azure Makes Multi-Cloud Real
Microsoft's AI Approach Dissected: What It Plans for AI
Image Credit: Microsoft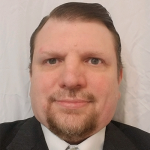 Ron is an experienced research expert and analyst, with over 20 years of experience in the digital and IT transformation markets. He is a recognized authority at tracking the evolution of and identifying the key disruptive trends within the service enablement ecosystem, including software and services, infrastructure, 5G/IoT, AI/analytics, security, cloud computing, revenue management, and regulatory issues. Read Full Bio.