Microsoft's Power Automate Nears GA Propelling RPA Forward
Microsoft's Power Automate Nears GA Propelling RPA Forward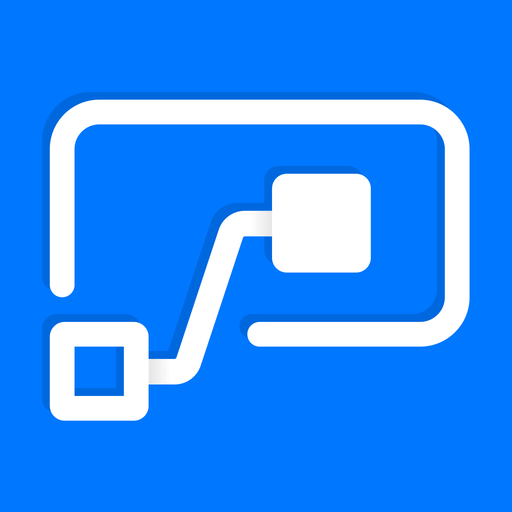 The News: In case you missed the announcement at Ignite 2019, Microsoft launched the preview of UI flows, the new robotic process automation (RPA) capability in Microsoft Power Automate. On March 2, 2020, the company is announcing that UI flows will be generally available worldwide on April 2. Here is the full announcement blog from Microsoft.
Analyst Take: The RPA market has been an interesting one over the past few years as companies increase interest and investment in leveraging automation to streamline processes. Companies like Automation Anywhere, UiPath and Pega have been at the forefront and have all been actively sharing various progress in moving up the stack from RPA for enterprise applications without APIs into areas like API and AI driven automation. 
Microsoft, however, is coming at this from the other end of the spectrum. With the rapid growth and adoption of its Power Platform, the company has been successfully building connector and AI driven flows for its users, but has lacked the complete solution to deliver those older enterprise apps that required traditional UI based automation. Now, Microsoft is able to tout a complete stack of AI, API and UI based workflow and this really enhances Microsoft's position in the space. 
Power Automate: A Complete Portfolio Now Touts Aggressive Pricing Structure
RPA is one component of a three pronged automation strategy for most enterprises. In its latest article discussing the release of UI Flows for the expanded Power Automate, the company breaks down the 3 in a very coherent manner. They are AI based Automation, API based Automation and UI based automation. 
Intelligent understanding of data: Structured and unstructured data from paper-based invoices to images can be easily understood and integrated with other critical business applications. With AI-driven capabilities like forms processing in AI Builder, end users can parse data from analog sources.
Connecting to over 300 modern apps and services: It is easy to work with information stored in the cloud or on-premises apps and databases. We offer native connectivity to common apps or a company's APIs with over 300 connectors out-of-the-box and a no-code way to connect to any internal services.
RPA connects to enterprise applications without APIs: Some applications are too old or expensive to support API connectivity. With UI flows, end users can automate their work in these applications by recording manual tasks such as mouse clicks, keyboard inputs, and data entry, and then automate the replay of these steps to integrate with more complex process automations.
While I suggested that Microsoft's broad appeal and strong ties to users based on its software adoption in productivity, CRM, ERP give the company a distinct advantage. What will spring adoption of its Power Automate platform even more rapidly will be it coming to market with arguably the most aggressive price structure*.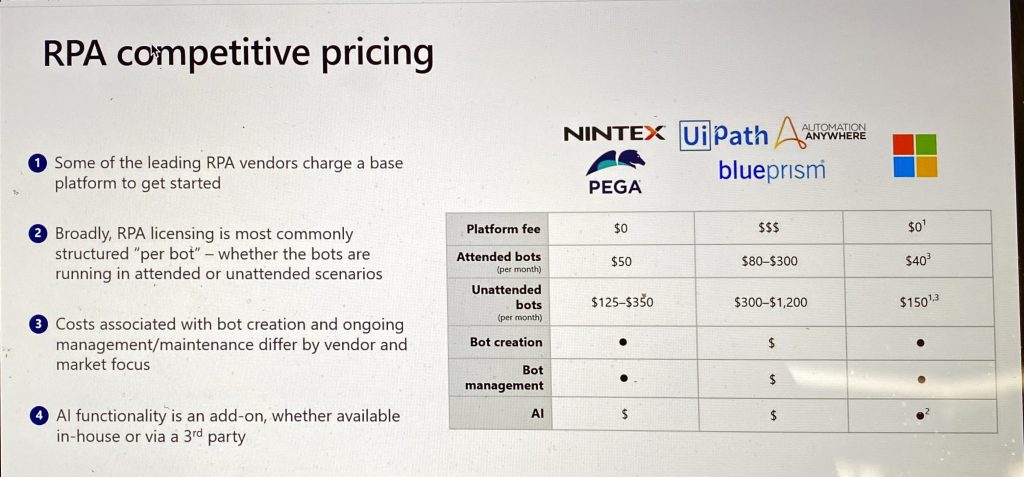 (* Microsoft noted the following in its release ->All pricing information provided is intended solely to be a non-binding estimate as of the date this guidance is provided. It does not constitute an offer by Microsoft. The actual pricing will be reflected on the EA Price List, when this offering becomes available.) 
The bot pricing and attended workflow pricing both are very competitive, but the true differentiation may be in the cloud and enhanced AI capabilities that Microsoft can offer–Not to mention the massive capabilities of the Power Platform at large and the access that developers will have to it and its vast low code/no code resources. Additionally the inclusion of no fees for bot creation and bot management serve as a strong differentiator from legacy competitors in the space.
Overall Impression of the Microsoft Power Automate Updates on Pricing and Availability
I believe Microsoft is extremely well positioned to drive the RPA market forward. While the overall market for RPA has had encouraging growth and valuations, it has also seen a number of stop/starts as many deployments have struggled to move beyond proof of concept. Microsoft's commitment and clear understanding of the value of complete automation from UI to AI could be the catalyst to growth that will span all the players in the market.  I still see Automation Anywhere, UiPath and Pega seeing success as the total market grows. Having said that, Microsoft's aggressive pricing will almost certainly help Power Automate become the defacto platform in the next 12-24 months as intelligent automation quickly displaces RPA as the real outcome being sought by most enterprises.
Futurum Research provides industry research and analysis. These columns are for educational purposes only and should not be considered in any way investment advice.
Read more Analysis from Futurum Research:
Honeywell Drives Quantum Forward With New Roadmap and Partnerships
Cisco Expands Free Webex Offering as COVID-19 Scare Continues
Pure Storage Quietly Crushed its Q4 Showing Big Promise for 2020
Image: Microsoft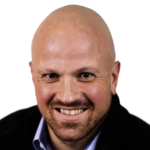 Daniel Newman is the Chief Analyst of Futurum Research and the CEO of The Futurum Group. Living his life at the intersection of people and technology, Daniel works with the world's largest technology brands exploring Digital Transformation and how it is influencing the enterprise. Read Full Bio