Marvell Sustains Impressive Market Momentum with Robust Q2 Fiscal 2023 Financial Results
Marvell Sustains Impressive Market Momentum with Robust Q2 Fiscal 2023 Financial Results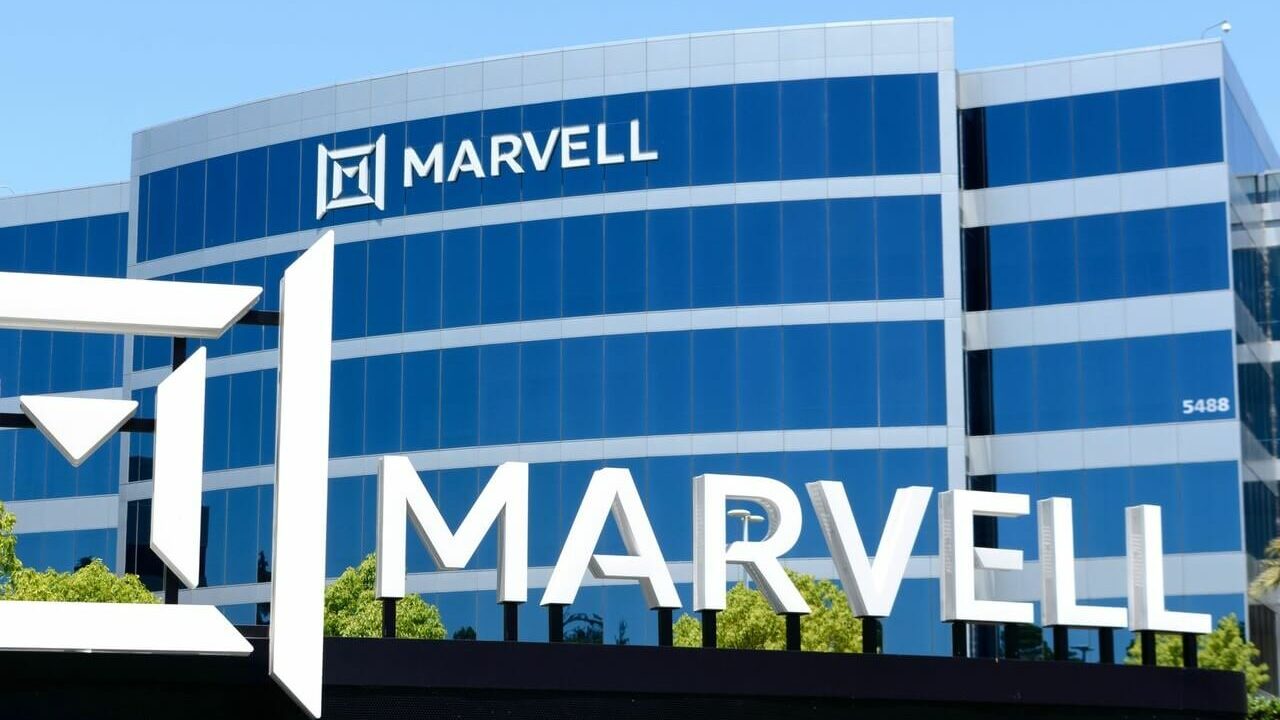 The News: Marvell Technology, Inc. (NASDAQ: MRVL), a supplier of infrastructure semiconductor solutions, reported financial results for the second quarter (Q2) of fiscal year (FY) 2023. Net revenue for the second quarter of fiscal 2023 was $1.517 billion, consistent with the midpoint of the company's guidance provided on May 26, 2022. GAAP net income for the second quarter of fiscal 2023 was $4 million, or $0.01 per diluted share. Non-GAAP net income for the second quarter of fiscal 2023 was $486 million, or $0.57 per diluted share. Cash flow from operations for the second quarter was $331.5 million. Read the Marvell Press Release here.
Marvell Sustains Impressive Market Momentum with Robust Q2 Fiscal 2023 Financial Results
Analyst Take: Per our research note in May 2022 about the company's Q1 2023 earnings report, Marvell Technology is a juggernaut when it comes to consistently generating impressive earnings numbers. For fiscal Q2 2023, the success endures, giving Marvell ever broader ecosystem credence. The company's Q2 ended on July 30. 2022. Here are the latest financial highlights:
Q2 Net Revenue: $1.517 billion, grew by 41% year-on-year
Q2 Gross Margin: 51.8% GAAP gross margin; 65.0% non-GAAP gross margin
Q2 Diluted income per share: $0.01 GAAP diluted income per share; $0.57 non-GAAP diluted income per share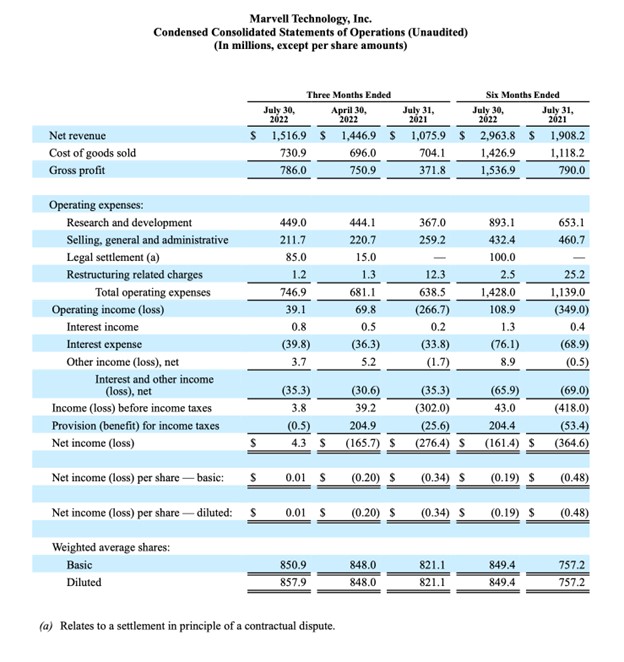 Marvell starts Q2 FY 2023 with robust results, including a record first quarter of $1.517 billion, up 41% YoY and 5% sequentially, the 9th straight quarter of sequential revenue growth. This is a vigorous financial performance overall, and it shows how the company is advancing its strategic mission to diversify and grow its data infrastructure business and expertise to meet the evolving and growing needs of organizations across the digital ecosystem.
Marvell President and CEO, Matt Murphy, highlighted that the company is solidly positioned to benefit continually from favorable end market exposure linked to robust secular growth trends and significant expected upcoming revenue contributions from an array of Marvell-specific product ramps. We find the combination of Marvell meeting the top and beating on the bottom by $.01 as encouraging in backing CEO Matt Murphy's perspective on sustaining favorable end market exposure.
Marvell's Q2 2023 Performance by Market
The tangible progress in revenue and portfolio diversification is reflected across Marvell's YoY End Market revenue results: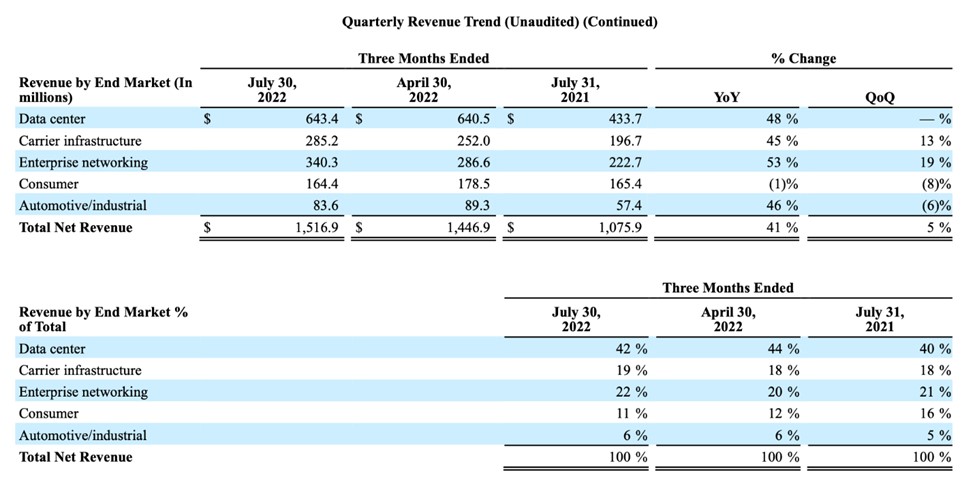 The company's revenue mix success story especially includes the shift of consumer to infrastructure over the last six years from 38% infrastructure revenue to 89% infrastructure revenue. With its core business in semiconductors and increasingly software, Marvell has fully transitioned to capitalize on the market opportunity beyond its increasingly distant consumer-focused specialization. This has continued to prove itself a critical transformation as it has been key to the company's sustained earnings growth and sturdy diversification into key market segments.
We view Marvell now as a major player across the semiconductor space that exercises considerable ecosystem influence and proven adept at uniquely capitalizing on secular growth drivers across the data infrastructure, cloud, 5G, and auto market segments to help power long-term growth.
We are impressed by Marvell's M&A acumen as the company continues to obtain technology assets and expertise that swiftly augments its portfolio and bolsters its overall competitiveness. The May 2022 acquisition of Tanzanite Silicon through an all-cash transaction can enable Marvell to broaden its addressable market and channel relations across the cloud-optimized silicon market segment.
With this acquisition Marvell is ready to lock in Compute Express Link (CXL) benefits such as extending the infrastructure agility needed to immediately allocate resources aligned to workload requirements which can produce improvement in use optimization as well as reduced total cost of ownership. Now Marvell can use CXL technology to power the built-out of fully disaggregated architectures as data center environments demand more higher speed interconnectivity coupled with optimized computing, networking, memory, security, and storage silicon fabrics and chipset solutions.
The Tanzanite deal follows on Marvell's string of acquisitions that included Innovium for $1.1 billion in August 2021 and the completion of the Inphi acquisition for $10 billion in April 2021. We have been swayed by the size and strategic fit of its recent deals. Naturally, acquisitions come with risk, but these deals, together with Marvell's existing portfolio and expertise, these acquisitions are setting it on a path for continued and sustained growth in a business marketplace that is generating heavy demand for these technologies and accompanying integration services.
Marvell's Q3 FY2023 Outlook
As with all successful companies, Marvell is forging ahead with its strategic vison and blueprint. Key Q3 fiscal 2023 outlook highlights include:
Net revenue is expected to be $1.560 billion +/- 3%.
GAAP gross margin is expected to be 51.1% +/- 1.1%.
Non-GAAP gross margin is expected to be 65.0% +/- 0.25%.
From our perspective, Marvell's release of its inaugural Environmental, Social and Governance (ESG) Report this month detailing the company's goals, strategic approach, and commitment to building a sustainable future further augments the company's overall outlook. Through its new ESG report commitment, Marvell can continue to make a responsible and sustainable impact across its supply chain, partner, and customer ecosystem, as well as diverse employee community.
In the automotive segment, we also view the late May launch of the Marvell Brightlane Ethernet Switch solution as delivering the Layer 2 security through integrated MACsec, ISO 26262/ASPICE software support, and dual core lockstep CPU redundancy essential to enabling secure, safe in-vehicle networking throughout the software-defined vehicle (SDV) ecosystem. Now Marvell can play a larger role in driving SDVs to the next levels of vehicle autonomy and security.
As we see it, Q3 FY2023 should be another momentum-sustaining quarter for Marvell, with continuing growth and steady leadership as it steadily strengthens its market presence and mind share in the data infrastructure tech market. A sound quarter with continued positive momentum is hard not to expect more of the same in the company's next quarter as Marvell is guiding to a midpoint of 29% revenue growth in Q3. We view Marvell's sound financials as providing the foundation required to invest more in powering innovation and growth across all its end markets.
A Final Word on Marvell
Marvell has done a tremendous job over the past six years shifting its business to participate in key seculars while also de-risking from consumer bubbles that have historically weighed on the company's long-term prospects. Under the leadership of Matt Murphy, Marvell has become an almost "Must-Own" name in semiconductors and this quarter provided further evidence of this trendline. While we are seeing evidence of economic slowing in parts of technology as seen in the overall results of this quarter across tech, there has been an emphatic trendline of individual performers that have bucked the trend and Marvell appears well positioned to be among those names. The next few quarters will be telling for the chip sector, but we like the limited exposure to consumer and the wave of record results for Marvell indicate a bright future for the company.
Disclosure: Futurum Research is a research and advisory firm that engages or has engaged in research, analysis, and advisory services with many technology companies, including those mentioned in this article. The author does not hold any equity positions with any company mentioned in this article.
Analysis and opinions expressed herein are specific to the analyst individually and data and other information that might have been provided for validation, not those of Futurum Research as a whole.
Other insights from Futurum Research:
Marvell Kicks Off Fiscal 2023 on a High Note with Robust Q1 Financial Results
Marvell's Brightlane Ethernet Switch Ready to Help Drive SDV Ecosystem to New Levels of Security and Autonomy
Marvell Injects New CXL Technology into Cloud-Optimized CXL Portfolio with Tanzanite Acquisition
Image Credit: Barrons