Lenovo ThinkStation P Series: STEM & STEAM Need Powerful Machines
Lenovo ThinkStation P Series: STEM & STEAM Need Powerful Machines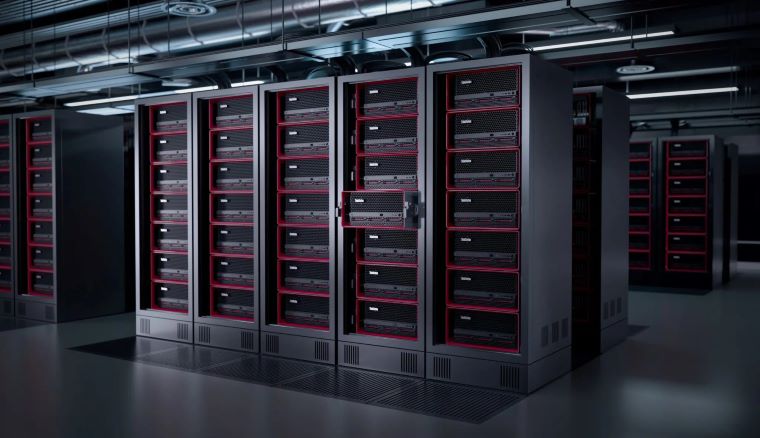 The News: Lenovo's ThinkStation P series recently launched, Lenovo's next-generation high-performance workstations, which were designed in partnership with Aston Martin. The Lenovo ThinkStation P series is aimed at users in STEM and STEAM job functions that are expected to grow above traditional job growth rates over the next several years. Read Lenovo's Press Release for more details.
Lenovo ThinkStation P Series: STEM & STEAM Need Powerful Machines
Analyst Take: News of the launch of Lenovo's ThinkStation P series is well-timed, as the market for high-performance workstations is expected to be one of the fastest growth segments of the traditional personal computer market for a variety of reasons.
As the chart illustrates below, many of the jobs associated with the STEM and STEAM (science, technology, arts, and math) market are projected to grow much faster than typical job functions and typically need a system with significant processing power, above and beyond that afforded by a mainstream personal computer. With the above average growth of STEM and STEAM job functions, it's not a surprise that the market is expected to perform well.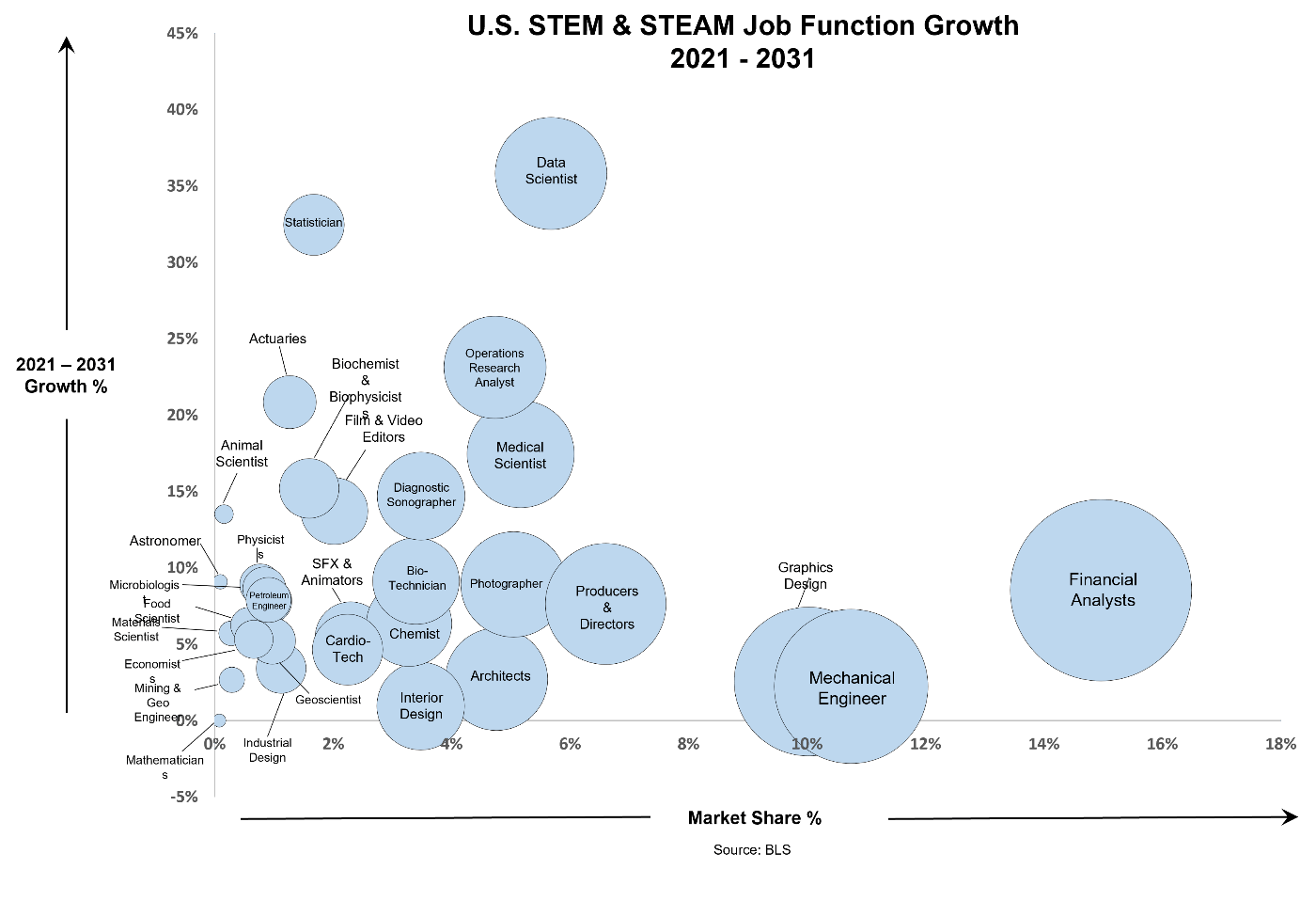 Some Trends Propelling the Market
Growth of Data. Looking at the top bubbles, it's no surprise that data scientists (+36 percent growth) statisticians (+32 percent growth) and actuaries (+21 percent growth) are expected to grow much faster than most segments due to the sheer amount of data organizations are generating today. Many companies have launched digital transformation strategies, which also include trying to weave analytics throughout the organization to make more informed decisions. This has manifested in companies forming data mining groups that were centralized and some are being de-centralized or woven into each business unit.
Growth of Digital Video & Audio. Without a doubt, consumers are streaming more digital content than they ever have due to the sheer number of devices (e.g., smart televisions, smartphones, tablets, personal computers, etc.) available to them and social media companies and vendors getting into the fray. To be sure, the market for video streaming on demand is expected to grow much faster than GDP over the next several years. With companies churning out more content at a faster rate, this is also propelling the growth of job functions such as producers, directors, special effects animators, film and video editors, sound engineers, writers, and more.
Gaming, Virtual & Mixed Reality. The market for gaming is also projected to grow much faster than other industries. In fact, the balance between men and women gamers is almost split down the middle, along with older generations still gaming. The market is being driven by many factors, including the growth of virtual reality, linkages to social media, mobile gaming, robust graphics, growth of eSports, and the anticipation of the Metaverse, to name just a few. Along those lines, we continue to see more realism in videos on sites that allow users to immerse themselves further, which will continue to get much better in the future.
Diagnostics. With the rise of aging populations comes the need for much better diagnostic equipment, along with job functions associated with them. It's not a surprise to see job functions in diagnostics that leverage high-performance workstations (e.g., PACs systems) to read X-rays, etc. In addition, we are seeing an increase in the use of diagnostic equipment by veterinarians, as pet care continues to be a rapidly growing field.
GEOINT (Geo Spatial Intelligence). The world is changing rapidly, with satellites, drones, smartphones and more capturing data on a minute-by-minute basis, which is being used with statistical information (e.g., natural disasters, population, etc.) appended to it for further analysis. A key example is tracking and modeling the future impact of climate change. Thus, as more companies in both the public and private sectors seek to study these impacts, along with analyzing other areas that are key to certain businesses, we expect the GEOINT category to propel the market forward. In fact, we are also seeing some STEM & STEAM programs let students use software from companies such as ESRi for various projects, which is exciting – training a new generation of tech workers.
The Lenovo ThinkStation P Series Is Powerful
Lenovo ThinkStation PX
The Lenovo ThinkStation PX, the higher end of its product offering, is designed for both the desktop and data center. The device is packed with excellent CPU and GPU. It comes with a 2-way 4th generation Intel Xeon scalable processor with up to 120 cores (60 cores per CPU) and up to 4.1GHz clock speed. From a GPU perspective, the device can have up to 4 dual-slot NVIDIA RTX 6000 Ada gen GPUs each with 48 gigabytes of VRAM. The system is also capable of up to 2 terabytes of DDR5 4800MHz memory along with 16 DIMM slots. The ThinkStation PX also has a robust set of resource hungry applications in myriad industries that are ready to run on the device such as AVID, Altair, Autodesk, ANSYS, Bentley, Dassault, Nemetschek, PTC, Siemens, Esri, Adobe and Dassault Systemes to name a few.
Lenovo ThinkStation P7
The Lenovo ThinkStation P7 is also outfitted with a robust CPU, GPU, internal storage, and memory. The device is outfitted with a 1-way Intel Xeon W processor (Intel Xeon W-3400 processor) with up to 56 cores and 4.8GHz clock speed. It also includes up to 3 NVIDIA RTX 6000 Ada GPUs each with 48 gigabytes of VRAM. The device is capable of 1 terabyte of DDR5 memory with 8 DIMM slots along with 52 terabytes of internal storage (up to 7 hard drives). The Lenovo ThinkStation P7 is also ready to run key application such as AVID, ANSYS, Bentley, Dassault, Nemetschek, PTC and Siemens.
Lenovo ThinkStation P5
The Lenovo ThinkStation P5 is outfitted with a 1-way Intel Xeon W processor (Intel Xeon W-2400 processor with up to 24 cores and 4.8GHz clock speed. The device is also capable of 2 NVIDIA A600 GPUs each with 48 gigabytes of VRAM. The device is also capable of 512 gigabytes of DDR5 memory with 8 DIMM slots and a total of 48 terabytes of internal storage up to 6 drives total. From an application perspective, the ThinkStation P5 is ready for applications such as AVID, Altair, Autodesk, ANSYS, Bentley, Dassault, Nemetschek, PTC and Siemens to name a few.
Wrapping it up, the newly announced Lenovo ThinkStation P Series from Lenovo with design help from Aston Martin should be received in key STEM and STEAM job functions in the future as key trends such as the growth of data, digital audio and video, gaming & mixed reality, diagnostics, GEOINT and more will propel job functions needing more powerful systems to generate content and analyze data in the future. I think I'm going to need to try one of these out!
Disclosure: Futurum Research is a research and advisory firm that engages or has engaged in research, analysis, and advisory services with many technology companies, including those mentioned in this article. The author does not hold any equity positions with any company mentioned in this article.
Analysis and opinions expressed herein are specific to the analyst individually and data and other information that might have been provided for validation, not those of Futurum Research as a whole.
Other insights from Futurum Research:
Lenovo Q3 2022-2023: Diverse Growth Engines Aid Weathering Global PC Downturn
Lenovo's ThinkSmart View Plus Expands Portfolio of Smart Collaboration Solutions with New, 27" Display that Runs Microsoft Teams Display
Lenovo Unveils its New ThinkPhone Leveraging Qualcomm's Snapdragon 8+ Gen 1 SOC
Image Credit: Lenovo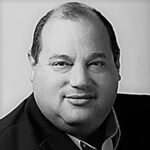 Michael Diamond is an industry analyst and foresight professional with 25 years of experience in the IT channel and market research industry. He is a route-to-market expert covering desktop and mobile devices, collaboration, contact center, ProAV, data center infrastructure, and cybersecurity. Prior to joining Futurum Research, Michael worked for The NPD Group as the sole industry analyst covering indirect channels, cybersecurity, SMB and vertical market trends, data center infrastructure (e.g., enterprise storage, servers, networking), ProAV and PCs. He has been quoted by media outlets such as Bloomberg, Kiplinger, TWICE, OPI (Office Products International), Apple World today, Dark Reading, Enterprise Storage Forum, Credit-Suisse, Footwear News, CRN (Computer Reseller News), Channel Futures and Into Tomorrow.  Michael has presented at myriad events including The Channel Company's Xchange, The Global Technology Distribution Council's summit, SMB TechFest and more.