Lattice Semiconductor Delivers Excellent Q3 2022 Growth
Lattice Semiconductor Delivers Excellent Q3 2022 Growth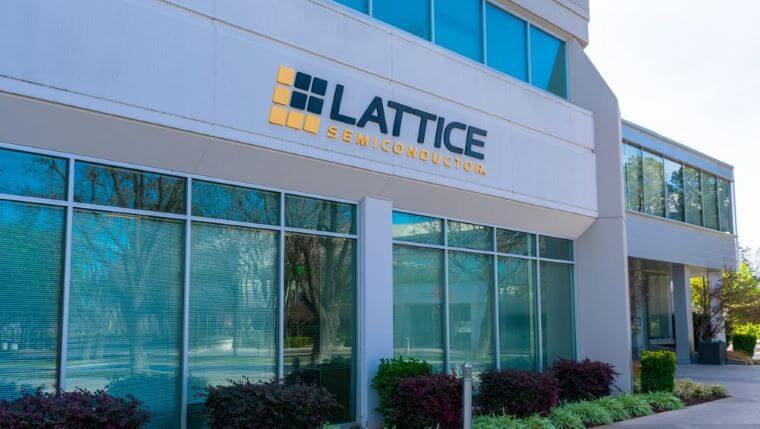 The News: Lattice Semiconductor (LSSC), a maker of low-power programmable FPGAs, recently announced its Q3 2022 earnings where the company increased its revenues 31 percent versus Q3 2021 and 7 percent sequentially handily beating analyst estimates. Read the full Press Release from the Lattice Semiconductor.
Lattice Semiconductor Delivers Excellent Q3 2022 Growth
Analyst Take: In its most recent quarter, Lattice Semiconductor continued to achieve record profitability with double-digit revenue growth coupled with gross margin expansion. The company is focused on free cash flow, continues to invest in its product roadmap, and return capital to its shareholders through share buybacks.
The company continues to fire on all cylinders, easily beating Q3 2022 revenue expectations. Lattice's Q3 2022 revenues were $172.5 million, a 31 percent increase versus the prior year quarter and the company's seventh consecutive quarter of double-digit growth on a year-over-year basis.
From a margin perspective, on a non-GAAP basis, the company increased its gross margins 590 basis points year-over-year or 69.5 percent from 63.6 percent in the prior year quarter. The company also reduced its selling general and administration expenses by 220 basis points year-over year translating into higher non-GAAP operating margins, which grew an impressive 930 basis points year-over-year.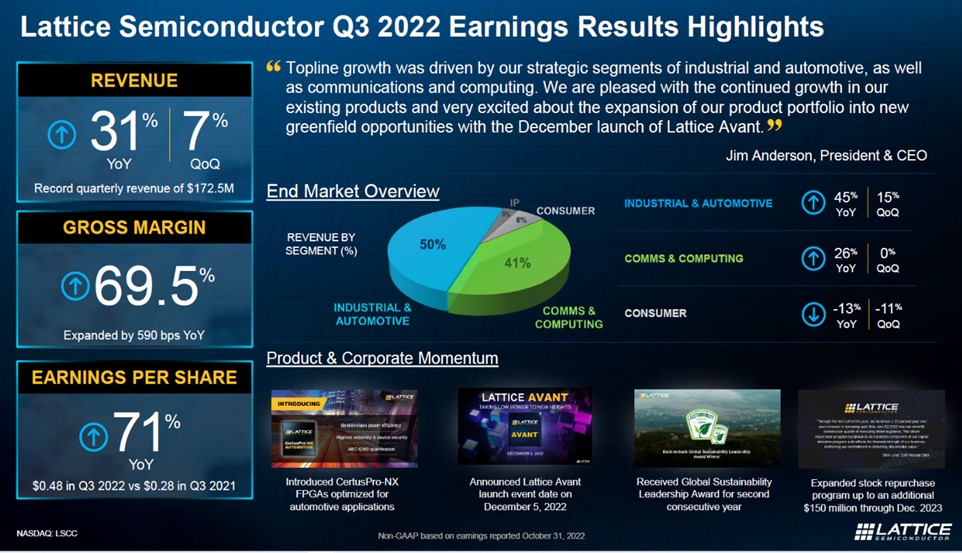 Here are Lattice's Q3 2022 results by the numbers:
Q3 2022 revenues of $172.5 million vs $131.9 million or 30.8 percent year-over-year growth.
Q3 2022 non-GAAP net income was $66.5 million versus $39.6 million, up 67.8 percent versus the prior year quarter.
Q3 2022 non-GAAP earnings per share was $0.48 versus $0.29, a year-over-year change of $0.19.
Q3 2022 non-GAAP gross margins were 69.5 percent versus 63.6 percent, up 590 basis points or 5.9 percent.
Q3 2022 non-GAAP operating margins were 39.7 percent versus 30.4 percent in the prior year quarter or a change of 930 basis points.
Business Segments
From a revenue perspective, industrial and automotive represented 50 percent of the business for the quarter and grew 45 percent year-over-year and 15 percent quarter over quarter. The management team indicated that this is the third consecutive year of double-digit revenue growth in the segment and key areas of opportunity for long-term growth are in applications and industrial automation in robotics coupled with automotive ADAS and infotainment systems.
The Communications and Computing segment represented 41 percent of revenues for the quarter and were flat sequentially and up 26 percent year-over-year. Management said that the segment is on track to deliver their fourth consecutive year of double-digit growth. Longer-term for segment will continue to be content expansion in data servers, new greenfield client computing design wins and growth in wireless 5G infrastructure.
The Consumer segment represented approximately 6 percent of revenues and declined 11 percent sequentially and down 13 percent year-over-year reflecting macroeconomic softness in the consumer electronics market. Given that consumer only represents 6 percent of their total revenue in Q3, the revenue decline in consumer was more than offset by growth in other segments.
Lattice Product Segments
Lattice mentioned it is launching its newest FPGA platform called Lattice Avant on December 5. The Avant platform will double Lattice's addressable market, creating new greenfield revenue opportunities. The company continued to expand its product roadmap with the introduction of an automotive version of the CertusPro-NX that has market leading power efficiency and performance in a small form factor. The new product, based on their Nexus platform, will add to their solutions that are optimized for the automotive market that the company continues to see as a long-range revenue driver.
From a software perspective, Lattice remains focused on investing heavily in its software strategy and those investments are geared toward making it easier for its customers to adopt Lattice products to market much faster. The management team said that over one-half of their new silicon design wins are now enabled by at least one of their five software solutions stacks. Lattice's new Avant platform will also leverage the same software their customers are using today.
Lattice Semiconductor Outlook for Q4
Q4 2022 revenue is expected to be between $170 million and $180 million
Gross margin percentage for Q4 2022 is expected to be 69.5 percent plus or minus 1 percent on a non-GAAP basis
Without a doubt, as evidenced by the Lattice's Q3 2022 superior performance, the company is, as mentioned earlier, clearly firing on all cylinders. Lattice continues to achieve excellent profitability, which includes double-digit revenue, coupled with gross and operating margin expansion. From a business unit perspective, Industrial and Automotive and the Communications and Computing segments represent about 90 percent of their revenues and Lattice expects these to be the long-term growth drivers for the company over the next several years. To ensure Lattice is returning capital back to its shareholders, the company remains committed to focusing on free cash flow by amplifying current and investing future product roadmaps coupled with share buybacks. The future looks bright for Lattice and its strategy appears to be on track.
Disclosure: Futurum Research is a research and advisory firm that engages or has engaged in research, analysis, and advisory services with many technology companies, including those mentioned in this article. The author does not hold any equity positions with any company mentioned in this article.
Analysis and opinions expressed herein are specific to the analyst individually and data and other information that might have been provided for validation, not those of Futurum Research as a whole.
Other insights from Futurum Research:
Lattice Semiconductor's Record-breaking Q2 2022 Revenue: A Look at the Company, its Strategy, and What's Going on in Chips – Futurum Tech Webcast Interview Series
Lattice Semiconductor Q2 2022 Revenue Hits Record $161M
Image Credit: Investors Business Daily