Kyndryl and Red Hat Announce Partnership to Advance IT Automation for Multicloud Infrastructure
Kyndryl and Red Hat Announce Partnership to Advance IT Automation for Multicloud Infrastructure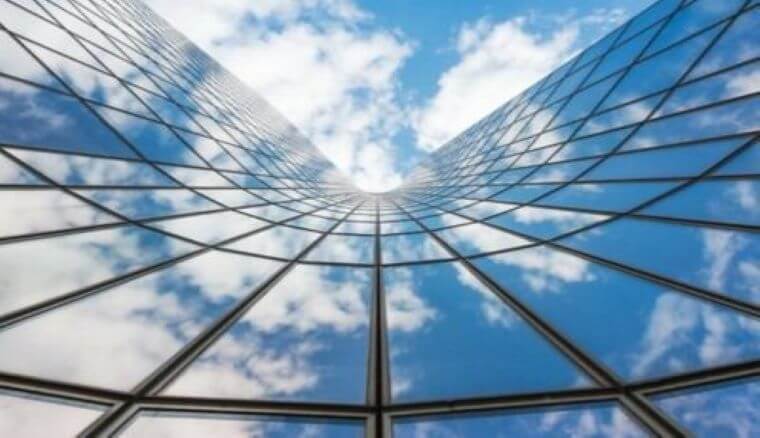 The News: Kyndryl and Red Hat announced a partnership today at Red Hat Summit designed to help customers modernize IT operations, embrace managed services, and incorporate open, differentiated automation tech into business operations. Read the full Press Release from Kyndryl here.
Kyndryl and Red Hat Announce Partnership to Advance IT Automation for Multicloud Infrastructure
Analyst Take: News of the Kyndryl and Red Hat strategic partnership coming out of today's Red Hat Summit is not only a win for both companies, it's a big win for their customers as well. Kyndryl is the world's largest IT services company, and Red Hat is the world's largest provider of open source solutions. As cloud native applications become the prevalent deployment model for many enterprises, we are seeing Global System Integrators (GSIs) pivot their businesses from building out on premises IT deployments to assisting enterprises to migrate to the cloud and establish Day 2 operations of these cloud environments.
Enterprises are increasingly operating more complex IT environments, spanning from on premises datacenters to public and private clouds and the edge. The ability to automate how these environments is becoming increasingly important given the interconnectivity of the deployments and the sheer scale of the number of endpoints. Against this backdrop, GSI are a crucial part of the equation, helping ensure that enterprises are not shouldering the burden of IT operations alone, especially as these deployments now include hybrid, multicloud architectures.
Automation at Scale
Perhaps unsurprisingly given that Kyndryl has over 4,000 enterprise clients, 900 of which leverage Red Hat technology, Kyndryl is currently one of the largest global users of the Ansible Automation Platform. According to details provided in the announcement, Kyndryl is running tens of millions of automations and managing more than 500,000 customer endpoints worldwide based on Red Hat Ansible Platform. In order to drive out costs and improve service for Kyndryl clients, the company needs to be continually looking to deploy technologies that automate not only repetitive tasks such as server patching, but also ensure the overall security posture of its end customers is maintained.
The announcement today cements the Red Hat Ansible Automations platform as the primary enterprise automation across Kyndryl's infrastructure and the announcement also highlights how Red Hat and Kyndryl will focus on joint collaboration moving forward so as to develop their respective offerings.
Kyndryl's Cloud Automation Community Framework
From the briefing materials that accompanied the press release, we got a glimpse of the approach that Kyndryl is taking to build its tech stack and provide a reference architecture for how it plans to service its customer base with underpinning automation.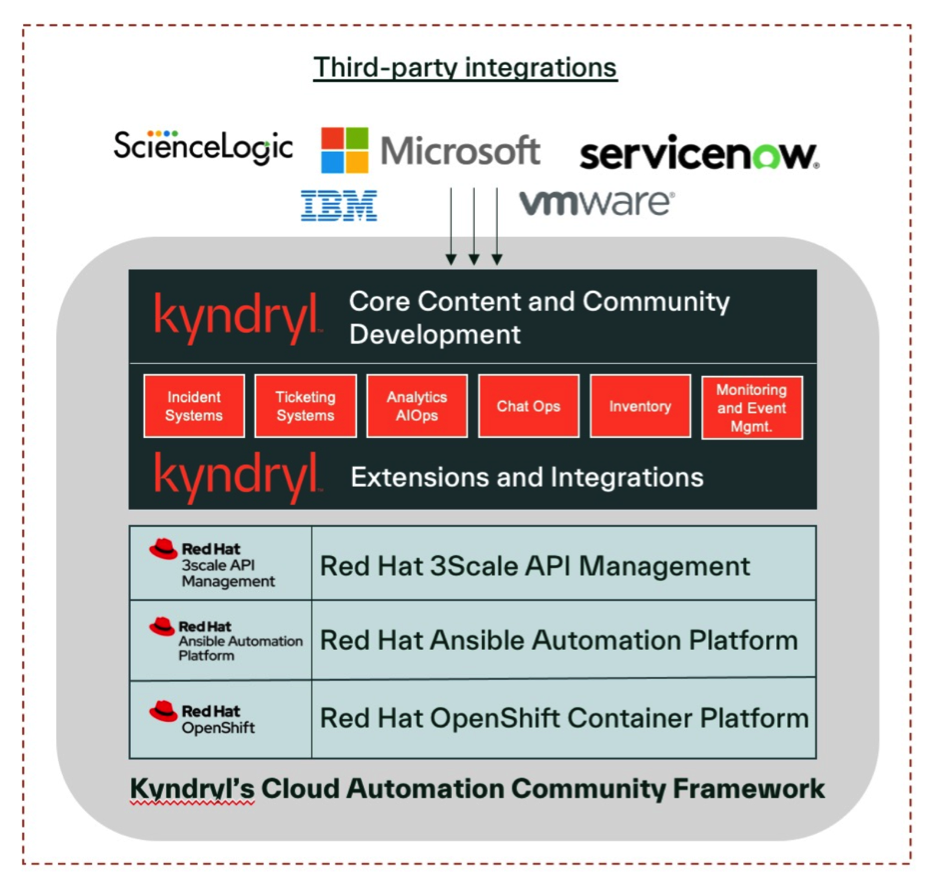 Leveraging Red Hat technology Kyndryl is building a reference architecture that focuses on fixing the following challenges:
How to Automate Day 0, 1, & 2 manual processes for zero-touch approach
Deliver a self-healing approach that accelerates productivity and problem resolution
Incident Remediation, Patch Scanning & Execution, Security & Compliance, Container & Server Build, and License Management
Leverage a community-driven model, allowing for faster automation deployment and customer-specific content creation
Support for both hybrid and native cloud workloads as well as multicloud deployments.
Datacenter to edge deployment models and everything in between
Kyndryl and Red Hat Also Partner on Joint Innovation Initiatives
Kyndryl and Red Hat plan to establish an Ansible Innovation Center designed to co-create solutions and help their respective end customers realize the benefits of hybrid cloud transformation. The announcements today focused on how the companies will look to collaboratively automate IT operations and services from the infrastructure level to the cloud and the edge. We envision the collaboration delivering jointly developed playbooks, enablement, and support based on Ansible Automation Platform and Kyndryl infrastructure services. This approach makes sense for both Kyndryl and Red Hat insomuch as Red Hat gets to collaborate with a huge IT landscape under management within Kyndryl, and Kyndryl gets to be first in line for requesting new features and functions that will help it both lower cost and increase service delivery.
Looking Ahead to the Next Phase of Cloud Native Deployments
Looking ahead, we are seeing the emergence of the next phase of cloud native deployments and the GSIs are increasingly becoming a key part of how this will be delivered. As cloud deployments shift from being the minority to the majority, GSIs are looking to adapt and focus their services teams on enabling their customers' transition to the cloud. A key part of the management of these cloud native deployments is automation, which is logical — the sheer volume of endpoints, devices, and platforms to be managed in these hybrid clouds dictates automation is an absolute must.
Since the Ansible acquisition, Red Hat has built the Ansible Automation Platform to be one of the industry's most trusted and widely deployed automation platforms. As a result, it is not surprising that Kyndryl would look to leverage the automation technology to underpin its IT services business.
Our team will be tracking to see whether the respective companies continue to provide guidance on the number of Ansible deployments, as progress beyond the 900 clients leveraging the technology today will be a KPI as to whether this partnership is delivering. Overall, this alliance makes perfect sense. Kyndryl was already a heavy user of Red Hat technology and Red Hat is the market leader in the Automation space.
Disclosure: Futurum Research is a research and advisory firm that engages or has engaged in research, analysis, and advisory services with many technology companies, including those mentioned in this article. The author does not hold any equity positions with any company mentioned in this article.
Analysis and opinions expressed herein are specific to the analyst individually and data and other information that might have been provided for validation, not those of Futurum Research as a whole.
Other insights from Futurum Research:
Kyndryl Announces First Full Earnings as a Separate Company
Futurum Live! From the Show Floor with Kyndryl's Frank DeMarco at SHARE Dallas 2022
Red Hat Goes All in on Multi Cloud and Hybrid Innovation with Latest Version of Red Hat Enterprise Linux
Image Credit: Red Hat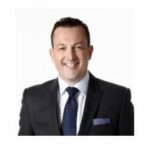 Steven Dickens is Vice President of Growth and Business Development and Senior Analyst at Futurum Research. Operating at the crossroads of technology and disruption, Steven engages with the world's largest technology brands exploring new operating models and how they drive innovation and competitive edge for the enterprise.  Read Full Bio.