Intel Q4 2022 and FY 2022 Results: Patience is a Virtue
Intel Q4 2022 and FY 2022 Results: Patience is a Virtue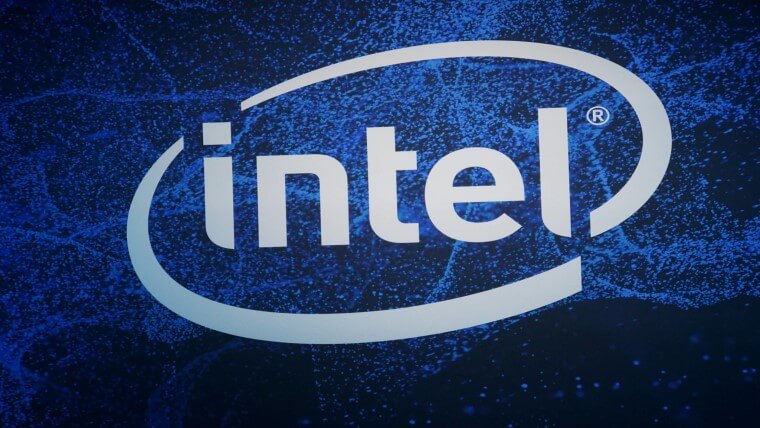 The News: Intel (NASDAQ: INTC) reported fourth quarter (Q4) and full year (FY) 2022 financial results. Q4 revenue was $14.0 billion, down 32 percent year-over-year (YoY) and down 28 percent YoY on a non-GAAP basis. FY revenue was $63.1 billion, down 20 percent YoY and down 16 percent YoY on a non-GAAP basis. Read the Intel Press Release here.
Intel Q4 2022 and FY 2022 Results: Patience is a Virtue
Analyst Take: Intel's Q4 2022 results reflected pullback across its primary client and data center market segments following on pre-Q4 record sales and post-pandemic spending adjustments. As a result, Intel is reporting substantial drops in revenue across both key market segments, interrupting Intel's six year streak of record annual revenue and sending the company into the red in Q4 2022. Intel's Q4 2022 results included: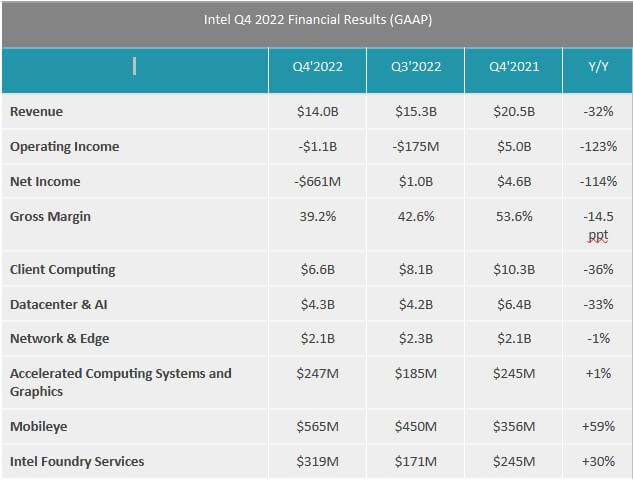 For Q4 2022, Intel reported $14.0 in revenue resulting in a disappointing 32% YoY decline. Intel had reported its best Q4 the previous year, which we view as corresponding significantly to pandemic-driven spending spikes. On a GAAP basis, Intel's Q4 2022 outcome results in the quarterly loss of $661 million, a 114% decline in net income, coming in at the low end of the forecasted range.
Intel CEO Pat Gelsinger acknowledged the economic and market headwinds distressing its fiscal performance, although stressed that Intel is steadfast in executing its strategic transformation including advancing its product roadmap, as well as improving operational structure and processes to drive company-wide efficiencies. This includes a strategic focus on providing products built on open and secure platforms powered by at-scale manufacturing.
Intel FY 2022 Financial Highlights
Turning to FY 2022 fiscal results, Intel's two core business groups, client computing (CCG) and data center (DCAI) registered significant downturns from the previous year. Key Intel FY 2022 highlights included: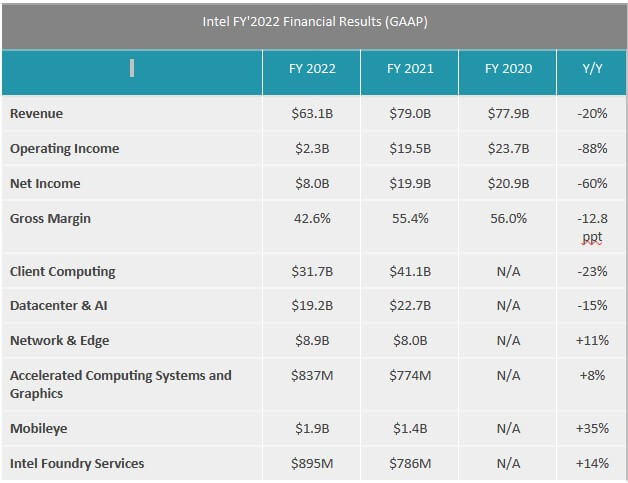 Even with a dramatic 36% decrease in operating revenue, Intel CCG was profitable on an operating basis. We view this as a consolation as CCG is Intel's largest group by revenue and it has been more directly subjected to the pandemic-fueled spending surge and subsequent post-pandemic spending dial down, particularly as key desktop and notebook OEM partners are laboring to reduce their inventory supplies post-pandemic.
Looking forward across CCG, we are encouraged by the January 2023 launch of Intel's 13th Gen mobile processors (codenamed Raptor Lake) which are aimed primarily at transforming the overall laptop experience including thin light laptops, gaming notebooks, as well as Internet of Things (IoT) devices. The new mobile processor suite comes in four types: HX, H-series, P-series, and U-series, ordered from highest to lowest in terms of power and performance targets although fulfilling specific customer requirements can create some variance.
We expect that Intel's 13th Gen mobile processors can make further inroads throughout the gaming and creator communities since it's built for gamers seeking maximum performance across the latest games (i.e., endurance gaming), while simultaneously having the capabilities to support a wide array of other workloads. For mobile applications, we see the new offering augmenting the ability to stream video, play music, and encode video all while gaming on demand.
This adds momentum to Intel's expectation of supporting more than 60 HX-gaming laptops as well as over 250 different laptop models developed across the remaining mobile processors consisting of top-tier laptop players such as HP, Dell, Lenovo, Razer, Asus, MSI, and Acer.
Keeping a Close Eye on New 4th Gen Xeon Processors and Intel Max Series
Notably, DCAI revenue decreased 33% to $4.3 billion. We are watching closely Intel's DCAI portfolio strategy to counter major foe AMD's recent inroads across the data center market, particularly with the Q4 2022 unveiling of its new generation of AMD EPYC CPUs (i.e., AMD EPYC 9004 Genoa) as well as the 96-core EPYC 9654. We believe this puts more onus on Intel's new 4th Gen Xeon Scalable processors, codenamed Sapphire Rapid, to succeed in delivering the company's most powerful compute to date for the exacting demands of edge and network loads.
We view the launch as starting on the right foot as the new Xeon processors offer substantial advances in per-core performance, debuts DDR5 memory, PCIe 5.0 and increased input output (I/O) support. Of key importance, Intel is touting that they support the most built-in accelerators of any CPUs on the market.
Plus, the 4th Gen Xeon processors coupled with the new Intel Max Series product family address growing data center ecosystem demand for a scalable, balanced architectural approach that assimilates CPU and GPU with oneAPI's open software ecosystem for scaling and intelligently managing arduous computing workloads in AI and HPC.
From our perspective, the topmost differentiator for the 4th Gen Intel Xeon Scalable processors and Xeon CPU Max Series is the built-in accelerator technology. The new Intel Accelerator Engines are purpose-built to optimize AI, high-performance computing (HPC), security, network, analytics, and storage applications. Fundamentally, we see built-in acceleration as an alternative, more efficient way to achieve higher performance than expanding the CPU core count.
Intel is betting heavily that its accelerator technology will tip the competitive balance in its favor by embedding a high degree of acceleration across its processor portfolio that the relative per-core performance becomes much improved than if the portfolio development strategy emphasized higher clock speeds or sole reliance on x86 architecture improvements.
However, at launch time more than half the SKUs are light on accelerators or do not have them enabled. For example, three of the four highly touted accelerators, Dynamic Load Balancer (DLB), In-Memory Analytics Accelerator (IAA), and Quick Assist Technology (QAT), are turned on for less than 45% of the SKUs. DSA is the only accelerator on every SKU, but only 27% of the SKUs have the full DSA configuration. Why is that?
The answer rests heavily with the Intel On Demand offering that is a new service attached to the 4th Gen Xeon Scalable processors. On Demand can be used to expand as well as upgrade accelerators and hardware-enhanced features across most 4th Gen Xeon processor SKUs including DLB, IAA, and QAT. We view Intel as acting on customer feedback that emphasizes transitioning from CapEx to OpEx and better align compute delivery with demand and fiscal constraints. In sum, customers want to access new capabilities when they are needed.
Through the activation model, On Demand can give customers the flexibility to select fully featured premium SKUs or the opportunity to add features at any time throughout the Xeon process lifecycle. Intel anticipates that the flexible framework of On Demand can become more valuable to customers as the number of workloads and the range of third-party enterprise software using accelerators expands and becomes more pervasive as solution providers enable these capabilities throughout their system and service offerings.
Accordingly, the full accelerator benefits of the 4th Gen Xeon processors will have increasing impact as more customers and partners activate the accelerators and Intel can seed a broader swath of the ecosystem. We see this as one key portfolio development area where the "patience is a virtue" mantra applies to measuring Intel's company-wide transformation.
Intel Q4 2022 and FY 2022 Takeaways: Maintaining Long Game Across IFS and New Portfolio Launches
From our perspective, Intel experienced a tough quarter and year across its core business units. However, the results were not surprising with guidance being adjusted this year. We see silver linings in IFS growth and Mobileye's performance as precursors for Intel's future performance outcomes as it continues executing on its turnaround strategy.
Regardless 2023 is where the rubber meets the road and Intel needs to demonstrate tangible progress in hitting company-wide targets such as cost reduction of $3 billion in 2023 and $8 billion to $10 billion by the end of 2025, winning back market share in key segments, and meeting portfolio roadmaps. Intel's long game needs to be significantly considered in understanding the warrant behind its ongoing portfolio development strategy and the potential for methodically advancing its strategic transformation.
Disclosure: Futurum Research is a research and advisory firm that engages or has engaged in research, analysis, and advisory services with many technology companies, including those mentioned in this article. The author does not hold any equity positions with any company mentioned in this article.
Analysis and opinions expressed herein are specific to the analyst individually and data and other information that might have been provided for validation, not those of Futurum Research as a whole.
Other insights from Futurum Research:
Intel 4th Gen Xeon Scalable Processors, Max Series CPUs and GPUs Primed to Accelerate Data Center Performance and Capabilities
CES 2023: Intel Unleashes 13th Gen Core Mobile Processors Aimed at Elevating Mobile Platform Experiences
Intel Q3 2022 Results: Return to Profitability Points to Progress in Turnaround
Image Credit: GamingStreet