Intel Q1 2023 Results: Adversity Sharpens Focus on Turnaround Strategy
Intel Q1 2023 Results: Adversity Sharpens Focus on Turnaround Strategy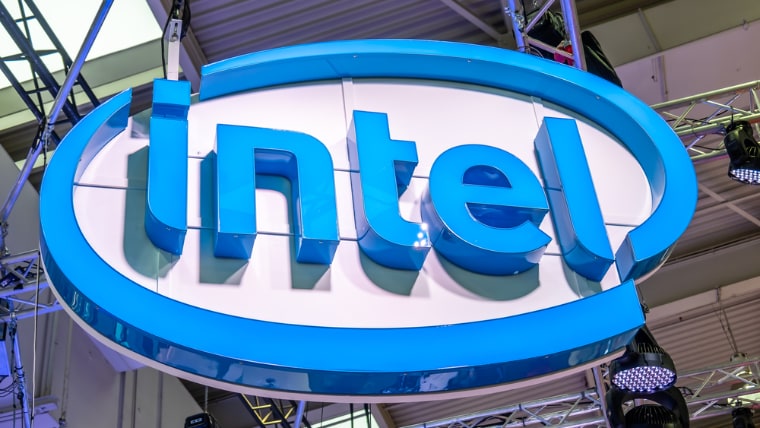 The News: Intel reported its first quarter (Q1) revenue of $11.7 billion, down 36% year over year (YoY). Q1 GAAP earnings (loss) per share (EPS) attributable to Intel was $(0.66); non-GAAP EPS attributable to Intel was $(0.04). Read the Intel Press Release here.
Intel Q1 2023 Results: Adversity Sharpens Focus on Turnaround Strategy
Analyst Take: Intel's Q1 2023 revealed the challenges of navigating macro headwinds as global personal computer (PC) inventories continue their post-pandemic corrections as anticipated and the year over year server total addressable market (TAM) contracted. Plus, network and edge demand further softened in the post-pandemic era. Key highlights of Intel's Q1 2023 included: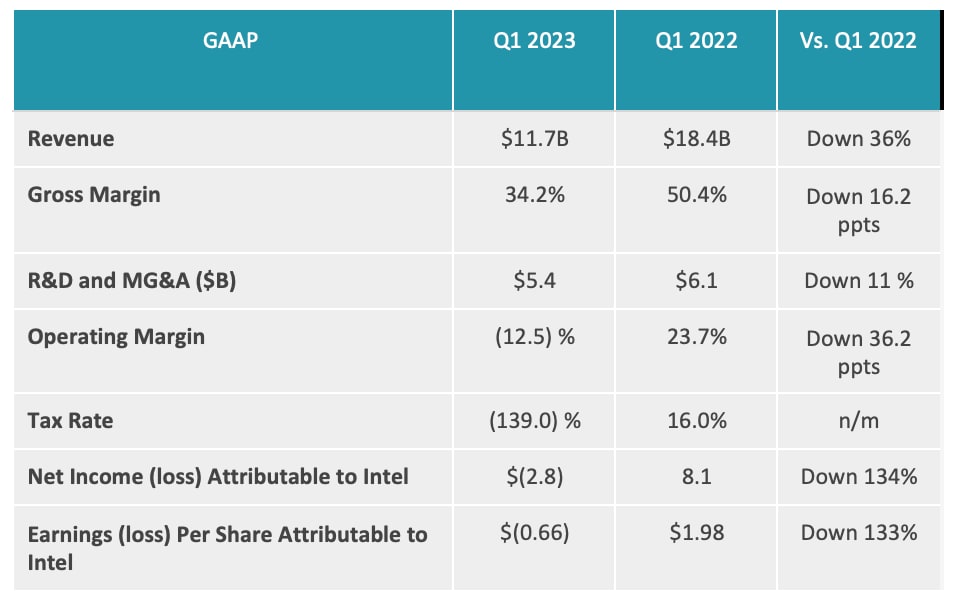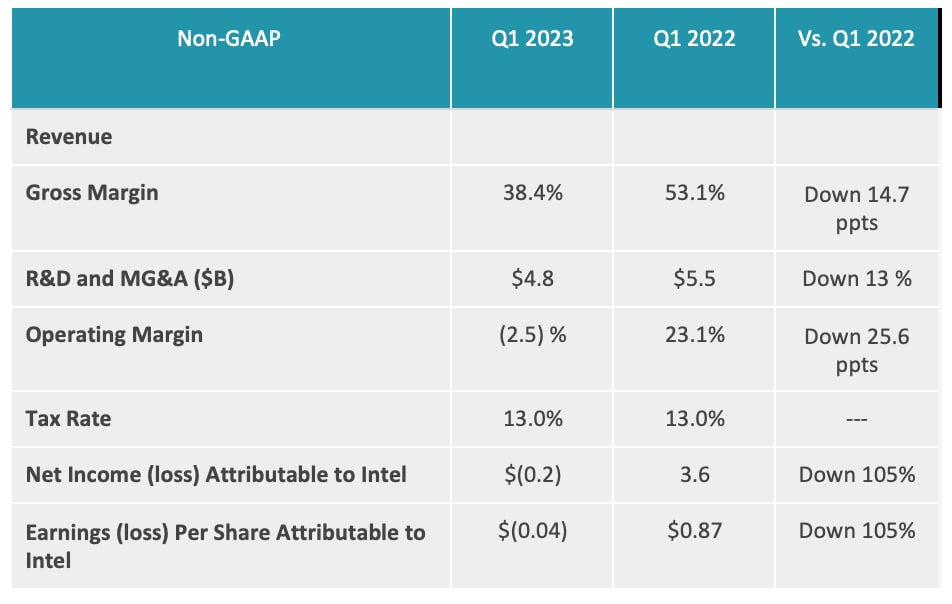 For Q1 2023, Intel reported $11.7 billion in revenue resulting in a 36% YoY decline from revenue of $18.4 billion from a year ago. Intel has now reported five consecutive quarters of declining sales and the second consecutive quarter of losses. Intel's Q1 2023 represented its largest historical quarterly loss, surpassing its Q4 2017 loss of $687 million.
We find some industry pundits fastening onto the challenging aspects of Intel's Q1 2023, however, we also believe that Intel has the blueprint and vision that Intel CEO Pat Gelsinger and the executive team have already promulgated to steer the company through this tough stretch. For example, Intel's Q1 2023 loss per share and sales beat Wall Street expectations on the top and bottom line, helping to set the tone and directing focus toward the company's long-term strategy.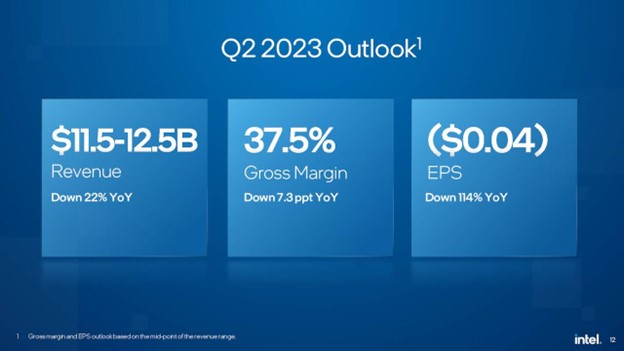 Intel is forecasting a modest recovery in the H2 2023 timeframe focusing on its commitment to manage costs, including $3 billion of cost savings during 2023 and ultimately $8 to 10 billion annually exiting 2025. Key to Intel's turnaround strategy is consistent adherence to its foundry, product, and process roadmaps, especially establishing its internal foundry model vital to advancing the IDM 2.0 vision and recapturing power performance and transistor frontrunner status by 2025.
Moreover, we see resurging semiconductor demand and expanding AI ecosystem capabilities providing tailwind support to Intel as well as the overall semiconductor industry later in 2023 and beyond.
Intel's Diverse Portfolio Initiatives Advance Turnaround Goals
Notably, Intel's diverse portfolio development strategy suggests the company can pull through its last two quarters of losses and regain positive market momentum. Intel is spotlighting the company is on track to fulfilling its objective of attaining five nodes in four years, with two of the five nodes almost complete. Intel 7 is in high-volume manufacturing and CCG's Meteor Lake product on Intel 4 is ramping production wafer starts from an expected launch in H2 2023. Equally important, Intel 3, Intel 20A, and Intel 18A remain on track.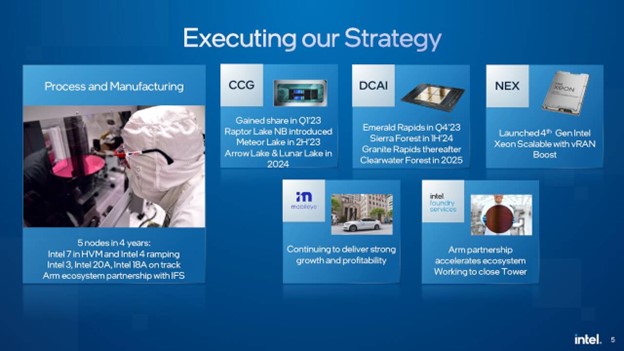 DCAI is projecting the delivery of Intel's 5th Gen Xeon Scalable processor, Emerald Rapids, later in 2023 with Sierra Forest expected to ship to customers in H1 2024 and Granite Rapids following shortly thereafter. Clearwater Forest, the follow-on to Sierra Forest is expected to ship in 2025, manufactured on Intel 18A. Also, Intel reported its Programmable Solutions Group (PSG) reached record revenue in Q1 2023.
In addition, Intel Foundry Services (IFS) and Arm have a multigeneration agreement to enable chip designers to build low-power compute system-on-chips (SoCs) on the Intel 18A process. We view the Arm collaboration as a sales and marketing boost for IFS as Intel ramps up its integrated device manufacturing (IDM) 2.0 capabilities, providing a breakthrough reference to onboard more partners. Under the new collaboration, IFS and Arm will adopt a design technology co-optimization (DTCO) process that aims to combine and optimize chip design and process technologies for each future SoC platform developed by the partners. By optimizing these processes together from the design stage, the companies indicated this can lead to improved power, performance, area, and cost (PPAC) for the Arm core designs.
NEX rolled out its 4th Gen Intel Xeon Scalable processors with Intel vRAN boost, delivering twice the capacity gains generation-over-generations within the same power envelope and up to an additional 20% power savings with integrated acceleration. From our perspective, Intel vRAN boost aligns with CSP prioritization of meeting its ESG goals, including ambitious energy efficiency and sustainability milestones. Mobile ecosystem support from major players such as Ericsson, Vodafone, Telefonica, and Verizon validate the integral role power savings, combined with advances in key areas such as price performance and security, is playing in vRAN portfolio development and CSP decision marking.
Akin to Intel PSG, Mobileye reported record revenue in Q1 2023, growing at a faster clip than the underlying automotive end-market segments it serves.
We are also encouraged by recent Intel portfolio initiatives that augment its turnaround strategy. For example, Intel's vPro Platform featuring 13th Gen processors bolsters endpoint security across expanding hybrid workforce environments, especially for remote work. We expect that 13th Gen Intel Core CPUs with Intel vPro Enterprise and vPro Essentials should further resonate with large and small organizations with widely distributed workforces, addressing widening attack vectors, which require more advanced remote management and security capabilities to meet.
Intel Q1 2023 Takeaways: Maintaining Long Game Across IFS and New Portfolio Launches
Overall, from our perspective, Intel's top challenge is executing a strategic plan that requires vigilance but also a great deal of patience. Integral to Intel's long-term strategy is delivering on its IDM 2.0 roadmap as well as meeting process and product portfolio objectives that can entail or require a horizon beyond 2023 to bear more enduring fruit. It remains to be seen if some key observers and players, such as across Wall Street, are willing to wait through such a span.
Regardless we anticipate that by demonstrating signs of operational excellence and fulfilling its IDM 2.0 strategy, Intel can go a long way towards neutralizing doubts and reducing ecosystem concerns. The ball is in Intel's court.
Daniel Newman and his co-host of The Six Five Webcast, Patrick Moorhead of Moor Insights and Strategy discussed Intel earnings in their latest episode. Check it out here and be sure to subscribe to The Six Five Webcast so you never miss an episode.
Disclosure: The Futurum Group is a research and advisory firm that engages or has engaged in research, analysis, and advisory services with many technology companies, including those mentioned in this article. The author does not hold any equity positions with any company mentioned in this article.
Analysis and opinions expressed herein are specific to the analyst individually and data and other information that might have been provided for validation, not those of The Futurum Group as a whole.
Other insights from Futurum Research:
Intel Foundry Services Partners with Arm on New SoC Designs
Intel Announces vPro Platform with 13th Gen Processors
Ericsson, Intel, and Microsoft Form Laptop Network Slicing Power Trio