IBM Q2 Earnings In — A Gain, Then a Slide. What I See Looking Forward
IBM Q2 Earnings In — A Gain, Then a Slide. What I See Looking Forward
Image credit: Network World, Reuters/Lucy Nicholson
IBM reported better-than-expected Q2 earnings on Wednesday, but the stock bounced a bit in after hours trading as the company's guidance for the year held steady. Shares of IBM initially rose as much as 4%, but later lost those gains and were down more than 1%. For more on that, read the story at CNBC.
IBM Q2 Earnings In — A Gain, Then a Slide. What I See Looking Forward
Analyst Take: Following a monster week where IBM completed the acquisition of Red Hat, it was the company's turn to report their most recent quarter to Wall Street. While the acquisition will be more accurately reflected in the next quarter's reporting, it is a certainty that the success of the acquisition will be critical for the company long term. We all know cloud is where it is at, and Red Hat is a gateway to the cloud, and a whole world of new customers for IBM. But I digress…
I believe that IBM's performance this quarter was solid, but not outstanding. The company had ups and downs, but as for what Wall Street typically is looking for, they did meet their earnings and revenue targets. They also saw a small increase in gross margin year-over-year, which is always a good sign for investors.
Another area of concern for IBM is that this represents the 4th straight quarter of revenue decline. This comes after breaking the streak a year ago, but remember, there were 22 straight quarters of decline previous to IBM breaking through that funk in January of 2018.
In terms of the company's business units, there was some volatility with mixed results coming in. Some groups like Systems and Global Technology Services, which are typically top performers, saw significant drops from the prior year.
However, a bright spot could be found in cloud, which grew 3% — firmly cementing the company as the third largest player in cloud behind AWS and Azure. The company's success in cloud will be reinforced by the Red Hat acquisition, but as noted above, the pressure for this acquisition to quickly take shape is going to be high for CEO Ginny Rometty.
I still believe that IBM has a lot of the right motions in place going forward. The company's cloud commitment, the unique Z and LinuxONE offerings, and the company's commitments in areas like Blockchain and AI are all sound positions in important emerging market spaces.
I do expect better things to come for Big Blue, but I also think they need to show growth again, and soon, as investors are fickle and the company won't deal well with another 5-year slide.
Check out some of my other recent articles:
DOJ Weighs in to FTC and Koh's Questionable Ruling Against Qualcomm
Prime Fine Day? EU Competition Chief Has Amazon in Her Crosshairs
The Microsoft, SAP, and Adobe-Led Open Data Initiative Plows Ahead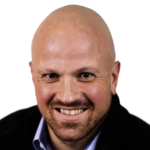 Daniel Newman is the Principal Analyst of Futurum Research and the CEO of Broadsuite Media Group. Living his life at the intersection of people and technology, Daniel works with the world's largest technology brands exploring Digital Transformation and how it is influencing the enterprise. Read Full Bio