IBM Deepens Its Commitment To Blockchain As Part of New Supply Chain Partnership
IBM Deepens Its Commitment To Blockchain As Part of New Supply Chain Partnership
International Business Machines Corp and their IBM blockchain solutions group announced on Monday a new blockchain network aimed at improving manual and cumbersome supply chain management.
Supply chain management involves overseeing the flow of goods and services, such as tracking the movement and storage of raw materials, inventory, and finished goods. It has been identified as one area that can benefit from blockchain technology, a shared database maintained by a network of computers connected to the internet.
Read the full article on Reuters via Yahoo Finance:
Analyst Take: I've been outspokenly fond of IBM's commitment to the adoption of Blockchain, and while the past few years I have felt it has been a bit premature, my prediction was that 2020 would be the year that we would start to really see enterprise blockchain applications gain momentum. 
What has needed to happen is for the tech industry to stop beating the Blockchain drum and for big companies with complex problems start to embrace the technology and confirm that blockchain has the capacity to solve some of their biggest problems. IBM blockchain platform may have found the killer application this time. 
This particular launch into supply chain, named "Trust Your Supplier" network (nice name?) is highly logical. With a group of worldwide companies across a wide swath of industries (Anheuser-Busch InBev, Cisco, GlaxoSmithKline, Lenovo, Nokia, Schneider Electric and Vodafone.), this As companies get larger, the supply chain becomes vastly more complex. Everything from managing on-boarding of new vendors to managing contracts and confirming service execution and delivery put significant burden on resources and to this point have had less than ideal tools for ensuring quality. 
If executed as suggested, the automation of cumbersome tasks coupled with the power of blockchain to ensure trustworthiness in the supply chain will deliver significant value to the founding partners and I have a feeling this solution will scale out to more users as it matures.
It's important to note that this isn't just IBM, but it truly is a collaboration between a group of companies with a specialized Blockchain Services firm, Chainyard, that is handling the tech, buildout and data migration. However, it is IBM's blockchain platform that will serve as the underpinnings of the solution.
While all the founding company's participating in this launch stand to benefit, I believe IBM stands to benefit more than any other company that is partaking in this new network as it will be built on their technology and the success of the program will likely serve as a catalyst to more large enterprises partaking in this and similar networks that could be built on IBM blockchain technology. The growth and adoption of the "Trust Your Supplier" network stands to be one of the largest early deployments of blockchain at scale and will certainly be one to watch. I have long felt that supply chain is the killer app for enterprise blockchain; now is our chance to see if this is true. 
Futurum Research provides industry research and analysis. These columns are for educational purposes only and should not be considered in any way investment advice.
More analysis from Futurum Research:
Facebook Brands Instagram and WhatApp: Why, Because They Can!
No, EU Ruling Won't Hinder Google's Search Dominance
Apple Wisely Makes Quick U-Turn on Siri Grading Program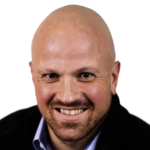 Daniel Newman is the Chief Analyst of Futurum Research and the CEO of The Futurum Group. Living his life at the intersection of people and technology, Daniel works with the world's largest technology brands exploring Digital Transformation and how it is influencing the enterprise. Read Full Bio