IBM Announces Artificial Intelligence Unit, a Specialized Computer Chip for AI
IBM Announces Artificial Intelligence Unit, a Specialized Computer Chip for AI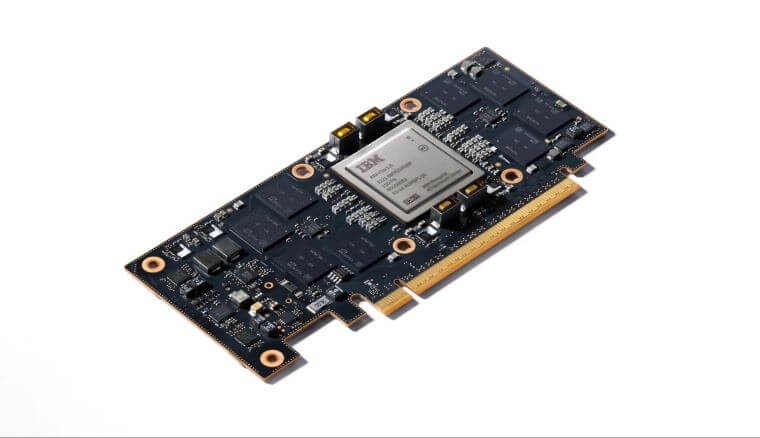 The News: IBM Research AI Hardware Center is creating a specialized chip dedicated to AI processing. The new Artificial Intelligence Unit (AIU) is a complete system-on-chip specially designed to run and train deep learning models more quickly and efficiently than general CPUs. Read the full announcement on IBM's blog.
IBM Announces Artificial Intelligence Unit, a Specialized Computer Chip for AI
Analyst Take: IBM's decision to create the AIU shows that we're in a new era. AI and machine learning have officially outgrown the standard CPU and GPU. The AI models being created today are doing more than saving time, they're saving lives. Current AI models and other machine learning models have been running on CPUs and GPUs that were built with other purposes in mind. It works, but it can be optimized. And businesses need powerful chips that can meet technology where it already is — and keep it running at the speed it was designed to go.
IBM is stepping up to the plate with the Artificial Intelligence Unit. The tech is a scaled version of a proven AI accelerator already built into IBM's Telum chip which was announced last summer. According to the company, AIU uses approximate computing and bit-formats to cut the amount of "number crunching" needed to train and run AI models without sacrificing accuracy. Additionally, the AIU is laid out to streamline AI workflows. Its simpler layout allows for matrix and vector multiplication and can send data from one compute engine to another quickly and easily.
According to IBM, the AIU is an app-specific integrated circuit (ASIC) that's designed for deep learning. It can be programmed to run deep learning tasks in just about any realm, from language to image to word processing. And, it's easy to use. You can plug it into any computer or server with a PCIe slot just like a graphics card.
The other takeaway from this announcement is that IBM is looking to leverage its long-standing investment in processor design from the work it has been doing for decades with both the Z and Power chip architectures. The Telum processor in the new z16 mainframe system has in-built AI acceleration and IBM is leveraging this IP for the new AIU.
We expect to see a plethora of new options arrive on the market that will look to take the GPU model and bring that to AI acceleration space. With this announcement, IBM is leading the charge, but we also see nascent entrants such as NeuroBlade looking to capture this evolving market.
Exciting Announcement for AI Growth, but Questions Remain
When will the AIU chip be ready for enterprise use? How much will it cost? Is it a work in progress or already in mass production? Those questions weren't clear from the initial AIU announcement. What is clear? IBM recognized it's beyond time to change the way AI computing happens and we expect to see more from IBM as this represents what we believe to be the first step in a strategic pivot for IBM to further deepen its AI position with enhanced hardware offerings.
It's Been a Good Week for IBM
In addition to this announcement, IBM also released its Q3 earnings this week. Everything is coming up roses for the tech giant right now. And while uncertainties remain with an economic downturn looming and ForEx being a drag on performance, IBM's leadership is making moves to strengthen the company and its portfolio for 2023 and beyond.
IBM is successfully making the pivot from a more services-centric mix under Ginni Rometty, the previous CEO, to a more streamlined hybrid cloud and AI-focused business under Arvind's leadership. This renewed focus is resonating with the market and leading to the recent uptick in growth that is being reflected in earnings. We expect this recent uptick in growth to continue.
Disclosure: Futurum Research is a research and advisory firm that engages or has engaged in research, analysis, and advisory services with many technology companies, including those mentioned in this article. The author does not hold any equity positions with any company mentioned in this article.
Analysis and opinions expressed herein are specific to the analyst individually and data and other information that might have been provided for validation, not those of Futurum Research as a whole.
Other insights from Futurum Research:
IBM Q3 2022 Revenue Up 6% to $14.4B, Beating Estimates
We are LIVE! Talking Google, Microsoft, T-Mobile, Cloudera, Intel IDM 2.0, Biden visits IBM – The Six Five Webcast
IBM Supply Chain Management Study Reveals Leaders are Investing in AI — and with Good Reason
Image Credit: VentureBeat