HPE Reports Challenging Q2 But Keeps Eye on the Future
HPE Reports Challenging Q2 But Keeps Eye on the Future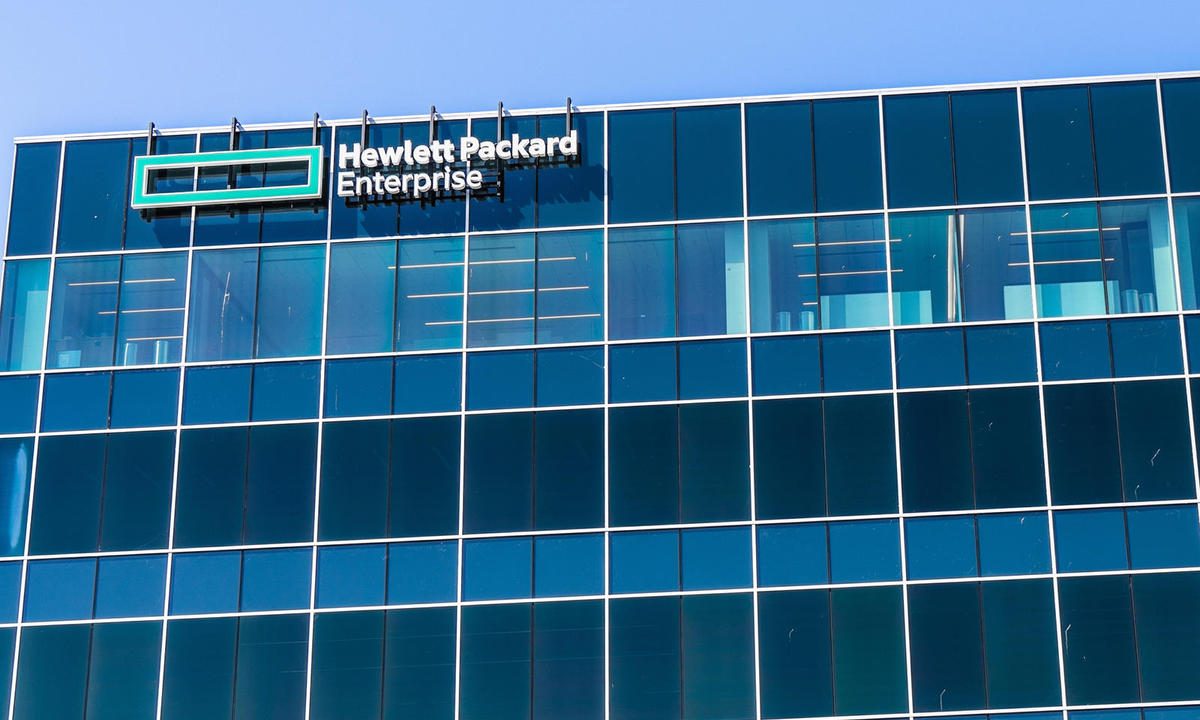 The News: Hewlett Packard Enterprise's fiscal second quarter fell short of expectations due to "the global economic lockdowns since February," but did say it exited the quarter with strong order backlog. HPE added that it plans to reorganize around its growth areas and create a cost structure for the "new normal" with digitization and automation.
HPE reported a second quarter loss of 64 cents a share on revenue of $6 billion, down 16% from a year ago. Non-GAAP earnings for the quarter checked in at 22 cents a share.
Wall Street was expecting HPE to report fiscal second quarter revenue of $6.29 billion with non-GAAP earnings of 29 cents a share. Read the full news on ZDnet.
Analyst Take: It is becoming increasingly difficult to look at financials in the wake of Covid-19 and determine what challenges are directly related to Covid-19 and which are underlying deficiencies in the business.
For HPE, the earnings report today will be memorable, but not for the reasons that most companies would hope. With both revenue and earnings falling short of the numbers that analysts had expected, the company finds itself in a more challenging environment–The question though, is how much this environment is related to the ongoing pandemic, and how quickly can it bounce back.
For the past several quarters, I have been largely bullish on the company. With a renewed leader in CEO Antonio Neri, and a new identity that is rapidly pivoting over to an Everything as a Service philosophy, I stand by my assessment that this is a company in a positive period of transition. However, it is irrefutable that the global Covid-19 pandemic has slowed progress for HPE. Let's have a look at how the business faired and what to expect going forward.
Growth Stalls Across The Business Segments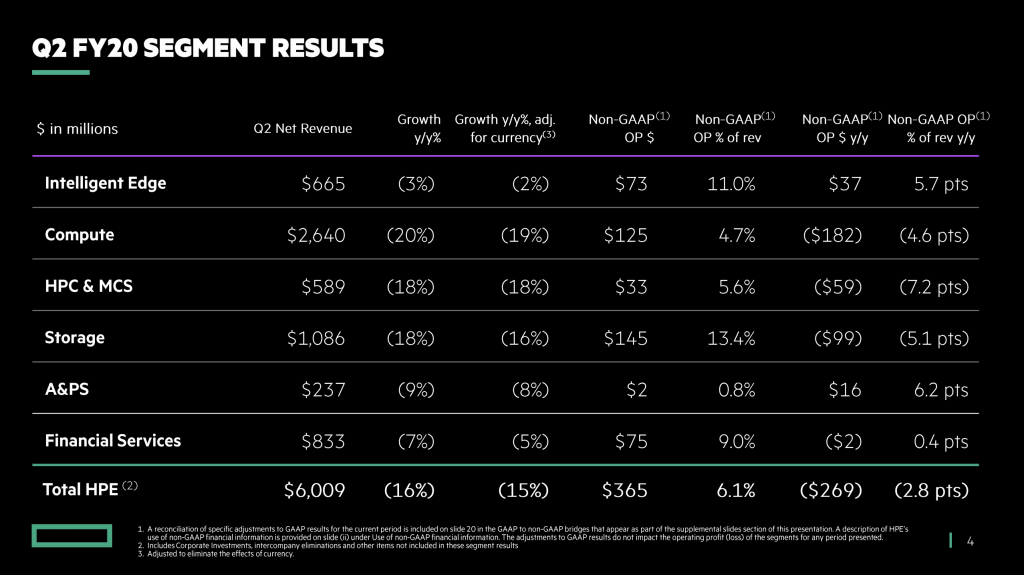 Unfortunately, none of HPE's business segments saw growth during this quarter, while some of the largest business units saw double digit declines. This was unquestionably related to the pandemic and supply shortages from delays during China's dealing with the novel coronavirus.
As I've mentioned throughout my analysis, I'm looking closely at the company's transition to as-a-service so that did amount to one of the brighter spots of this quarter's earnings. The company was able to see 17% growth in ARR to an annual run rate of $520 Million. Seeing that number edge up is a promise to its longer term execution.
The other bright spot was the $1.5 Billion in backlog for its major segments like Storage, Compute, HPC, Aruba and more. This backlog was flagged as 2x normal, showing how delays in the supply-chain and due to the pandemic likely had a very strong impact on billable revenue for this quarter. This could mean a stronger next quarter, which is something to keep an eye on given the withdrawal of guidance for the remainder of the fiscal year.
Planning for the Future Means Addressing the Near Term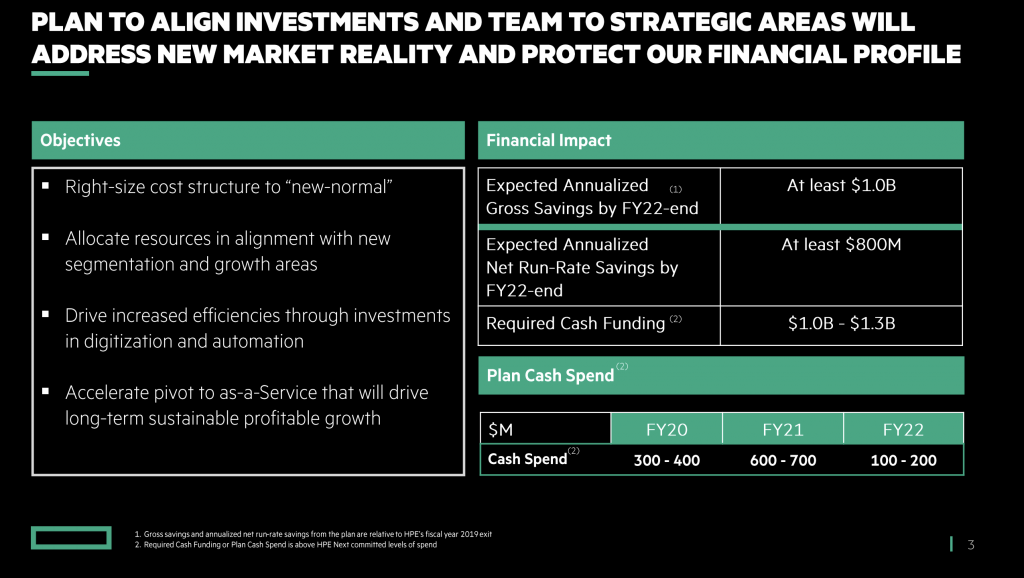 When a quarter like this one, companies find themselves in the position of having to make tough decisions. Wisely, Neri and company came to this quarter's earnings call with a well defined plan to protect the company's financial future.
Cuts were made to executive compensation and a broader plan to right-size the organization, strategically cut spending and improve automation and digitization were all addressed.
I'm not a big fan of cost cuts, but I do understand the need when businesses hit tough times. I'm interested in watching this plan unfold. Culture and morale will be important to watch as well as potential market share if the company pulls back too aggressively on go-to-market efforts. With competition from big technology companies like AWS, Microsoft, Cisco and IBM among others, HPE will need to stay aggressive as not to allow this dark moment dictate brighter futures.
HPE Must Stay the Course With As A Service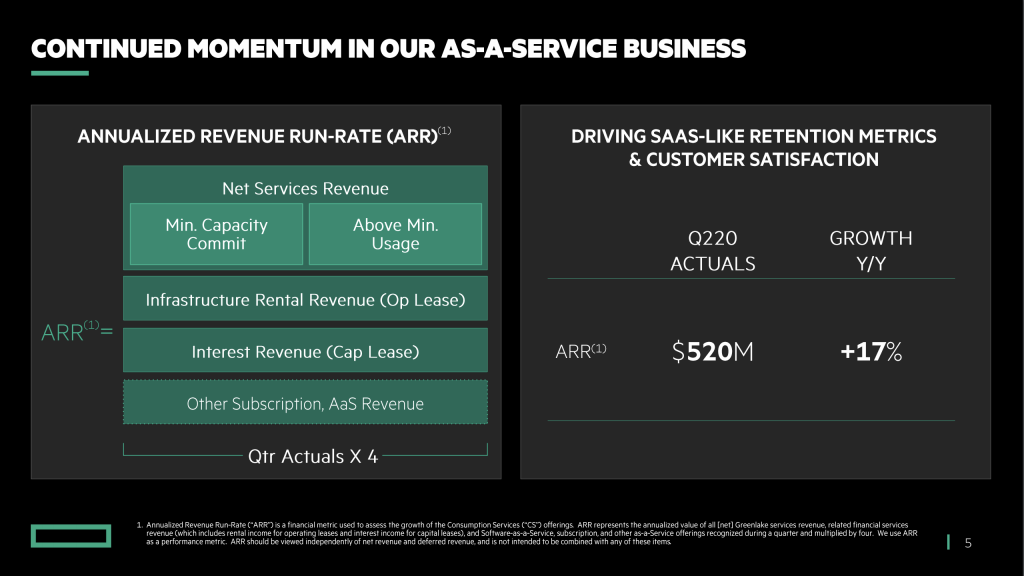 As I mention above, but must reiterate, the company's efforts to convert to a consumption based as-a-service model for hybrid IT is its differentiator. It was an early innovator in this space and it must stay the course as this has been a bright spot, even in the quarters that came before Covid-19 became a global concern. 
HPE Withdraws Forward Looking Guidance
With forward looking guidance for the remainder of its fiscal withdrawn, it is hard to provide a lot of speculation as to the long term results for HPE. My instinct is that the withdrawal comes from a similar place as IBM, where the company just doesn't know what is going to happen with the Pandemic, and with such an impact to the business it would be at best guessing.
Overall Impressions of HPE's Q2 Earnings and Look Ahead
I still believe that Neri and the executive team at HPE are heading in the right direction. The pivot to everything-as-a-service was a bold one and this situation will force the company to accelerate.
It is always unfortunate for companies to have to go into savings mode, but I was glad to see that the most significant savings efforts were being made at the executive level. Efforts to right-size the business through staffing reductions will be a difficult transition, but based upon the companies 3 year plan, appear to be a necessary.
With a solid enough balance sheet providing over ten billion dollars in liquidity, the company should be in a position to weather the Covid-19 pandemic so long as we start to transition back to more normal operations during the 2020 calendar year. If this sustains longer then that, it will be more than just HPE that will be struggling.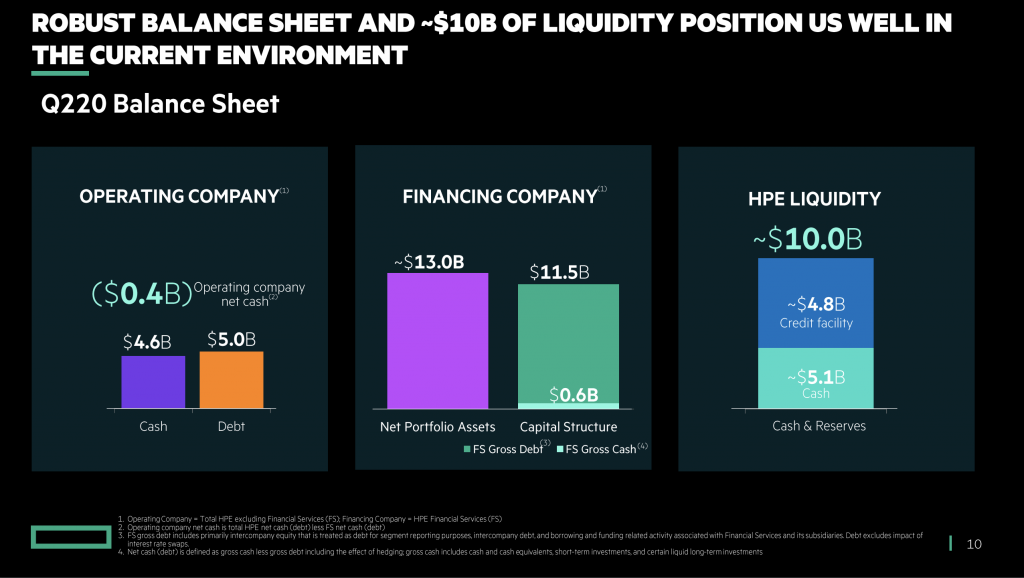 First and foremost, the company must continue to build on its strengths. This includes its services and recurring revenues, being a partner in the enterprise and SMB transformation from on-prem to the cloud through hybrid architectures and an array of services that almost all organizations require to make this transformation. The focus on consumption models and strategic financing for customers migrating and transforming their businesses in the wake of Covid-19 will be the opportunity that HPE will need to pounce upon. It will be a challenge, but I stand by my assessment that HPE is up for the challenge.
Futurum Research provides industry research and analysis. These columns are for educational purposes only and should not be considered in any way investment advice.
Read more analysis from Futurum Research:
Intel Shares Its Corporate Social Responsibility Vision for 2030
TSMC Plans to Bring Advanced Chip Manufacturing to the US
Microsoft Azure Scoops up Metaswitch in Bid to Make Azure the Meta-5G Edge Cloud
Image: HPE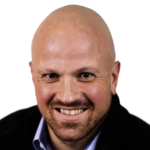 Daniel Newman is the Chief Analyst of Futurum Research and the CEO of The Futurum Group. Living his life at the intersection of people and technology, Daniel works with the world's largest technology brands exploring Digital Transformation and how it is influencing the enterprise. Read Full Bio