HP EliteBook 840 G9 Review
HP EliteBook 840 G9 Review
The News: We recently had the chance to test the HP EliteBook 840 G9, the company's mainstream commercial notebook, targeted at hybrid workers needing a system that is powerful for everyday day-to-day tasks such as collaboration and much more. Read more about the HP EliteBook 840 Series for more information.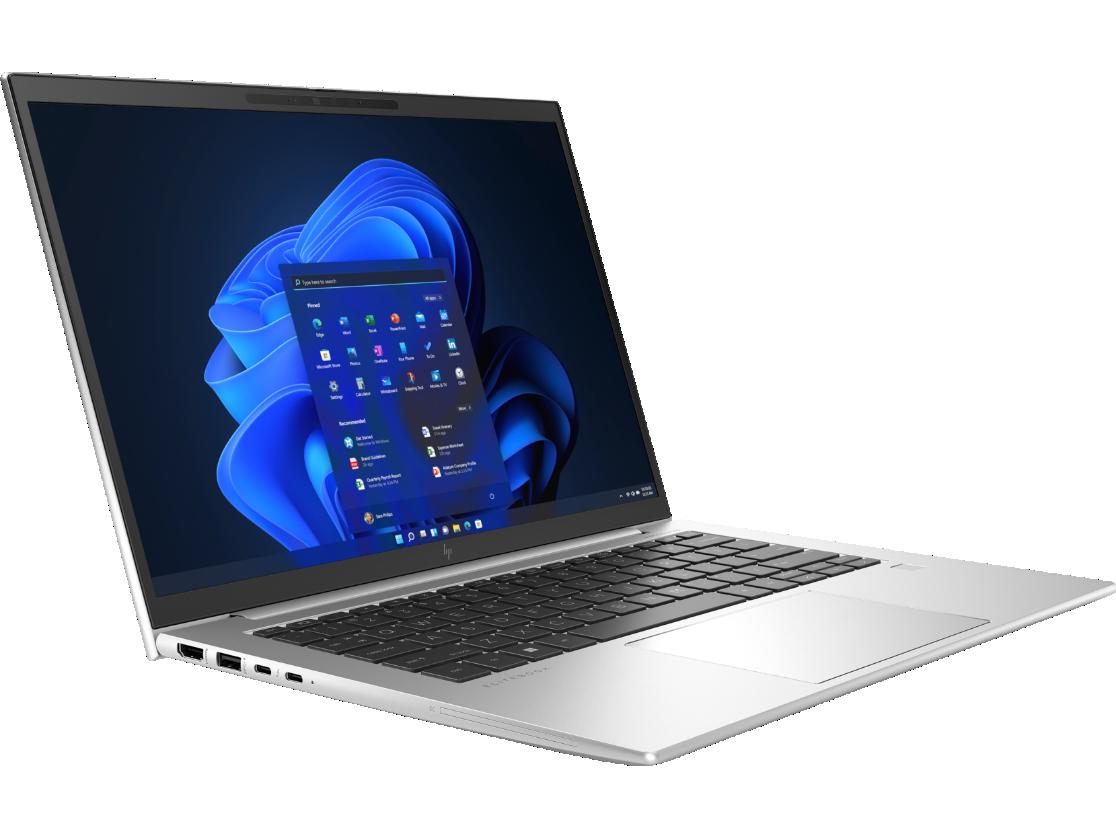 HP EliteBook 840 G9 Review
Analyst Take: For HP, the company's HP EliteBook 840 G9 Series, which is part of its EliteBook 800 Series portfolio, is clearly designed with the hybrid workers in mind or, what the company terms "the office navigator."
As we know, the global workforce has shifted greatly in favor of hybrid work, catapulted when the global pandemic shook the foundation of the world. It's pretty clear that hybrid work is here to stay, in some iteration or another.
From an overarching perspective, for this device the HP design team focused on key areas they considered most important for the hybrid worker environment and focused on accommodating the hybrid worker. Those areas included creating a device that is durable and easy to service coupled with ESG in mind. In addition, it offers excellent collaboration, strong security, and is designed to have excellent power and efficiency features that translate into productivity for the user.
Accessibility, Serviceability and Durability
Starting off from a design and accessibility perspective, I see the HP EliteBook 840 G9 notebook as an excellent solution on multiple fronts. From an IT procurement perspective, across most vertical markets procurement professionals tend to buy items such as personal computers in bulk or larger deal sizes. Often, one of the key items in the vetting process is accessibility and serviceability, coupled with sustainability. In essence, the question is: is the device easy or seamless for IT technicians to be able to quickly upgrade and repair in an expeditious manner? As an example, besides login issues, common support tickets for personal computers among organizations involve upgrading memory, replacing the battery, and upgrading the hard drive, so devices designed with ease of updating/repair in mind are key.
That's where HP's EliteBook 840 G9 notebook shines. It's been purpose designed to make it exceptionally easy to replace these items and/or upgrade within minutes instead of hours. As an example, to remove and replace the battery, all the IT support staff must do is remove the enclosure with five screws, disconnect the battery cable from the connector on the system board, remove four more screws, lift the rear edge of the battery, and replace. Similarly, removing and replacing memory modules involves removing the base enclosure again, disconnecting the battery, peeling back a few pieces of mylar on the module shield and pulling out the memory chips.
From a durability and sustainability perspective, procurement professionals also want to make sure the device isn't flimsy or can break easily in the field coupled with wanting products that are environmentally friendly. With that in mind, Hewlett Packard chose recycled aluminum for its casing which the company illustrated that it was more durable than peers in many instances. The company also ran the HP EliteBook 840 G9 through the military standard 810H (MIL-STD-810H) process involving 28 test methods to ensure the device can handle harder environmental conditions such as shock, vibrations, humidity, radiation, and high and low temperature testing. In the briefing, Hewlett-Packard also said they have their own testing process or the HP Total Test Process which they feel is a bit more rigorous than other testing.
Designed for Power, Efficiency and Tranquility
The HP EliteBook 840 G9, is a standard clamshell notebook that is designed for ultimate productivity. The one I'm reviewing is outfitted with an Intel's 12th Generation Alder Lake Core i7 1280P processor (January 2022) from the P-series family, targeted at the performance thin and light segment. The chip itself is outfitted with 14 total cores, which is comprised of 6 performance cores and 8 efficiency cores. The performance cores handle current tasks while the efficiency cores handle the background applications using much less power. From a memory and storage perspective, the HP EliteBook 840 G9 comes with 15 gigabytes of DDR5 RAM and 512 gigabyte solid state drive which is plenty of storage and memory for most mainstream tasks.
From a mobility and power perspective, the battery is capable of 51 Wh (watts-hour) which means the amount of energy the battery can store. What I found impressive is the battery is smaller than some if its rivals but still managed to offer approximately 14 hours using video playback. In my opinion, this is great since there are times when you are in places without sufficient power outlets to charge the notebook. A few notable examples that have happened to me over the years are having a flight cancelled at an overcrowded airport without sufficient power outlets to plug in the notebook to recharge. Another example is an unplanned power outage due to an accident, foul weather conditions or ill-informed maintenance by the power company and the power suddenly goes off also taking out your router. I think the extra battery life coupled with the ability to also have the system outfitted with 5G is excellent since you can sidestep the loss of connectivity via 5G. Although wireless connectivity, in my opinion, is the most preferred method for remote users to connect to the corporate campus, it makes sense to outfit more users with cellular connectivity that are prone to power outages.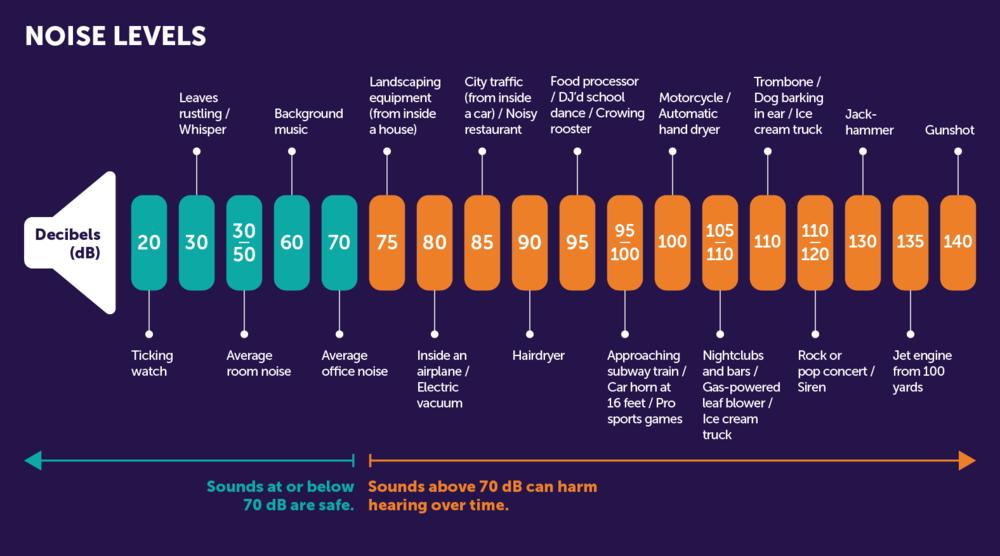 From an acoustics perspective, the system is very quiet considering how much power the device offers to its users. In fact, putting things into perspective, according to the Hearing Foundation (image above), average office noise is 70 decibels while average room noise is between 30 to 50 decibels; a whisper is 30 decibels. Also, Hewlett-Packard ran their own acoustic performance tests under heavy workloads. The HP EliteBook 840 G9 came in at 36 decibels just hovering a few decibels over some of its rivals. However, based on the power the system offers, this is negligible in my opinion. Also, based on my testing of the device under heavy strain, it is exceedingly quiet.
From a thermal perspective, HP EliteBook 840 G9 is very cool. In fact, when the team at Hewlett-Packard showed their benchmarks against key rivals, it showed that they were cooler than rivals on the skin of the device and they were also cooler on the bottom of the deck. The company made thermals a key priority and the benchmarks clearly illustrate this. In my own tests, I also found the device very cool to use as well even when I was running more intensive workloads coupled with myriad browser tabs open.
Larger and Brighter Screen
From an interface perspective, the notebook is outfitted with a 14-inch diagonal WUXGA (1920 x 1200) display capable of 400 nits of brightness. This is a change from the 16:9 aspect ratio in the prior generation. The benefit of the 16:10 aspect ratio is having more visual real-estate which is excellent for using myriad applications. As an example, when creating a financial model, a smaller screen can be an impediment when scrolling through many rows and columns of data. Also, when you have or are checking for errors in your formulas, that extra screen space is always helpful when tracing with arrows.
Another scenario where the 16:10 aspect ratio comes in handy is when you are creating long documents in Microsoft Word and are going through the editing process with multiple colleagues. Having the extra space to read the callouts and then making the edits is also extremely helpful. Another emerging scenario is organizations are also weaving more analytics and visualizations in their applications, allowing users to look at the organization of business units in myriad ways, leveraging graphs and data. I can see the extra screen real-estate being helpful here as well. Also, the screen allows the user to interact via touch or non-touch which is great in situations where the user could be demonstrating an interactive graphic to myriad users.
Excellent Collaboration Experiences: Sight & Sound
The HP EliteBook 840 G9 is designed for excellent collaboration and connectivity which is key for hybrid workers that spend a good portion of their day interacting with customers and colleagues via collaboration software. Fundamentally, having an excellent camera coupled with solid acoustics is an absolute must for organizations wanting to provide features that foster greater inclusivity for their employees that are regularly interfacing with internal and external clients.
To meet the ever-increasing demands of hybrid workers, Hewlett-Packard added a 5-megapixel camera in which I saw very notable differences in the amount of lighting and clarity. The camera also performed extremely well in low light environments with the pixelation being noticeably different than other cameras such as the HD camera.
From an audio standpoint, the HP EliteBook 840 G9 also has excellent sound capabilities that were also a must for their hybrid computing strategy. The device includes two front facing microphones adjacent on either side of the 5-megapixel camera. The device also has dual bottom side firing speakers with each having discrete amplifiers that are also new in this edition. In a nutshell, the discrete amplifiers help increase the volume coupled with clarity of the audio so the user can get a much richer experience. From an inclusivity perspective, the device also has HP Dynamic Voice Leveling and HP AI Noise Reduction.
With HP Dynamic Voice leveling, the system automatically adjusts or optimizes the microphone for a better experience filtering out unwanted background noises such as a dog barking, a leaf blower, and sirens to name a few. Also, the system includes HP Auto Frame, where the camera and audio follow the user or multiple presenters as they move within the camera's frame focusing on the user's head or head and torso.
Connectivity: Wi-Fi6E & 5G
The HP EliteBook 840 G9 also offers excellent connectivity which is also critical for today's hybrid worker that may traverse between the home, corporate office or on-the-road visiting clients or partners. The device offers Wi-Fi 6E along with the option for 5G connectivity. The wireless LAN (WLAN) module is Intel's AX211 Wi-FI6e+ and the worldwide area network (WWAN) card is Intel's 5000 5G WWAN Module, created in partnership with MediaTek's T700 5G modem.
Although 5G or cellular connectivity (we assume less than 20 percent of the market) isn't as widely used as connectivity via the wireless LAN today, in the future, it makes sense that more organizations may be compelled to use it for enhanced security coupled with providing job functions that are more critical in nature with cellular connectivity as a back-up. As mentioned, power outages, natural disasters and other factors that can take out the power and router can happen. In my opinion, it will be prudent for organizations to take advantage of cellular connectivity in the future especially for critical job functions.
Security & Privacy
The HP EliteBook 840 G9, along with other of its commercial personal computers, includes HP Wolf Security, a division of the company I've been very impressed with the acquisition of Bromium back in 2019. Wolf Security protects above the operating system (OS), in the OS and below the OS. Above the OS includes HP Management Integration Kit, HP Sure View Reflect and HP Sure Shutter. In the OS includes HP Wolf Security Console, HPE Sure Sense and HP Sure Click. Below the OS includes HP BIOSphere, HP Sure Start Gen7, HP Sure Admin, HP Sure Run Gen5, HP Tamper Lock and HPH Sure Recover Gen5.
Of course, I'd like to dive into each area, but I think it's wise to go into a few that I think will truly resonate with management teams especially in key vertical markets that are mandated to protect consumer and other sensitive information. Regardless of companies doing what they can, phishing attacks are still the path of least resistance or an easy point of entry for malware attacks since its employees are still opening emails on a day-to-day basis and attackers are getting better at their craft.
HP Sure Click is the ability to create micro-virtual machines or virtual air gaps between the application or the host computer. This is incredibly important since it creates a micro-virtual machine (a safe bubble) every time you open an e-mail attachment and then disposes of that micro-virtual machine when you are done with it. In essence, if you open an infected file, it can't move laterally to infect the rest of the machine like a pachinko ball bouncing around the machine and ultimately infecting the rest of the network. This is especially key for vertical markets or job functions that are constantly opening attachments such as healthcare, financial services, legal and other areas. Another area that I think will resonate is HP Sure Start coupled with HP BIOSphere Gen6 which is a self-healing BIOS-level technology making the BIOS on the personal computer immune from attacks or corruption. In a nutshell, if the BIOS becomes infected, there is an embedded chip on the board that sends a fresh copy of the BIOS getting you up and running again relatively quickly versus sending the PC off to be fixed.
From an external perspective, I also like HP Sure View Reflect and HP Sure Shutter features which offer users another piece of protection from people trying to glean information from their screens. A few notable examples are someone working on a confidential financial model or a physician working on an airplane reviewing patient records which is not uncommon.
Wrapping it up, the HP EliteBook 840 G9 is an excellent device for the commercial market and the company did an excellent job of addressing key issues for the hybrid workforce such as making the device easy and durable to service, excellent collaboration features, robust security and excellent power and efficiency features that will no doubt translate into excellent productivity for the end user and enterprise.
Disclosure: Futurum Research is a research and advisory firm that engages or has engaged in research, analysis, and advisory services with many technology companies, including those mentioned in this article. The author does not hold any equity positions with any company mentioned in this article.
Analysis and opinions expressed herein are specific to the analyst individually and data and other information that might have been provided for validation, not those of Futurum Research as a whole.
Other insights from Futurum Research:
HP Completes the Integration of Poly — a Look at What's Ahead
HP Unveils Updated ZBook Mobile Workstations Which Deliver More Power, Cool Features
Protecting the Enterprise with an Edge-to-Cloud Security Strategy – HPE Executive Insights Series
Image Credit: abminaction.com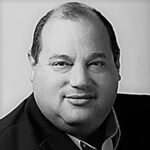 Michael Diamond is an industry analyst and foresight professional with 25 years of experience in the IT channel and market research industry. He is a route-to-market expert covering desktop and mobile devices, collaboration, contact center, ProAV, data center infrastructure, and cybersecurity. Prior to joining Futurum Research, Michael worked for The NPD Group as the sole industry analyst covering indirect channels, cybersecurity, SMB and vertical market trends, data center infrastructure (e.g., enterprise storage, servers, networking), ProAV and PCs. He has been quoted by media outlets such as Bloomberg, Kiplinger, TWICE, OPI (Office Products International), Apple World today, Dark Reading, Enterprise Storage Forum, Credit-Suisse, Footwear News, CRN (Computer Reseller News), Channel Futures and Into Tomorrow.  Michael has presented at myriad events including The Channel Company's Xchange, The Global Technology Distribution Council's summit, SMB TechFest and more.