Honeywell Partners with Atrium Health, Tepper Sports & Entertainment, and Charlotte Motor Speedway in Mass Vaccination Effort
Honeywell Partners with Atrium Health, Tepper Sports & Entertainment, and Charlotte Motor Speedway in Mass Vaccination Effort
The News: Honeywell has partnered with Atrium Health, Tepper Sports & Entertainment and Charlotte Motor Speedway to distribute 1 million COVID-19 vaccinations by July 4. The public-private partnership is an experiment to improve vaccination speeds through technologies like machine learning, AI and the IIoT. The intention is to create a playbook that can be replicated at vaccine distribution sites across the country to speed up the process everywhere.
The first pilot test took place over the weekend at Charlotte Motor Speedway in North Carolina. By utilizing high-volume assembly line principles, analytics built into a video management system, and data entry automation, nearly 16,000 residents were able to be vaccinated with an average start to finish time of 35-40 minutes per vehicle. It's estimated that a vaccine was administered every four and a half seconds. For the full news, read the following ZDnet article.
Analyst Take: Vaccine distribution has been a major point of frustration for the public and companies alike, including Honeywell's CEO who took it upon himself to create this private-public partnership that relies heavily on technology with the goal of getting vaccines into more arms faster. I'm increasingly bullish on these types of efforts
Honeywell Sees Success in Mass Vaccination Experiment 
Vaccine distributions have been a headache across the country with many locations moving at what feels like a snail's pace. This news from Honeywell is exciting and offers a glimmer of hope of how vaccine distribution can be done more efficiently with the help of technology — which seems like a logical approach where larger companies can work closely within communities to expedite the process and put substantial resources toward the effort to return society to a more normal level of safety and mobility.
For this particular effort, Honeywell teams determined several pain points during the vaccination process like manual data entry and built the necessary infrastructure in three days to solve the problems, an incredible feat and show of strength. The AI-camera powered system Honeywell Pro-Watch Intelligent Command monitored vehicle flow and helped maintain balance to avoid backlogs. Handheld scanners and barcode readers automated the registration process taking about 30 seconds per person versus five to ten minutes. I was impressed with the implementation of technology into the workflow to aid greater results and to be able to apply analytics to potentially larger-scale efforts that could ensue.
Everything — with the exception of actual vaccine injection and patient monitoring — was optimized and automated through various software and monitoring solutions. This upcoming weekend, Honeywell is moving to phase two of the pilot test at Bank of America Stadium with the goal of vaccinating 20,000 more people in both drive-thru and walk-up lines. As I've been suggesting in recent times, Honeywell is more and more a technology company–this roll out serves as a good example of that technology in action.
Why Taking a Technology Approach Matters
The first month of vaccine distribution showed the weak spots. This is the largest and most significant vaccine distribution effort in the history of the country and beyond, and it's clearly not something anyone planned for. By approaching vaccination distribution like a supply chain problem, Honeywell and their partners were able to rethink the existing model. This is another example of strategic partnerships leveraging technology to help the citizens of the world.
By creating a playbook that can be easily replicated at other vaccine sites, Honeywell is showing what is possible. I am eager to see how this effort materializes into larger efforts by Honeywell and other large public/private partnerships, which could also leverage similar/the same technology to help society move one step closer to eradicating this pandemic.
In this CNBC segment, CEO Darius Adamczyk provides further color on the effort by Honeywell and its partners to expedite vaccinations:
"The way back to normal is through these mass vaccination events particularly as the vaccine becomes more readily available," says $HON CEO Darius Adamczyk. "The most efficient way to solve the queuing problem is do to very large, very efficient distribution centers." pic.twitter.com/vGrT2wIMUY

— Squawk Box (@SquawkCNBC) February 2, 2021
Futurum Research provides industry research and analysis. These columns are for educational purposes only and should not be considered in any way investment advice.
Read more analysis from Futurum Research:
Juniper Networks Tops Expectations on Strong Demand and Execution
AMD Outperforms for Q4 and Year Delivering Strong Growth
Microsoft Q2 Delivers on Strength Across its Portfolio
Image: Honeywell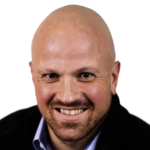 Daniel Newman is the Chief Analyst of Futurum Research and the CEO of The Futurum Group. Living his life at the intersection of people and technology, Daniel works with the world's largest technology brands exploring Digital Transformation and how it is influencing the enterprise. Read Full Bio