GlobalFoundries Q1 2023 Financials: Meeting Macro Challenges to Assure Profitable Path
GlobalFoundries Q1 2023 Financials: Meeting Macro Challenges to Assure Profitable Path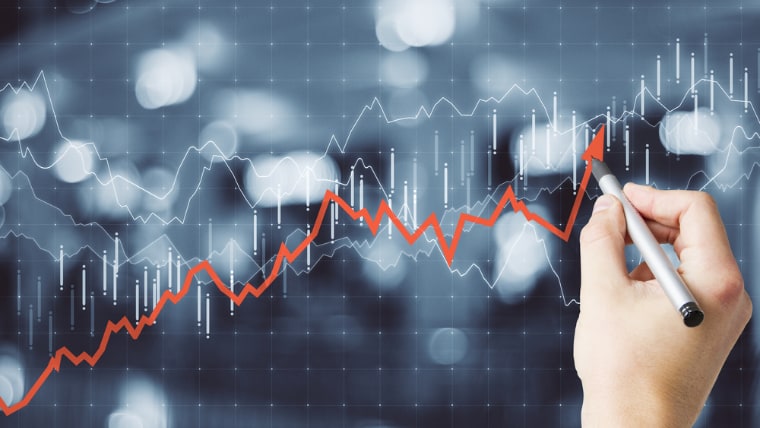 The News: GlobalFoundries (NASDAQ: GFS) reported revenue of $1.84 billion for Q1 2023 ended March 31, 2023. Read the GlobalFoundries Press Release here.
GlobalFoundries Q1 2023 Financials: Meeting Macro Challenges to Assure Profitable Path
Analyst Take: GlobalFoundries reported revenue of $1.84 billion for Q1 2023 ended March 31, 2023, representing a 5% year-over-year (YoY) and 12% sequential decline. GlobalFoundries attributed the decline to reduced wafer shipments with partial offset in YoY improvements in averages sales prices (ASP) and mix.
Key GF Q1 2023 financial highlights include:
Revenue of $1,841 million
Gross margin of 28.0% and adjusted gross margin of 28.5%
Operating margin of 15.8% and adjusted operating margin of 17.7%
Net income of $254 million and adjusted net income of $290 million
Adjusted EBITDA of $655 million
Cash, cash equivalents, and marketable securities of $3,232 million
GlobalFoundries CEO, President, and Director Thomas Caulfield observed that semiconductor inventories are coming down more slowly than previously expected and that the rebalancing of demand will extend at least through Q2 2023, especially across end markets such as smart mobile devices, communications infrastructure, and data centers as well as the lower end of the general consumer and home electronics market segments.
As such, GlobalFoundries is expecting that H1 2023, including Q1 2023, mark the low point in revenue and the peak of the inventory cycle. We concur that Q1 will represent a low point in GlobalFoundries' quarterly revenues with the company poised to have quarter-to-quarter modest sequential growth throughout 2023. GF also cautioned that the return to more normalized inventory levels is forecast to happen more slowly than previously anticipated and more likely to occur well into H2 2023. Our recent conversations across the semiconductor ecosystem are in line with this overall sentiment.
GlobalFoundries Q1 2023 Financials: End Market Revenue Mix
Across the company's end market, GlobalFoundries generated revenue of $696 million (-29% YoY) from Smart Mobile Devices; $352 million (+8% YoY) from Communications Infrastructure & Datacenter; $344 million (+7% YoY) from Home and Industrial IoT; $180 million (+122% YoY) from Automotive; $36 million (-12% YoY) from Personal Computing; and $233 million (+22% YoY) from Non-Wafer and Corporate Other Revenue.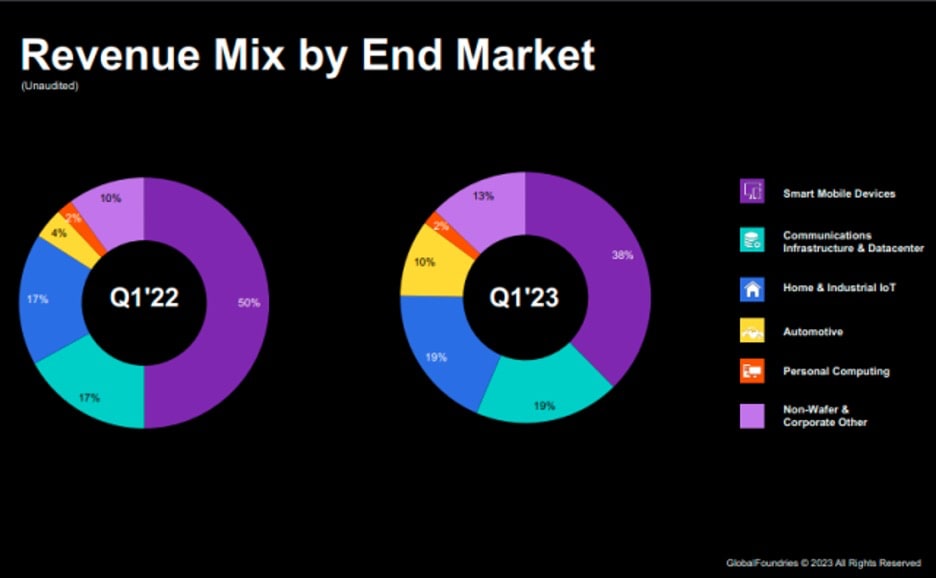 GlobalFoundries is expecting to see healthy demand in the faster growing market segments, including the industrial IoT, aerospace & defense, and the automotive end markets, balancing against the expected Q2 2023 headwinds across the smart mobile device and PC end markets as well as the communications infrastructure and datacenter segment. Moreover, the company continues to grow its single source design wins and customers as well as sign new long-term agreements (LTAs).
We also see GlobalFoundries boosting its competitiveness by expanding its all-important partnerships, including a strategic partnership with Amkor Technology to establish the first at-scale back-end facility in Europe. The company has also formed a Strategic University Partnership agreement with Georgia Tech, which spans a wide range of research activities, including leadership capabilities in advanced packaging, silicon photonics, and workforce development initiatives.
Moreover, we see the European Commission award approval of direct grant funding to GlobalFoundries and STMicroelectronics to support the construction and operation of a new 300nm manufacturing facility in Crolles, France as reinforcing the geopolitical shift toward assuring more stability and security across supply chains, especially semiconductor-related ones.
The agreements further solidify GlobalFoundries' pivotal role throughout the semiconductor ecosystem, following on its bellwether February 2023 agreement to provide exclusive production capacity for American-made chips across General Motors auto and truck portfolio. Such agreements confirm that GlobalFoundries is integral to the semiconductor supply chain vision that U.S. policymakers have for U.S. industry to help avoid and minimize the supply chain disruptions caused by the global pandemic and geopolitical uncertainties. In addition, the GM deal helps diversify GlobalFoundries' revenue streams, which are key to meeting growth targets through the end of year amidst macroeconomic uncertainties related to inflation and potential recession concerns.
GlobalFoundries' Q1 2023 Financials: Key Takeaways
We believe GlobalFoundries has the leadership team and portfolio diversity key to maintaining the company's continued disciplined focus on profitability by managing costs while driving an augmented mix of business to its customers. The company's continued investments in capacity will continue to drive its ability to fulfill its new agreements, further differentiate solutions, as well as grow its end market mix.
While there is a continued downward pressure on the semiconductor industry at large, the long term prospects for semis is incredibly bright. The leading-edge nodes that will power AI will be a catalyst for older process nodes that GF specializes in delivering hardware from PCs to servers to automobiles that will be powered by a mass of chips across a spectrum of processes.
Disclosure: The Futurum Group is a research and advisory firm that engages or has engaged in research, analysis, and advisory services with many technology companies, including those mentioned in this article. The author does not hold any equity positions with any company mentioned in this article.
Daniel Newman and his co-host of The Six Five Webcast, Patrick Moorhead of Moor Insights and Strategy discussed GlobalFoundries earnings in their latest episode. Check it out here and be sure to subscribe to The Six Five Webcast so you never miss an episode.
Analysis and opinions expressed herein are specific to the analyst individually and data and other information that might have been provided for validation, not those of The Futurum Group as a whole.
Other insights from The Futurum Group:
GlobalFoundries Partners with Georgia Tech on Chip Research
GlobalFoundries Revenue for Q4 2022 Hits $2.1B, up 14% YoY