Dell Tech Q2 Performance: A Deeper Look At Last Weeks Earnings
Dell Tech Q2 Performance: A Deeper Look At Last Weeks Earnings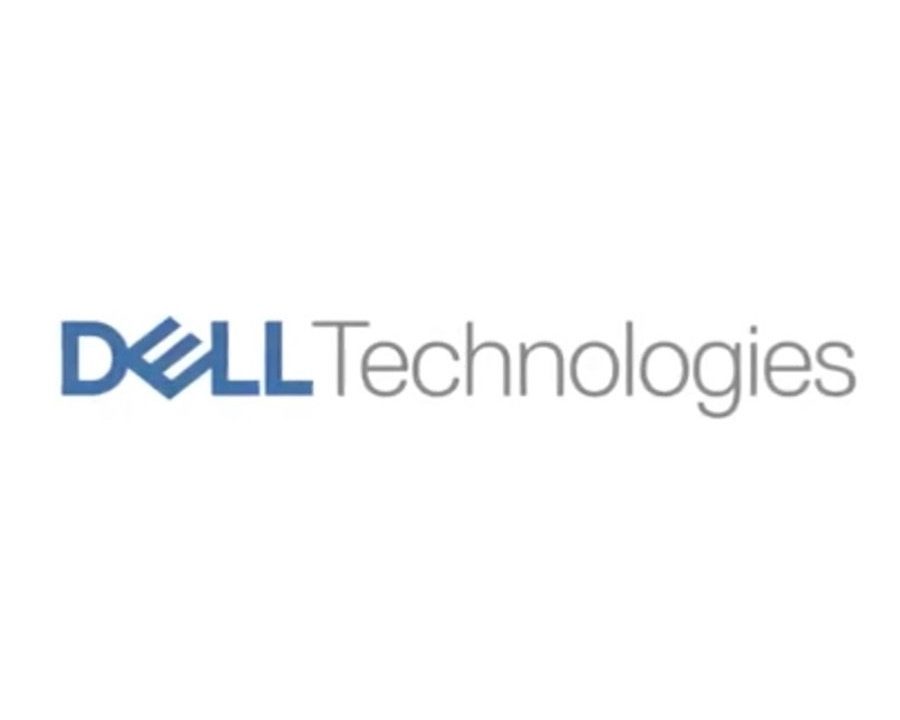 The News: Dell Technologies reported better-than-expected second quarter results as its PC unit delivered record revenue and "IT spending remains healthy."
The company reported second quarter earnings of $4.5 billion, or $4.83 a share, on revenue of $23.4 billion, up 2% from a year ago. Non-GAAP earnings for the quarter were $2.15 a share.
Wall Street was looking for Dell to report non-GAAP second quarter earnings of $1.47 a share on revenue of $23.27 billion.
In a statement, Dell Technologies vice chairman Jeff Clarke said: "We are in the early stages of a technology-led investment cycle. IT spending remains healthy and our business drivers remain strong."
The big surprise was Dell Technologies' PC unit, which delivered revenue of $11.7 billion, up 6% from a year ago. Commercial revenue was $9.1 billion, up 12% from the second quarter a year ago. Consumer revenue fell 12%, but Dell's PC business is more tethered to enterprise demand. Operating income was $982 million for the second quarter. Read the full earnings coverage on ZDnet. 
Analyst Take: Dell Technology continues a run of good form with its second quarter earnings report which certainly should provide confidence to the market as well as Dell's employees and user community.
Performance for the Quarter
For the quarter, Dell showed a solid overall position as it significantly outperformed the market's expectations for the company. With analysts indicating earnings for the quarter at around $1.47 ahead of reporting, the company came in at $2.15 beating by almost $.67 per share. This particular earnings beat was substantial and somewhat surprising. It will be interesting to watch the next few quarters. I've historically found results like this hard to comprehend (Note: Salesforce), but if it is more of a one-time event, it is good to see better margins, revenues and results from time to time.
How The Main Business Units Performed
Given the company's massive size and distributed businesses, the overall performance was notable, but there were certainly bigger wins in certain areas along with some areas that struggled a bit more.
Client Solutions Group – Client solutions saw strong numbers with commercial sales up 12% delivering record numbers. Consumer revenue was down 12% and while it  was certainly a little bit off, this is an area of low concern for me as Dell's demand for CSG is largely commercial. The performance of CSG was very good delivering $982 Million in operating income for the quarter.
Enterprise Solutions Group – This came in a bit off the pace with a 7% YoY drop. The decline is a little bit concerning, but the company's strategy here is sound. Dell Technologies Cloud is in its infancy and its hooks into VMware provide optimism for the future. Storage, which was flat YoY should also see growth. Enterprise sales cycles can run longer with big infrastructure investments compared with PC refreshes and other shorter term IT spend. I expect to see a bounce back over the next 2-3 quarters but volatility will likely remain part of this BU.
Power of Diversification
Dell Technologies has seen growth come from significant acquisitions. VMware has been the most notable, albeit its technically a stand alone company held at ~81% by Dell Tech.  For this quarter alone VMware delivered over $750 Million in Operating Income. Dell Technologies has also seen growth from its smaller acquisitions including Pivotal, Secureworks, RSA, Virtustream and Boomi.
One of the biggest contributions I see from the broad diversification and acquisition strategy has been cross-selling. While numbers for this have been hard to come by, the vastness of the portfolio certainly keeps Dell Tech's portfolio of company's engaged in a vast landscape of customers, including many where VMware or others maintain a relationship even if the main business, DellEMC isn't well represented.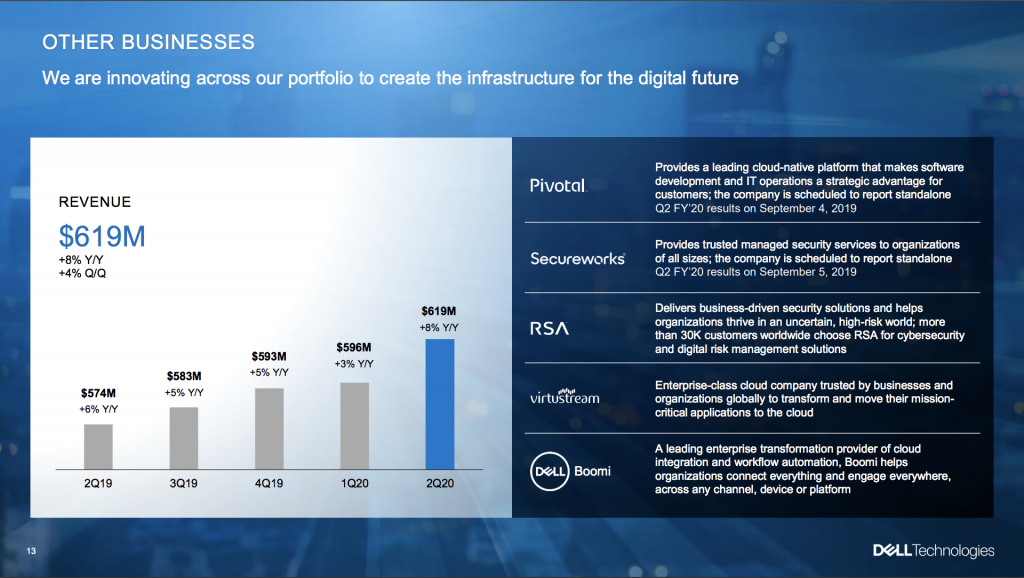 Strong Momentum, Reducing Leverage
Based upon the company's strong performance and income this year, Dell Technologies intends to deleverage by as much as $5.0 Billion for the year and was able to pay down $2.0 Billion this quarter alone. Those numbers serve as a strong indicator of the company's strength and confidence. Deleveraging will also put the company in a good position to look at future acquisitions when the opportunity arises. Albeit, Michael Dell inevitably would find a way regardless of leverage.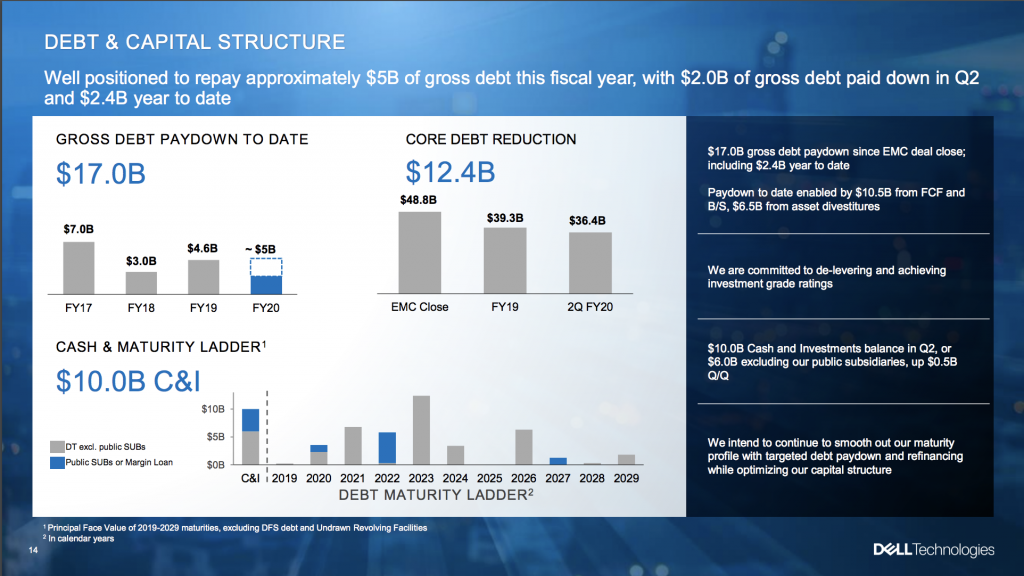 The Future Looks Bright
One of the key concerns that has loomed over Dell Tech has been the massive leverage that the company had to create in the EMC Merger-Acquisition, but based upon the company's actions this quarter it appears that the most levered times are behind it. Having said that, through diversification and commitment to its enterprise business the company has found itself sitting on top of an impressive number of areas (note graphic below) in infrastructure, storage, Hyperconverged, server, client and more.
VMware has proven to be a massively important one as well as the company continues to be the dominant platform for hybridizing virtualized environments. The announcements at VMworld, including Tanzu only further solidify its place as hybrid shifts to multi-cloud and company's seek platforms that quickly enable containers and microservices for multi-cloud environments.
There is a lot to like about Dell Technologies right now. Quietly, the company continues racking up the wins and this quarter's results are no exception.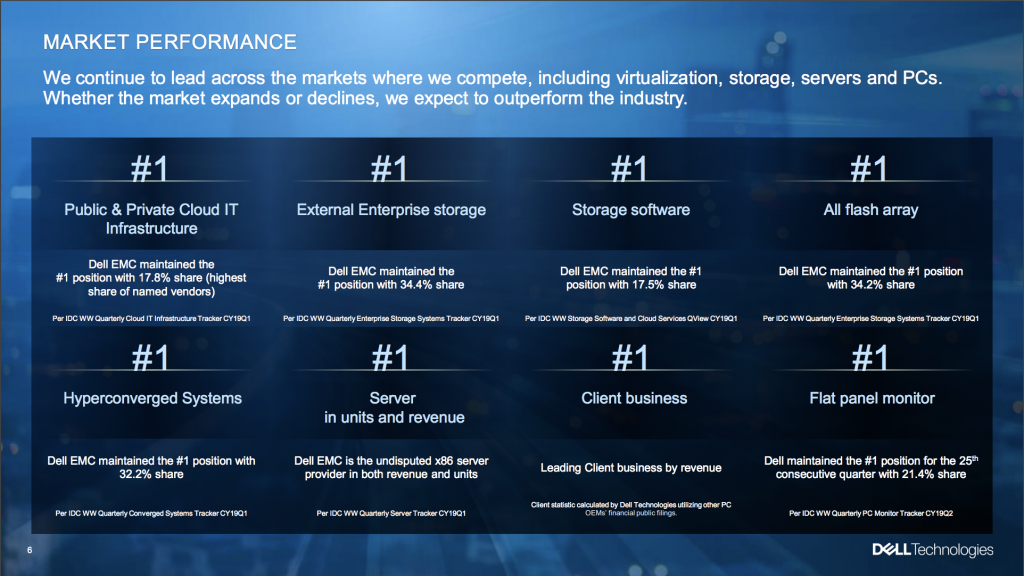 Read more Analysis from Futurum Research:
Qualcomm Wins Partial Stay In FTC Ruling, Overturn Likely To Follow
VMware and NVIDIA Partnership Accelerates AI From On-Prem To The Cloud
IBM Wisely Goes Open Source With Its Power CPU Architecture
Futurum Research provides industry research and analysis. These columns are for educational purposes only and should not be considered in any way investment advice.
Image: Dell Tech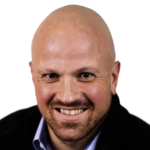 Daniel Newman is the Principal Analyst of Futurum Research and the CEO of Broadsuite Media Group. Living his life at the intersection of people and technology, Daniel works with the world's largest technology brands exploring Digital Transformation and how it is influencing the enterprise. Read Full Bio