Dell Q3 Revenue Down 6%, but Infrastructure Revenue Up 12%
Dell Q3 Revenue Down 6%, but Infrastructure Revenue Up 12%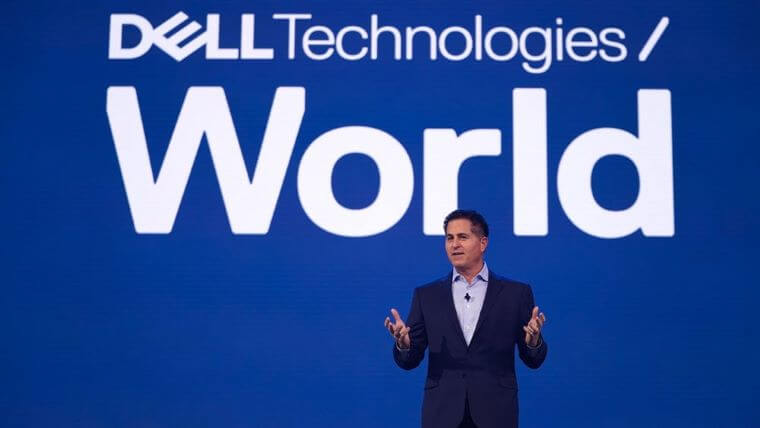 The News: Dell's Q3 revenue for fiscal year 2023 reached $24.7 billion in the quarter, down six percent from $26.4 billion one year ago, as the server, networking, PC, and storage vendor reported its latest earnings on Nov. 21. But while commercial and consumer PC sales continued to lag for the second consecutive quarter after rising during pandemic related work-from-home requirements, Dell Technologies saw its server, networking, and storage group rise by 12 percent over one year ago. Read the full earnings Press Release from Dell Technologies.
Dell Q3 Revenue Down 6%, but Infrastructure Revenue Up 12%
Analyst Take: Dell's Q3 revenue for FY2023 shows Dell Technologies' resiliency despite an important part of its business – commercial and consumer PCs – still lagging after pandemic-related work-from-home sales seriously dried up in 2022. Those many laptops, tablets and desktop PCs that were sold by Dell from March 2020 as the Covid-19 pandemic raged and mandated shutdowns occurred caused a surge in sales in a short timeframe, leading to today's lower sales and revenue figures due to sales saturation.
This same scenario and resulting revenue issues have been seen by a huge number of other tech companies that also saw sales booms during the pandemic, which are now showing signs of what was an inevitable slowdown. These trends are understandable, and those sales and revenue will eventually return as demand comes back in the future and conditions level out over time. Continuing macroeconomic issues around the globe remain in effect in many industries as market turmoil, the lingering pandemic, supply chain issues, high energy prices, and the war in Ukraine challenge supply and demand among vendors and their customers.
Here are the Dell Q3 FY2023 earnings by the numbers:
Q3 FY2023 net revenue of $24.7 billion, down six percent from $26.4 billion for the same quarter one year ago. The Q3 revenue beat analyst consensus estimates of $24.56 billion from analysts with Yahoo Finance.
Q3 FY2023 non-GAAP net income of $1.7 billion, up 30 percent from $1.3 billion one year ago.
Q3 FY2023 non-GAAP diluted earnings per share (EPS) of $2.30, which is up 39 percent from the $1.66 diluted earnings per share price from one year ago. The EPS beat consensus estimates of $1.60 per share from analysts at Yahoo Finance.
Q3 FY2023 non-GAAP gross margin of $5.86 billion, which is up two percent from $5.7 billion for the same quarter one year ago.
Q3 FY2023 non-GAAP operating income hit a record $2.38 billion, up 22 percent from $1.95 billion one year ago.
These are impressive numbers, attributable to a talented and experienced Dell leadership team that includes Chairman and CEO Michael Dell and Jeff Clarke, the vice chairman and co-chief operating officer of Dell Technologies. The positive overall earnings figures are a testament to this team, who are clearly finding the right path to withstand powerful macroeconomic headwinds in the quarter, including pulling in strong numbers from its infrastructure unit as PC sales continue to slow.
Dell's Sales Breakdown for Q3
Dell Q3 revenue overall was bolstered by some welcome good news in its Infrastructure Solutions Group (ISG), as revenue there rose again.
Dell's ISG posted record Q3 revenue of $9.6 billion, up 12 percent from $8.56 billion one year ago, which was its seventh consecutive quarter of year-over-year growth. The ISG unit includes the servers and networking division, which saw revenue of $5.2 billion, up 14 percent from $4.56 billion one year ago; and the storage division, which reported Q3 revenue of $4.4 billion, up 11 percent from $4 billion one year ago. The ISG unit's operating income was a record $1.37 billion, up 53 percent from $894 million one year ago.
Notably, Dell's storage unit added a customer-managed option this quarter for its growing APEX Data Storage Services. Dell's APEX services aim to help customers easily transition to as-a-service delivery for a wide range of technologies. We expect that this latest APEX addition will be a revenue boon as it fills a critical customer need, as enterprises require additional and easy to deploy storage to run their mission-critical operations. This is smart thinking from Dell that will likely pay dividends. Since it was unveiled in 2021, Dell's APEX product portfolio is continuing its healthy growth and adding value for customers by simplifying technology deployments for customers that need help right now.
Dell's Client Solutions Group (CSG) posted Q3 FY2023 revenue of $13.77 billion, down 17 percent from $16.55 billion a year ago. That includes revenue of $10.7 billion from its commercial PC division, which is down 12.6 percent from $12.3 billion one year ago. Dell's consumer PC division earned Q3 FY2023 net revenue of $3 billion, which is down 40 percent from $4.25 billion one year ago. Operating income was $1.06 billion, down seven percent from $1.14 billion one year ago.
What we see here is that Dell, like many other tech companies, is continuing to experience a new normal over the next few quarters as the pandemic continues to recede and market conditions begin to normalize again. We continue to believe that Dell has the experience, business knowledge, and leadership team to navigate these lingering changes.
Dell also reported remaining performance obligations of $39 billion for Q3 FY2023, which is down 4.87 percent from $41 billion one year ago, deferred revenue of $27.1 billion, and cash and investments of $6.5 billion. Recurring revenue for the third quarter was approximately $5.4 billion, up 11 percent year-over-year.
Dell Q4 FY2023 Guidance
Dell's Q3 revenue and earnings report also provided earnings guidance for Q4.
For Q4, Dell said it expects revenue between $23 billion to $24 billion, down 16 percent at the midpoint, with ISG being roughly flat. A sure sign of the overall macro headwinds that have most of tech adjusting short to mid-term guidance. Dell, which has managed the business remarkably well is rightfully being cautious and realistic given the market conditions.
Non-GAAP operating expenses are expected to increase by about $150 million sequentially due to an extra week in fiscal Q4, while non-GAAP interest and other expenses are expected to be up by about $60 million due to volatility in interest rates and foreign exchange rates.
Q4 diluted non-GAAP earnings per share are expected to be between $1.50 and $1.80 per share, down four percent at the midpoint.
Dell Technologies Overview
Dell's Q3 revenue and earnings report, despite a still-challenging global macroeconomic environment, overall presented another healthy quarter for Dell Technologies. This continuing success comes largely due to its leaders keeping their eyes on the ball into the future and aiming for a steady course among the continuing tumult of the marketplace.
As we have said in the recent past, Dell continues to be one of the premier technology players in the world — consistently meeting challenges by anticipating and delivering on customer needs and expectations in its markets. We also appreciate the operational management that allows the company to consistently outperform in tricky environments. This was evident in the company's margin strength this quarter and is why we continue to be so bullish about Dell's direction and strategy to weather economic storms while finding ways to deliver customer and investor value.
To its credit, Dell remains well-positioned to take advantage of important industry trends such as edge computing, hybrid cloud, multi-cloud, and an increasing focus on data management, which all represent complex tasks for customers and big opportunities for Dell's businesses. At the same time, Dell continues to execute well on the supply chain side despite headwinds driven by supply chain issues, parts supply price increases, and continuing chip shortages. This is a smart and well-guided company that continues to find ways to cope and grow despite the challenges over the last several years. We believe that those valuable experiences and lessons will help this company stay ahead long into the future.
Disclosure: Futurum Research is a research and advisory firm that engages or has engaged in research, analysis, and advisory services with many technology companies, including those mentioned in this article. The author does not hold any equity positions with any company mentioned in this article.
Analysis and opinions expressed herein are specific to the analyst individually and data and other information that might have been provided for validation, not those of Futurum Research as a whole.
Other insights from Futurum Research:
Dell Q2 Revenue Hits $26.4B, Up 9% YoY As Growth Continues
Intel Fab Co-Investment, Zoom Perspectives, Salesforce, NVIDIA, Dell Tech & Marvell Earnings – The Six Five Webcast
Image Credit: Investor's Business Daily