Cisco Q3 2023: Cloud, AI, and Security Fuel Record Revenue and Double-Digit Software and Subscription Revenue Growth
Cisco Q3 2023: Cloud, AI, and Security Fuel Record Revenue and Double-Digit Software and Subscription Revenue Growth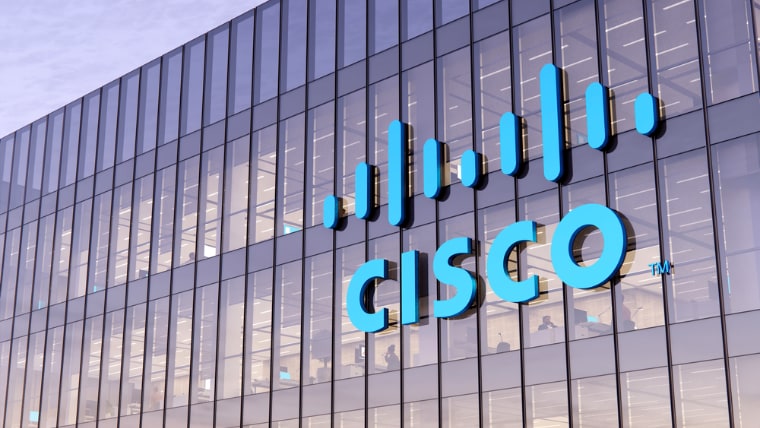 The News: Cisco reported third quarter (Q2) results for the period ended April 29, 2023. Cisco reported Q3 revenue of $14.6 billion, net income on a generally accepted accounting principles (GAAP) basis of $3.2 billion or $0.78 per share, and non-GAAP net income of $4.1 billion or $1.00 per share. Read the Cisco Press Release here.
Cisco Q3 2023: Cloud, AI, and Security Fuel Record Revenue and Double-Digit Software and Subscription Revenue Growth
Analyst Take: Cisco Q3 FY 2023 beat expectations for quarterly profit and sales with strong revenue delivering a beat on its EPS guide. Cisco's total Q3 FY 2023 revenue was up 14% year-over-year (YoY) at $14.6 billion, with product revenue up 17% and service revenue increasing 3%. Notably, product revenue was piloted by growth in the Secure, Agile Networks up 29%, Internet for the Future up 5%, End-to-end Security up 2%, and Optimization Application Experiences up 12%. Collaboration was down 13% in the post-pandemic environment.
Key to Cisco's Q3 performance was its continued progress on the company's business model transformation. We are impressed that total software revenue was up 18% YoY and software subscription revenue was up 17% YoY and that total annualized recurring revenue (ARR) reported at $23.8 billion, up 6% YoY with product ARR up 10% YoY. From our view, these results should dispel any lingering notions that Cisco would prove hard-pressed to transition effectively from heavier reliance on hardware revenue to software and subscription-driven revenue streams.
Also, Cisco reported remaining performance obligations (RPO) at $32.1 billion, up 6% YoY with product RPO up 9% YoY, indicating that its order book Is growing. The combination of health backlog, ARR, and RPO reinforce Cisco's confidence to increase its full-year guidance. However, some financial observers fretted that Cisco orders YoY had declined, and the company did not increase its top target for annual revenue. This tied to Chair and CEO Chuck Robbins' observation that due to unprecedented demand for Cisco technology during the pandemic, sequential orders are more informative that YoY rates, as the company's sequentials in Q3 were in general alignment with historic ranges, just like the prior two quarters.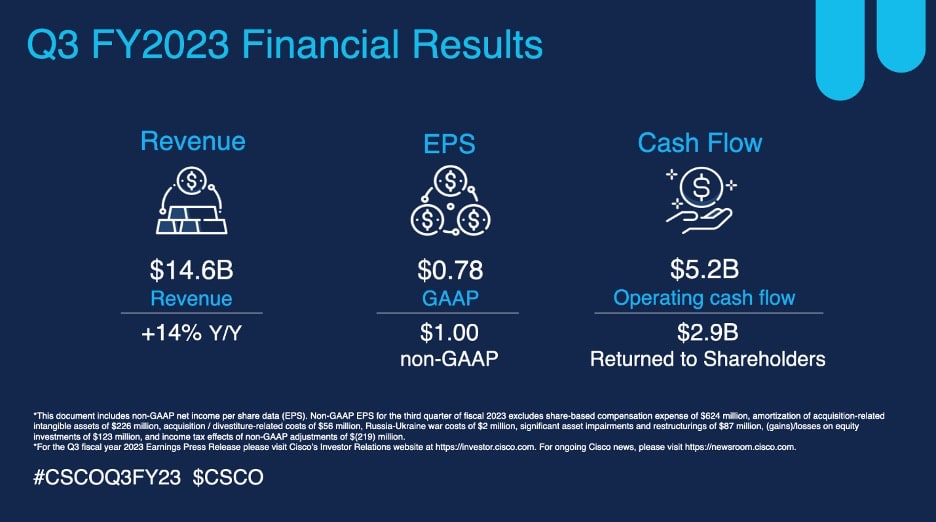 Here are additional key Cisco Q3 2023 figures by the numbers:
Gross Margin: On a GAAP basis, total gross margin, product gross margin, and service gross margin were 63.4%, 62.7%, and 65.4%, respectively, as compared with 63.3%, 61.8%, and 67.3%, respectively, in Q3 fiscal 2022.
On a non-GAAP basis, total gross margin, product gross margin, and service gross margin were 65.2%, 64.5%, and 67.3%, respectively, as compared with 65.3%, 64.1%, and 68.9%, respectively, in Q3 of fiscal 2022.
Total gross margins by geographic segment were: 64.2% for the Americas, 66.6% for EMEA and 66.4% for APJC.
Total software revenue up 18% year over year with software subscription revenue up 17% year over year.
Total ARR at $23.8 billion, up 6% year over year and product ARR up 10% year over year.
Operating Expenses: On a GAAP basis, operating expenses were $5.3 billion, up 17%, and were 36.3% of revenue. Non-GAAP operating expenses were $4.6 billion, up 16%, and were 31.3% of revenue.
Operating Income: GAAP operating income was $3.9 billion, up 9%, with GAAP operating margin of 27.1%. Non-GAAP operating income was $4.9 billion, up 11%, with non-GAAP operating margin at 33.9%.
Provision for Income Taxes: The GAAP tax provision rate was 18.8%. The non-GAAP tax provision rate was 19.0%.
Net Income and EPS: On a GAAP basis, net income was $3.2 billion, an increase of 6%, and EPS was $0.78, an increase of 7%. On a non-GAAP basis, net income was $4.1 billion, an increase of 13%, and EPS was $1.00, an increase of 15%.
Cash Flow from Operating Activities: $5.2 billion for the third quarter of fiscal 2023, an increase of 43% compared with $3.7 billion Q3 of fiscal 2022.
Balance Sheet and Other Financial Highlights
Cash and Cash Equivalents and Investments: $23.3 billion at the end of the third quarter of fiscal 2023, compared with $19.3 billion at the end of fiscal 2022.
Remaining Performance Obligations (RPO): $32.1 billion, up 6% in total, with 53% of this amount to be recognized as revenue over the next 12 months. Product RPO were up 9% and service RPO were up 4%.
Deferred Revenue: $24.3 billion, up 9% in total, with deferred product revenue up 11%. Deferred service revenue was up 7%.
Delving Deeper into Cisco's Q3 2023 Earnings
We are encouraged that Cisco is assisting its registered partners get specialized on sustainability initiatives, so they can respond to customer request for proposals (RFPs) and expand their services offerings. To date, 471 partners have completed Cisco's Environmental Sustainability Specialization which covers product takeback and reuse/recycle programs, and rewards partners for selling new products for customer refresh or migration opportunities.
By becoming specialized, such trusted advisors can abet customer upgrades and modernize their networks in accord with fulfilling their circular economy goals. Cisco is working with its partners to help customers invest in solutions developed with sustainability in mind. Key Global Strategic partners include Hitachi, Honeywell, Logicalis, NTT, Rockwell Automation, and Schneider Electric. As such, we believe Cisco is demonstrating the ecosystem partnership acumen vital to supporting its customers sustainability objectives in accord with advancing its own net zero journey.
Moreover, Cisco's security strategy is lucid: the company is hyper-focused on expanding its presence in the security market, either organically or by M&A activity (e.g., Valtix, Duo, etc.). From our view, Cisco is intent on simplifying its channel programs, and making its platform that much simpler for its partners to both manage as well as to tack on additional services that are more profitable for them. Cisco's key security strategies involve securing the base, securing the platform, securing the SoC, and securing the application. Cisco recognizes that organizations are using multiple clouds and its latest, and future, acquisitions will help companies manage that more effectively in the future.
Plus, Cisco's new AI-powered features are being added to the Webex Suite platform with the goal of enhancing the hybrid work experience for its users. Augmented collaboration experiences can lead to increased accessibility, inclusivity, and productivity and allow organizations to serve up better experiences, both for employees and for customers. In our book, the move validates that Cisco is swiftly applying its AI capabilities across its portfolio to meet evolving needs such as energizing collaboration revenues and expanding channel influence.
Cisco Q3 2023: Key Takeaways
The positive Q3 2023 results fortified Cisco's expectation of modest revenue growth in fiscal 2024, following its strong performance in fiscal 2023. This includes Cisco's goal of delivering EPS at a higher growth rate than revenue in Q4 and fiscal 2024, reflecting improving gross margins and tightly disciplined expense management.
We find that Cisco is taking a sound strategic approach in its fiscal 2024 guidance due to macro considerations such as inflationary concerns, the potential for recession, as well as the transformative impact that AI poses for the tech sector and the overall economy. The Q3 FY 2023 results demonstrate that Cisco is solidly positioned to drive ecosystem-wide innovation and adoption across the rapidly evolving cloud, AI, and security realms, including its Secure, Agile Networks, Internet for the Future, E2E Security, Optimization Application Experiences, and Collaboration product lines.
Disclosure: The Futurum Group is a research and advisory firm that engages or has engaged in research, analysis, and advisory services with many technology companies, including those mentioned in this article. The author does not hold any equity positions with any company mentioned in this article.
Analysis and opinions expressed herein are specific to the analyst individually and data and other information that might have been provided for validation, not those of The Futurum Group as a whole.
Other insights from The Futurum Group:
Cisco Enlists Specialized Partners to Advance Customer Sustainability and ESG Goals
Cisco Security Strategy: Making Partners' Lives Easier and More Profitable
Cisco Introduces New AI Capabilities in Webex Suite at Enterprise Connect 2023