Cisco Q2 2023: Delivers Earnings and Revenue Beat on Enterprise Momentum and Lifts Guidance
Cisco Q2 2023: Delivers Earnings and Revenue Beat on Enterprise Momentum and Lifts Guidance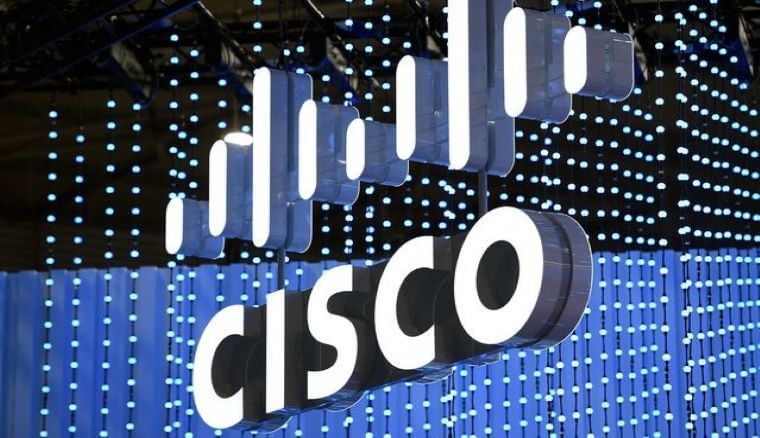 The News: Cisco reported second quarter (Q2) results for the period ended January 28, 2023. Cisco reported Q2 revenue of $13.6 billion, net income on a generally accepted accounting principles (GAAP) basis of $2.8 billion or $0.67 per share, and non-GAAP net income of $3.6 billion or $0.88 per share. Read the Cisco Press Release here.
Cisco Q2 2023: Delivers Earnings and Revenue Beat on Enterprise Momentum and Lifts Guidance
Analyst Take: Cisco Q2 2023 topped quarterly projections for earnings and revenue, outpacing both top line and bottom-line expectations, indicative of a pickup in post-pandemic enterprise spending. Cisco delivered revenue of $13.59 billion vs. $13.43 billion and 88 cents per share, adjusted, versus 86 cents per share as expected by analysts, according to Refinitiv.
Cisco's total revenue grew 7% year-over-year (YoY) in the quarter while net income fell about 7% to $2.77 billion. Cisco's backlog also grew YoY as both hardware and software are still considerably higher than usual due to limited supply availability. Of note, the company raised its full-year guidance due primarily to an increase in recurring revenue and measures to improve supply chain stability and ease backlog. While some components integral to Cisco's hardware products remain constrained, the company did see an improvement across the board.
CEO and chair Chuck Robbins observed that based on the sequentials the company saw, demand remains stable, although some sales cycles are taking longer than usual. Cisco's public sector business performed more strongly than it has historically, while in the service provider segment, some customers are adjusting to the improved delivery of the company's products into their environments.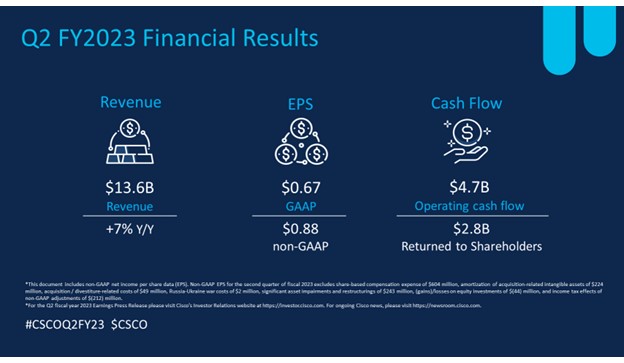 Here are additional key Cisco Q2 2023 figures by the numbers:
Gross Margin — On a GAAP basis, total gross margin, product gross margin, and service gross margin were 62.0%, 60.2%, and 67.2%, respectively, as compared with 63.3%, 61.8%, and 67.3%, respectively, in the second quarter of fiscal 2022.

On a non-GAAP basis, total gross margin, product gross margin, and service gross margin were 63.9%, 62.1%, and 69.1%, respectively, as compared with 65.5%, 64.3%, and 68.8%, respectively, in the second quarter of fiscal 2022.
Total gross margins by geographic segment were: 62.9% for the Americas, 66.2% for EMEA and 63.6% for APJC.

Operating Expenses — On a GAAP basis, operating expenses were $5.1 billion, up 13%, and were 37.8% of revenue. Non-GAAP operating expenses were $4.3 billion, up 8%, and were 31.4% of revenue.
Operating Income — GAAP operating income was $3.3 billion, down 6%, with GAAP operating margin of 24.2%. Non-GAAP operating income was $4.4 billion, up 1%, with non-GAAP operating margin at 32.5%.
Provision for Income Taxes — The GAAP tax provision rate was 18.8%. The non-GAAP tax provision rate was 19.0%.
Net Income and EPS — On a GAAP basis, net income was $2.8 billion, a decrease of 7%, and EPS was $0.67, a decrease of 6%. On a non-GAAP basis, net income was $3.6 billion, an increase of 3%, and EPS was $0.88, an increase of 5%.
Cash Flow from Operating Activities — $4.7 billion for the second quarter of fiscal 2023, an increase of 93% compared with $2.5 billion for the second quarter of fiscal 2022.
Balance Sheet and Other Financial Highlights
Cash and Cash Equivalents and Investments — $22.1 billion at the end of the second quarter of fiscal 2023, compared with $19.3 billion at the end of fiscal 2022.
Remaining Performance Obligations (RPO) — $31.8 billion, up 4% in total, with 53% of this amount to be recognized as revenue over the next 12 months. Product RPO were up 7% and service RPO were up 2%.
Digging Deeper into Cisco's Q2 2023 Earnings
We are encouraged that Cisco registered another consecutive quarter of swift adoption of its 400G, Cisco 8000, and Silicon One platforms. This aligns with expanding ecosystem investments across AI-optimized infrastructure. For the web-scale segment, while Cisco saw overall slowing due to normalizing product lead times, two of its largest customers grew their orders by over 40% in the first half of fiscal '23. As a result, we see Cisco commanding substantial channel influence across the web-scale infrastructure segment, enabling it to drive more use cases in alignment with more likelihood of macroeconomic conditions improving during 2023.
Additionally, Cisco increased investments across its cloud management platforms to deliver greater visibility with AI-driven insights, enable secure connectivity, and aid customers in streamlining their IT operations, including the launch of a new cloud-native full-stack observability platform.
We see Cisco capitalizing more on expanding hybrid cloud opportunities, as enterprises prioritize investment in deflationary tech that can advance strategic initiatives such as automation acceleration, AI/ML integration, sustainability goals fulfillment, distributed workforce optimization, and business outcomes improvement. Factor in Cisco's organization-wide sales acumen and robust account presence and we can see why Cisco performed successfully across the enterprise space in FY Q2 2023.
Cisco lagged only in the service provider space during Q2, however we anticipate that Cisco can reinvigorate its market position and fortunes during the rest of 2023. For example, Cisco and T-Mobile are collaborating to deliver a distributed cloud native core gateway across T-Mobile's nationwide network. As a result, Cisco gains 5G ecosystem mindshare by supporting T-Mobile in transitioning all its 5G and 4G traffic to the new converged core, boosting performance for customers with faster speeds, lowering latency, and improving responsiveness.
From our perspective, Cisco's consistent gains across the IoT market span the enterprise and service provider markets, further demonstrating its portfolio diversity and broad ecosystem sales account influence. Cisco reported its 2022 IoT business topped the $1 billion threshold with the overall business and its SaaS-based IoT Control Center CMP generating double digit YoY revenue growth. Now there are 220 million devices using IoT Control Center, including over 92 million connected cars. Specifically, Cisco works with more than 50 CSPs to serve 32,000 enterprises across the planet.
Also, from our view, the Q2 results Cisco's Q1 2023 organization-wide $600 million restructuring helped align its portfolio to meet emerging shifts in customer demand as well as address pockets of macroeconomic uncertainty such as the shift in energy prices due to the Ukraine-Russia conflict. We are impressed that Cisco's software picture continues to improve as its software revenue was 84% subscription-based, which is up 4% YoY. Cisco's total subscription revenue was $6 billion, an increase of 9% with total subscription revenue now representing 44% of total revenue. This shows Cisco is executing its strategy of increasing subscription-based software to boost its annual recurring revenue (ARR) profile and overall revenue stability.
Daniel Newman and his co-host of The Six Five Webcast, Patrick Moorhead of Moor Insights and Strategy, discussed Cisco earnings in their latest episode. Check it out here and be sure to subscribe to The Six Five Webcast so you never miss an episode.
Cisco Q2 2023: Key Takeaways
The positive Q2 2023 results provided fiscal confidence for Cisco to raise its full year guidance due to the increase in ARR and improvement in supply chain. The guidance boost also reflects Cisco's robust pipeline and visibility driven by healthy backlog and RPO which it sees continuing into fiscal 2024, generating greater insight toward fulfilling longer-term goals. As such, for fiscal Q3 2023, Cisco expects revenue growth to be in the range of 11% to 13%, non-GAAP gross margins to be in the range of 63.5% to 64.5%.
Cisco's non-GAAP operating margin is expected to be in the range of 33% to 34%, and its non-GAAP earnings per share is expected to range from $0.96 to $0.98. For fiscal year 2023, Cisco is raising its expectations for revenue growth to be in the range of 9% to 10.5% YoY.
Overall, we believe Cisco can continue playing a strong hand in the areas where it saw success in Q2 2023 throughout the remainder of 2023, especially across the enterprise space and key segments such as software, web-scale infrastructure, cloud management, security, and IoT. This can help sustain organization-wide momentum as the company works though backlog and improve its position in key areas such as the service provider space.
Disclosure: Futurum Research is a research and advisory firm that engages or has engaged in research, analysis, and advisory services with many technology companies, including those mentioned in this article. The author does not hold any equity positions with any company mentioned in this article.
Analysis and opinions expressed herein are specific to the analyst individually and data and other information that might have been provided for validation, not those of Futurum Research as a whole.
Other insights from Futurum Research:
Cisco IoT Control Center Provides Portfolio Warrant for More IoT Business Momentum in 2023
T-Mobile and Cisco Show Why a Distributed Nationwide Cloud Native 5G Core Gateway is Sexy
Cisco Q1 2023: Delivers Earnings Beat and Raise in Guidance on Enterprise Tech Strength
Image Credit: Barron's