Broadcom Announces Q4 and FY2022 Earnings
Broadcom Announces Q4 and FY2022 Earnings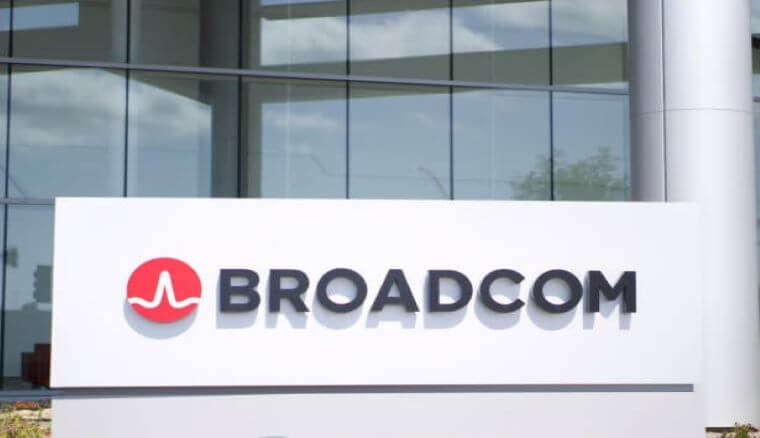 The News: 2022 has been a seminal year for Broadcom with the proposed acquisition of VMware making the headlines since it was announced. For full details of the earnings for Q4 and the full year see Broadcom's Press Release.
Earning Highlights
Cash from operations of $4,583 million for the fourth quarter, less capital expenditures of $122 million, resulted in $4,461 million of free cash flow, or 50 percent of revenue
Quarterly common stock dividend increased by 12 percent to $4.60 from the prior quarter
Revenue of $8,930 million for the fourth quarter, up 21 percent from the prior year period
GAAP net income of $3,359 million for the fourth quarter; Adjusted EBITDA of $5,722 million for the fourth quarter
GAAP diluted EPS of $7.83 for the fourth quarter; Non-GAAP diluted EPS of $10.45 for the fourth quarter
First quarter revenue guidance of approximately $8.9 billion, an increase of 16 percent from the prior year period
First quarter Adjusted EBITDA guidance of approximately 63 percent of projected revenue.
Broadcom Announces Q4 and FY2022 Earnings
Analyst Take: Broadcom has up until recently gone about its business without the spotlight of the technology press. Hock Tan, Broadcom President and CEO is not the razzmatazz style CEO, instead preferring to quietly go about the business of building a powerhouse technology vendor without courting the press. 2022 has seen a marked shift in this approach. The proposed VMware acquisition has thrust Hock Tan into the mainstream consciousness and drawn additional attention to Broadcom, not always positively.
The team at Futurum Research works closely with Broadcom and, as such, we hold a counter opinion to that of many in the industry about the VMware acquisition. Through our briefings and engagements with Broadcom, one thing is obvious: the company cares deeply about innovation and R&D investment.
You simply don't build a company with annual revenues of $33 billion-plus that designs, develops, and supplies semiconductor and infrastructure software solutions without being innovation and R&D driven. The decades-long R&D cycles for semiconductor development are oftentimes strategic, long-term pure research-driven endeavors that only show returns many years in the future, if at all. When you couple the sheer size of Broadcom with the YoY growth the company is delivering, 21% in 2022, the company's focus becomes more apparent.
To put 21% YoY growth in perspective, companies like Couchbase, Red Hat and SUSE, all fast-growing open source-based software vendors, are showing comparable growth rates. Broadcom is showing 21% YoY growth while operating in the semiconductor, mainframe software, security, and storage area networking spaces, which speaks volumes about how well-run this business is. For Broadcom to run with this level of topline growth, but also deliver $4,461 million of free cash flow, or 50 percent of revenue, is frankly unheard of in the sectors in which Broadcom operates.
Broadcom Forecast for Q1 and Beyond
Talking with persistent equities analysts on the earnings conference call, Broadcom forecast revenue of approximately $8.9 billion for the January-ending quarter, representing a 15% increase from a year ago, while analysts surveyed estimate $8.78 billion. On providing a yearly forecast, Tan refused to give in, repeating that the year would "grow."
"Our year forecast will grow," Tan told analysts on the call. "We're really booked." But that was as far as the company was willing to go on providing further guidance. Given the pandemic-triggered global chip shortage that has seen inventories and demand wildly fluctuate, Tan reiterated his sales approach on the earnings call, saying Broadcom does not cancel orders and further stated the company works hard to ensure products are shipped to the right customers, and monitors closely to ensure they don't sit on shelves for long periods of time. Tan would not comment on how quickly the company is working through its backlog and whether the backlog has changed since last quarter's $31 billion and lead times of 50 weeks.
Looking Ahead for Broadcom
We believe that 2023 is going to be a seminal year for Broadcom. The proposed acquisition of VMware will radically transform the overall business, making software even more of a focus for the business. Coupling VMware with Symantec, the former CA portfolio, and the software assets of Brocade represent a significant opportunity for the Broadcom software team to drive cross collaboration efforts and deliver more value to customers.
Speaking of the proposed acquisition, Tan has been definitive in his recent comments about what is ahead for VMware under Broadcom's stewardship. Despite persistent rumblings about price increases, Tan has been remarkably transparent. In a recent blog Tan stated "I've continued to see questions in press reports about whether we intend to raise prices on VMware products. The answer is simple: No." What more does he have to say?
We remain bullish on the medium prospects for Broadcom. While the semiconductor business will be a rollercoaster for the next few quarters, we believe Broadcom has a robust approach to managing supply and demand that will mean the business should be able to ride the macroeconomic climate better than many of its peer group.
As for the software business, 2023 will be all about VMware, which we expect to close mid-year. Given the media scrutiny and customer tour that Tan has been on, we expect this acquisition to be one of the most well thought out in the history of the industry. While we fully expect some rationalization of the workforce in back-office functions and a rationalization of the GTM function, we don't see any significant changes to the innovation engine at VMware — this bodes well for the long-term prospects for the business.
Daniel Newman and his co-host of The Six Five Webcast, Patrick Moorhead of Moor Insights and Strategy, discussed Broadcom's earnings in their latest episode. Check it out here and be sure to subscribe to The Six Five Webcast so you never miss an episode.
Disclosure: Futurum Research is a research and advisory firm that engages or has engaged in research, analysis, and advisory services with many technology companies, including those mentioned in this article. The author does not hold any equity positions with any company mentioned in this article.
Analysis and opinions expressed herein are specific to the analyst individually and data and other information that might have been provided for validation, not those of Futurum Research as a whole.
Other insights from Futurum Research:
Driving Innovation in a Multi-Cloud Enabled World: What the Broadcom VMware Transaction Means for Customers
Futurum Live! From the Show Floor with Broadcom's Russ Teubner and Peter Wassel at SHARE Columbus
Seeking Diversification, Broadcom Reportedly in Talks to Acquire Cloud Service Provider VMware
Image Credit: Yahoo Finance