Big ARR Growth Highlights Robust FY '22 Q1 for Splunk
Big ARR Growth Highlights Robust FY '22 Q1 for Splunk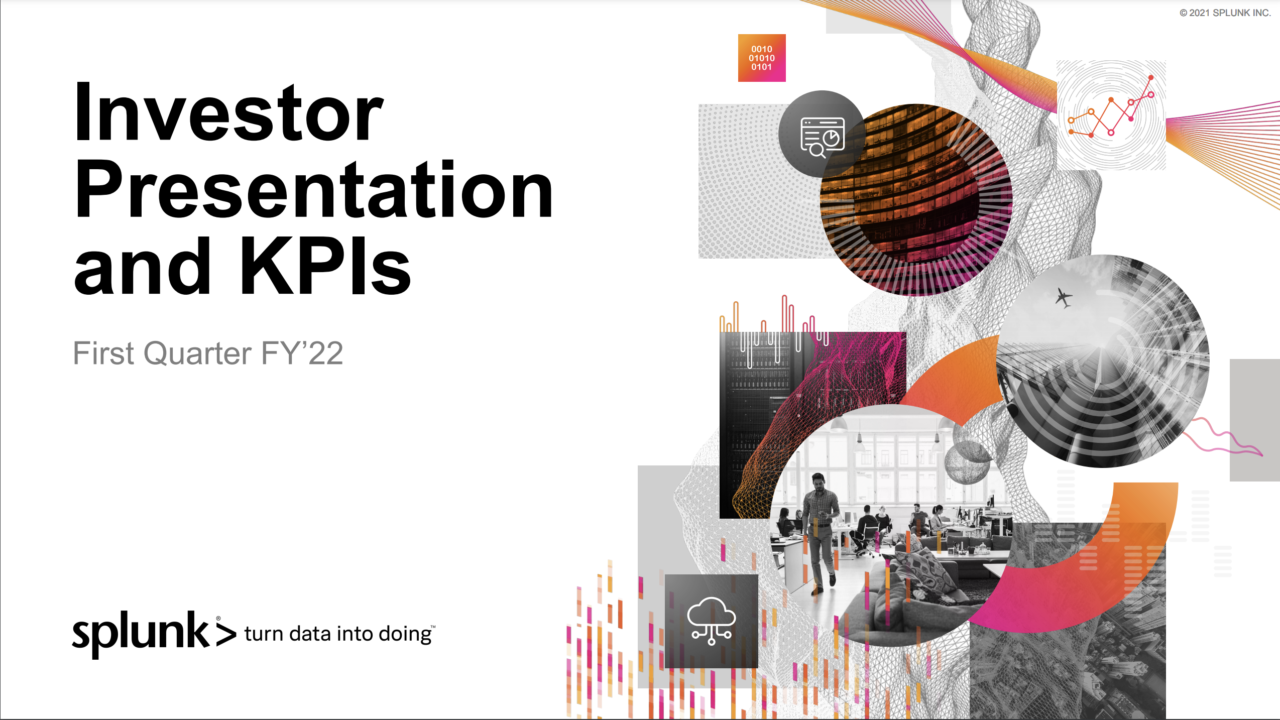 The News: SAN FRANCISCO – June 2, 2021 –  Splunk Inc. (NASDAQ: SPLK), provider of the Data-to-Everything Platform, today announced results for its fiscal first quarter that ended April 30, 2021
First Quarter 2022 Financial Highlights
Cloud ARR was $877 million, up 83% year-over-year.
Total ARR was $2.47 billion, up 39% year-over-year.
Cloud revenue was $194 million, up 73% year-over-year.
Total revenues were $502 million, up 16% year-over-year.
203 customers with Cloud ARR greater than $1 million, up 99% year-over-year.
537 customers with Total ARR greater than $1 million, up 46% year-over-year.
Read the full earnings release in Splunk's Newsroom.
Analyst Take: Splunk delivered another quarter of revenue growth and double-digit year over growth. EPS is still negative, indicating significant resources being invested in growth, and being slightly worse than estimates, the street was hard on the stock after earnings.
Having said that, I believe the company is in the middle of an important pivot and while negative EPS isn't ideal, shifting to Splunk Cloud, and making the necessary investments to accomplish this is the appropriate course of action at the current juncture.
It Remains All About ARR and Cloud
Not a lot has changed for me in the first quarter as I continue to be focused on a couple of key items for the company. These are especially important to pay attention to given the transition the company is making to subscription and cloud versus its legacy licensing revenue.
The first was monitoring YoY overall ARR growth. This is the run-rate of active subscription and this is foundational to the business's continued top line growth. The second focus was on the growth of cloud ARR. After a brief dip to 71% in Q3 2021, the company returned to back to back 80+ percent growth in cloud jumping from $480 million in the same period last year to $877 million in the quarter.
Overall, ARR came in at a solid 39% growth, but lagged the past four quarters, which all came in above 40%. Of course, it is worth noting that the revenue growth overall has Splunk at a total of $2.468 billion ARR.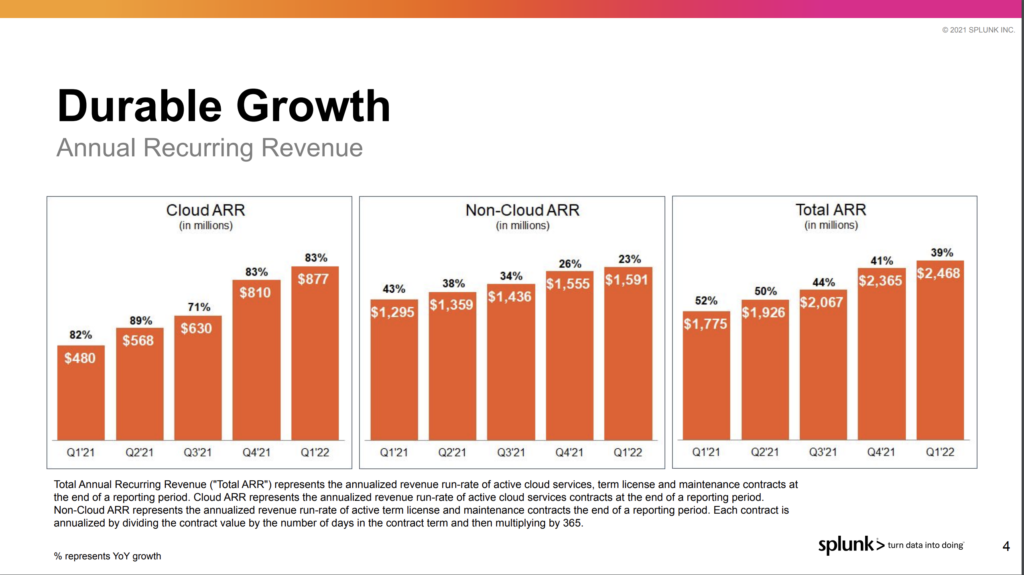 Big Growth of Large Customers Continues into FY '22
Another number I've been watching on a quarterly basis has been the company's acquisition of large customers (>$1 million). This quarter the company saw 27 new customers over $1 million in ARR and grew their cloud customer's with ARR over a million by an impressive 99%.
The following represent select new and expanded large customers this quarter according to Splunk: Bank of New Zealand, Chipotle, CVS Health, CyberCX (Australia), Deloitte Canada, E-Hälsomyndigheten (Sweden), Fastweb (Italy), Florida Department of Economic Opportunity, Kommunal Landspensjonskasse (KLP) (Norway), PRISMA Health, SCI Shared Resources, LLC, Sharp Healthcare, UVM Medical, TDC Net, ISTAT (Italy) 
An impressive list that includes many large and well known companies and organizations around the globe.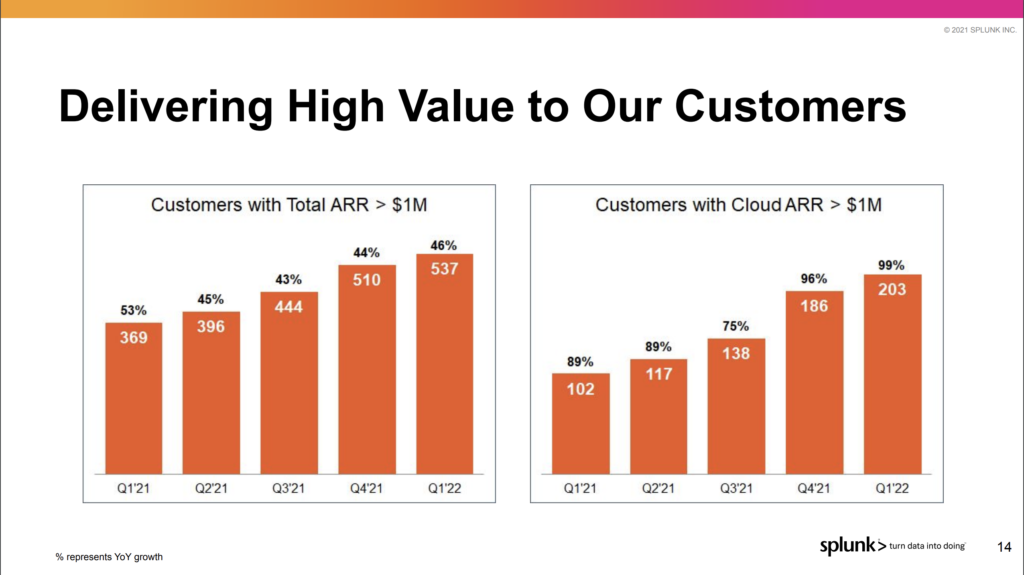 Overall Impressions of Splunk FY '22 Q1 Result and a Look Ahead 
The fiscal Q1 results for Splunk were robust overall and the company was able to continue to gain momentum in its key focal points IT, Security, and Observability. The company also made some strategic acquisitions including TruSTAR, adding to its security portfolio.
The execution of the company's key objectives of migrating workloads to Splunk Cloud has shown strong uptake from customers evident in the revenue and large deal conversions. The significant uptick in ARR, especially in cloud is a clear indicator that the company's strategy is working.
Also, the overall revenue growth YoY was solid and the EPS loss isn't atypical of a high-growth company. Especially one that is in a notable transition from licensing to subscription models. The trend lines are encouraging and the growth in adoption of Splunk's technology and the strong conversion of revenue to ARR should traverse in the next fiscal year returning the top line to growth.
Splunk didn't give full year guidance, but provided the following for FY '22 Q2:
Cloud ARR is expected to be between $950 million and $960 million.
Total ARR is expected to be between $2.59 billion and $2.61 billion.
Total revenues are expected to be between $550 million and $570 million.
Non-GAAP operating margin is expected to be approximately negative 25%.
Futurum Research provides industry research and analysis. These columns are for educational purposes only and should not be considered in any way investment advice.
Read more analysis from Futurum Research:
HPE Sees Strong Q2 Growth Led By XaaS and Edge
Zoom Unsurprisingly Delivers Another Triple Digit Growth Quarter
Cisco Shows Robust Q3 Growth Led by Security and Software
Image: Splunk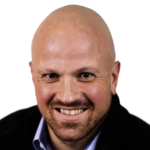 Daniel Newman is the Chief Analyst of Futurum Research and the CEO of The Futurum Group. Living his life at the intersection of people and technology, Daniel works with the world's largest technology brands exploring Digital Transformation and how it is influencing the enterprise. Read Full Bio