Apple Woes and Samsung Grows: Analyzing Q2 European Mobile Shipments
Apple Woes and Samsung Grows: Analyzing Q2 European Mobile Shipments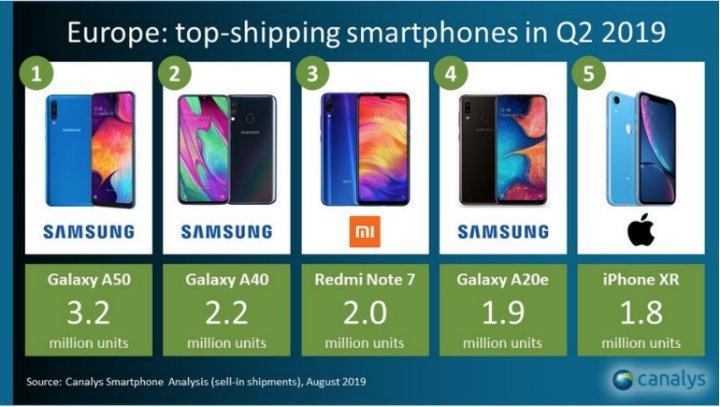 Canalys released its new mobile device figures for Europe this week. Samsung has seen a huge increase as in Q2 with their numbers shooting up to 40% market share. This number represents their highest market share in 5 years with shipments exceeding 18.3 million smartphones. The Samsung A series, the company's low/mid range smartphone accounted for 12 million units with each of the top four units in this series shipping more units than any other vendor in Europe managed with their entire lineup. Huawei saw a 16% falloff as the company's political tensions rise and Apple stayed in third, but saw a 17% fall in shipments to 6.4 million iPhones for Q2. Market gains came from Xiaomi, which grew 48% to 4.3 million units and HMD was in the 5th position with an 18% slip to 1.2 million units.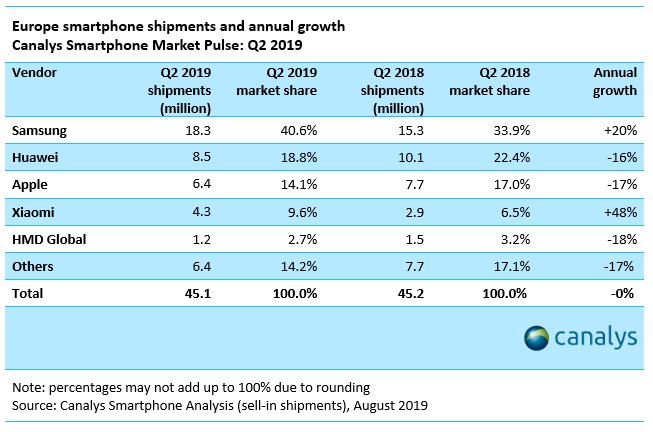 See the full press release from Canalys:
Analyst Take: Last month on "The Six Five" we covered the Global Shipment numbers and the standout data from that report was Apple's 13% drop. Today, Canalys reported numbers exclusively for Europe, which magnified the global data for one of the three largest regions for smartphone sales and provided some additional context to the global numbers.
There were three items from the report that immediately caught my attention.
Apple iPhone sales have peaked, declines will continue
13% off globally for the year and now 17% off in Europe ahead of their impending launch of the iPhone 11. To me, this seems less of a one-time thing and more of an early indicator of a peak in sales. Apple has its greatest strength in the U.S. and perhaps its greatest opportunity in Asia (China, India), but the devices haven't taken off in those emerging markets like they should and with trade tensions growing in China and lower priced alternatives making life hard for Apple in India, I am reluctant to predict a turnaround.
Apple's sales and growth of the iPhone have been impressive, so it isn't entirely the device, the quality or a declining market, but as the ultra-premium product with only a few lower end models to compete with high quality entrants and models from Samsung, Huawei, Xiaomi and more, Apple's days of exponential growth in smartphones has seemingly run its course.
U.S. and China tensions are very much a global concern
Huawei's sales declining in the U.S. makes sense. Too much uncertainty. In fact, so much so, that the company has built it's own Harmony OS in case they lose access to Google (Android). Europe, however, doesn't have the direct tensions with China, but the continued issues with the U.S. is causing the slowdown of Huawei sales in Europe and has seen the company's growth fall by 16% this year.
Samsung is on a roll:
Samsung has jumped to over 23% of the market globally and an extraordinary 40+% in Europe. While much of the attention has been on the company's premium products, it is in fact the company's entry level smartphones, the "A Series" that has been so prolific in helping them achieve those numbers.
The company is aggressively targeting the iPhone and is furthering its commitment to premium device users with its newly announced partnerships with Microsoft.
With so many products across a massive range, Samsung looks set to continue to dominate as the leader both globally and across Europe.
The Future?
I believe Europe's numbers are a good indicator for the world beyond the USA where Apple still has a stronger foothold. It seems beyond the US though, more and more users are looking to renew devices and move to Android based devices. The Samsung lineup offers so much variety, which certainly has a significant impact on these numbers. With their premium devices, including the launch of 5G in their Galaxy and Note lines, Samsung is in tremendously strong position to continue to see their share grow in Europe and beyond. Meanwhile, it really feels like everyone else is playing catch up. Huawei, the most formidable of the competitors has too much uncertainty leaving Xiaomi, HMD and LG as the best of the rest with Xiaomi's performance this quarter delivering the most promise with one device reaching 2 million quarterly units.
Apple will need to hope for a really exciting iPhone XI or 11 or whatever launch if they are going to hope to regain momentum (and market share). But hey, at least their wearables business is on the rise, right?
Futurum Research provides industry research and analysis. These columns are for educational purposes only and should not be considered in any way investment advice.
More analysis from Futurum Research:
Check Point Exposes Massive Apple Vulnerability Impacting 1.4 Billion Devices
Huawei Prepares HarmonyOS To Launch If China US Strains Escalate
Broadcom Growth by Acquisition Strategy Continues with $10.7B Symantec Acquisition
Image: Canalys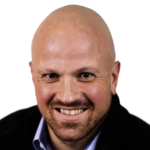 Daniel Newman is the Chief Analyst of Futurum Research and the CEO of The Futurum Group. Living his life at the intersection of people and technology, Daniel works with the world's largest technology brands exploring Digital Transformation and how it is influencing the enterprise. Read Full Bio