Apple and Salesforce Use Dreamforce 2019 To Announce Partnership
Apple and Salesforce Use Dreamforce 2019 To Announce Partnership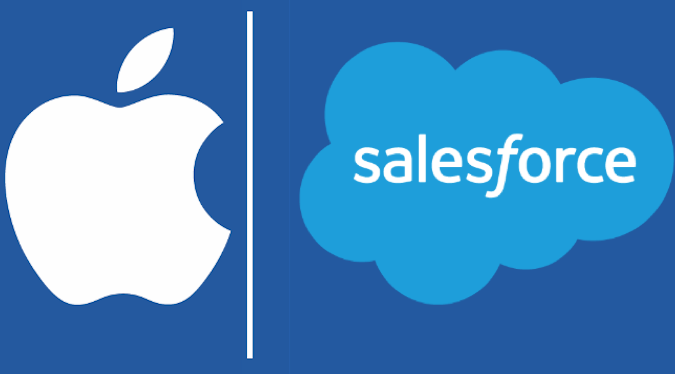 The News: Salesforce is launching a redesigned Salesforce Mobile App and a learning app called Trailhead GO with exclusive features to Apple's iOS and iPadOS.
The Apple-Salesforce effort, which was announced at Dreamforce, rhymes with other partnerships with enterprise software vendors and the iPhone maker. For instance, Apple has worked on apps with the likes of Accenture, IBM, and SAP. The general theme is using Apple's enterprise footprint with iOS, iPhone, and iPad to garner unique business features in apps. Read the article on ZDnet.
Analyst Take: It always makes a splash when Tim Cook shows up at enterprise events. Apple has done a lot of this with mixed results, but in the era of mobile, apps need to accommodate users. Even in the case of Apple, that only has about 10% of market share globally for smart phones, users want good apps for their devices to allow productivity on the move.
This year's Dreamforce 2019 appearance with Marc Benioff and Tim Cook brought three announcements. Two applications and an updated SDK and of course a much deeper commitment from the two CEOs.
Running Through the 3 Announcements

Below are the announcement from the Salesforce press release along with some quick thoughts on each.
The Salesforce Mobile App , powered by AI and reimagined on iOS. Salesforce completely redesigned its flagship mobile CRM app to deliver a powerful new user experience enabled by Einstein, with advanced analytics and features exclusive to iOS, including Siri shortcuts and Face ID. Now anyone can run their business on mobile in a way that's conversational and smart — leveraging the power of Siri and Einstein Voice Assistant to quickly add tasks, take notes and update their CRM.

Take: This was the most interesting of the three announcements to me.  Einstein has long been overdue to provide in market value and putting Customer 360 into an iOS ready app is also going to help with the growth in remote work. It will be interesting to see how Siri and Einstein help power the workforce as neither tech has emerged as superior to the likes of Microsoft Cortana or Google Assistant for the quality of NLP or the inference characteristics

Trailhead GO , the first-ever mobile app for Trailhead, exclusive to iOS and iPadOS. Trailhead is Salesforce's free online learning platform used by millions of Trailblazers to skill up for the jobs of today and tomorrow. With Trailhead GO, learners now have access anywhere and at anytime to more than 700 modules covering in-demand business and tech skills — including trails like Get Started with iOS App Development, which teaches developers at any level how to build native apps. Built on Swift using Salesforce's Mobile SDK, Trailhead GO supports Handoff in addition to Accessibility features like VoiceOver and Magnifier; iPadOS features include Split View for multi-tasking and Picture-in-Picture for video courses.

Take: A nice concept for the growing mobile user community.  Addressing iOS users is smart, but obviously only represents a small portion of all mobile users. I suppose the exclusive nature of this will force users on Android to stick to desktop for their use of Trailhead. Not sure this is really big news, but helpful for those that want to do mobile training on an iPhone or iPad.

The new Salesforce Mobile SDK, optimized for Swift and iOS 13. The next generation of Salesforce's Mobile SDK adds support for the latest advancements in iOS 13, iPadOS and Swift, including Swift UI and Package Manager, for easier compiling and distribution of code. The new SDK will empower more than six million Salesforce developers to quickly build and deploy native Salesforce apps for iPhone and iPad. The SDK has already been used by hundreds of businesses to focus on what they do best: provide a superior customer experience.

Take: My feeling is that this is more incremental than anything. The new SDK will add features that streamline the build of iOS apps for Salesforce, but this isn't a big piece of news, but rather an expectation for keeping up with updates to iOS; in this case iOS 13.
Overall Impression
Over the past several years, I have found a lot more marketing punch than product punch when Apple shows up at enterprise events.
Having said that, there is a significant demographic of iPhone users that are increasingly using their mobile device as their primary source of information. Putting customer 360 on the small screen, for instance, will enable the mobile worker to be more productive.
Meanwhile, I think launching a learning app like TrailheadGO on only iOS is a bit short sighted given that iPhone only has about 10% of the mobile market and Android is continuing to gain ground. I could also see that exclusivity going away in short order to accommodate Android users.
More hype than substance? Sure, but hasn't that been the track record for most Apple launches lately?
Read more Analysis from Futurum Research:
Oracle Blesses BRM with Cloud Native Option
Scaled Agile's SAFe 5.0 Officially Launches Driving Agile in the Enterprise
Cisco Delivers Strong Q1 Despite Tame Guidance For Q2
Futurum Research provides industry research and analysis. These columns are for educational purposes only and should not be considered in any way investment advice.
Image: Salesforce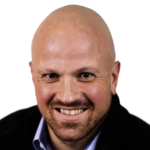 Daniel Newman is the Principal Analyst of Futurum Research and the CEO of Broadsuite Media Group. Living his life at the intersection of people and technology, Daniel works with the world's largest technology brands exploring Digital Transformation and how it is influencing the enterprise. Read Full Bio