AMD Q1 2023 Earnings, down 9% on a Weaker PC Market
AMD Q1 2023 Earnings, down 9% on a Weaker PC Market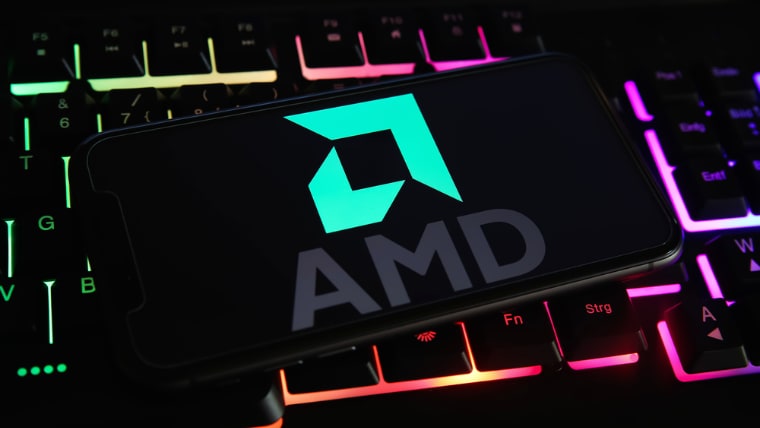 The News: AMD recently held first quarter earnings results where the company's revenues were down 9 percent, although beating analyst expectations in a highly mixed environment. See AMD's full earnings Press Release here.
AMD Q1 2023 Earnings, down 9% on a Weaker PC Market
Analyst Take: AMD's Q1 2023 earnings had the company beating analyst expectations and the data center, gaming, and embedded segments buoyed the company as expected. Our view is the company continues to navigate negative headwinds well and its diversification efforts have it positioned well for future growth.
Here are the AMD Q1 2023 earnings by the numbers:
Q1 2023 revenues of $5.4 billion were down 9 percent from the year-over-year period
Q1 2023 non-GAAP net income of $970 million was down 39 percent year-over-year period
Q1 2023 non-GAAP gross profit of $2.8 billion, which is up 18 percent from $2.4 billion one year ago.
Q1 2023 non-GAAP gross margin of 50 percent was down 3 basis points from the year-over-year period.
Q1 2023 non-GAAP operating income of $1.1 billion was down 40 percent from the year-over-year period.
Q1 2023 non-GAAP basic earnings per share (EPS) of $0.60, down 47 percent from $1.10 one year ago.
AMD Revenue by Business Segment
Here are AMD's Q4 revenue numbers by its business segments:
For Q1 2023, AMD's Data Center revenues were $1.3 billion, which were flat from on a year-over-year (YoY) basis, with operating income declining by 65 percent. AMD leadership indicated the segment experienced higher EPYC processors sales to cloud customers, which was offset by lower enterprise server processor sales.
AMD's Client segment Q1 2023 revenues were $739 million versus $2.1 billion in the year ago period, or down 65 percent YoY. Although not a surprise, the AMD management team said that processor shipments were down significantly below consumption in an effort to reduce downstream inventory.
AMD's Gaming segment Q1 2023 revenues were $1.8 billion, which was down 6 percent YoY, but better than expected. Other notable areas of strength AMD mentioned is it had strong channel sell-through of its Radeon 6000 and Radeon 7000 series GPUs, which increased quarter-over-quarter.
AMD's Q1 2023 revenues for its Embedded segment were $1.6 billion, up 163 percent from the prior year period. The segment was propelled predominately by a full quarter of revenues from Xilinx, coupled with excellent performance across many markets.
AMD's Q1 2023 revenues by segment are in line with our expectations. The market for personal computers and associated desktop and mobile peripherals and accessories continues to suffer as many organizations accelerated the PC buying cycle due to the pandemic and hybrid work.
In addition, due to the current macroeconomic headwinds, many organizations have also tapered or reprioritized their IT spending budgets and in many instances have slanted their IT spend toward more critical projects such as cybersecurity, wireless infrastructure, and other upgrades, while other assets are being sweated until macroeconomic conditions improve.
In fact, I noted that in Amazon's recent earnings results, the company mentioned that many organizations are seeking guidance from the Amazon Web Services (AWS) teams in finding workloads that are more economical as many organizations being pressured to reduce additional costs.
AMD Revenue Guidance for Q2 2023
AMD also provided financial guidance for Q2 2023 quarter. For the company's Q2 2023 guidance, AMD is projecting its revenues to be $5.3 billion with a range of plus or minus of $300 million within that, which is a decrease of 19 percent YoY. The company also expects its non-GAAP gross margins to be in the 50 percent range. The range was a little light, but we see AMD being cautious with many macro factors leaving mid-range uncertainty.
AMD Q1 2023 Earnings Overview
Our viewpoint on AMD's recent Q1 2023 earnings performance is simple: the company continues to execute well as evidenced by beating analyst expectations. They've managed that despite operating in major macroeconomic headwinds that have manifested in many organizations pruning fixed and variable costs, which has ultimately elongated IT buying cycles for many product categories.
In fact, similar to its peers, the personal computing segment has been negatively impacted more than the data center segment, which echoes the sentiment we have been picking up from contacts across the industry. Although the data center market was more flattish for quarter, we expect the segment to continue to outperform the personal computing segment, since we feel there is still a lot of pent-up demand out there — similar to the networking and security market — but many organizations are sweating assets until the macroeconomic picture becomes more stable in the coming months. Perhaps most important is the opportunity around AI, which we feel is substantial for AMD with companies seeking lower price, lower power consumption GPUs. With AMD being hungry to win share in the AI race, we see it being competitive and aggressive in this space.
Daniel Newman and his co-host of The Six Five Webcast, Patrick Moorhead of Moor Insights and Strategy discussed AMD earnings in their latest episode. Check it out here and be sure to subscribe to The Six Five Webcast so you never miss an episode.
Disclosure: The Futurum Group is a research and advisory firm that engages or has engaged in research, analysis, and advisory services with many technology companies, including those mentioned in this article. The author does not hold any equity positions with any company mentioned in this article.
Analysis and opinions expressed herein are specific to the analyst individually and data and other information that might have been provided for validation, not those of The Futurum Group as a whole.
Other insights from The Futurum Group:
AMD 4th Gen Epyc CPUs Now Optimized for Embedded Systems
AMD Earnings – The Six Five Highlights
Mavenir and AMD Ready to OpenBeam Up CSPs to Cloud-Native Networks