Adobe Revenue for Q1 2023 Hits Record $4.66B, Up 9% YoY
Adobe Revenue for Q1 2023 Hits Record $4.66B, Up 9% YoY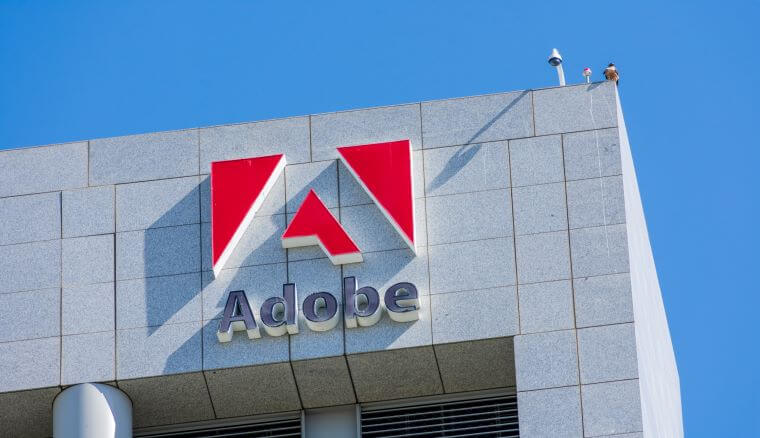 The News: Adobe revenue reached $4.66 billion for the first quarter of fiscal year 2023, up nine percent from $4.26 billion one year ago and setting a new Q1 revenue record for the digital creativity and experiences software maker. Adobe announced its Q1 earnings on March 15 for the quarter ending March 3, 2023. Read the full Press Release on Adobe's Q1 earnings on the company's investors web page.
Adobe Revenue for Q1 2023 Hits Record $4.66B, Up 9% YoY
Analyst Take: Adobe's revenue of $4.66 billion for fiscal Q1 revenue is impressive, with a solid nine percent increase over Q1 2022. Notably, this sets a seventh consecutive quarterly revenue record since Q3 of FY2021 when the company brought in $3.9 billion. The Adobe results are even more positive due to the mixed results being seen for many other tech and consumer products companies in the last few quarters.
Here are the Adobe Q1 FY2023 earnings results by the numbers:
Q1 FY2023 revenue of $4.66 billion, up nine percent from $4.26 billion for the same quarter one year ago. The $4.66 billion in revenue beat analyst consensus estimates of $4.62 billion for the quarter, according to Investing.com.
Q1 FY2023 non-GAAP net income of $1.75 billion, up nine percent from $1.6 billion one year ago.
Q1 FY2023 diluted non-GAAP earnings per share (EPS) of $3.80, up from $3.37 EPS one year ago. The $3.80 per share price beat analyst consensus estimates of $3.68 per share, according to Investing.com.
Q1 FY2023 non-GAAP operating income of $2.13 billion, up seven percent from $1.99 billion one year ago.
Remaining Performance Obligations (RPO) totaled $15.21 billion at the end of the quarter.
These are robust numbers, giving Adobe a solid double-beat for the quarter on revenue and EPS. This performance by the company is no surprise, we believe, given the strong demand for data-driven analytics and digital transformation by enterprise customers around the world.
With this continued progress, we like what we are seeing from Adobe when it comes to its markets, product lines, and services to its customers in a wide range of creative fields.
And the best could still be yet to come for Adobe as the world watches the machinations of its planned $20 billion acquisition of collaborative design platform vendor, Figma, later this year. When the Figma deal was announced two quarters ago, we called it a bold move and a big bet on collaborative design that will help to further boost Adobe's revenue and standing in the lucrative and demanding creative market. We reiterate those words today and see that deal setting all kinds of new opportunities for this company once it runs through its path of required regulatory approvals.
So far, all cylinders have been firing for Adobe within its creative and strategy growth engine under the guidance of chairman and CEO Shantanu Narayen and his talented executive team. We expect this progress to continue for Adobe into the future.
Adobe Revenue Business Segment Performance
By business segment, Adobe's subscription revenue grew by 10 percent to $4.37 billion in Q1, up from $3.95 billion one year ago. Product revenue for the quarter was $120 million, down 17 percent from $145 million last year, while services and other revenue totaled $162 million, up two percent from $159 million one year ago.
Adobe Revenue by Product Segment
Adobe Q1 revenue and full FY2023 figures by product segment also showed good performance.
Digital Media Q1 revenue totaled $3.4 billion, which was up nine percent from $3.1 billion one year ago. Creative revenue rose eight percent to $2.76 billion from $2.55 billion one year ago, while Document Cloud revenue hit $634 million, a 13 percent rise from $562 million one year ago. Digital Experience Q1 revenue came in at $1.18 billion, an 11 percent increase from $1.06 billion one year ago,
Adobe also reported net new Digital Media Annualized Recurring Revenue (ARR) of $410 million, while its Creative ARR hit $11.28 billion and its Document Cloud ARR rose to $2.39 billion.
Adobe's Digital Experience subscription revenue hit $1.04 billion, a 12 percent increase from one year ago.
Adobe Provides Guidance for Q2 FY2023
As part of its Q1 earnings report, Adobe also provided revenue guidance for the second quarter of fiscal 2023.
For Q2 FY2023, Adobe expects total revenue of $4.75 billion to $4.78 billion and non-GAAP EPS of $3.75 to $3.80 per share. The company said it expects Digital Media segment revenue in Q1 of between $3.45 billion to $3.47 billion and Digital Experience segment revenue of $1.21 billion to $1.23 billion. Also expected is Digital Experience subscription revenue of between $1.06 billion to $1.08 billion.
For the full FY2023, Adobe also updated its non-GAAP EPS guidance to $15.30 to $15.60 per share, raising it from its previous estimates of $15.15 to $15.45 per share.
Adobe Revenue Q1 Overview
This was clearly a well-executed quarter for Adobe as it again raised its revenue and EPS totals amid a market still rife with challenging macroeconomic conditions around the world.
With its broad and successful line of professional creativity products, including Adobe Photoshop, Acrobat Pro, Illustrator, Adobe Express, Lightroom, Dreamweaver, Substance 3D Pro – as well as its Document Cloud and Experience Cloud offerings – Adobe connects daily with a huge number of business professionals and consumers directly and indirectly. This has been the company's model for success for quite some time and we expect this to continue and flourish.
The subscription models for its products have been particularly positive as users move to new ways to access and work with their favorite creative applications.
We see Adobe's Q1 earnings figures as evidence that this company remains well-positioned to benefit from long-term secular trends while it continues to meet the product and feature needs of its customers.
Enterprise customers are increasing their demands for true and beneficial digital transformation and Adobe is continuing to find ways to deliver on those requirements. We see this as the company's successful path throughout FY2023 and we look forward to Adobe's next innovations and business strategies as it heads into the future.
Disclosure: Futurum Research is a research and advisory firm that engages or has engaged in research, analysis, and advisory services with many technology companies, including those mentioned in this article. The author does not hold any equity positions with any company mentioned in this article.
Analysis and opinions expressed herein are specific to the analyst individually and data and other information that might have been provided for validation, not those of Futurum Research as a whole.
Other insights from Futurum Research:
Oracle CloudWorld, Lenovo TechWorld, IBM Earnings, Adobe MAX, HPE Analyst Mtg, IBM's ML Card– The Six Five Webcast
Spending Time with Creative Pros is a Signal That Adobe's Figma Acquisition of Figma is a Solid Move
Adobe Q4 Revenue Hits Record $4.53B for FY2022, Up 10% YoY