Qualcomm's Snapdragon Summit Day 2: First thoughts about the Snapdragon 865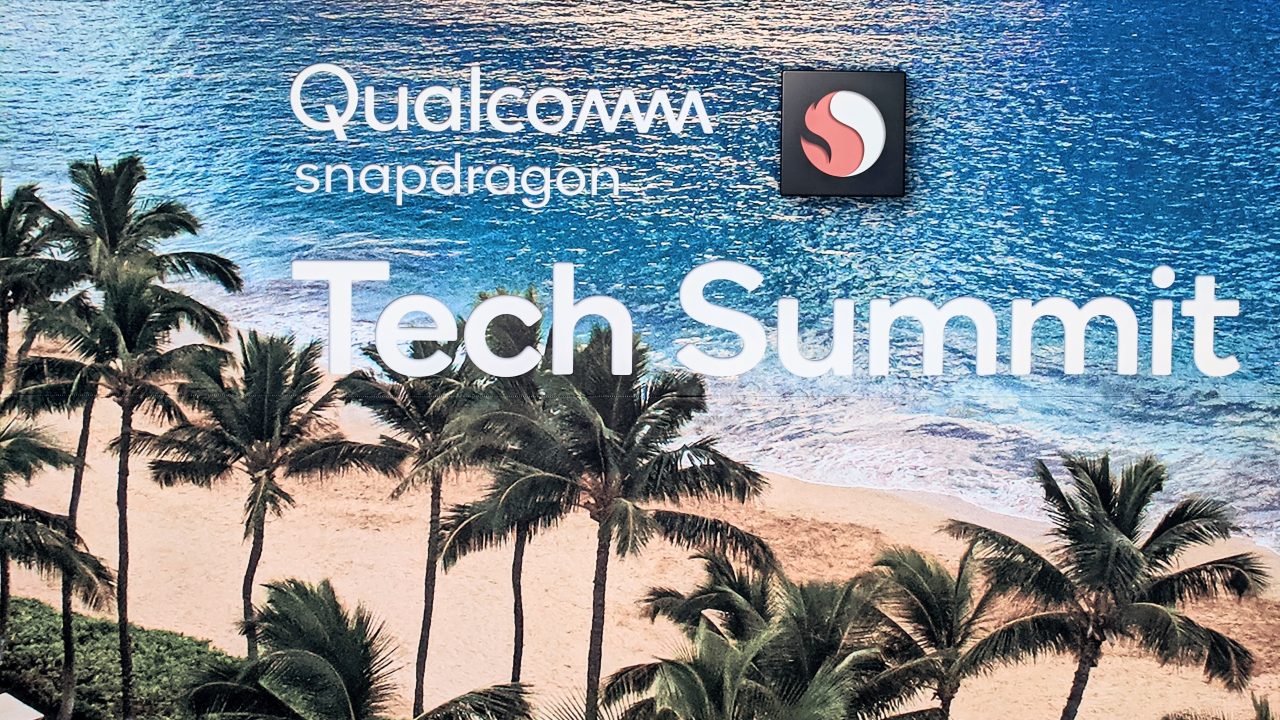 Listen to this article now
I could spend the next three weeks talking about what Qualcomm's new Snapdragon 865 platform can do, how it does it, and why I think it matters. First impression? Impressive. Its unofficial nickname ("the beast") is deserved, and I will address why in a moment. For the sake of expediency though, here is the main reference slide from today's platform introduction.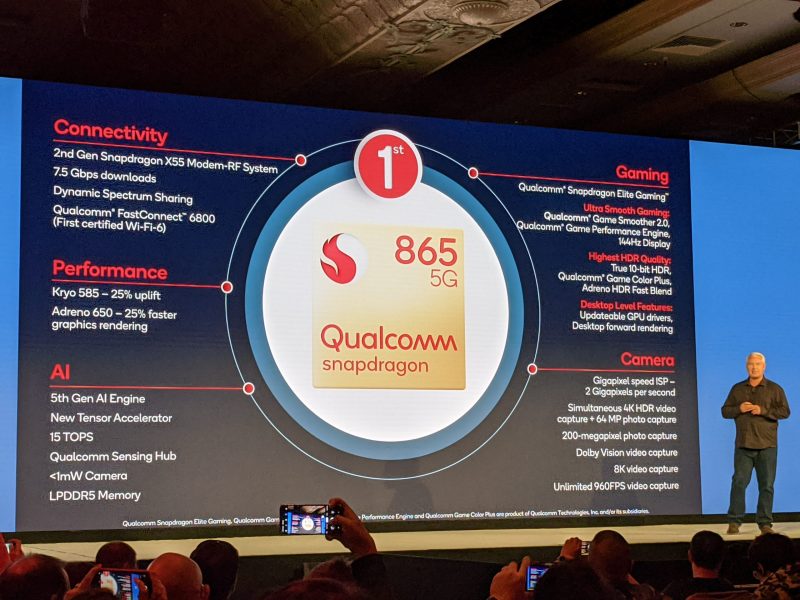 Some of the features that jumped out at me:
Camera:
8K video capture (at 30fps)
200 megapixel photo capture
Dolby Vision video capture (yes, on a phone)
Unlimited true, native 960fps (slow motion) video capture
2 gigapixels per second ISP
AI:
15 TOPS (15 trillion operations per second)
<1mw camera (think passive detection mode)
CPU/GPU:
25% uplift and faster graphics rendering
Power consumption (not shown in that slide, but it is worth mentioning)
Connectivity:
7.5 Gps download speeds
Qualcomm Fast Connect 6800 (WiFi 6)
Carrier Agregation
Dynamic Spectrum Sharing (DSS)
mmWave
Gaming: 
Desktop quality performance
Support for up to 120fps gaming
144Hz display
Updatable GPU Drivers
Also, here is a snapshot of the Snapdragon 865's architecture, with, at its core:
Adreno 650 GPU
Hexagon 698 Processor
Qualcomm's Spectra 480 ISP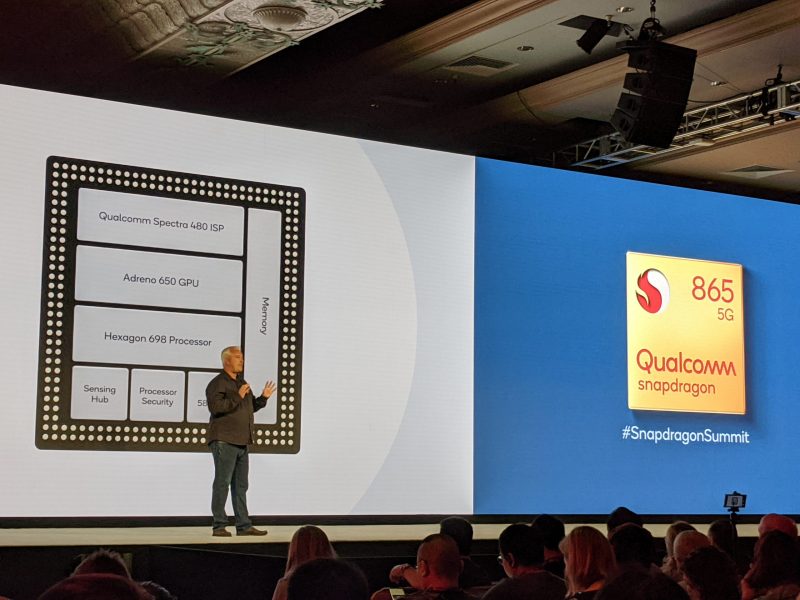 My thoughts on the modem:
The X55 is Qualcomm's flagship 5G modem, and pretty much the gold standard in the industry. Here are the specs in case you need a refresher. Two quick thoughts:
No, the X55 is not integrated into the Snapdragon 865, and no, I don't think that's a problem, and here's why: For starters, Qualcomm works with a very large number of OEMs, all of them with varying requirements. Keeping the modem separate allows Qualcomm more flexibility. Second, typically, Qualcomm introduces their next generation of modems at Mobile World Congress, not at the Snapdragon Summit. MWC is a few months away, and I expect that the Snapdragon 865 will be compatible with it, meaning that OEMs could have the option to build Snapdragon 865 phones with the X55 or its successor. This would be more difficult with an integrated modem.
5G modems are still fairly new, and it usually takes Qualcomm a couple of years to complete an integration of that sort. I imagine that we could see an integrated modem in the next generation of Snapdragon SOC. (Pure speculation on my part.)
And yes, mmWave support is built in. It is one of the X55's most obvious differentiators among 5G modems.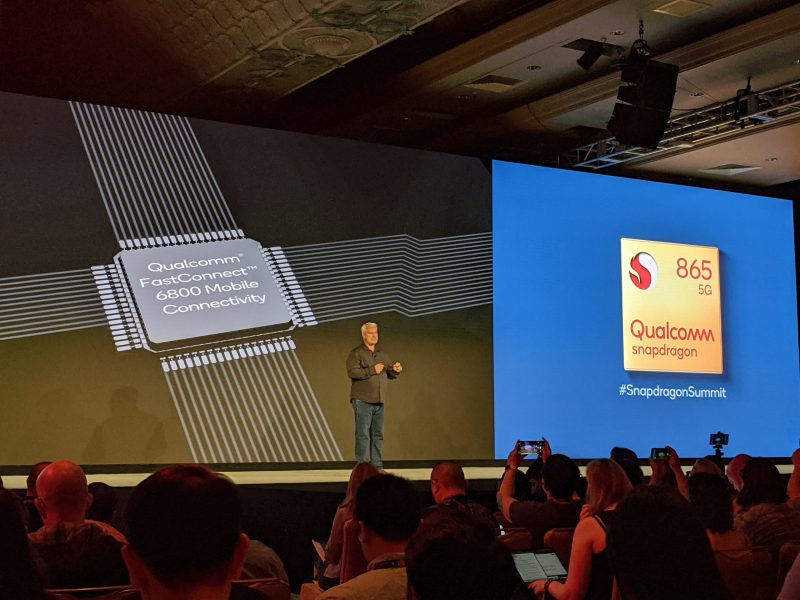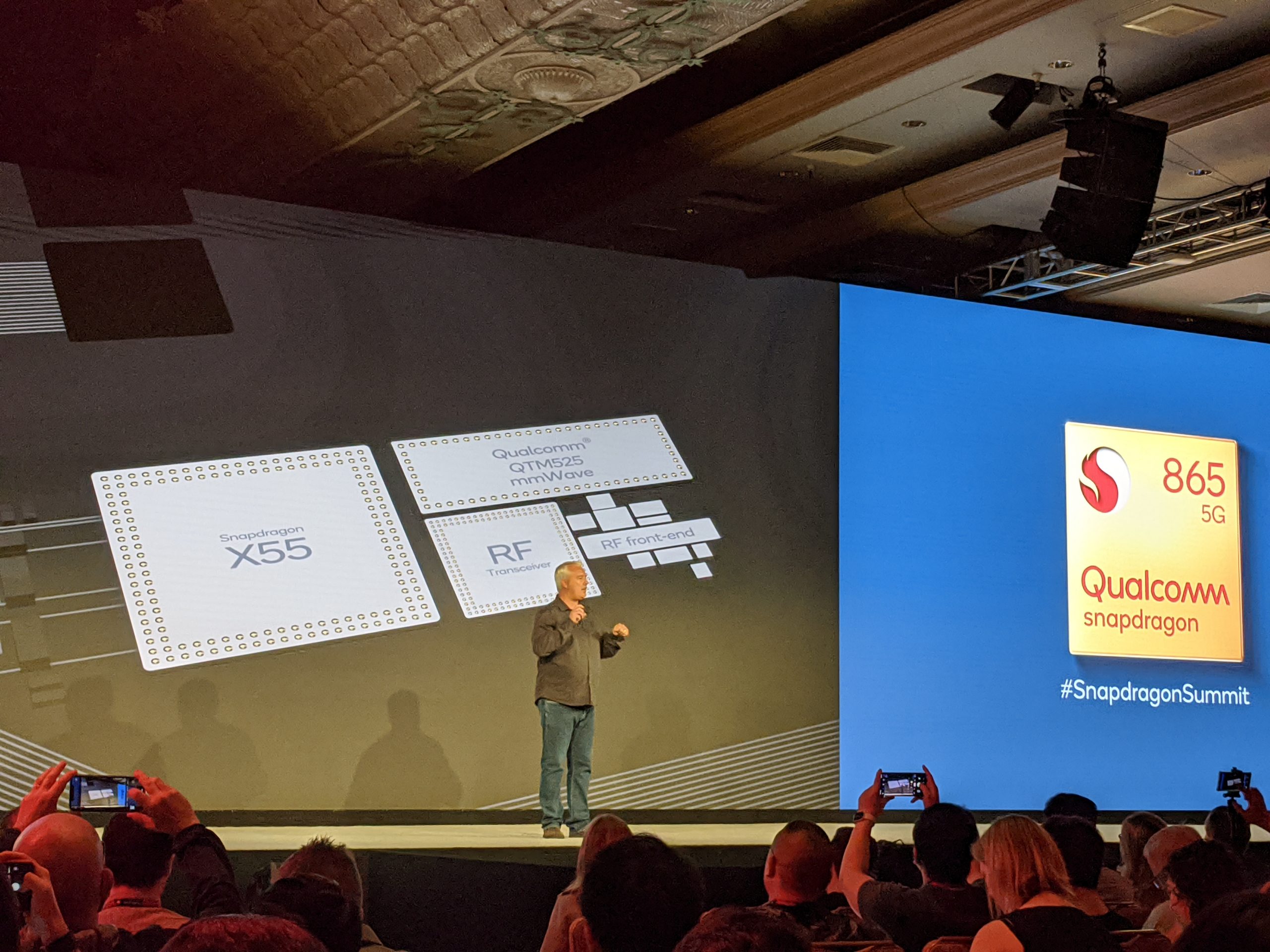 The Snapdragon 865's camera features are amazing:
The camera capabilities of the Snapdragon 865 platform are, at least for me, where most of the value lives. As an avid photographer, I am biased towards phone cameras, but let's face it: the best camera is the one you have with you, which is why most photos today are taken on smartphones. And while a few years ago, I might have argued that the equation there was one in which we all traded quality for convenience, that argument no longer holds much water. A quick glance at these specs and features will clue you in as to why:
200 megapixel photo capture
Semantic segmentation for clearer, more vivid images
Unlimited true, native 960 fps slow motion capture
Dolby Vision for video capture
HEIF support for Google dynamic depth format (take your photo now, adjust bokeh/DOF later.)
8K video capture at 33fps, and/or 4K video capture at 120fps
Honestly, that alone makes the Snapdragon 865 SOC worth more than its weight in gold. As an old school photography purist, none of this replaces professional quality glass in my mind, but the fact that Qualcomm managed to pack all of this into a mobile platform is extraordinary.  This legitimately brings professional photo and video features into your pocket.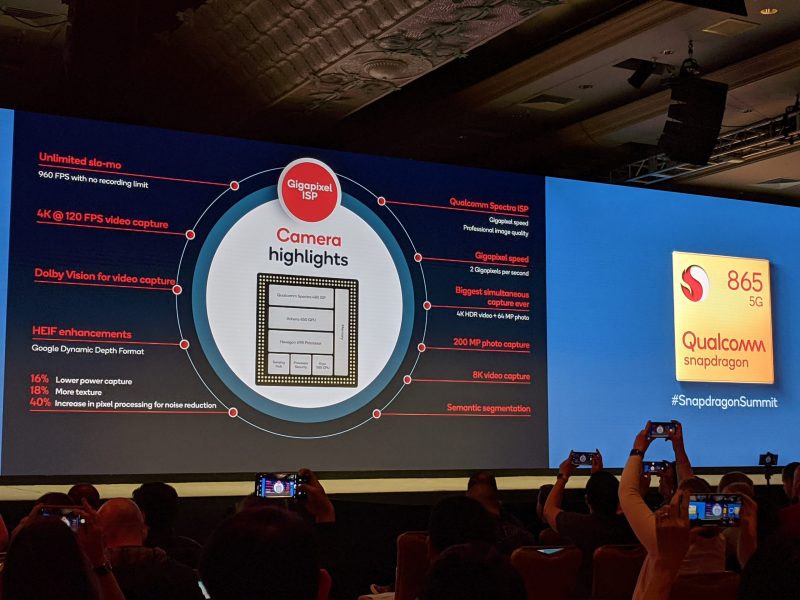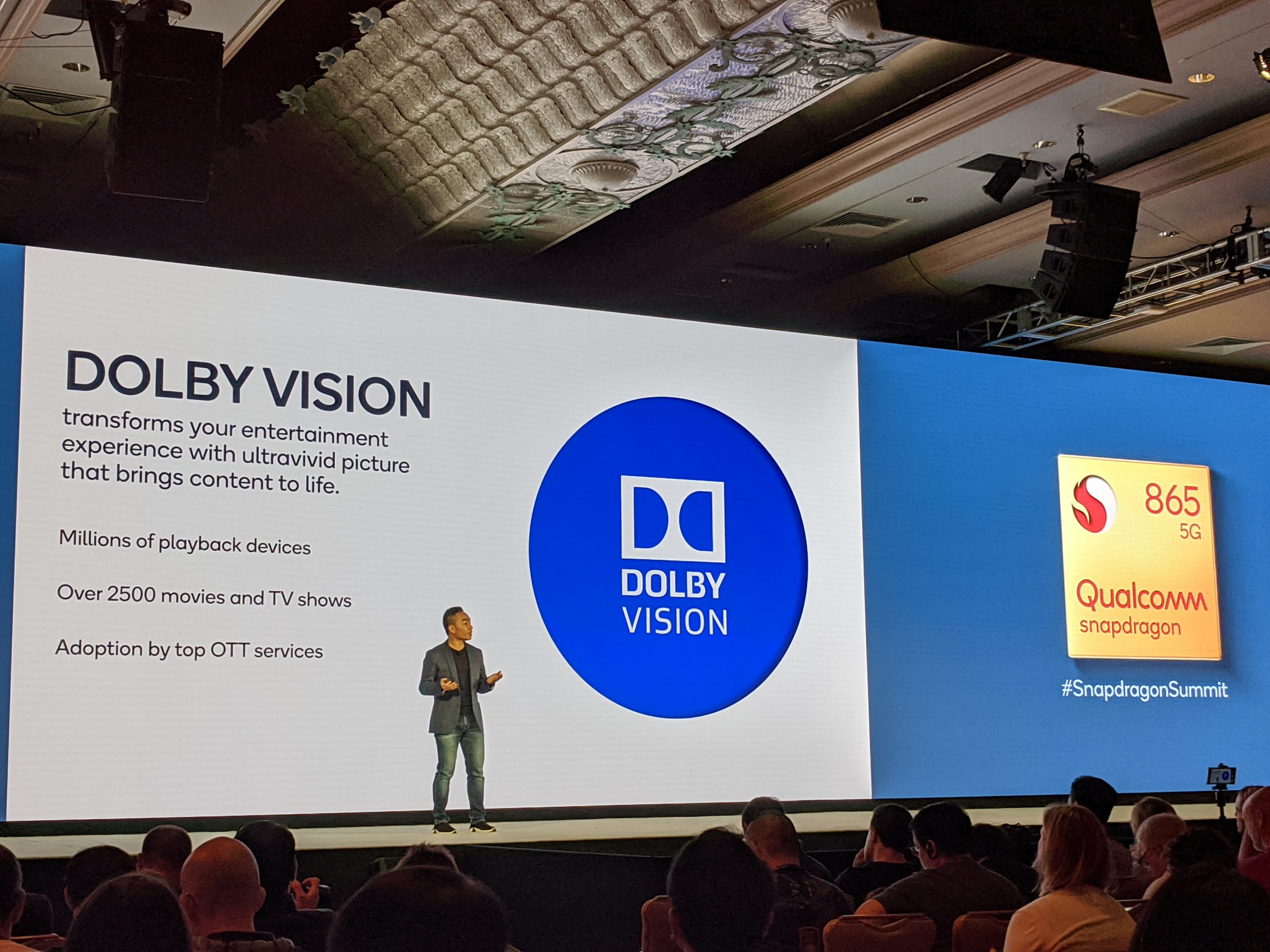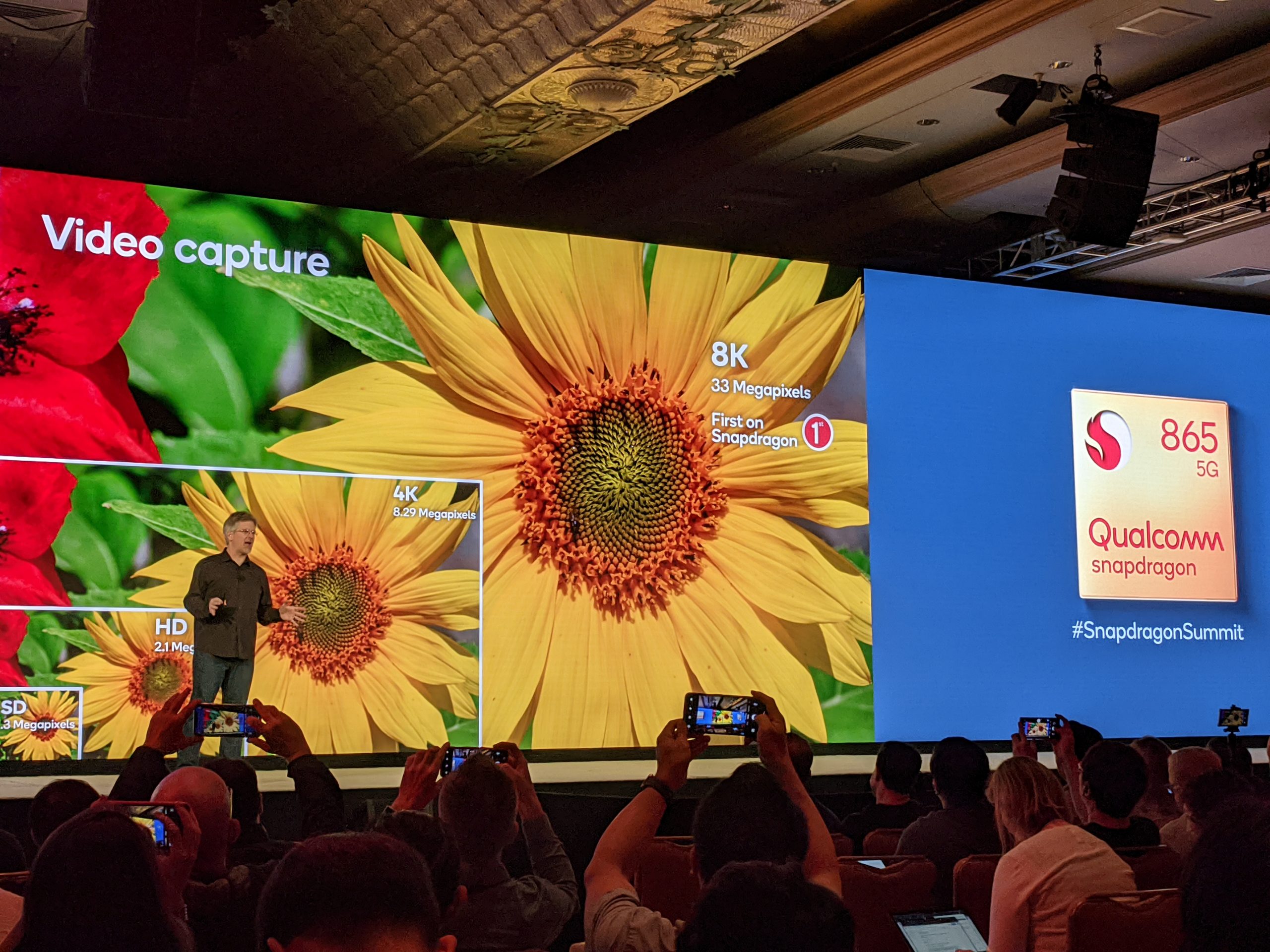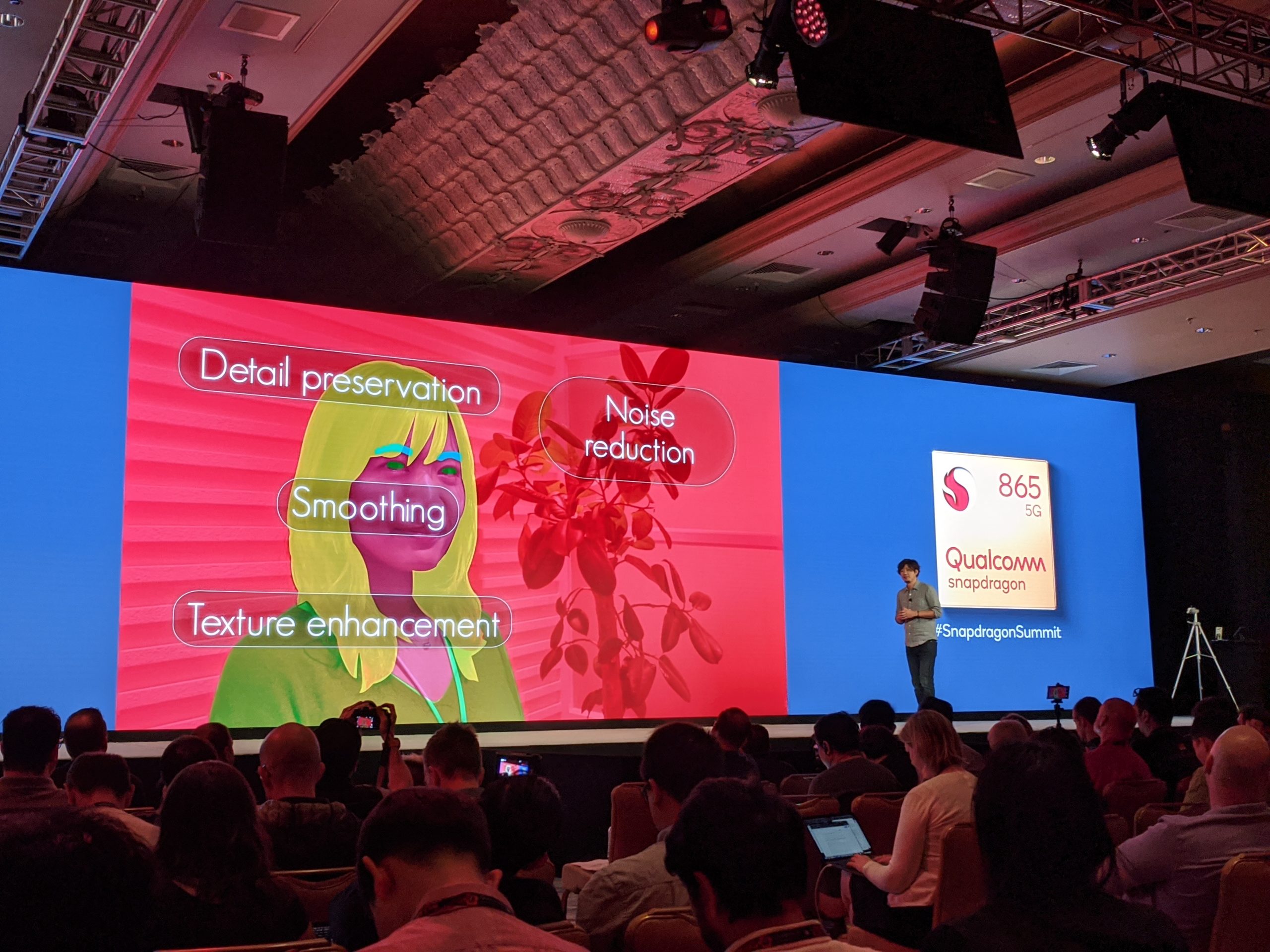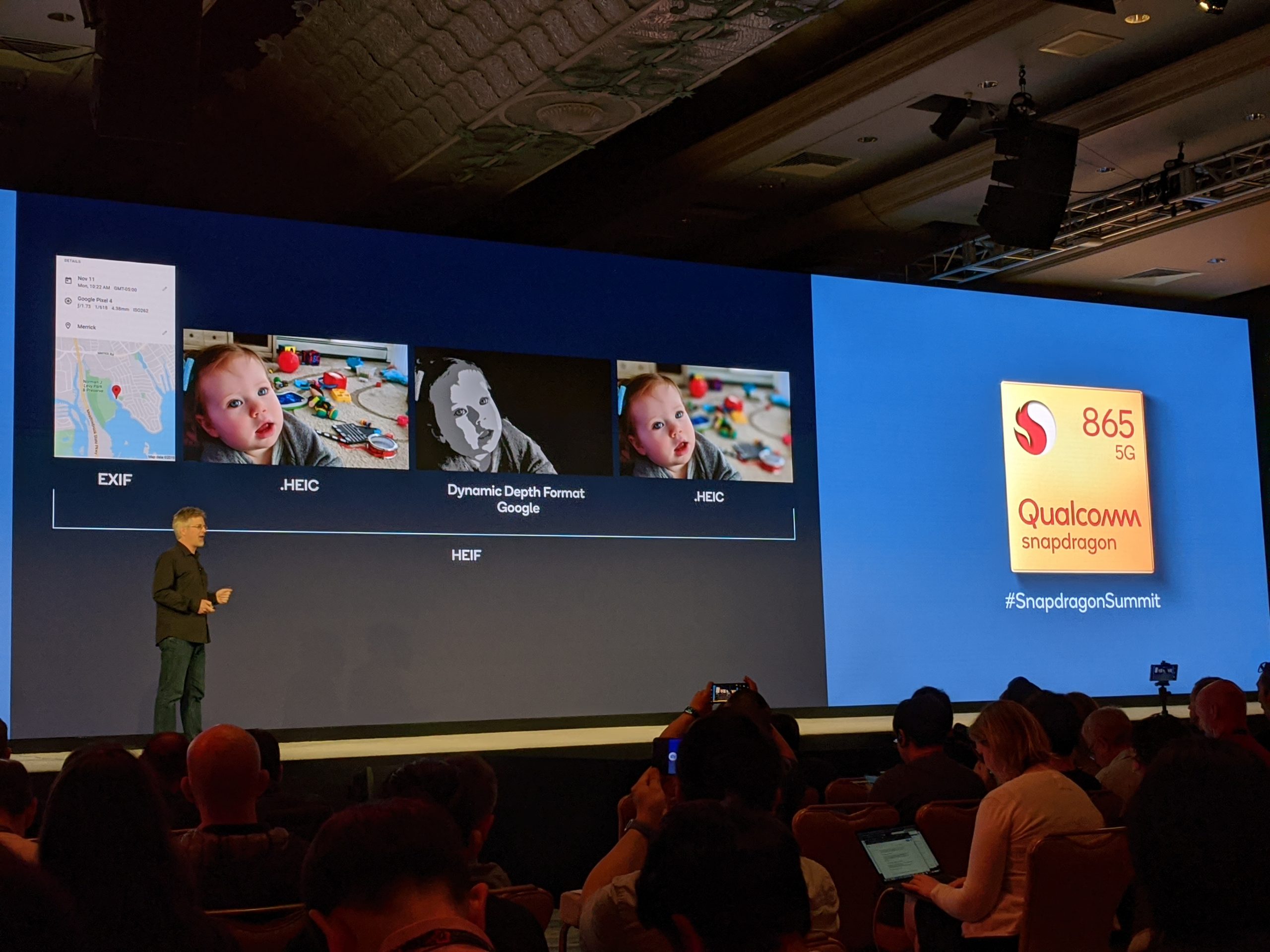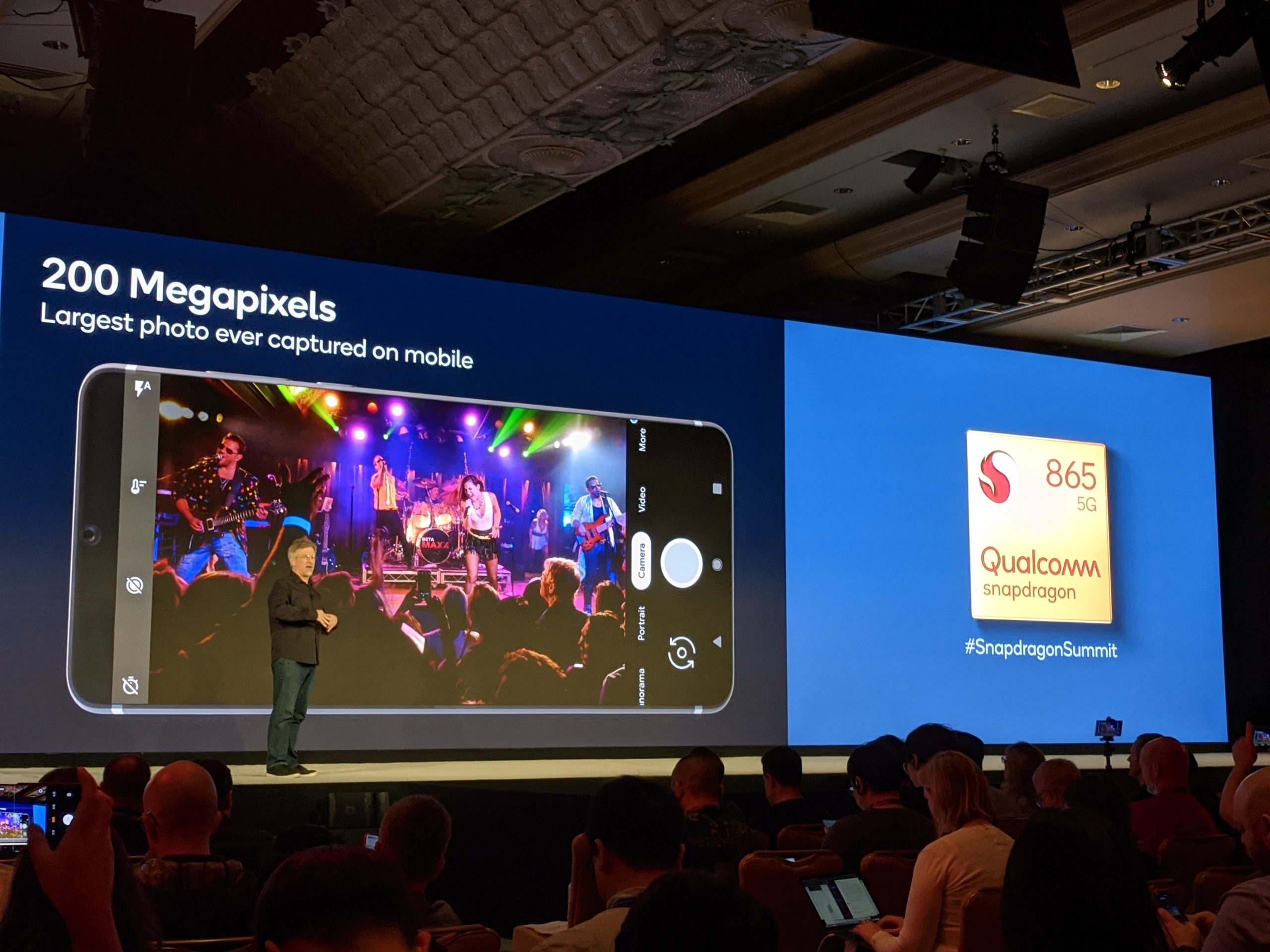 The Snapdragon 865 mobile platform can translate languages in real time – as in during a phone call, allowing two people who don't speak the same language to understand each other:
You read that right: Qualcomm demonstrated, live, in real time (no tricks) how the Snapdragon 865 can simultaneously translate one language into another. The obvious application is a phone call between two people who don't speak the same language. The voice translation happens in quasi-real time, allowing both people to hear the other in their own language.
This used to be Star Trek tech, but it's real now, and Qualcomm, alongside Google, have pulled it off… bringing us to the topic of AI.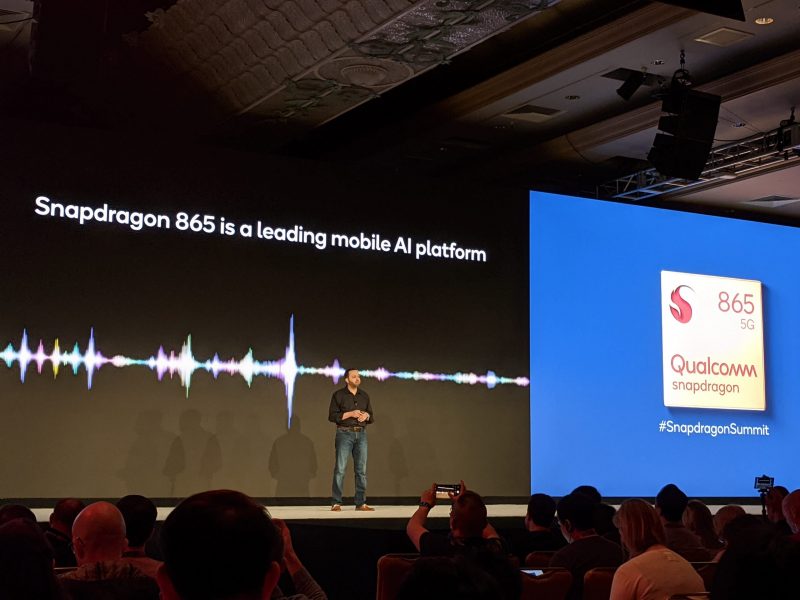 The Snapdragon 865 platform is also an AI powerhouse.
Most people have no idea just how much artificial intelligence powers their apps – from photo and video capture and processing to low power applications like passive sensing (think about voice recognition and wake-up words like "Hey Google").
This is going to require its own deep dive, but for now, here is your reference slide. You may marvel at some of these specs, including the reference to 15 trillion operations per second.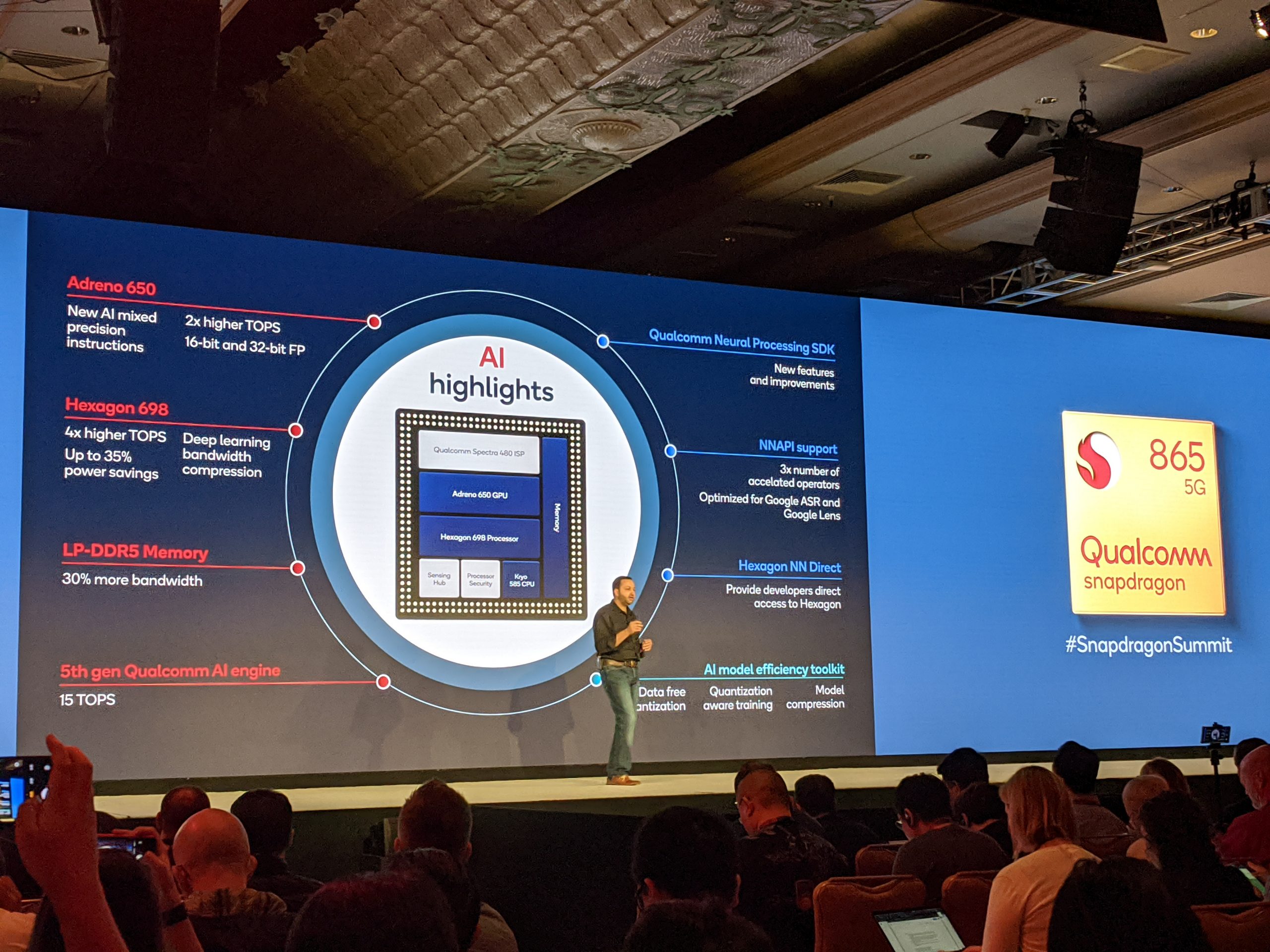 Mobile Gaming is also getting pretty serious:
The mobile gaming industry is worth $68.5B. More than digital music and film box office combined. That's why we are talking about mobile gaming, and the Snapdragon platform's role in powering it. Also, gaming accounts for 43% of smartphone use, and 74% of app store spend. That's the business case for why mobile platforms need to think about gaming as a core feature rather than a secondary add-on.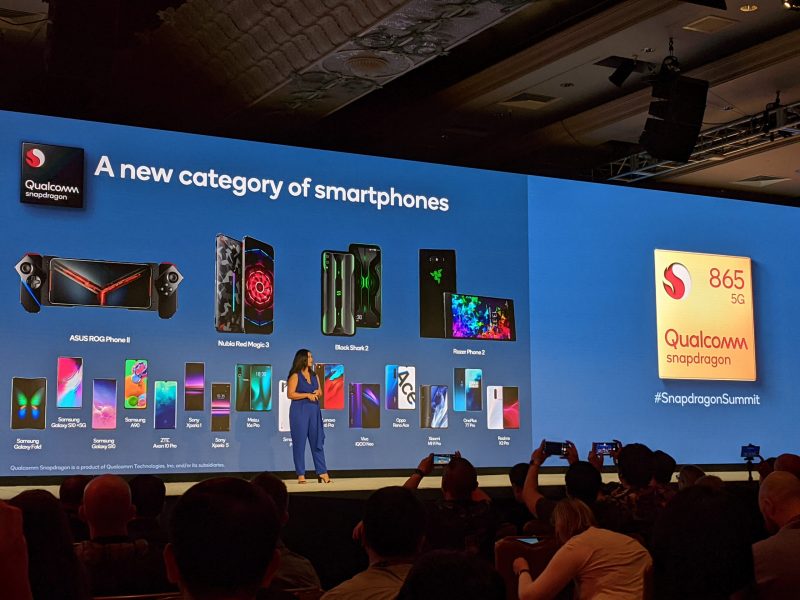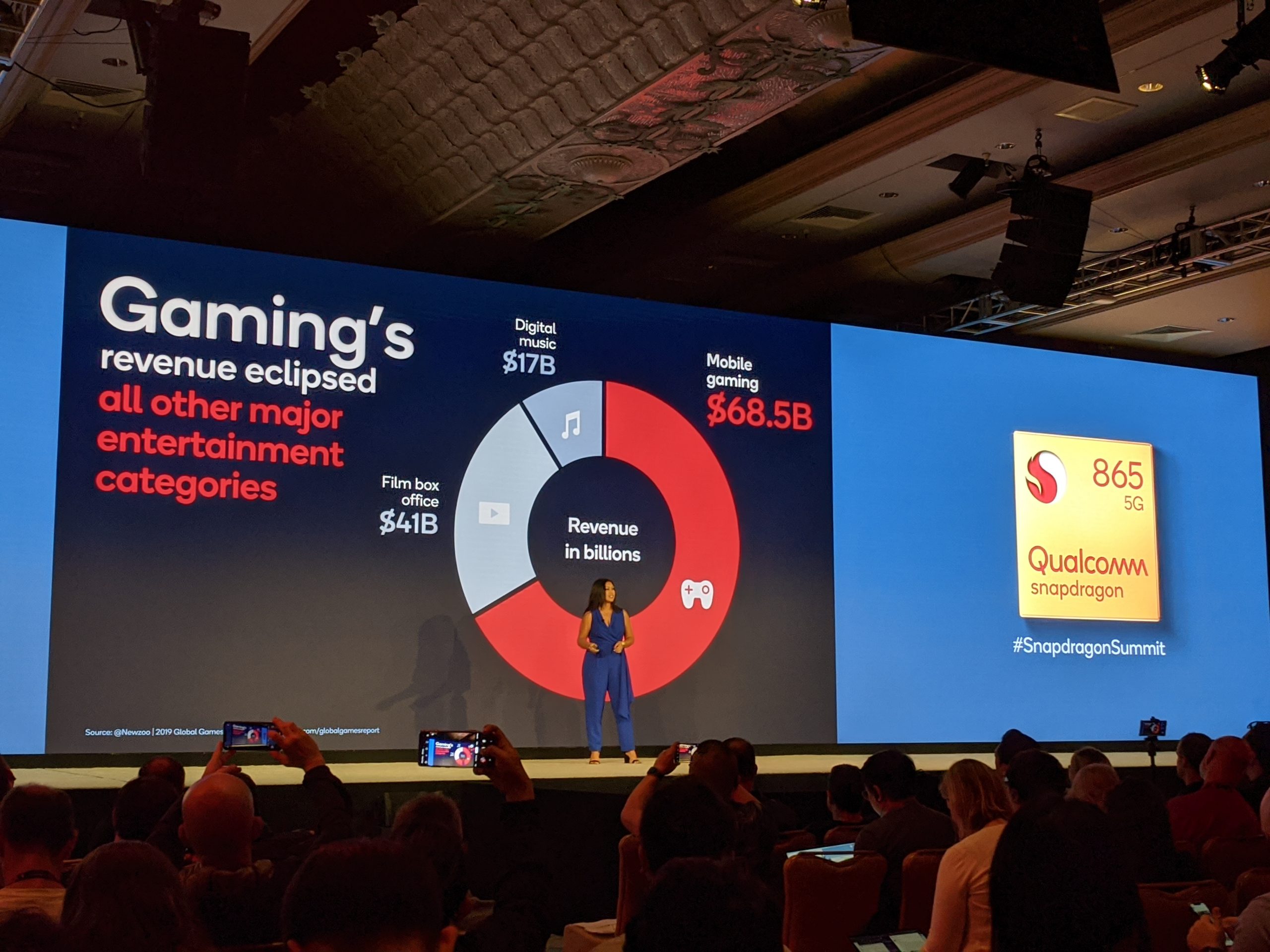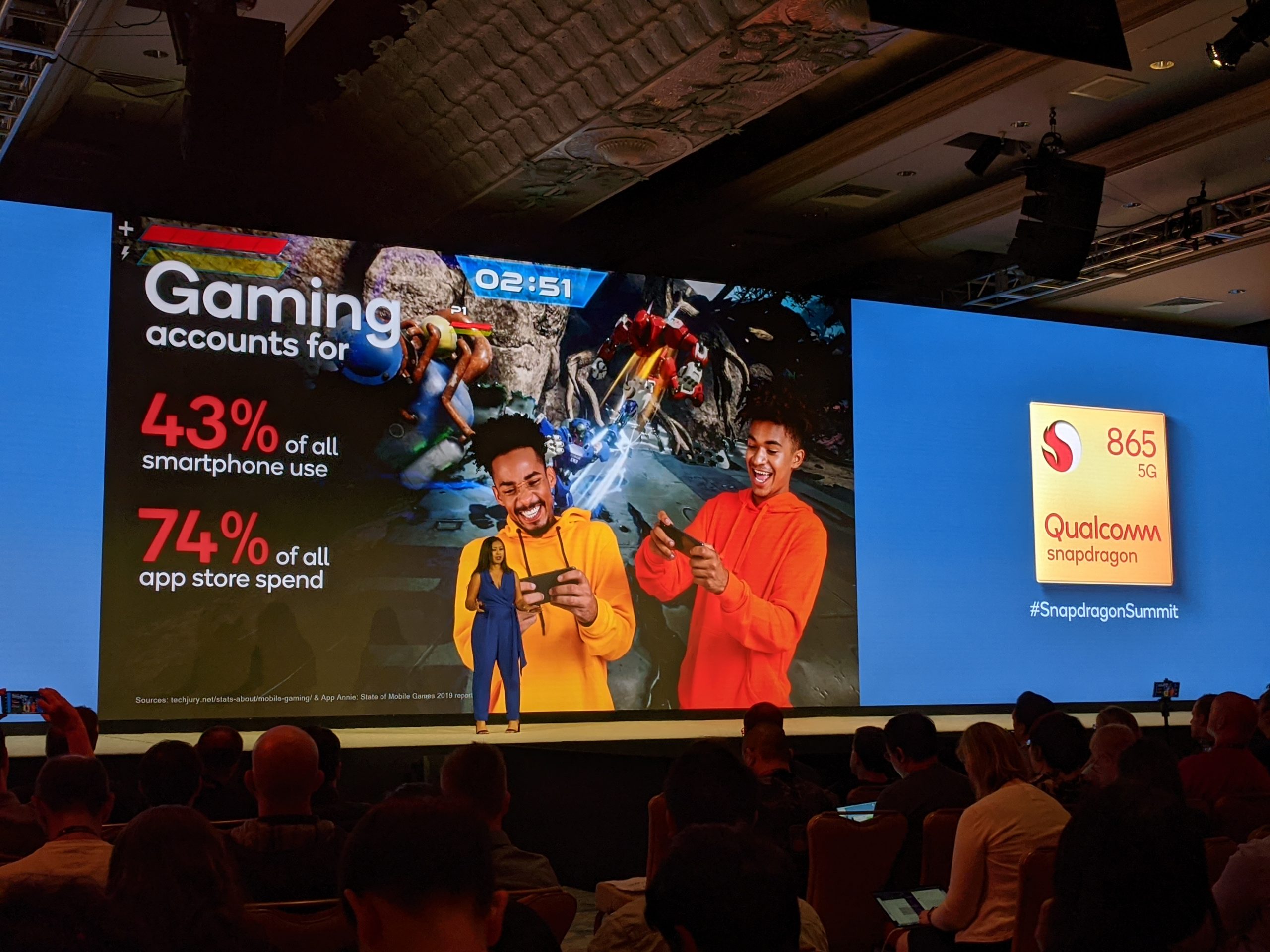 Snapdragon Elite Gaming gets a boost this coming year with some impressive upgrades, like support for 144Hz displays, Updatable GPU drivers (yes, on mobile), HDR Fast-Blend, Up to 120fps gaming, true 10-bit HDR gaming; and desktop quality DOF, multiple dynamic lights, shadows, planar reflections, and motion blur. VERY impressive.
My only two questions at this point, which I will try to get answers to before MWC'20, relate to battery life and heat efficiency, because gaming at 120fps on a 144Hz display probably presents some challenges in both of those areas.
To be continued.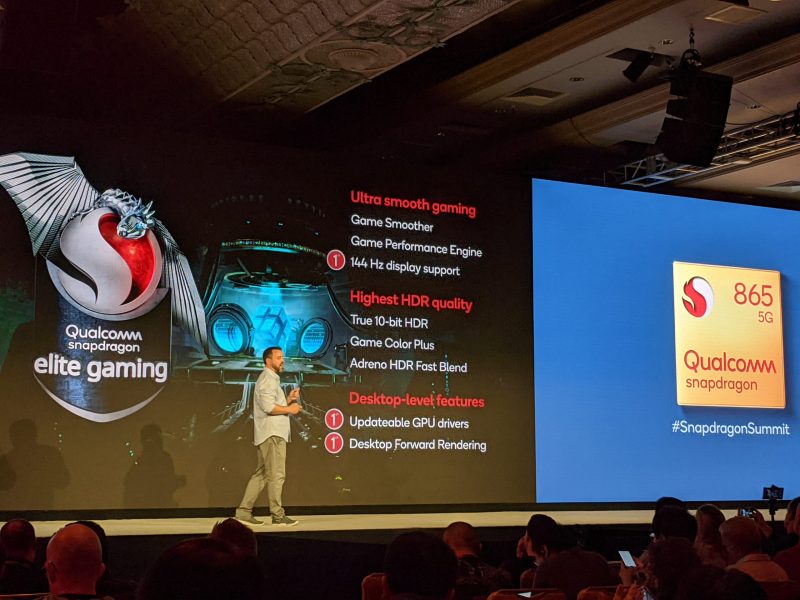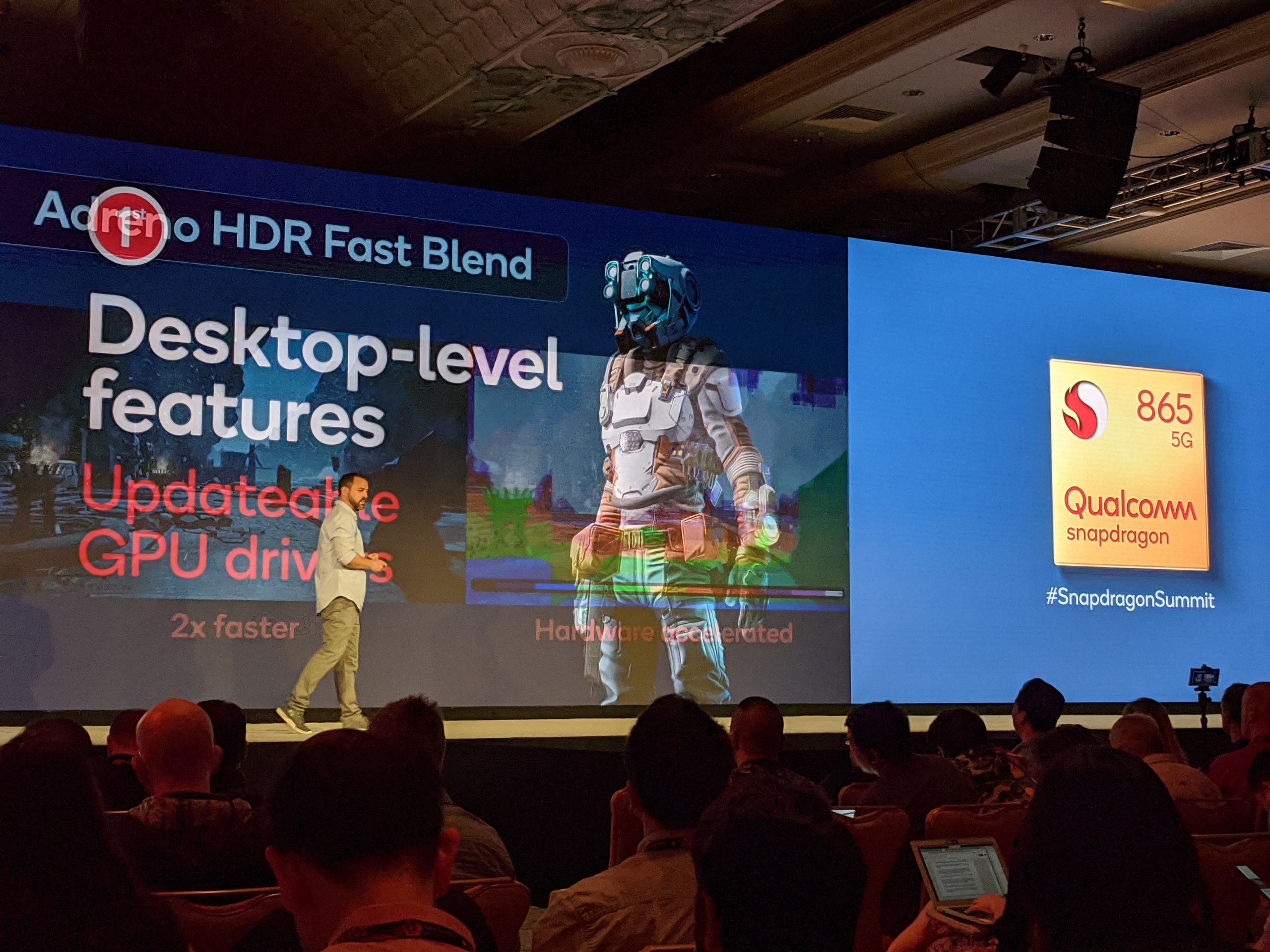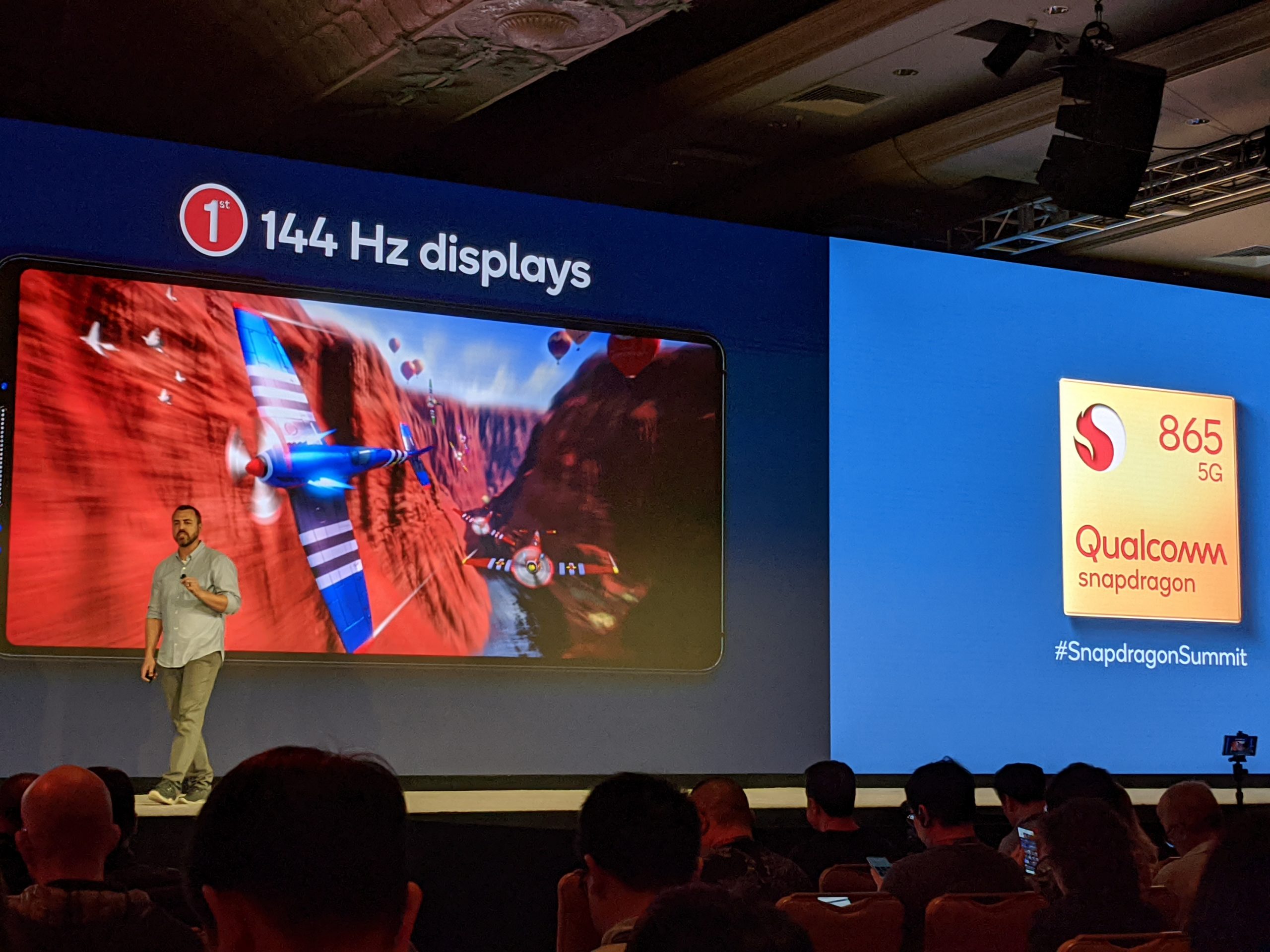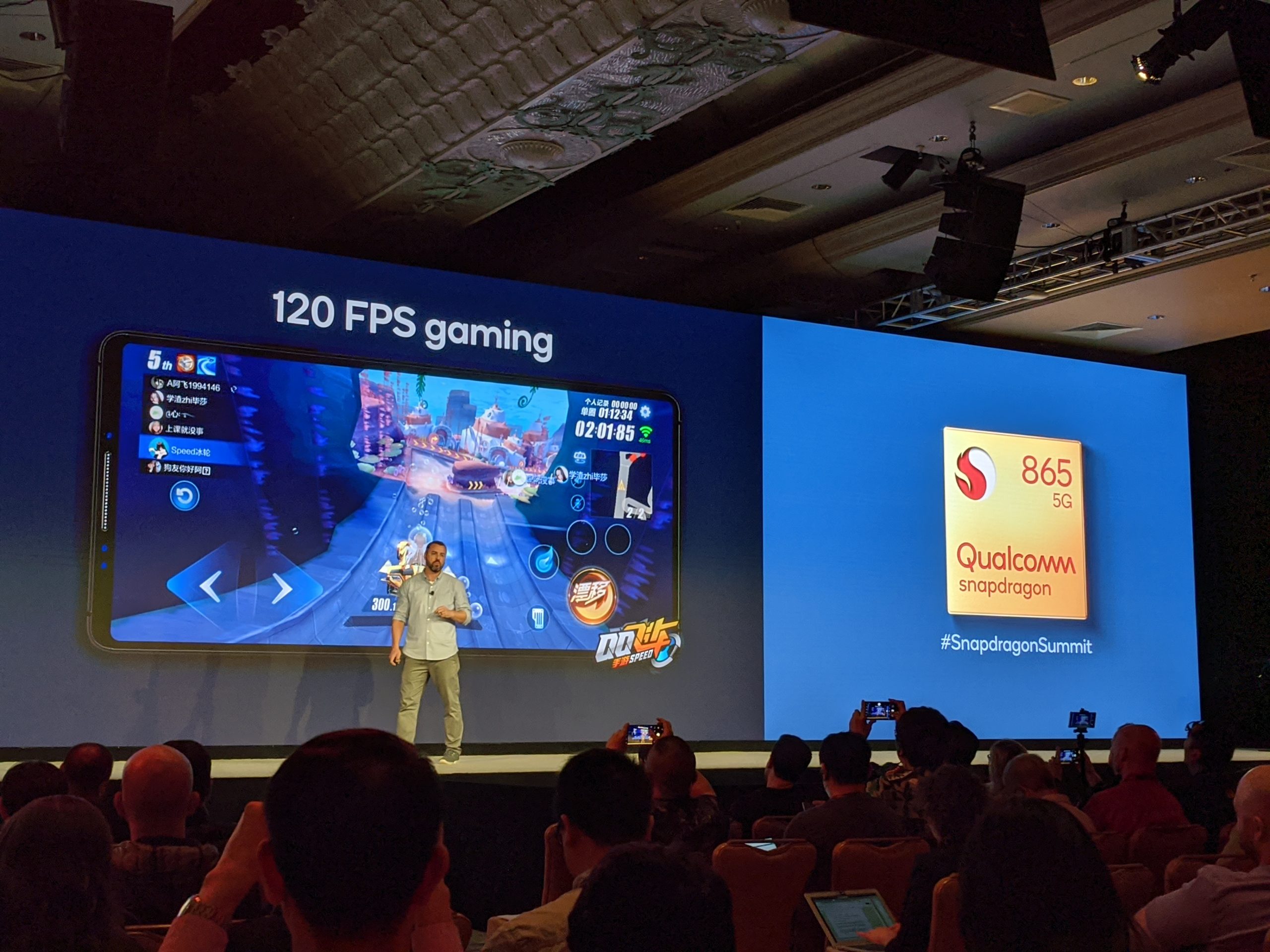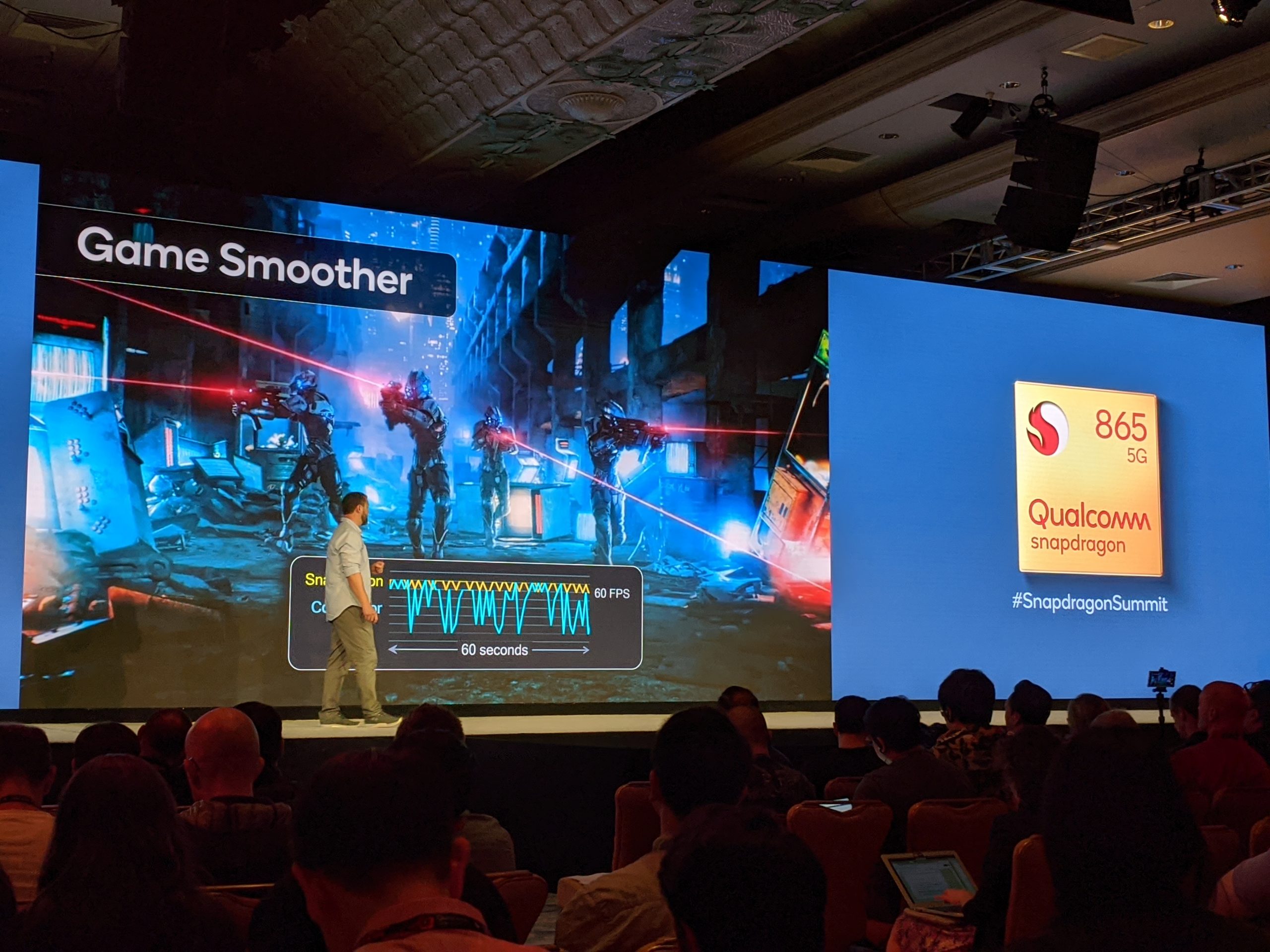 And now, a few AI performance benchmarks and stats I thought were interesting:
1. Snapchat can actually detect when a user's device is powered by a Hexagon processor. I didn't know that, and I think that's pretty brilliant. It can then optimize its fps performance accordingly, and as you can see, this results in a 4x improvement at 3>fps.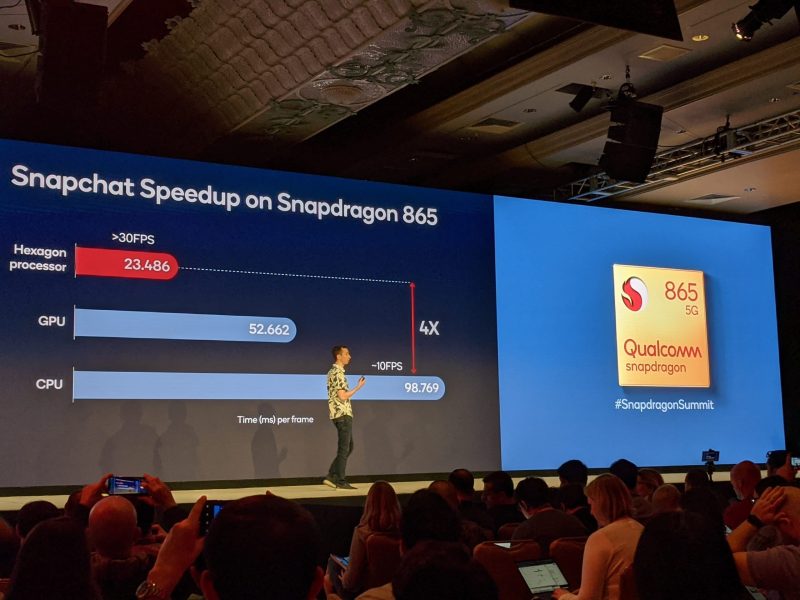 2. Power consumption against two unnamed competitors:
3. Peak Performance on classification networks vs two unnamed competitors: The superiority of the 865 is not merely marginal.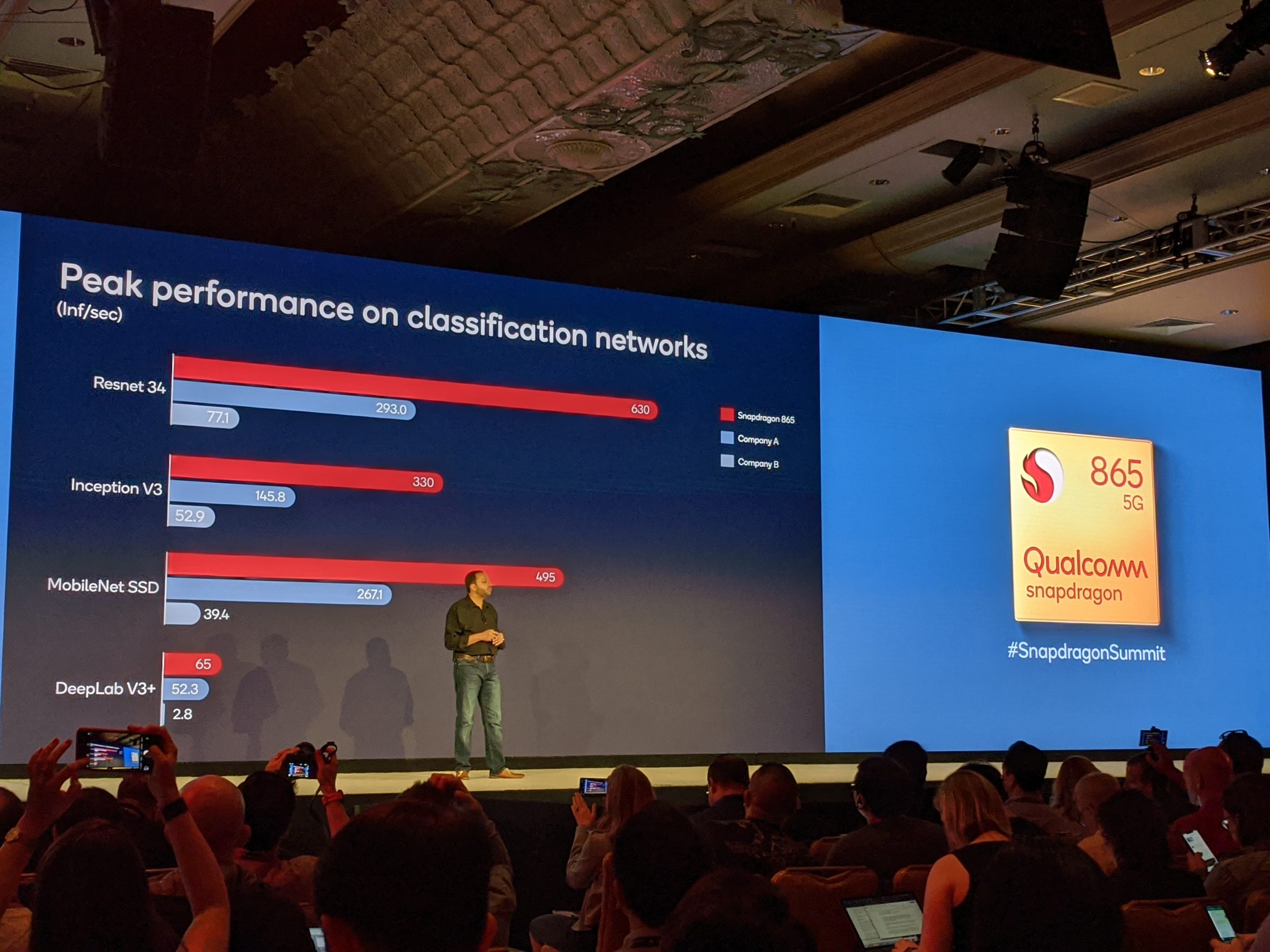 4. TOPS (Trillion Operations per Second) improvements between the Snapdragon 865, 855, and 845: These are not incremental improvements.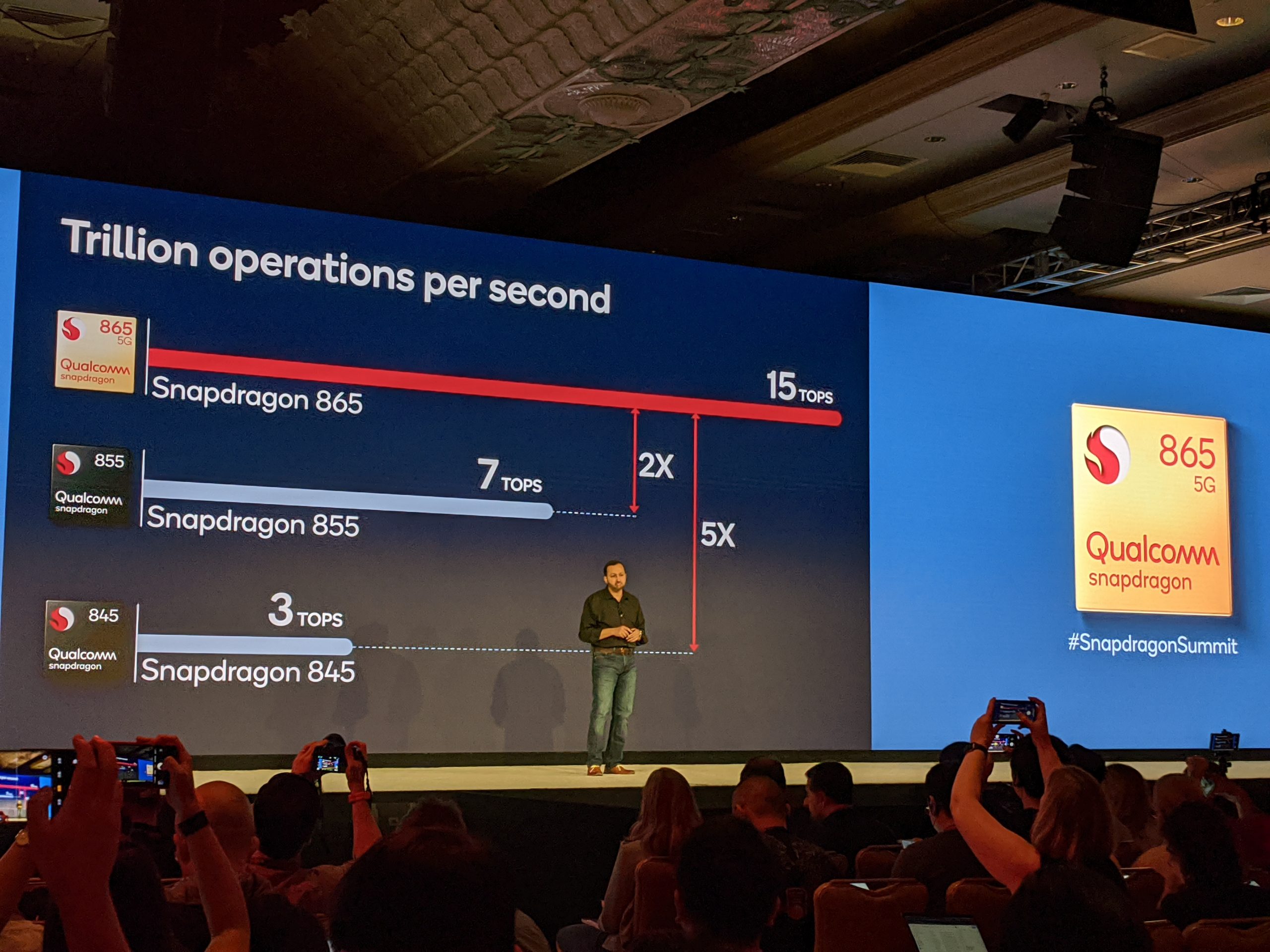 And lastly, security: A few quick thoughts.
1. I love the concept of a truly secure digital wallet that doesn't just help me manage my credit cards, but also my IDs, including my passport and driver's license. Evidently, the Snapdragon 865 platform is secure enough to be able to deliver this.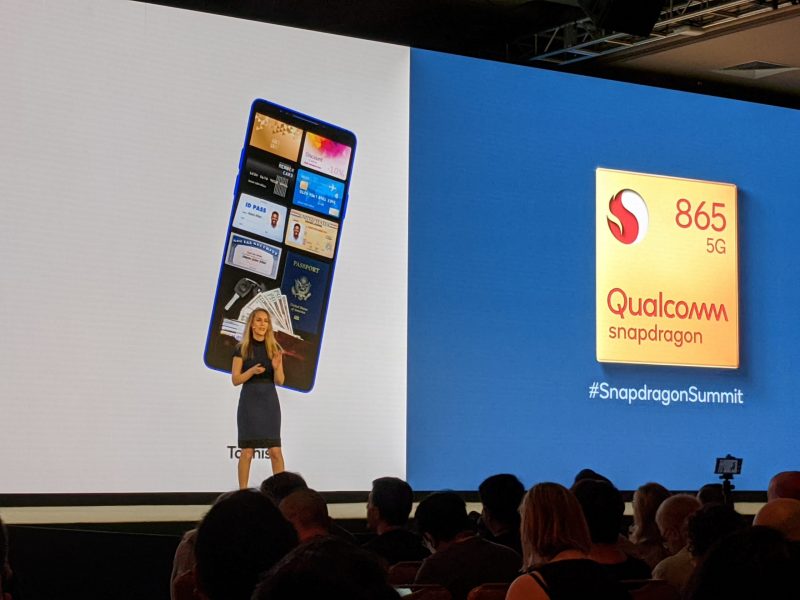 2. The Snapdragon 855's SPU was the first to receive smartcard equivalent certification. The 865's SPU adds support for fully integrated dual SIM to the equation.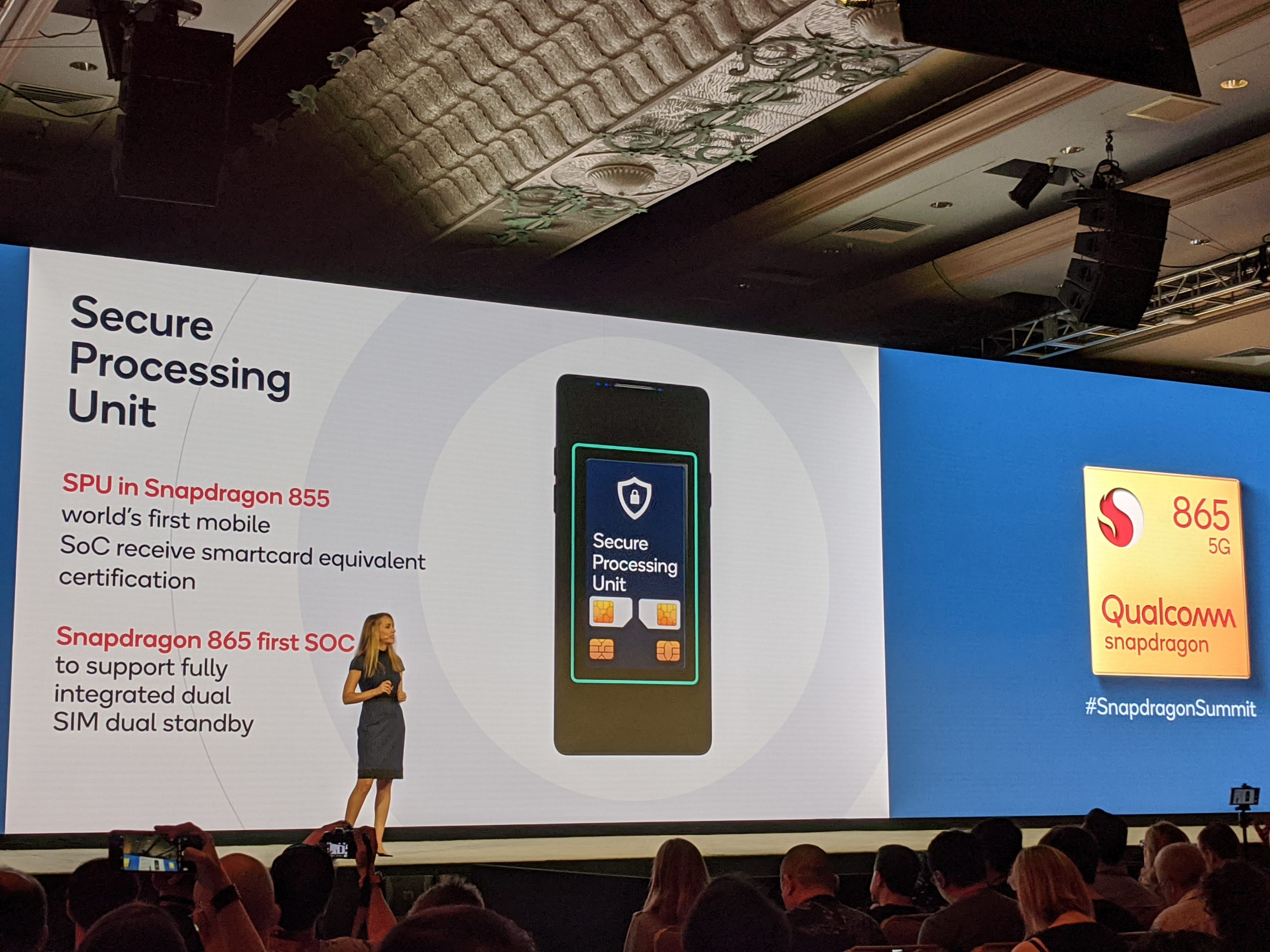 3. Here is a breakdown of the Snapdragon 865's SPU architecture: Access control, Secure boot and debug, QTEE, storage security, camera and peripheral security, content protection/DRM, cryptography, and key provisioning and management, all on the chip. Self-explanatory.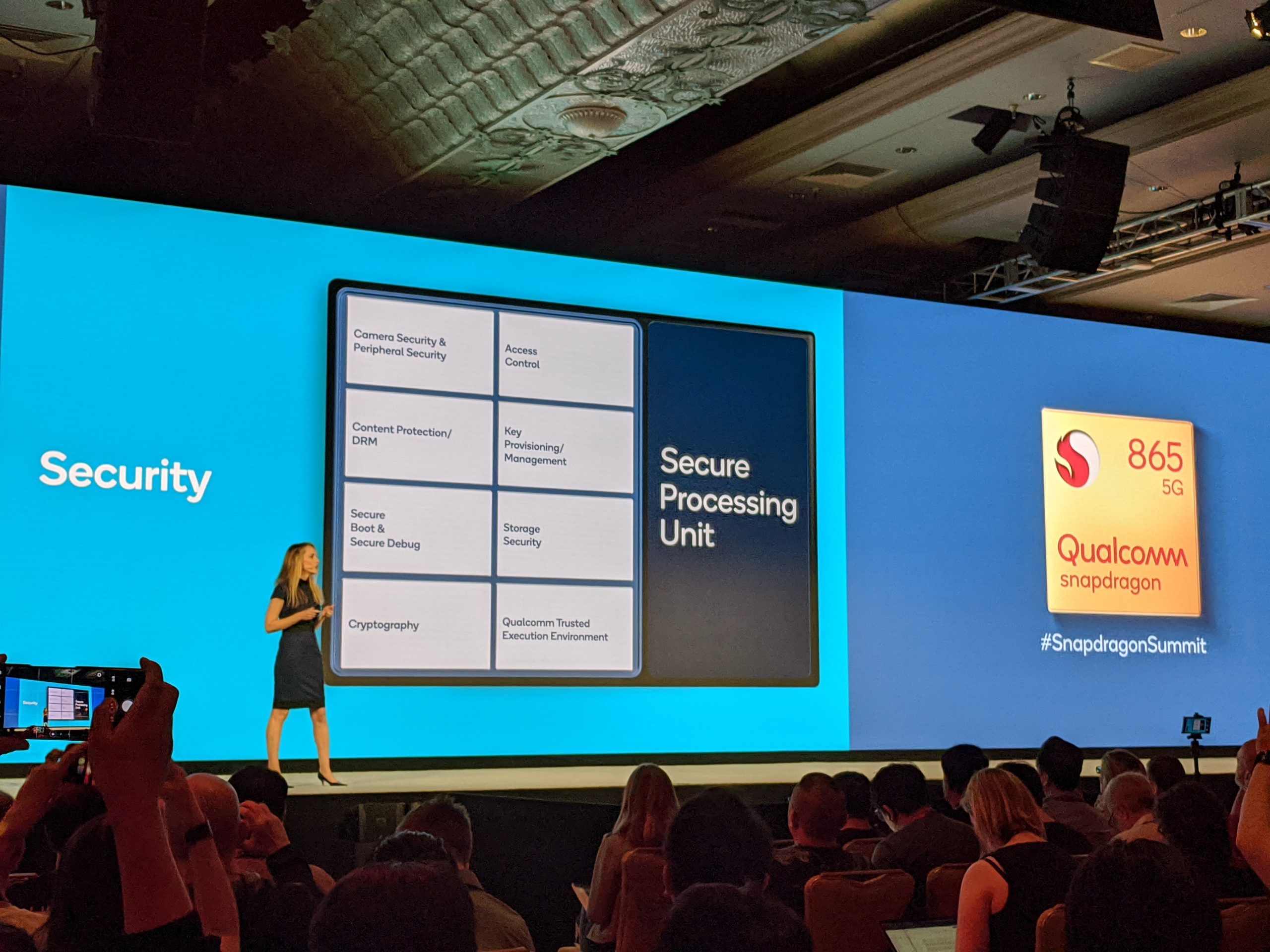 Overall impressions:
The Snapdragon 865 is a significant leap forward from the 855 in several areas:
AI – If nothing else, the ability to deliver real-time voice-to-voice translation is extraordinary. I could have just stuck to that achievement and mentioned nothing else, and it would have been enough to cement the Snapdragon 865's supremacy in the mobile chipset world.
Camera – 200 megapixels, after-the-fact bokeh, unlimited 960fps slow motion capture, 8K video at 30fps, Dolby Vision… this platform is a beast when it comes to camera capabilities, and I cannot wait to see how many of these features will be implemented by OEMs next year, and how. I am very excited about this.
Gaming – Super impressive new capabilities, very high end for mobile, but I am curious about power efficiency and heat management in high end gaming modes.
Two areas that I expect will improve in H1 of 2020:
Security – I look forward to seeing how quickly governments and regulatory bodies will adapt to the reality of digital wallets. I would LOVE not to have to carry a physical passport and driver's license around, but I don't yet know how quickly government agencies will certify digital IDs.
5G, modem, RF – I am not bothered at all by the fact that the Snapdragon 865's modem RF solution isn't integrated. It doesn't need to be, and there are advantages to keeping it separate for now. Also, it supports mmWave, Carrier Aggregation, DSS, and clocks 7.5Gps download speeds – everything that OEMs need and want. I suspect that Qualcomm will release something new at MWC in Q1 2020, so hold that thought.
I also need to focus on power management improvements, and dig deeper into some additional AI features, but let's table that for now. Overall, I am very impressed with what Qualcomm's engineers accomplished here. They managed to impress and surprise a roomful of tech analysts, journalists, and tech influencers, and that isn't easy to do these days (just ask Apple).
Here is that master slide for reference again, in case you don't feel like scrolling all the way back up to the beginning. It's impressive – and the fact that the new features didn't all fit on one slide is pretty telling in and of itself. Bravo.
Coverage of Day 3 of the Snapdragon Summit to follow.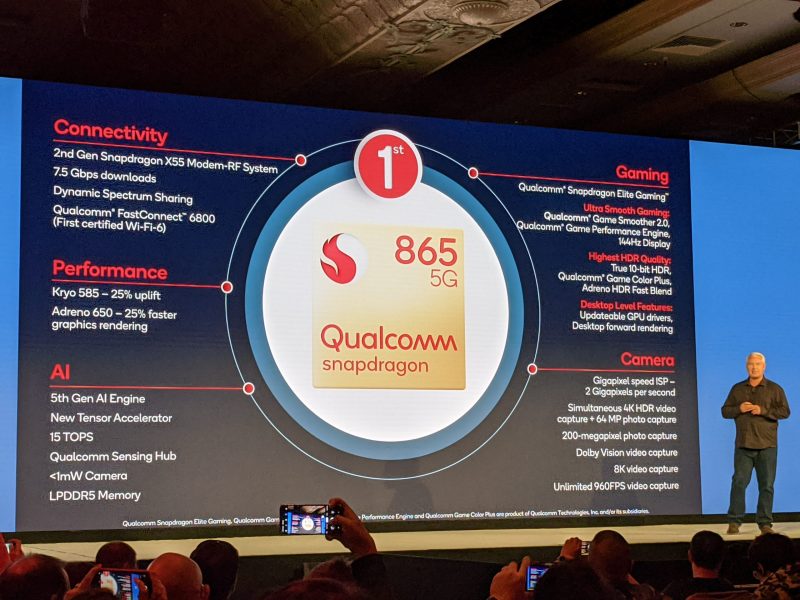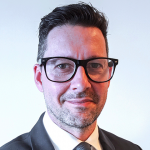 Olivier Blanchard has extensive experience managing product innovation, technology adoption, digital integration, and change management for industry leaders in the B2B, B2C, B2G sectors, and the IT channel. His passion is helping decision-makers and their organizations understand the many risks and opportunities of technology-driven disruption, and leverage innovation to build stronger, better, more competitive companies.  Read Full Bio.