Qualcomm's business growth road map explained: 5G, automotive, IoT, RFFE, and more.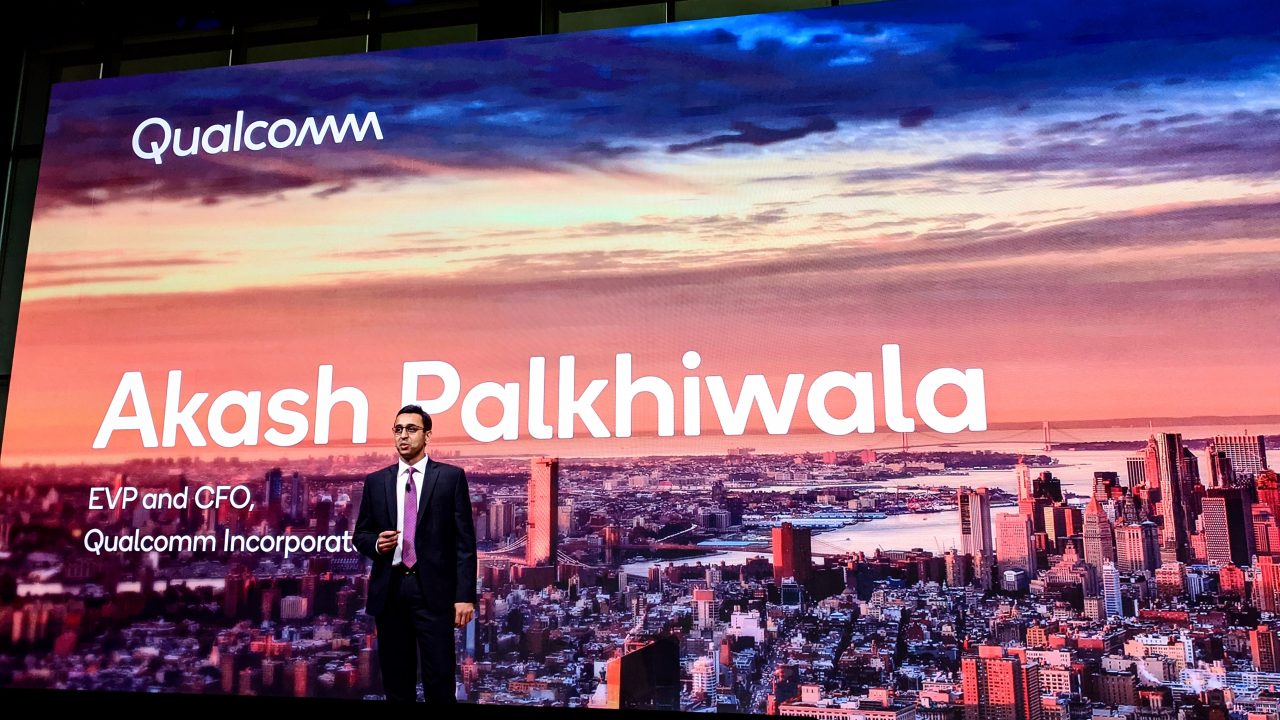 Listen to this article now
I just returned from an illuminating analyst event in NYC, during which Qualcomm outlined its growth road map for the next 5 years. The San Diego chipmaker and IP giant hasn't always been as communicative with its business roadmap in the past, so this was a wonderful opportunity to catch a glimpse of what is happening behind the curtain, so to speak. It stands to reason that I should share what I learned, as well as a few thoughts about where Qualcomm is going, how, and how fast. Also, Qualcomm's slide game was strong, and someone over there deserves a lot of credit for that.
For the sake of brevity  and focus, I will only focus on Qualcomm CFO Akash Palkhiwala's presentation this time around. (Don't worry, with the Snapdragon Summit kicking off in Maui this week, I will have ample opportunity to weave some of the other insights I gleaned from the event in follow-up articles.) Three areas of focus stood out to me: Revenue growth, margin expansion, and capital allocation. Let's start with revenue growth, because that's where the core of Qualcomm's business growth strategy lives.
FY19 Platform + Licensing Revenue State of Play for Qualcomm:
Mobile handset platform (core 4G/5G chipsets, RFFE, fingerprint): $11.3B FY19
Adjacent platforms (Automotive, Compute, IOT): $3.4B FY19
Licensing (QTL): $4.6B FY19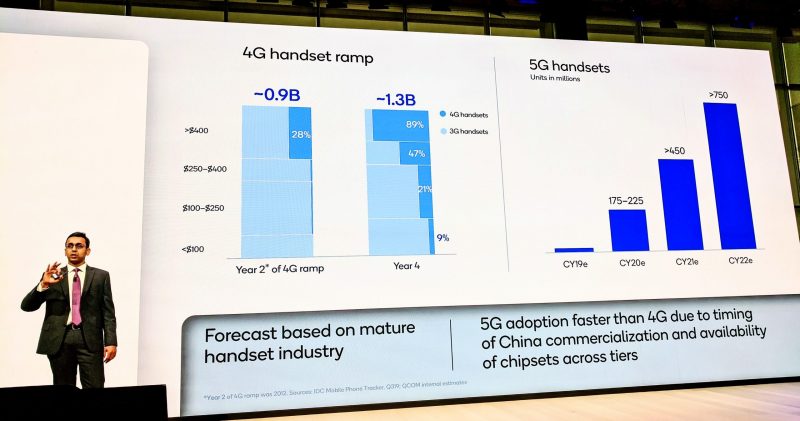 5G Adoption and SAM (Serviceable Addressable Market/Opportunity) 2019-2022:
Qualcomm envisions 5G adoption to reach 750M+ handsets in 2022.
5G SAM: $26B (FY19) growing to $35B in 2022.
The above projections are in part due to a mature handset industry.
Transition to 5G should occur faster than transition from 3G to 4G. (I agree.)
5G propagation across price tiers should also happen quickly. (More on that in a moment.)
Strong design pipeline, and multi-year chipset agreement with Apple should bring velocity and scale to the above projections. (I agree.)
Qualcomm also reminded us that it has already secured over 75 license agreements (yes, including Apple and Samsung), several of them being multi-year anchor agreements. Projections from this specific pipeline put 5G licensing revenue at $1.3B-$1.5B in Q1 2020 and $1B-$1.2B in Q2 2020.
RFFE (RF Front End) 2019-2022:
RFFE SAM: $13B (FY19) growing to $18B in 2022.
Qualcomm is extremely well positioned to take full advantage of this, and RFFE is something Qualcomm does extremely well.
Part of Qualcomm's advantage here is the relative complexity of 5G RFFE compared to 3G and 4G. Barriers of entry for 5G RFFE solutions (5G Sub-6 and mmWave) are MUCH higher than they were for 4G.
Qualcomm suggested a target of 20%+ of SAM for their RFFE revenue. This eventually drew questions from analysts, as that percentage seems very conservative. I don't want to prognosticate about what that number should be, but in my opinion, Qualcomm will fall much higher than 20% of that $18B SAM by 2022.
Snapdragon and the expansion of price-point tiers towards 2022:
One of Akash's slides suggested that the Snapdragon mobile platform may open itself to lower price tiers. The slide referenced 800, 700, and 600 tiers supporting 5G (Qualcomm's Snapdragon 855 SOC would fall into the 800 tier, and so on). I expect that we will be hearing more about this at the Snapdragon Summit this week, but if this is true, things could get interesting in the high and mid-tier price-points where chipmakers like MediaTek and Huawei already tend to play.
This would be especially true if a hypothetical 700 series SOC from Qualcomm were to be somewhat equivalent to MediaTek's new Dimensity 1000 and Huawei's Kirin 990, for instance. Not only would Qualcomm gain a foothold in the VERY attractive $500-$800 price-point range for 5G phones, but it would also help frame the superiority of the presumably-named Snapdragon 865 (the replacement for last year's 855) relative to 700 and 700-adjacent SOCs. If I am right about this, not only would this be a smart business move for Qualcomm, it would also be a smart marketing move as well. (More on that in the next few days.)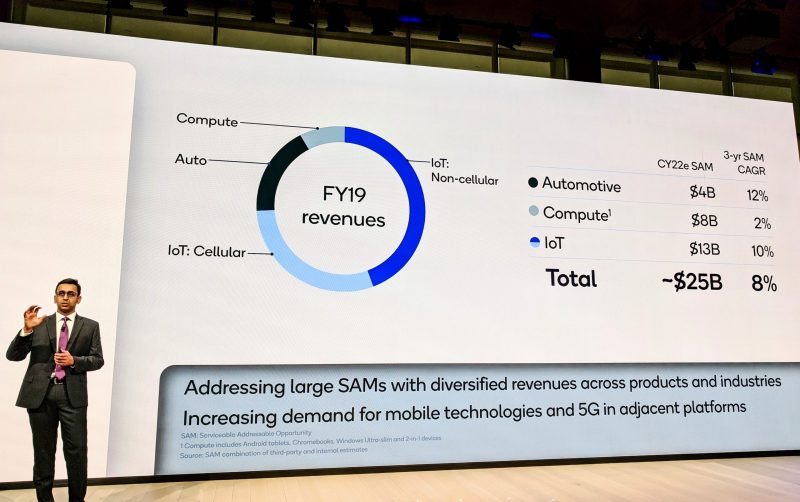 Adjacent Platforms 2019-2022:
Qualcomm probably had more slides about the Automotive market at this event than any other non-"core" mobile platform, so keep an eye on that.
Qualcomm's specific interest in Automotive is currently split between Telematics and Infotainment, but ADAS (autonomous and semi-autonomous driving systems) also comes up often in longer-term strategy (2024+).
Remember that Qualcomm attempted to acquire NXP last year, which was clearly an automotive play. While the deal ultimately fell through, Qualcomm's ambitions in the automotive space don't appear to have attenuated.
SAM for Automotive in is estimated to grow from $2B in 2019 to $4B in 2022. Again this is limited to Telematics and Infotainment. SAM for ADAS is estimated to reach $5B in 2024, so keep that in mind.
Other adjacent SAMs Qualcomm is being bullish about are Compute (including ACPCs, which we will discuss in greater detail during the Snapdragon Summit), and the IOT (cellular and non-cellular). 2022 SAM for Compute is estimated at $8B, while the IOT SAM for 2022 is estimated at $13B.
IOT SAM for 2022 broken down: $4B celular IOT + $9B non-cellular IOT. Qualcomm reports over 11,000 IOT customers already. Opportunities: Low power processing, security, 5G, and connectivity.
Total SAM for Automotive (not including ADAS), Compute, and IOT in 2022 comes to roughly $25B.
Long Term Growth Opportunities (2024+) – Mobile, Cloud/Edge AI, ADAS:
Mobile SAM in 2024 expected to reach $18B.
Cloud/Edge AI SAM in 2024 expected to reach $13B.
ADAS SAM in 2022 expected to reach $5B
Investments and Operating Leverage:
Capital allocations 2017-2019 (cumulative 3 years):

R&D: $17B
Stock Repurchases: $26B
Dividends paid: $10B
M&A: $3B

$1B in annual cost reductions since 2017 (from $7.4B in Q4 2017 to $6.4B in Q2 2019). Current run rate: $6.6B. Part of this was due to divestitures of non-core business, improvements in R&D productivity, and a 22% reduction in non-GAAP SG&A.
Acquisitions in 2019 broken down: 2 worth $500M+, 5 worth $50M-$500M, and 14 worth less than $50M apiece. Most notable were TDK Epcos, Nujira, and Silanna (all RFFE), and Stheros, CSR, and Wilocity (all connectivity).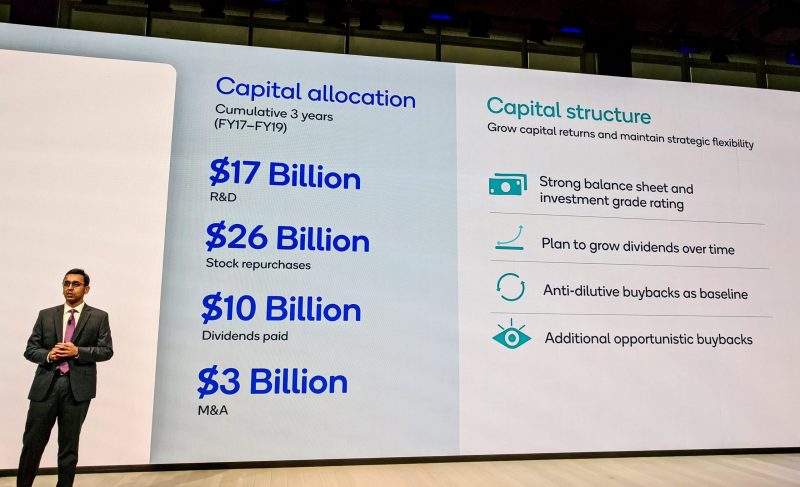 Summary:
Qualcomm's biggest core business opportunities in the next 3 years remain 5G, RFFE, and QTL (licensing), and, given how fast 5G will likely scale AND how complex 5G is, those opportunities appear VERY strong for a uniquely well-placed company like Qualcomm.
I also walked away from this event with a very strong sense for Qualcomm's plan to continue expanding into mobile-adjacent markets, especially automotive. (I cannot stress enough how focused on automotive Qualcomm is.) I also walked away feeling very good about Qualcomm's chances – something I will dive into in greater detail after the Snapdragon Summit has confirmed a few things for me.
The point here is that the next decade should see Qualcomm fully transform into one of the core IP holders and chipmakers for the connected world, and not just in mobile.
Qualcomm's growth into the IoT, Compute, and Cloud/Edge AI should also be very substantial. I am particularly excited by Qualcomm's momentum in the Cloud/Edge AI space, and have noticed that every discussion about Snapdragon and 5G now increasingly touch on AI. Again, more on this on the other side of the Snapdragon Summit.
Qualcomm's 75+ 5G licenses (including, and perhaps especially with Apple) make Qualcomm's roadmap look like it is already on solid ground in this, the first year of 5G deployments.
Quick note on Qualcomm's ongoing dispute with the US FTC: If my information is correct, arguments will be heard in the February-March timeframe, with a decision to come 7-8 months later – so basically almost a year from now, unless the FTC decides to withdraw or settle. Given how weak the FTC's case is, I am not particularly worried about the outcome, but I expect a little bit of uncertainty from the street for most of 2020. I note that despite the looming open question about the future of technology licensing, Qualcomm had no problem securing major multi-year agreements from Apple and Samsung.
Qualcomm's M&A strategy went a little bit askew last year when the NXP deal timed out, but as there is no shortage of brilliant and innovative startups for Qualcomm to acquire, especially those focusing on AI/Inference, things could get very interesting over at Qualcomm in the next 36 months.
Qualcomm executed on its promise to cut costs, as evidenced by the posted $1B cost reduction, proving that management can trim the fat without hindering the company's ability to innovate at pace, monetize its IP, and expand into new markets.
The end of Qualcomm's litigation with Apple earlier this year, and Apple's subsequent multi-year agreement with Qualcomm, were barely mentioned, but turning that negative into a net positive helps reset Qualcomm's growth trajectory going into 2020.
The Snapdragon Summit this week should also give us a pretty solid glimpse into what to expect from Qualcomm in 5G, RFFE, Mobile Gaming, ACPCs/5GPCs (completely wireless computing), phone cameras, fingerprint sensors and security, and XR in the coming year, so stay tuned for that.
I will write in greater detail about Qualcomm's 5G, Automotive, Compute, and Cloud/Edge AI ambitions as I understand them, so keep an eye on this space for a deeper dive into those in the next few weeks.
To be continued.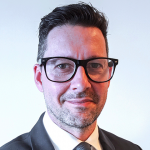 Olivier Blanchard has extensive experience managing product innovation, technology adoption, digital integration, and change management for industry leaders in the B2B, B2C, B2G sectors, and the IT channel. His passion is helping decision-makers and their organizations understand the many risks and opportunities of technology-driven disruption, and leverage innovation to build stronger, better, more competitive companies.  Read Full Bio.