Qualcomm Earnings Need a Deeper Look — Here's Why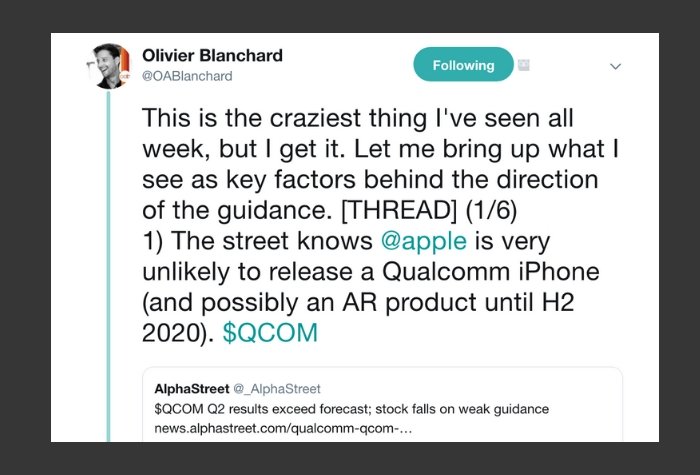 Listen to this article now
As the header image here shows, the Street's assessment that "while Qualcomm Q2 earnings exceed analyst forecasts, the stock price fell on weak guidance" is flat out crazy. Here's why. The Street knows that Apple is very unlikely to release a Qualcomm-powered iPhone (and possibly an AR product) until HR 2020.
This could be interpreted as Qualcomm chipset sales and licensing revenue will not benefit from an "Apple boost" until next year, which is fair. The good news is that the Apple Qualcomm war is over. The bad news is that the resulting net new revenue boost for Qualcomm won't be immediate.
Also, Qualcomm and Apple still need a the FTC's lawsuit to either fizzle out or come to a positive settlement. As long as that sword is still hanging over Qualcomm's head, investors may feel a little nervous. Investors prefer certainty over the other thing. Fair enough.
Phone sales, by all manufacturers, aren't exactly stellar this year, so chipmakers probably need to talk more to the Street about how IoT growth could fill that gap.
And finally, 5g is still in very early stages of deployment, so revenue from 5G won't really scale in 2019-2020. Not yet.
Analysts on the Street tend to focus more on short-term guidance, which means a focus on quarterly and year-over-year metrics. As a tech analyst, I tend to gauge company performance in the tech industry based on a longer runway—one predicated on 18+ month innovation and product development life cycles. This means I am always looking to the next 18 to 36 months, not the next 3 to 12. From that perspective, I expect that both Apple and Qualcomm will see a significant improvement in revenues in 2020 as their combined innovation pulls Apple out of its hardware slump. And yes, you didn't imagine it. I did bring up Apple, Augmented Reality (AR), and Qualcomm in the same conversation. Listen, it's just a hunch, but I don't think Apple had any chance whatsoever of releasing a viable wireless AR product anytime soon without Qualcomm's involvement.
Here are specifics on share price from MarketWatch: Qualcomm QCOM, +4.39% shares declined 1% in premarket trading Thursday , following a 0.2% rise to close Wednesday's regular session at $86.37. Shares are up 52% on the year. In comparison, the PHLX Semiconductor Index SOX, +1.97% is up 34%, while the S&P 500 index SPX, +0.19% is up 17%, and the tech-heavy Nasdaq Composite Index COMP, +0.42% is up 21%.
Futurum Research provides industry research and analysis. These columns are for educational purposes only and should not be considered in any way investment advice. 
More relevant reads from the Futurum team on this topic:
Apple Earnings: The Bright Spots and the Not-So-Bright Spots
Apple, Qualcomm Settle Royalty and Patent Dispute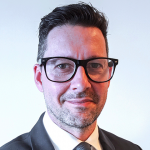 Olivier Blanchard has extensive experience managing product innovation, technology adoption, digital integration, and change management for industry leaders in the B2B, B2C, B2G sectors, and the IT channel. His passion is helping decision-makers and their organizations understand the many risks and opportunities of technology-driven disruption, and leverage innovation to build stronger, better, more competitive companies.  Read Full Bio.