Overcoming Obstacles for IoT in the Healthcare Industry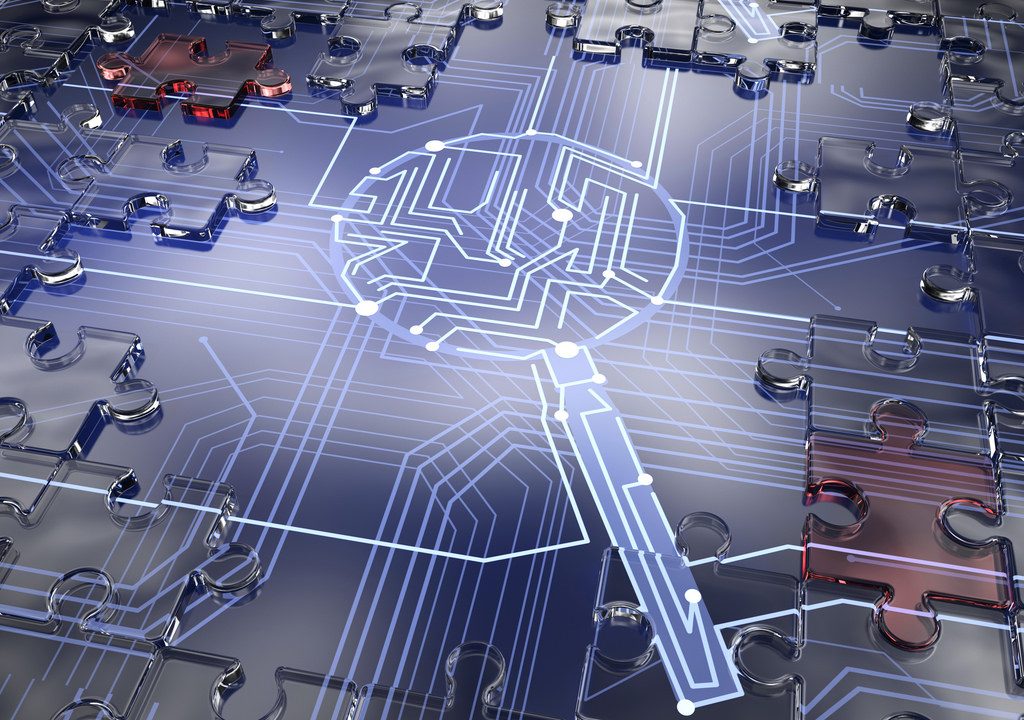 Listen to this article now
There's much talk about the opportunities for the Internet of Things (IoT) in the healthcare sector, and with good reason. Devices and sensors are already deeply embedded in clinical settings, and consumers are more connected than ever before, and becoming very comfortable using health and activity monitors. The result is an avalanche of rich data that can potentially be, and should be delivering benefits in terms of empowering patients, reducing costs, and improving patient care.
But it's not as easy as it sounds. The flip side of the coin is an industry struggling to overcome the obstacles it faces in adopting and realizing the benefits of digital technology. Long entrenched in politics and governance, where outdated legacy structures are impeding progress, the healthcare industry has a long road ahead. Some digital health advancements were recently described by one senior health leader as "the digital snake oil of the early 21st century."
That reference came from CEO of the American Medical Association (AMA), James L. Madara MD, speaking at a recent annual meeting. While Madara praised many technological developments, he went on to describe how, "Appearing in disguise among these positive products are other digital so-called advancements that don't have an appropriate evidence base, or just don't work that well—or actually impede care, confuse patients, and waste our time."
He's got a point. So let's take a closer look at the obstacles facing the health sector and what needs to be done to overcome them.
Securing Patient Data
Security and privacy are issues are (or should be) top of mind when considering IoT technology. But in the highly regulated health sector, the bar is set even higher than for most other industries, creating challenges that CIOs in the commercial sector don't face.
Those providing healthcare services in the United States must meet the compliance requirements under the Health Insurance Portability and Accountability Act (HIPAA). Compliance is also required of app developers, hosting service providers, cloud computing service providers and anyone, including subcontractors, involved in the healthcare space who might in any way have access to electronic patient health information (ePHI).
Healthcare is a highly regulated environment, breaches are inevitable and their causes varied. A quick glance at the HIPAA News Menu at the HHS website quickly reveals the scope of violations and the potential for health service providers to get it wrong; and the stringent penalties that can result. Also consider reports that the FBI and Homeland Security are concerned about the proliferation of IoT devices offering new points of entry to data systems, and you can see why privacy and security concerns are slowing progress.
HIPAA isn't likely to go away and the consequences of non-compliance can be high both in monetary terms and in reputational loss. As a result, there are no shortcuts for health service providers when collecting and managing patient data. Benefits will only be captured by finding the right tech partners, reading the small print, and ensuring the correct security and privacy controls are in place. That way, while progress might be slow, the obstacles can be overcome.
Control of Physical Devices
As mentioned earlier, a scan of the HHS HIPAA News Menu contains many cases where the physical loss of a device has led to a breach of confidentiality. Those breaches can lead to very large fines. Think I'm overstating? Take a quick look at this screenshot from the HIPAA News Room: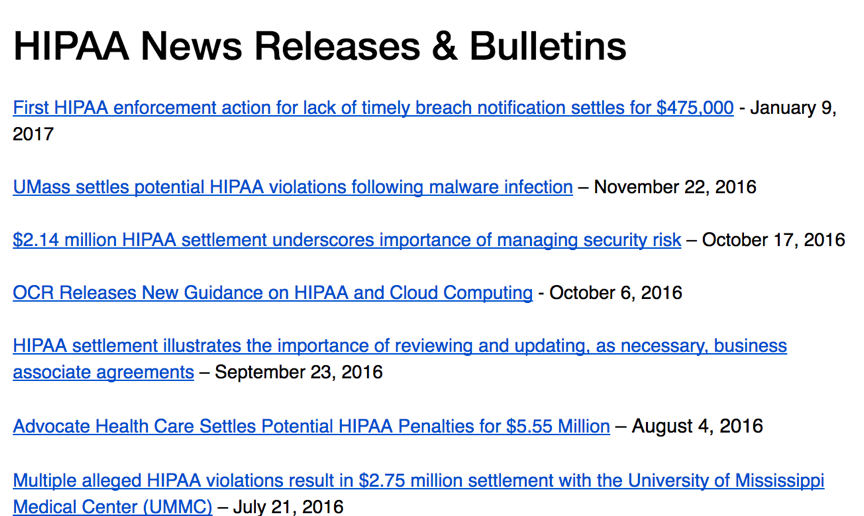 When it comes to security breaches and protecting patient information, HHS isn't fooling around—and the IoT and the rise of connected devices only makes that more complicated. Many of the organizations that suffered breaches demonstrated a failure of proper controls over physical devices. Effective control is critical to gaining patient confidence in the use of IoT in healthcare. Providers of services, and their associates, vendor partners, have a responsibility to ensure protocols are in place and their employees are trained to follow them.
Integration and Management of Multiple Devices
Of course the health sector already uses an abundance of digital technology. IT systems, Electronic Health Records, clinical decision support tools, diagnostic tools, sensors, and monitors are found in all sorts of clinical and administrative settings.
The problem is there are no common standards or communication protocols to facilitate the process of aggregating information from them. The proliferation of connected health and activity devices that many of us now use makes it easy to see why a lack of interoperability is a huge obstacle to progress.
Health authorities in the U.S. recognize this is a situation that needs to change. Last year the Office for the National Coordinator for Health (ONC) released the final version of their Interoperability Roadmap, aimed at achieving their vision for a seamless data system by 2024. The ONC says that the roadmap will, "build upon and shore up the existing foundation of health IT, move quickly to short-term success, and also lay out a longer-term set of drivers and policy and technical components that will achieve the outcomes necessary to achieve the vision."
Handling Big Data in Healthcare 
The healthcare sector generates massive amounts of data. Because of the proliferation of wearables and other consumer-owned devices, if our own patient-generated health data (PGHD) is to be introduced into a more integrated system, naturally the amount of data will expand exponentially. The challenge lies in deriving actionable insights from it. That will require powerful analytics and skilled data analysts—not necessarily assets that the healthcare sector is rich in right now.
The key to progress is the same for the healthcare industry as it is for any other industry—the ability to filter through massive amounts of data and quickly determine what is useful and what is not, and then presenting the resulting information in a meaningful way, to the right person, at the right time. There is also the question of context and relevance, a question that technology developers haven't yet succeeded in solving, but which AI and machine learning will probably play a role in. The consumerization of healthcare, where payment is tied to outcomes, will likely push providers a little more vigorously toward adopting big data tools and technology that allow greater personalization, the adoption of predictive analytics, and more sophisticated, more accurate information as a result.
The Future of IoT in Health
I'm optimistic. There are good reasons to think the healthcare sector will overcome the obstacles and progress, albeit at a slower pace than in the commercial sector.
Governments are showing support with initiatives like the ONC roadmap.
Despite his skeptical comments Dr Madara also confirmed that his organization is taking positive steps to embrace IoT technology saying, "The AMA is building bridges to tech innovators and entrepreneurs so that physicians have a seat at the table as new products and services are being developed. This ultimately ensures new medical products address real-world challenges for physicians and patients to help improve the health of the nation."
The Millennial generation, which has known nothing other than a super connected world, will increasingly fill senior medical practitioner and health administrator roles.
The Millennial patient base, a/k/a The Consumer (as well as their tech savvy counterparts from other generations) will increasingly demand better information, better processes, and more secure interfaces and privacy protections. All good things.
The healthcare sector will get there—that's a given. Digital transformation is not an option, it's a reality. And driven by the IoT and other tech advances, patient expectations, and a society as a whole that relies on the healthcare industry in a myriad of ways, there's simply no option but to strap on the seatbelts and resolve to embrace innovation and change. The outcome should be a healthcare  system that delivers higher quality, more cost-effective care.
Photo Credit: Mobiloitte Flickr via Compfight cc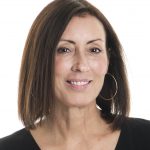 Shelly Kramer is a Principal Analyst and Founding Partner at Futurum Research. A serial entrepreneur with a technology centric focus, she has worked alongside some of the world's largest brands to embrace disruption and spur innovation, understand and address the realities of the connected customer, and help navigate the process of digital transformation. She brings 20 years' experience as a brand strategist to her work at Futurum, and has deep experience helping global companies with marketing challenges, GTM strategies, messaging development, and driving strategy and digital transformation for B2B brands across multiple verticals. Shelly's coverage areas include Collaboration/CX/SaaS, platforms, ESG, and Cybersecurity, as well as topics and trends related to the Future of Work, the transformation of the workplace and how people and technology are driving that transformation. A transplanted New Yorker, she has learned to love life in the Midwest, and has firsthand experience that some of the most innovative minds and most successful companies in the world also happen to live in "flyover country."