Microsoft and Google are going after Apple, and that's great for consumers.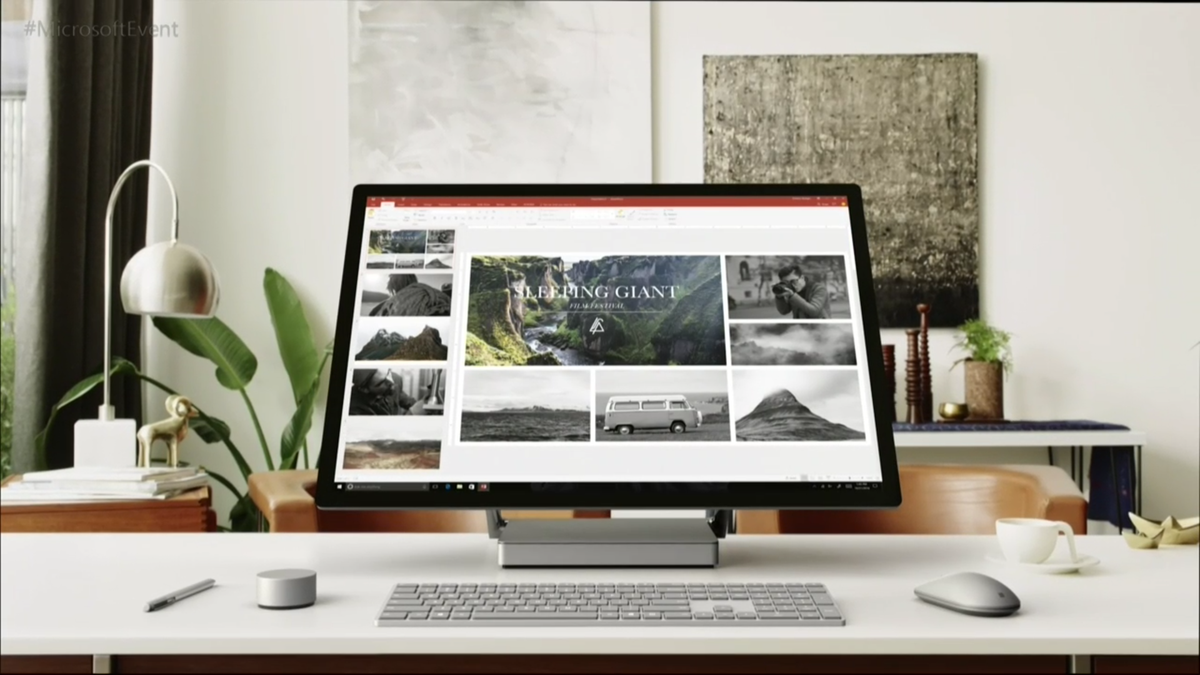 Listen to this article now
A few weeks ago, Google announced a pretty solid lineup of mobile, VR, smart home and AI products that took deliberate aim at Apple. (You can read all about it here.) This week, it was Microsoft's turn to apply pressure – or fire its very own warning shot across Apple's bow, as it were.
Long story short:
Surface Studio: Surface returns to its "surface" roots by becoming a handy hybrid PC/desk/drawing table for creators that showcases some pretty solid features not available on a Mac. Surface Studio is only 12.5mm thick, has a 28-inch PixelSense display, and is powered by a GeForce 980M and an Intel i7 processor. Memory-wise, it goes up to 32GB with 2TB of storage. One of its coolest features is its "zero-gravity hinge" that allows the screen to be used either as traditional computer monitor or a a drafting board for creative or design work. $2,999.
via GIPHY

Surface Dial: Microsoft's cool new haptic interface brings intuitive device-to-screen contextual software control to the Surface Studio, and faster, smoother menu and navigation control for other computers and devices. Translation: It's a much more effective interface for graphic designers, video editors and audiophiles than a mouse. $99.
Surface Book i7: 16 hours of battery life, more graphics power, an extra fan, and an Intel i7 processor. $2,399.
3D Paint: Microsoft's focus on 3D and VR can be felt in its update of Paint. Users can now create drawings and sketches in 3D and turn pretty much anything they can create or capture into an interactive object. (I smell a Hololens play.)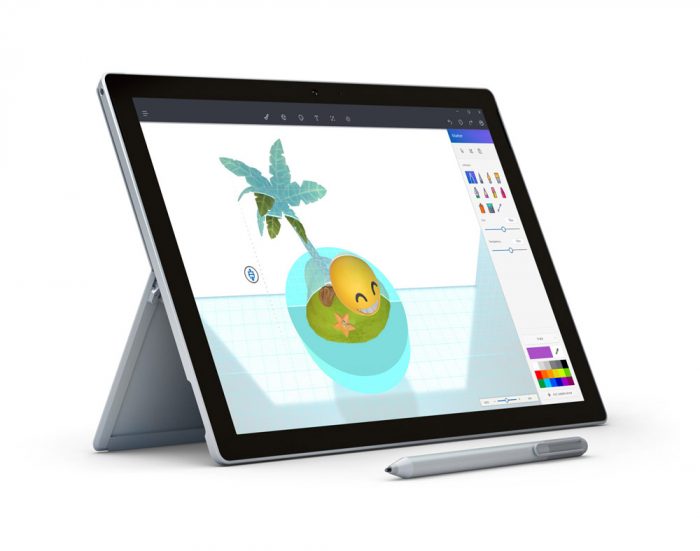 Not just 3D Paint: Microsoft also demoed a 3D-scanning mobile app, which will be pretty handy for 3D printing, but will also expand users' creative capabilities, especially relative to design work, 3D projects, AR and VR work, and collaboration. Microsoft appears to be partnering with SketchUp (great name) to create libraries of 3D objects that users will then be able to import into Windows-based apps like Paint, Word, and Powerpoint. (Yes, the 3D Powerpoint presentations are coming.)
Windows VR headsets: Speaking of 3D and VR, Hololens is still way too expensive to become a mass market product anytime soon. The solution? Partnering with other tech giants to create Windows 10-compatible headsets in the sub-$300 range in 2017. (Enter HP, Dell, Lenovo, Acer, and Asus.) We would have liked to see Microsoft apply some of its own design chops to this project, but opening up that market to everyone is a clever way of leveraging market forces to keep prices down and design options rich. It also helps insulate Hololens pricing from cannibalism (the product management kind, obviously).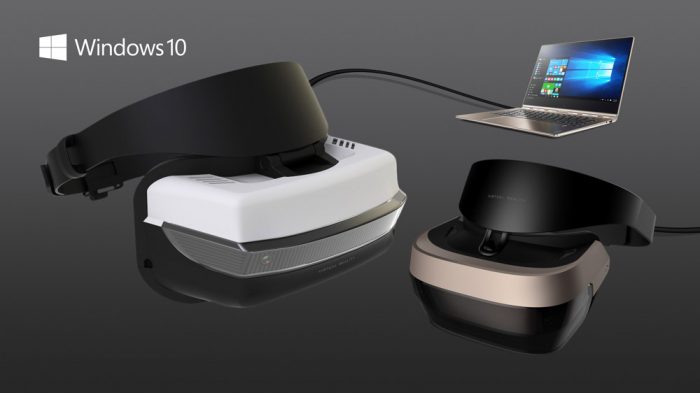 Windows Social: This one is a little abstract and disjointed, but there's a thread here if you take a step back and look at how some of the pieces fit. On the one hand, you have Windows People, which allows users to more fluidly interact with the their most frequent contacts. This simple onscreen feature allows users to easily drag and drop content they want to share with them, send them an email, continue a conversation, or launch a Skype call. Great for keeping up with your kids, parents, teammates and coworkers all day long. Live-streaming an broadcasting also becomes a core XBox Live feature, bringing more social functionality to the platform. Lastly, sharing creations and content appears to be migrating from the edges of the app universe towards the center of the converged Windows experience, so we look forward to see where that design philosophy takes Microsoft in the coming years.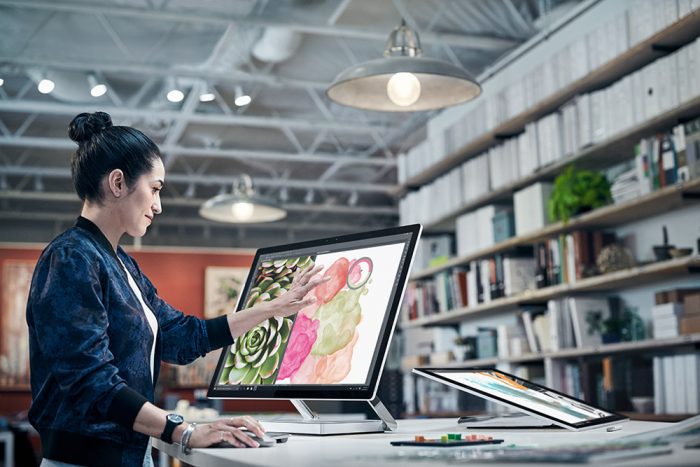 Okay, but what does this all mean?
As great as the new Surface Studio is, I doubt very much that it's a Mac killer, for the same reason that Google's Pixel isn't an iPhone killer. As obvious as Google and Microsoft's most recent plays may be in terms of how they relate to Apple's universe, they aren't enough to pose a real threat to the Cupertino giant. But (and there is always a but), it does signal:
a shift in the market,
a new unexpected milestone,
and a new reality for Apple and consumers as a whole.
The shift: With every tech giant like Microsoft, Google, Samsung (yes, even with its exploding phone issue), IBM and others catching up on every front, – and in some cases, getting ahead of Apple, –  Apple's golden age may be at an end.
It doesn't mean that Apple won't reinvent new markets again and out-innovate everyone when its next up-cycle of innovation comes around. Apple could see dozens more golden ages come and go in the next two centuries, but for now, the playing field appears to be leveling. Personal computing, mobile, IoT, VR, AI… Over the last few years, Apple has squandered every market advantage it fought so hard to earn a decade ago, and getting back to a place where it is 3-4 years ahead of its competitors is going to be very, very difficult. (Hint: The Apple Watch and Bluetooth airbuds are not going to cut it.)
The milestone: Apple appears to have lost the initiative, at least for now: IBM has the advantage in AI. Microsoft is coming up with cooler innovations than Apple on the computing front. Google has just produced a better smartphone. This is a significant moment in tech: Unless Apple pulls a rabbit out of its hat in the next few months (and it very well might), it could be left playing defense for the next 12-24 months. Let's see what happens, and how quickly Tim Cook can turn this around.
Even if Apple surges ahead again, the lesson here is that a focus on incremental change isn't a good market leadership strategy. I am guessing that this lesson is resonating loudly in Cupertino this quarter. If experience serves, Apple is going to come out swinging in 6-12 months with a huge forward leap in either smartphone design or some kind of AR play, or most likely both. (Yes, we have heard rumors of magical new screens and chipsets, but rumors are just rumors, and we aren't in the business of spreading rumors. So for now at least, let's wait and see what Apple's next move is.)
The new reality: The future of consumer electronics has never looked brighter. Whatever stress and "why didn't we think of that" moments may be plaguing Apple's project teams right now, the winners in this new consumer technology race between Apple, Samsung, Microsoft and Google are consumers. What this all means isn't just more choices, it's more great choices: Better phone cameras. Better UX. Better virtual assistants. Better laptops. Better creative tools. Better collaboration tools. Better smart home and smart office hardware. Better AI. We are seeing competitive market forces at their best right now, with an aggressive focus on building the coolest, fastest, smoothest, prettiest and most affordable technologies possible, in order to woo consumers. Apple and Samsung have the most to lose in this equation, and Microsoft and Google the most to gain, but on the consumer side, seeing more companies than Apple and Samsung enter the PC, IoT, Mobile, VR, AR, and AI spaces with all guns blazing produces nothing but upside.
2017 is definitely going to be an exciting year.
…
Update: The day after this article's publication, Apple unveiled several new products at its October 27 #AppleEvent. Among them, a TV app called "TV" that helps "unify" TV watching experiences, new MacBook Air models, and the "reinvented" MacBook Pro. APple's answer to Microsoft's innovation was an interactive strip at the top of the keyboard that adds a layer of basic functionality for users. Among its uses: faster access to emojis, easier track control if you moonlight as a DJ, and quick access to your favorite apps. Not exactly world-changing.
Oh, and as always, you will need to spend some money on yet another new adapter. Because "courage" or "simplicity," or maybe both.
To be fair, Apple came to its event loaded with useful upgrades like faster processing speed, brighter screens, and longer battery life. And Tim Cook did make a point to remind everyone that iOS users upgrade to the latest version faster than Android users, so that was important to point out. Still though, not exactly the "one more thing" we were hoping for.
Okay, look. I really was hoping to write a follow-up to this post along the lines of "checkmate" or "not so fast," but I can't. Apple, at least for now, has proven my latest point: while Microsoft and Google are working hard to catch up and overtake Apple, and their focus on real innovation is crystal clear, Apple appears to have fallen into a dangerous cycle of incrementalism. Its upgrades are uninspired, for starters, and while its competitors are focused on 3D, AI, and intuitive UX, Apple's "innovations" of late hail back to failed ideas already toyed with by companies like LG, Toshiba and Texas Instruments over a decade ago. That isn't super encouraging.
It was to be expected though. Several years ago, I spoke with the BBC about how Apple was going to have a rough time shifting from playing the heroic role of David (the courageous young challenger) to playing Goliath (the overconfident giant incumbent). Whether Apple would figure this out or not was up in the air, but the writing was on the wall. All of this was likely to happen, and it has. Between Apple's efforts to stop itself from cannibalizing its own products with innovative replacements and in the absence of an incumbent to challenge it to do what it does best – go on the offense – (and yes, with Jobs and his vision now sadly out of the frame), Apple has fallen into the same trap that once kept Microsoft from taking over the tech space while Apple was reinventing every consumer tech vertical: Playing defense. It isn't a good model for any company, and we have seen what it did to Microsoft, IBM and HP some ears ago, but it is especially deadly to Apple.
Now, for the good news: This too shall pass. It is only a moment in time. Apple will hop out of the hole that it has dug for itself sooner rather than later, and its next iPhone next year might just be the rocket boost it needs to get back on track. (Let's hope.) In the meantime, Apple has a lot of catching up to do, but again, a bigger field driven by innovation and inspired design, and a push for mass market adoption is good news for consumers: Better tech, more choices, competitive price-points… No complaints here.
…
Cheers,
Olivier
PS: This might be a good time to remind you to browse our growing library of premium reports. (Downloading a report requires an account, but becoming a Futurum Insights Community member is super quick and easy).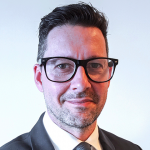 Olivier Blanchard has extensive experience managing product innovation, technology adoption, digital integration, and change management for industry leaders in the B2B, B2C, B2G sectors, and the IT channel. His passion is helping decision-makers and their organizations understand the many risks and opportunities of technology-driven disruption, and leverage innovation to build stronger, better, more competitive companies.  Read Full Bio.