Microsoft Build 2019: A Responsible Platform for Continued Growth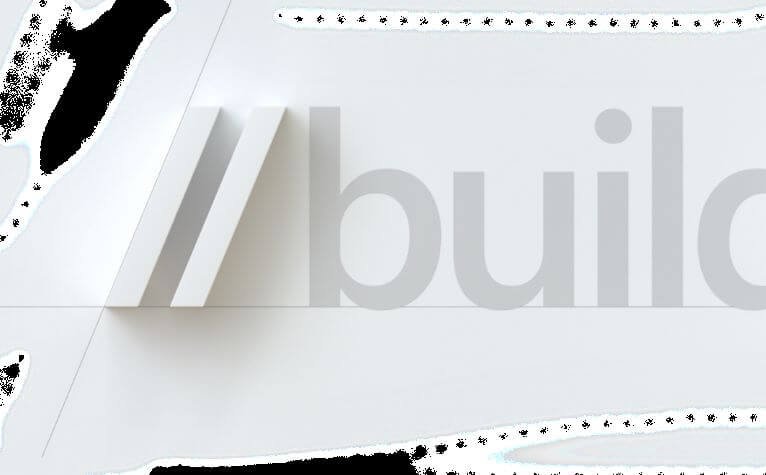 Listen to this article now
I'm just leaving the Microsoft Build 2019 event in Seattle and doing what so many of us do— sitting on a plane heading to another event, collecting my thoughts.
Before discussing Microsoft Build, let's step back. Microsoft clearly has momentum. Their earnings have pleased the street (to say the least) and for the past five years, Satya Nadella has seemingly reinvented a company that once suffered from staleness and stalled innovation. Growth seems to be propelling every part of the organization, with Azure being the hero of the day. With their continued growth rates eclipsing even those of AWS when they were at this stage, as well as being the only hyperscale cloud provider to be making a material impact on Amazon's impressive cloud business, it is easy to be bullish on Microsoft.
Perhaps even more important is the complete change in culture that Microsoft has embraced during Nadella's tenure. The company is cool again. It was cool early on, but at some point it lost its way. That's not the case anymore. The energy and passion that starts at the top of the organization and moves throughout was palpable at this week's Microsoft Build event. There was even some cheering and chanting from the audience to give it a bit of an "Apple feel," but I'm not willing to go there just yet. However, it is certainly worth noting that I think Microsoft's ascent has put them somewhat on the same plane as Apple, and their market cap speaks volumes on that front. Let's take a deeper dive into the Microsoft Build 2019 event.
Microsoft Build 2019 Event
While Build is Microsoft's developer conference, the event drew a massive media and analyst contingent. The company's rapid trajectory has certainly reinvigorated the press and analysts are more interested than ever to answer one question:
How will Microsoft maintain this momentum?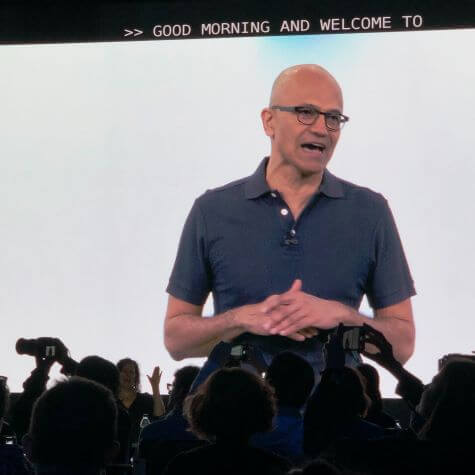 During Satya's keynote, I listened for the company's focus areas. What would he reiterate, and would he bring anything new to the table? With the stock fluctuating at all time highs and recent earnings and guidance both bringing out the bulls, I wanted to understand beyond the products/services themselves, what are the differentiators, focus areas, and intangibles that can continue Microsoft at this pace—is it even possible?Being a developer conference, the Build Event went deep into many of the technical capabilities of the company, and some of these touches will certainly be critical to Microsoft's continued success.
However, between the more technical content, Satya presented a few key themes that stood out to me as the critical areas that Microsoft will focus on to maintain their strong results. Starting with the company's mission, "To empower every person and every organization on the planet to achieve more," I believe the technology will enable this mission, but the following two focus areas are what I believe the keys to Microsoft's continued success will be:
Privacy and Responsibility
The discussion around privacy, cyber security, and responsible AI was brief, however, what is most telling to me is that this is the topic that Satya started on. His remarks reinforced the critical importance of empathy in the process of innovation and the responsibility that comes with building technology that is changing society.
I've long felt that this topic is too often ignored and have written about my belief that there will be a significant renaissance for privacy. I believe that companies that put transparency, security, and data protection at the core of their mission will see greater returns for employees, customers, and shareholders alike.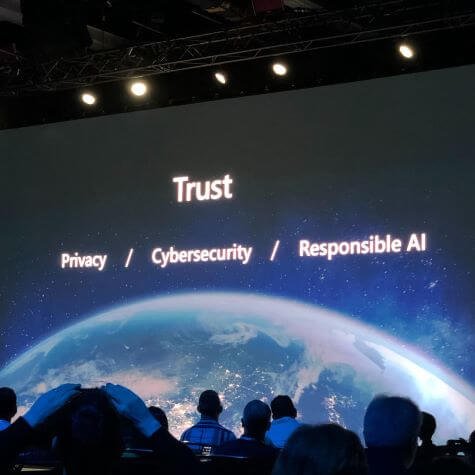 /p>
Clear Platform and Opportunity Identification
Beyond the ethical foundations lies a very real set of platforms and opportunities that Microsoft has identified and is building their future around.
Azure. Azure has had a tremendous year. Nadella shared that 95 percent of the Fortune 500 are now Azure customers. This of course, doesn't reflect sole source relationships, but as Multi-cloud continues to gain momentum, I'll be watching for the share of public cloud services that Azure is providing for customers in comparison to AWS and its smaller competitors, like Google and IBM.
At Build, Microsoft showed off some strong partnerships with companies like Starbucks, Walgreens, and even a new Blockchain on Azure customer relationship with JP Morgan. I found the "Deep Brew" partnership with Starbucks and Azure to be an interesting example of the machine learning, AI, Blockchain, and scalability for enterprises running their innovation on the Azure Stack. We also saw emerging technologies like Mixed Reality and Autonomous/Simulation capabilities that can be built on Azure. Azure is not only the public cloud offering for Microsoft, but it is foundational across the company and it is core to the next three platform/opportunities.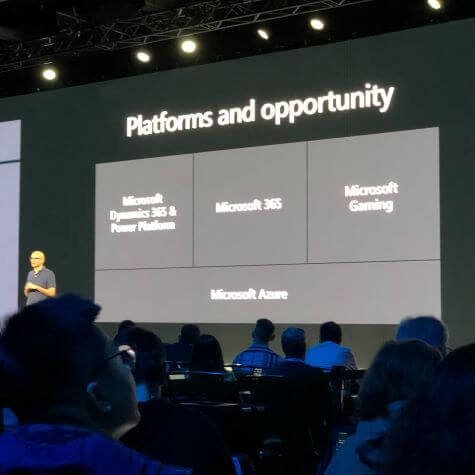 /p>
Dynamics 365 and Power Platform. If Microsoft wants to continue to expand its relevance, it has to be an open platform built native to work in the cloud. Nadella reiterated that as a key focus of Dynamics 365 and the Power Platform, stating that it was rewritten to be a native Azure environment. Much like Azure, Dynamics 365 and the Power Platform have also seen great success in the enterprise, now being used by 90 percent of the Fortune 500.
I believe the ability to build custom enterprise applications for Windows and the web that leverage existing code ecosystems and visual interfaces is going to be incredibly important. Furthermore, an agile environment that allows for rapid modernization will also be important. Dynamics365 and Power Platform enable both.
Furthermore, and something I believe is critical, is the data integration powers of this platform with Azure. Being able to draw on all available (useful) data for enterprise apps is the key to gaining meaningful analytics and intelligence. Microsoft is doing this in a few ways. Solutions like Flow that allow ERP processes to be run on Power is a good example.
Another way Microsoft showing greater commitment to maximizing data is through their Open Data Initiative (ODI), a partnership with Adobe and SAP that allows companies with valuable data in disparate SaaS applications to leverage all of that data for all of their applications. This is an important strategic initiative, and one that will become more valuable as the ODI ecosystem grows.
Office 365. With more than 150 million monthly active users, Microsoft's ambitions of evolving from a licensing business to a cloud/subscription business has seen strong continued performance and growth. With millions of users added each month, this growth should continue. The Office 365 ecosystem is so much more than just the productivity suite that we are familiar with.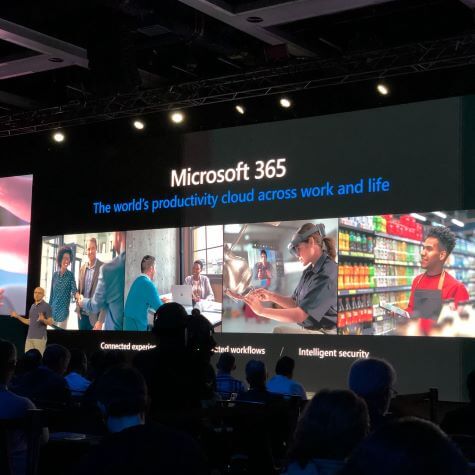 At Build, Nadella showed off a new Conversational AI powered by Cortana and the Bot Framework showing how an Office 365 user could truly enhance their daily productivity through conversational engagement with Cortana.
Another interesting focus area was Microsoft Teams and the use of Spatial Computing in Collaboration. A demo of how Mattel is using the environment to bring teams together to collaborate and manipulate documents and information to develop products was a good example of what is possible. On a simpler level, there was a demonstration of Teams Video Collaboration where AI could be used to identify a whiteboard in a room and then use transparency so the remote view could see the whiteboard even with the annotator standing in front of it.
Microsoft Gaming and Xbox. While Gaming isn't a core coverage area for Futurum, it's obvious that Microsoft is continuing their strong focus in gaming and, with their entire gaming ecosystem, they maintain the #1 worldwide position in the space.
Microsoft Build 2019 Wrap-up
The Microsoft Build 2019 conference presented an opportunity for Microsoft to validate the platforms and framework that developers can build on to continue to grow Microsoft's contributions, both into enterprise, as well as for end-users around the planet.
For me, the company's focus on privacy and responsible AI stood out, because I believe the pace by which technology is moving has left many companies ignoring the broader human impacts that these technologies will have. Microsoft planting a flag here is meaningful, and something we will continue to watch closely.
Concurrently, Microsoft seems to be very clear on its focus areas and finding the congruence between them. Azure, Business Applications (Dynamics 365), Office 365, and Gaming provide four clear platforms and opportunity areas that Microsoft is focusing on to drive every product and service that they deliver or allow their customers and ISV to build.
Microsoft gave no reason to reconsider any bullish positions that exist about the company. Nadella, once again, delivered clarity about the direction of the company while showing consciousness to humanity and the impact that technology will have on our society.
Futurum Research provides industry research and analysis. These columns are for educational purposes only and should not be considered in any way investment advice. 
Other relevant reads:
Microsoft Beats Earnings Estimates—Eclipsing $1 Trillion Market Cap
Why Microsoft Will Win the DoD JEDI Cloud Services $10B Contract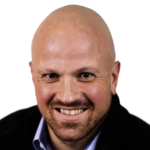 Daniel Newman is the Principal Analyst of Futurum Research and the CEO of Broadsuite Media Group. Living his life at the intersection of people and technology, Daniel works with the world's largest technology brands exploring Digital Transformation and how it is influencing the enterprise. Read Full Bio