MediaTek goes after Huawei with new 5G SOC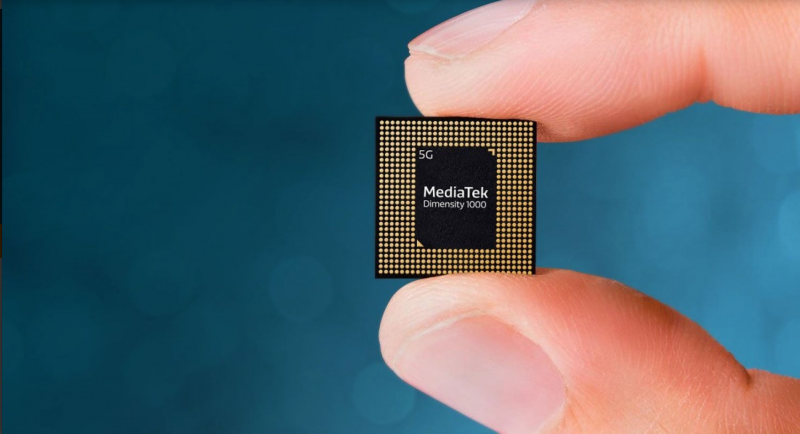 Listen to this article now
MediaTek releases an impressive new 5G SOC in the Dimensity 1000 that appears to outperform Huawei's Kirin 990.
While Qualcomm's Snapdragon 855 (and its replacement – presumably called Snapdragon 865 – to be announced in a few days) remains supreme in the premium tier SOC, MediaTek appears to have its eyes set on dominating the mid-to-high tier SOC space.
MediaTek appears to be making the most out of Huawei's blacklisting to reposition itself as the mid-tier 5G modem and SOC solution provider of choice for handset makers looking to take marketshare away from Huawei.
If MediaTek is successful in this gambit, sub-$600 5G phones with carrier aggregation and up to 4.7 Gbps downlink speeds could be a reality for consumers in 2020.
Why MediaTek's new 5G SOC should worry Huawei
Taiwan-based MediaTek has built a pretty solid business for itself in the smartphone space by being a reliable mid and low tier solutions provider for OEMs. Its cellular modems can be found in some of the world's most popular budget-friendly smartphones (usually below the $500 price point) like the Nokia 5.1 Plus/X5 and the Oppo R15, to give you some sense of what part of the market MediaTek plays in. But that could change starting next year, and Chinese competitor Huawei should be concerned, and here's why: MediaTek's new Dimensity 1000 5G SOC is a big leap forward and a worthy competitor to Huawei's Kirin 990, which gives handset makers a very viable 5G option to compete against Huawei in the sub-$600 price range. Let me backtrack here, and try to set up the landscape for you a little bit:
Why Huawei and Mediatek are fighting for 2nd place
At the top of the 5G SOC food chain sits US-based Qualcomm, with its premium-featured Snapdragon 855 SOC, which the company introduced a year ago. The 855 is basically the current gold standard in cellular SOCs, which is why it is the platform of choice for 5G-ready premium tier phones, from Samsung's S10 and Alphabet's Pixel 4 to Oppo's Reno and Xiaomi's Mi 9. Here are the specs if you want to spend a few minutes going over them. You will understand why phones featuring the Snapdragon 855 tend to cost more than $600. Huawei just released the Kirin 990 SOC as a sort of answer to the Snapdragon 855, and it's an impressive solution, but here are three pretty big reasons why I think Huawei falls very short of matching the Snapdragon 855's performance, and why I don't believe the Kirin 990 is a premium 5G SOC:
The Kirin 990's release is almost a year late if it means to compete against the Snapdragon 855, as Qualcomm is literally days away from releasing the 855's replacement – presumably the Snapdragon 865 (although we will have to wait until an official announcement to know if that will be the actual nomenclature). In short, the Kirin 990 competes against last year's 5G Snapdragon SOC, not this year's. Huawei is a year behind Qualcomm.
The Kirin 990's 5G version doesn't support mmWave, and doesn't appear to feature carrier aggregation. The Snapdragon 855 does both.
Huawei didn't use ARM's latest Cortex A77 CPU in the Kirin 990, and opted instead for an older solution. While I have heard that the reason may have been that 76 series solutions delivered higher clocks for the same power consumption on Huawei's 7nm chips, it is also likely that ARM's reluctance to work with Huawei, given that the Chinese tech company has run afoul of North-American, European, and Commonwealth countries, may be at least partly to blame.
Why ARM matters
From a spec and performance standpoint, MediaTek's Dimensity 1000 5G SOC seems very much aligned with the Kirin 990, and even offers a key advantage: The Dimensity 1000 5G SOC appears to feature ARM's latest CPU and GPU IP, which the Kirin 990 does not. This means that the Dimensity 1000 5G SOC should be faster than Huawei's Kirin 990. Two reasons for that:
The Dimensity 1000 5G SOC sports newer 4 ARM Cortex-A77 cores + four power-smart Cortex-A55 cores.
The Dimensity 1000 5G SOC also features an ARM G77 GPU, which is faster than last year's G76 featured in Huawei's Kirin 990.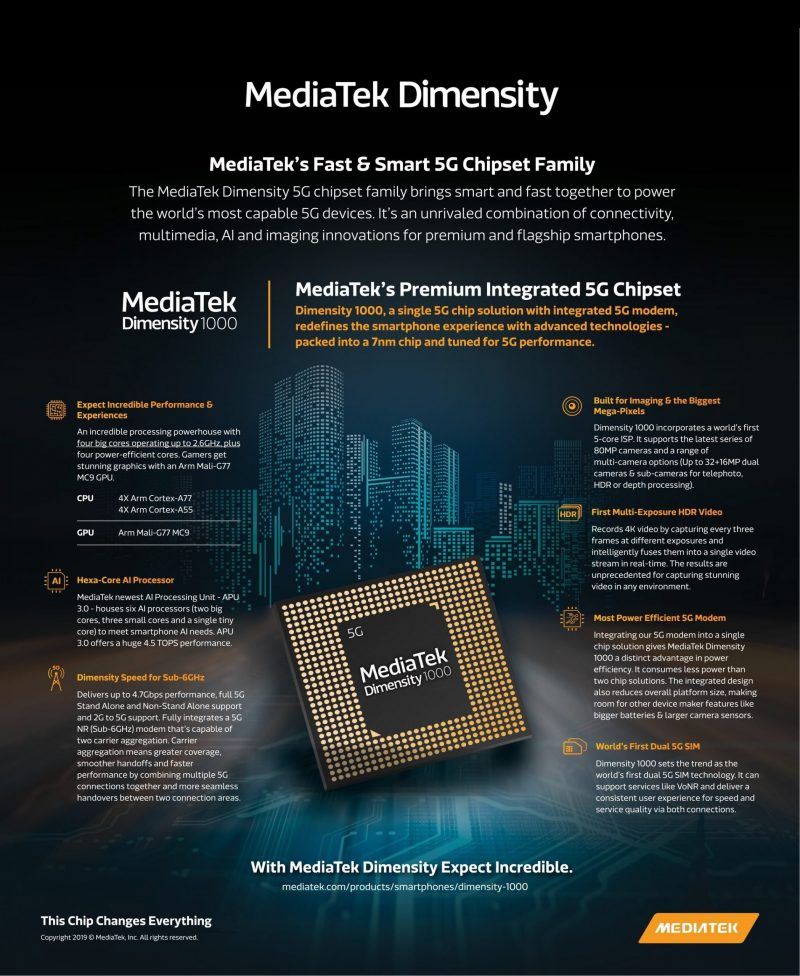 MediaTek's Dimensity 1000 may offer another critical advantage over Huawei's Kirin 990 SOC: Much faster download speeds:
Why Carrier Aggregation Matters. (Hint: Download Speeds)
Mediatek's modem supports carrier aggregation, meaning that it can use multiple 5G bands simultaneously in order to increase download speeds. As far as I can tell, while the 4G variant of Huawei's Kirin 990 integrated modem supports carrier aggregation, the 5G variant currently does not. This may be one reason why MediaTek quotes a 4.7 Gbps downlink speed for its 5G modem while Huawei quotes only 2.3 Gbps downlink speeds for the Kirin 990. For reference, Qualcomm's X55 modem can reach download speeds of  7 Gbps. (Note that the X55 also supports mmWave, which the Kirin 990 does not. The Dimensity 1000's specs don't mention mmWave, so let us assume for now that, like the Kirin 990, the modem focuses on Sub-6 GHz only.) So, to recap:
Premium Tier 5G modem –
Qualcomm: 4G+5G Carrier Aggregation, up to 7 Gbps downlink speeds
Next Tier down for 5G mdems –
Mediatek: 4G+5G Carrier Aggregation, up to 4.7 Gbps downlink speeds
Huawei: 4G Carrier Aggregation, up to 2.3 Gbps downlink speeds
You can see how MediaTek is already outperforming Huawei in the mid-to-high tier 5G modem and SOC space.
Caveat Emptor
MediaTek hasn't, as of yet, provided any reference devices for testing and benchmarking, so the operating principle today is "trust but verify."
And one more thing…
MediaTek's move against Huawei in the 5G SOC space isn't just an engineering win. It's also a strategic one: Huawei has been hurt internationally by US blacklisting, a loss of support from critical partners like Google/Alphabet and ARM, and a loss of market access. Taiwan-based MediaTek doesn't have to wrestle against the same kinds of challenges and bans that Huawei does. The timing for this move definitely falls in MediaTek's favor. (A follow-up to this article will discuss how MediaTek and Intel are already partnering to bring the Taiwan-based company's 5G savoir-faire to the world of ACPCs, presumably to bring budget-conscious ACPCs to the market.) MediaTek's forward leap in 5G modem and SOC performance opens the door for the company to help OEMs compete against Huawei (and probably Samsung) in the pricepoint mid-range for 5G phones, and perhaps ACPCs (dubbed "5GPCs") soon as well. Ultimately, beyond the palace intrigues of the 5G silicon world, the benefit to consumers is that MediaTek could very well make mid-tier ($499-$599) 5G phones a reality as early as 2020. To be continued.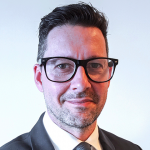 Olivier Blanchard has extensive experience managing product innovation, technology adoption, digital integration, and change management for industry leaders in the B2B, B2C, B2G sectors, and the IT channel. His passion is helping decision-makers and their organizations understand the many risks and opportunities of technology-driven disruption, and leverage innovation to build stronger, better, more competitive companies.  Read Full Bio.