Making Markets EP6: Earnings and Investor Day Updates Week Ending September 17, 2021 — Oracle, Cisco
Making Markets EP6: Earnings and Investor Day Updates Week Ending September 17, 2021 — Oracle, Cisco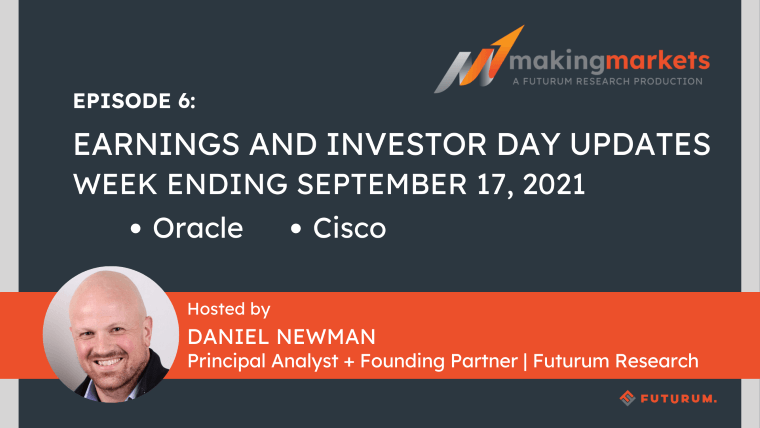 On this episode of the Making Markets Podcast, host Daniel Newman shares his insights on the market's positive reaction to earnings for:
Oracle: The company beats on EPS while coming up slightly short on Revenue. But the big news came in the form of an update on its cloud business.
Cisco: Cisco hosted its Investor day this week with CEO Chuck Robbins giving analysts a dive into how the company plans to evolve and innovate to accelerate growth and stay ahead of the pack.
You can grab the video here (and subscribe to our YouTube channel if you've not yet done so).
You can also listen below or stream the audio on your favorite podcast platform — and if you've not yet subscribed, let's fix that!
Disclaimer: The Making Markets podcast is for information and entertainment purposes only. Over the course of this podcast, we may talk about companies that are publicly traded and we may even reference that fact and their equity share price, but please do not take anything that we say as a recommendation about what you should do with your investment dollars. We are not investment advisors and we do not ask that you treat us as such.
Transcript:
Announcer: Well, we finally got it. We finally got a little bit under the hood of what is going on at Oracle with its cloud business. And it's pretty good. It is definitely better than expected. We're going to talk about this. We're going to talk about Cisco's investor day and more. Welcome back to Making Markets.
Daniel Newman: Hey everybody. Welcome back to another episode of Making Markets. It is the middle of September, and we are just beginning to come back to the big next wave of tech earnings. And the month ahead always has a few interesting earnings days. This week I'm going to dial in to what happened with Oracle, big company in the middle of a fairly large transition to the cloud and I'm going to talk about what happened with their Q1 earnings, which by the way, come out really fast at the end of their quarter. That's something they like to pride themselves on. Also Chuck Robbins and the leadership team at Cisco took to the world with an investor day in an analyst summit, going over how the company envisions growing and enticing and creating excitement for investors. And of course, how it's going to build next generation solutions to meet customers where they are in the cloud, at the edge, collaboration, very big, very diverse business. So here we go. Let's dive right in.
Let's talk about Oracle. So Oracle saw their shares fall after reporting what I thought was a pretty good quarter. I rolled out a opinion piece on Market Watch that we will put into the show notes as well as my regular quarterly earnings coverage, and the piece was entitled Investors Shouldn't Overlook Oracle, The Company is in the Midst of a Bold Comeback, and I'll come back in just a minute to what I meant when I said that, but quick look at the numbers themselves. The company delivered earnings above expectations and revenue just below expectations, $1.03 a share adjusted versus $0.97 for earnings, 9.73 versus 9.77 billion on the revenue side. I look at that as pretty much meeting expectations. The company always breaks its numbers down into essentially four categories, cloud services, license support, cloud license and on-premise license, hardware services, pretty difficult actually, if you don't follow the company closely to discern those numbers, but I'm going to talk about some numbers that the company did give that indicated some very promising future trends around the company.
Overall now almost from three quarters of the business comes in what the company is calling that cloud services and license support, over 7.3 billion. The other three categories represent about 8%. Services grew, cloud services license support, the big category, grew, whereas the on-premise license and hardware businesses sort of unsurprisingly were down high single digits in each case. But yet still not really the story. So let's talk about what the story is.
Over the last couple of years, there's been a definite growing dialogue within Oracle about its role as a cloud player. The company has been vertically integrating a infrastructure play. It rolled out what it calls its Cloud@Customer, which is its hybrid cloud play. And the company also has a number of different ERP and CRM and cloud-based solutions, SaaS solutions. The two most notable are NetSuite ERP and then its Fusion ERP. And those have actually been doing really well for some time, but my hand has been up every single quarter, and I'm asking Safra, and I'm asking Larry Ellison, and I'm saying, "You have to help. You're up on stage. You're telling the world that the Oracle cloud business is exploding, it's growing. We're hearing things like triple digit percent growth, but of what?" So when you're doing eight, nine, 10 billion a quarter, I think the market's been anticipating a little more insight into just how big is this cloud business.
And so this quarter, for the very first time, Oracle revealed that very number that essentially it's overall cloud business, this means rolling up its iAS and its SaaS offerings, and it came out to a number of about 2.5 billion, which you tabulate that over the course of a year means that the Oracle cloud business is now on a $10 billion run rate. If you want to be really picky, you could say, "I would've liked to have gotten more information. I would've liked to have known how much of that's iAS and how much of that's SaaS," but I will be straightforward in saying we need to stop having that conversation. Little C, big C, little cloud, big cloud, in the early days of AWS, iAS in that individual number was looked at very closely, AWS still leads that space. And I foresee AWS leading that space for a long time.
However, cloud is really, it's a confluence of many things. It's software, it's applications, it's platform. It happens at the edge. It happens through hybrid. It happens, of course, in the public data centers and public cloud consumption, things like Cloud@Customer, essentially Oracle's bringing its cloud and its software to the customer, putting the data center on site, like a private data center, but it's working and operating like cloud. Put all these things together this is cloud. And then of course you layer on services that help deliver it, manage it, et cetera.
So that's, what's really comprising this two and a half billion, but the company's growing and it's winning in key places and it's winning key customers. And this was what I thought was really encouraging and why I called it a bold comeback is a lot of people had ruled Oracle out, said the company isn't going to win in the cloud. In fact, I will raise my hand and say, I was one of those people. I called Oracle a cloud pretender, not even two years ago, because it's Gen One cloud just didn't cut the mustard. It didn't have what was needed to take the company and be realistically competitive with the likes of AWS, Azure, and even Google.
Well, that's changing now. So let's talk quickly on the iAS side. Larry Ellison actually spoke at earnings this month and he mentioned, by name, Gartner. And I don't always refer to Gartner because other analysts, other firms, but this is something that is looked at very, very closely. And Gartner in a new report that's about to come out, actually put Oracle cloud infrastructure as the number three player in iAS, usurping, surpassing, Google Cloud, which had been almost infallible as three. It had been consistently deemed three by almost all analysts across the board. So that was a very encouraging moment for Oracle that customers are starting to see the business, the cloud, as a viable alternative, and put it in that number three spot.
The SaaS business really has been good for a while and this doesn't need a lot of attention. But I think everybody who maybe is hearing about the likes of Salesforce and hearing about the likes of Microsoft Dynamics and then SAP, some people maybe haven't realized that in the cloud ERP space, as well as in marketing cloud and CX cloud, Oracle is increasing business and is growing at a clip that is fairly comparable to where Salesforce is growing in some of its core businesses. In fact, in like sales and service where Salesforce has been in that 15%, 20%, range, for Oracle's SaaS offerings in NetSuite and Fusion, it has been consistently in the high 20s, 30s, and even some quarters been in the 40% growth. So we are seeing Oracle's SaaS solutions also growing.
And what is the outcome of this? What is the tabulated response that the market probably should be aware of, is that Oracle is a cloud company, and Oracle has made that transition. Gen Two cloud is working well. Every quarter the company rolls out a number of its wins, what companies are adopting its technologies. This quarter it had major banks, it had states, United States, the state of Utah. It had Deutsche Bank, Qatar Airlines, technology companies like Acer, healthcare, Humana, all these companies came out public that they're working on solutions with Oracle and they're all cloud solutions.
So can't rule them out. Can't even say that Oracle's not in the fight. The Gartner rating moving to three, the overall growth, and the results this quarter show some serious promise. Now the single digit top line growth is going to continue to be something to watch, but we have to remember, this is a company that has over 70% of its revenue in a recurring format, it has a lot of legacy business, and cloud will have to accelerate and grow even faster to get on the pace of growth that the whole company can grow in the double digits. But having said that, if I was watching the company and I wanted to determine investability and how excited I am about the company, I would tend to believe that Oracle's growth in cloud will be the number to watch.
All right. So let's pivot over to Cisco, and Cisco head investor day. You got to hear from a number of the executives and it started off with Chuck Robbins, the CEO, coming out and basically talking about the company's transformation, its innovation, and its purpose and culture. A compelling presentation as always, Chuck has great leadership, great stage presence. Talked to the company's million customers. They're working with almost 100%, I think 98%, of the Fortune 500, a big portfolio of more than 25,000 patents and billions of dollars in annual R&D spend. he company is making a big transformation and that is the thing I want to take away. We know Cisco is massive. We know their data center business, security business, collaboration with WebEx, they're in the edge, they're in networking, they're in telco, and of course they have a Silicon angle as well. So they play in all the spaces and I probably didn't even hit on all of the areas the company's in.
The company has been on a very consistent path of making acquisitions, a lot of smaller acquisitions, like for instance, in collaboration, they made several over the past few quarters like Socio and Slido to enhance the hybrid work, future of work opportunity, everything from improving natural language processing, to being able to do better hybrid in person and remote events, to even the interaction that takes place. But that's just an example in collaboration that happens across the board. Cisco is clearly very intelligent about making smart, incremental, inorganic acquisitions that help improve its product portfolios.
But for Chuck, and then Liz Centoni who leads strategy for the company, the focus was really on helping the company's reputation shift from being seen as kind of big iron, big hardware, networking, storage data center, to being seen for their unique software subscription, software service combination. Then of course, with Cisco Plus, something that the company is focusing on, this consumption based model that we've seen many of the big IT companies, we've heard Antonio Neri at HPE, we've heard Michael Dell and Jeff Clark, the Dell Apex, and Cisco Plus is also in this space. And what's really happening is moving the model of everything these companies are selling to being able to consume it in a model that's much more like public cloud, subscription based. This is good for companies in terms of valuation. This of course makes the revenues more predictable, tends to be higher margin, but there's also some training, there's behavior. You have to move clients off of legacy perpetual license models, or legacy support models. And then of course with people still buying and implementing their own data centers, companies have always that CapEx versus OPEX decision tree that they have to go through when they're looking at the acquisition of it.
But nevertheless, we definitely are seeing Cisco as a company in transition. Over the past six years, the company has seen about a 23% growth in their overall subscription to software. And they've grown about 10% in the overall software component and contribution to the business. And I think this really comes down to the company wanting to see it grow. And then it also is really focused on its innovation story.
Over the past five years or so, the company had really been focused on things like intent based marketing, getting into observability and applications monitoring, shifting the narrative to software defined networks. And over the past five years there's been a big tree of innovation and Robbin's shared that, but there are so many places that Cisco is playing, and it's important, I think, to point that out.
First of all, we saw the pandemic fuel rapid growth and collaboration, so the WebEx suite and some of the innovation and acquisitions that I mentioned earlier, all very important. The company is officially moving aggressively under its Cisco Plus model. This is flexible consumption. This is being able to consume the different services and the different products in the Cisco portfolio as a service. Seeing how well this is adopted is going to be something people are going to want to watch. It's got very broad offerings to meet security needs with hybrid cloud, with data moving between public, private, edge. Cisco has a very complete portfolio and our research over time has shown the market trusts Cisco. It's one of the most trusted security companies on the planet. Robbin's definitely reiterated that in his presentation.
And then of course, on the software side, on the application side, the company bought AppDynamics, ThousandEyes. It's definitely aggressively moving into a deeper applications monitoring and full observability stack. And then also from a future of the internet standpoint, the company's Optics 800G, 400G, Silicon, that the company is contributing is really part of that cloud data center acceleration narrative. So the whole fabric from connectivity and networking, data center to cloud to edge, Cisco is playing pretty compelling overall presentation in a few hours that we got to spend with Chuck and his executive leadership team.
Very encouraging from Cisco. It's a company to watch. Everybody is going to want to make sure that the cloud transformation is happening. Being more of an on-prem company, moving from on-prem to hybrid to consumption, to being an important attributor in cloud and many of those areas I mentioned and many areas that I didn't hear, is going to be the number to watch. And of course the growth of the company is going to be something to watch and something that I'm really keeping my eyes on, is the company is growing, but it's kind of taming expectations for mid single digit growth over the next several years. We all know, as you move from big CapEx and licensing, perpetual licensing models, to OPEX, consumption, everything is a service, it tends to be very solid for the long term prospectus, but can be a little bit of slowing the growth in the short term.
So if I was watching the company as a whole, I would really focus on the growth of those businesses, of the consumption. How much is this pushing margins up? Are customers buying into this and shifting over? And then of course, how successfully is Cisco connecting to the big public cloud players? I see this being successful, but it's a competitive space. Everyone wants to be here. IBM is playing here very aggressively with its hybrid play, HPE and Dell, as I mentioned before, Lenovo is certainly making its play there. And then of course the big hyperscalers, public cloud companies like AWS, Microsoft, all have solutions that overlap, but there certainly are plenty of opportunities for these companies to be complementary.
So that wrapping up Cisco's investor day, really enjoyed having the chance to tune in there. But there you have it. Oracle, Cisco, that's this week's Making Market. See you later.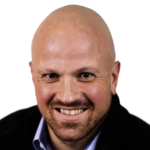 Daniel Newman is the Principal Analyst of Futurum Research and the CEO of Broadsuite Media Group. Living his life at the intersection of people and technology, Daniel works with the world's largest technology brands exploring Digital Transformation and how it is influencing the enterprise. Read Full Bio