Making Markets EP3: Tech Earnings, August 27, 2021 – Splunk, Dell Technologies, HP, Salesforce
Making Markets EP3: Tech Earnings, August 27, 2021 – Splunk, Dell Technologies, HP, Salesforce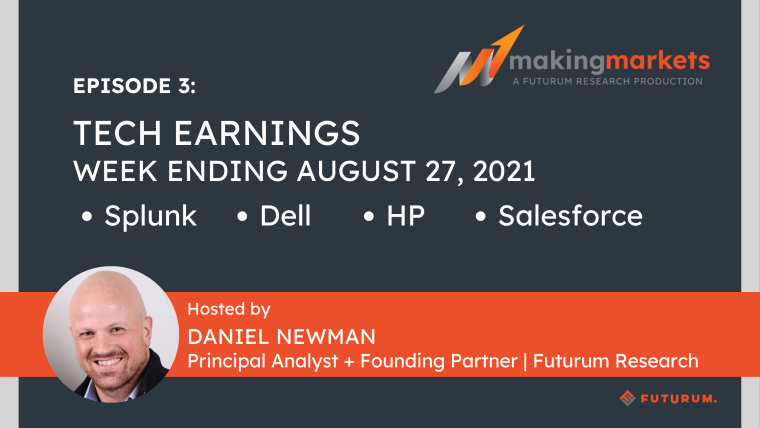 During this episode of the Making Markets podcast, host Daniel Newman shares his insights on the market's positive reaction to earnings for these four tech companies:
Splunk: How completely revolutionizing their business model and shifting to a cloud subscription has positively impacted their revenue, growth, and overall customer numbers.
Dell Technologies: Performance of their Infrastructure and Compute Groups looks good, why Dell Technologies APEX is an area to watch, and how the vmWare spinoff is opening up opportunities.
HP: The impact of supply chain disruptions on third quarter results, and where HP is leading (hint: think print)
Salesforce: Another great quarter, how their Platform business will be supercharged by the Slack acquisition, and the critical partnership that will help overall growth.
Check out my MarketWatch article here:
For Salesforce Investors, Slack Must Start Supercharging Growth — and the Stock Price
You can grab the video of the interview here (and subscribe to our YouTube channel if you've not yet done so)
You can also listen below or stream the audio on your favorite podcast platform — and if you've not yet subscribed, let's fix that!
Disclaimer: The Making Markets podcast is for information and entertainment purposes only. Over the course of this podcast, we may talk about companies that are publicly traded and we may even reference that fact and their equity share price, but please do not take anything that we say as a recommendation about what you should do with your investment dollars. We are not investment advisors and we do not ask that you treat us as such.
Transcript:
Daniel Newman: In this episode, we cover HP. We cover Splunk. We cover Salesforce, and we talk about Dell Technologies, all here on Making Markets.
Announcer: This is the Making Markets Podcast, brought to you by Futurum Research. We bring you top executives from the world's most exciting technology companies, bridging the gap between strategy, markets, innovation, and the companies featured on the show. The Making Markets Podcast is for information and entertainment purposes only. Please do not take anything reflected in this show as investment advice. Now, your host, principal analyst and founding partner of Futurum Research, Daniel Newman.
Daniel Newman: Hey, everybody. Welcome to Making Markets episode three, and this is a monologue, the first in the series, where you're going to get to talk to… Well, you don't get to talk to anybody, but you're going to hear it from me, and I'm going to talk to you about a bunch of earnings that took place this week. Big week, end of August, so much going on. Heard from the Fed today. It seems the market reacted very positively on this Friday, August 27th, if you are concerned about the date.
This week, we had a bunch of tech earnings. You heard from Matt Murphy at Marvell. And if you haven't listened to that episode, I highly recommend that you do. Today, I want to talk about a couple of others this week that I was dialed into. And here at Futurum Research, we've been paying attention to Splunk, Dell Technologies, HP, and Salesforce.
If you're not familiar with the Making Market Podcast or you didn't listen to our introduction, just quickly a reminder for everybody, the show here, it's all about kind of getting to what wasn't obvious from the earnings calls or from the investor day or from some big merger acquisition or other pieces of news. Try to get between the lines. Let's start off and talk a little bit about the quarter for Splunk. The company had its second quarter of fiscal year 2022.
I'm going to keep this pretty brief, because I'm expecting in about a week and a half that we're going to actually have Doug Merritt, the CEO of Splunk, join the show. We've had Doug on a few different times across a few different shows here at Futurum. Really good guy. Definitely knows how to break it down. But there's a story going on. And since it Splunk's earnings happened this week, I don't want to neglect to talk about an important company here in the observability and data to everything as they like to call at space.
How'd the company do? Well, did well. The real between the lines story that everybody needs to be taking away about Splunk has less to do with the revenue, which was good, the growth, which was solid, the overall customers above a million, which by the way, you served 230 this quarter, up 100% year over year, and the overall conditions for the company being in pretty good shape, following some serious injection of cash from Silver Lake. The story is that this is a company in transition.
We hear a lot about things like recurring revenue, and you hear about things like cloud transformation. Well, Splunk is like the personification of what is going on here. This is a company that completely revolutionized its business model. It went from perpetual licensing and data ingest costs to a cloud subscription revenue, and basically told the market it was going to flip its business model on its head, it was going to change how it went to market, and it's doing that. What stood out to me?
Well, the cloud era growth, 72% up to $976 million. The total annual recurring revenue is up 37% to $2.63 billion, and the cloud revenue itself hitting %217 million, 73% growth. And like I said, the other thing is big customers is the story that needs to be told when it comes to Splunk. They now have over 582 customers spending over a million dollars total in recurring revenue with the company that's up 47%. And then I mentioned that 234 customers spending over a million, up 100%. So lots of changes at this company, leadership changes under Doug Merritt.
We talked about this on the earnings call, but the story to watch, the thing that's really peaked my interest in the fact his company is in transition and it's succeeding with this transition. It had to take a step back, maybe half a step back, reset the business, reset the customers, but definitely leading in the spaces where it's competing in security ops, IT ops, observability, and it's also doing a great job in its cloud transformation. There's Splunk. There you have it. Let's talk a little bit about Dell Technologies.
Dell had a whopper of a good quarter. Old PC makers sometimes aren't the most exciting companies to talk about, but if you told me that about Dell Tech, I would have to disagree. I had conversations over the years with both Michael Dell, Jeff Clarke, these leaders are all about innovation. They're all about innovating the business model, making big changes. This is working, $26.1 billion in the quarter, 15% up. So big growth in op income. Of course, it's running at a hundred billion dollars a year in sales.
Very strong. A couple of things that I think need to be paid close attention to are that, one, there's a split in the business between its infrastructure ISG group and its client compute group. They call it ISG and CSG, infrastructure and client. The infrastructure business has been a little slower to grow. This is the on-prem, big iron that's being bought for data center deployments, but servers are growing.
Networking is growing and storage fell back, but this is a company that's leading in these categories, number one in all these categories, and is doing pretty well. The come back to these spaces has been slow following the pandemic, but Dell is in good shape in here. The area to really watch that isn't being talked about that much is Dell Technologies APEX. And APEX is the as-a-service business that's being deployed. It's going to try to basically be public consumption style cloud for private cloud. And then, of course, all the technologies to help connect cloud.
The other big story between the lines that's going on that people need to watch is the VMware spinoff. In October, Dell will fully complete the spinoff of VMware, which it holds over 80% of the stock, and this is going to be a pretty massive change. VMware has been a catalyst of the companies pivot to participating in public cloud. It's going to have alternative means to doing that across its portfolio, and it intends to continue its deep relationship with VMware.
But this also opens up Dell to other partnerships which could scale its public cloud or hybrid cloud ambitions. Big changes in leadership of VMware. Pat Gelsinger fled earlier this year to head over to Intel. Great opportunity. The interim CEO took over. One of the key leaders, Sanjay Poonen, who was COO and possibly one of the incumbents to become CEO, has not left. So kind of an interesting set of circumstances, turnover at the top of the company for VMware. This, of course, may have had something to do with it only growing 8%.
But then again, the company's only been growing about 10% each and every quarter, but big growth in its AWS business with VMware.
VMware is an interesting one to watch, but it's going to be watched separately from Dell in the coming year. The last spot that was probably really worth looking at with Dell was the client compute group. I mean, what a tremendously strong quarter for the client group. The company saw above 20% growth. It's about $14.3 billion in revenue. I believe that was 24% year over year.
And in the commercial client space did actually saw, I think, growth in its market share for the 30th time in 34 quarters. Very strong in that business. Saw a very large growth, which actually contrasts the next company I'm going to talk about at least in terms of the client business. The next up here is going to be HP, and I'm talking about HPQ as the ticker or HP Inc. or the PCHB, not everybody knows, but Hewlett-Packard Enterprise and Hewlett-Packard Inc. have the same company.
If you're in the space paying attention to tech, I hope you would know this by now, but a quick reminder for anybody that didn't. They also reported. You had Dell Tech and HP both reporting in the same day. For HP, it was their third quarter of fiscal year of '21. The company overall saw kind of a mixed set of results. 7% overall growth. Growing is good, especially when you sell a lot of hardware. But in the pandemic fueled world that we're in, we've gotten used to really large double digit growth in the systems PC computer space.
And that was not where the growth came from. 7% overall growth, but PC revenue was actually flat. It was 3% growth on the consumer side, down a percent on the commercial side. What is this attributable to? Well, I had the chance to talk to CEO Enrique Lores and it's the supply chain. We keep hearing about supply chain. We hear about how the supply chain is setting the market back. And for HP, the company is sitting on a quarter of backlog that it can't fulfill.
Now, to give you a little context and perspective, typically in a normal condition, a company would have maybe two week back log on PC shipments. So in short, the reason that HP was unable to have what would be maybe more of a double digit plus growth number in the PC space was it couldn't fulfill the demand. The demand is high. So looking deeper into those numbers and into the market, what I believe needs to happen to the company is going to have to really assess its supply chain, which Lores seemed to be confident in.
But when you see Dell growing at 30%, Lenovo had a strong quarter as well in PC, you have to wonder what's the difference between companies and are there optimizations that can be done that would enable them to ship more units to hit those growth numbers that the company would expect to hit. And a really positive, the print business, which is still a thing. It's actually a really big growing thing. And for HP, it was a 24% growth number this quarter and huge on commercial, 46% up. Print will always be a thing and HP certainly has leadership in that space.
Make a lot of income on that particular part of the business. And now their print as a service or their ink as a service business just few of 10 million subscribers. That's a really big number and warrants attention. Love the annual recurring revenue there. That's something that HP and its investors can feel positive about is that it has a growing recurring revenue business on the print side. And then the last thing that was really worth noting was the company saw income growth of 71%.
Because of the print being the big growth, print about doubles personal systems in terms of margin on products, really important growth number, and it really added to the bottom line. And that bottom line, by the way, is being reinvested by the company. Lores pointed out to us that the company still believes its undervalued, so that's meant beyond just the dividend. The company has been doing quite a bit of buybacks. I believe there was about 1.7 billion returned to shareholders through repurchasing and dividends. The quarter, always like that.
If you're an investor, it shows a lot of confidence in the company. It tends to keep the price high. All right. Let's take this home and talk about Salesforce. We've done infrastructure. We've done PCs. We've talked a little bit about IT ops and sec ops and observability. Let's talk about SaaS. Salesforce had another banger of a quarter, beating on earnings by over 50 cents a share and coming in just above what was expected in terms of revenue. This was 23% growth. Really encouraging numbers.
The story between the story, I published a piece on MarketWatch, I'll throw it in the show notes, all about the Slackquisition. Yup, the Slackquisition. I want that to catch on, so I'm going to say it one more time, the Slackquisition. $27 billion spent on the acquisition of Slack, which was closed in this most recent quarter. People wondered, was this a good deal? Coming out about a billion dollars in revenue running into the time the deal closed?
I think it was just in the beginning of the year, about two quarters ago that the company got onto a billion dollar run rate. Spending 27 times the run rate was a lot, but why did they do it is the real question. If you kind of look across the revenue, Salesforce shares some data every quarter about the disaggregation. Essentially the revenue falls into four big stacks: its sales, its service, its platform, and their marketing cloud.
Well, most people that know Salesforce and have followed the company for a while, followed the company and know them for being a sales CRM software, right? Their ticker, a CRM. This stuff is all converging, sales, service, marketing. They've got the sales cloud. They've got the service cloud. They've got the marketing cloud, and they made major investments. Some companies like MuleSoft may come to mind, Tableau may come to mind, that preceded the acquisition of Slack. Sales is only growing, and I say only because it's software, but it's growing 15%.
Meanwhile, service is 23, marketing is 28, and perhaps the one that everybody needs to have their eyes on is the platform, which is up 24% year over year. The other thing though to note about platform is it's now also the business's largest stream of revenue. Now, it's been that for several quarters, but the gap continues to expand. Platform is where the investment is being made.
Salesforce is doing this because it knows to compete with Microsoft, to compete with a fully vertically integrated stack of infrastructure platform that can be extensible out to your CRM, your ERP, reaching all your data, and then, of course, having the application layer, there was going to need to be some strategic acquisitions made. This is going to be done through the acquisition of Slack. Microsoft is doing it with Teams. Teams is the center of the work environment in a hybrid remote work world.
Well, Slack has the same power, same potential to streamline work, connect to your CRM, connect to your ERP, enable simple visualizations, updates into systems of record, and do it all through the Teams slash, in Salesforce case, Slack experience. This is why it was bought. This is what the company is going for. It's all about stickiness and net revenue expansion. They want to sell more diversified products and services. They need to be able to be the center of work for the workers that are going to be forever hybrid and forever remote.
This is only going to be further fueled by the pandemic. Marc Benioff spoke to this. He was very clear about this in his most recent earnings. We will not return to work as we know it, and Salesforce is making the moves to try to compete there. Not to say there aren't others. Of course, Zoom, very competitive, WebEx, very competitive when it comes to meeting. There's lots of ERP and CRM, very respectable products, companies like Oracle, companies like SAP, Adobe, all have very valuable solutions.
But that full stack approach is going to be centered around that collaboration platform that is going to work meaningfully to replace our inboxes and become the first place we go when we start our day and the last place we go when we leave. In the right position at the right time, partnerships with AWS is going to be really, really critical, because the company doesn't have an infrastructure as a service play. But overall a great quarter for Salesforce, but that's the story to watch.
The story to watch is how Slack gets integrated and how they're able to put that integration to use to compete with Microsoft. There you have it. We've covered it all. We covered Splunk. We covered Dell. We covered HP. We talked about Salesforce. It's time to say goodbye. I'll see you on the next one.
Announcer: Thank you for tuning in to Making Markets. Enjoy what you heard? Please subscribe to get every episode on your favorite podcast platform. You can also watch us on the web here. Until next time, this is Making Markets, your essential show for market news, analysis, and commentary on today's most innovative tech companies.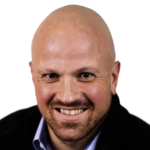 Daniel Newman is the Chief Analyst of Futurum Research and the CEO of The Futurum Group. Living his life at the intersection of people and technology, Daniel works with the world's largest technology brands exploring Digital Transformation and how it is influencing the enterprise. Read Full Bio