Making Markets EP11: DWACKO, PayPal Buying Pinterest? IBM's Pause, Intel's 10 Quarter Run Ends, Honeywell Grows, and SAP's Cloud Grows Legs
Making Markets EP11: DWACKO, PayPal Buying Pinterest? IBM's Pause, Intel's 10 Quarter Run Ends, Honeywell Grows, and SAP's Cloud Grows Legs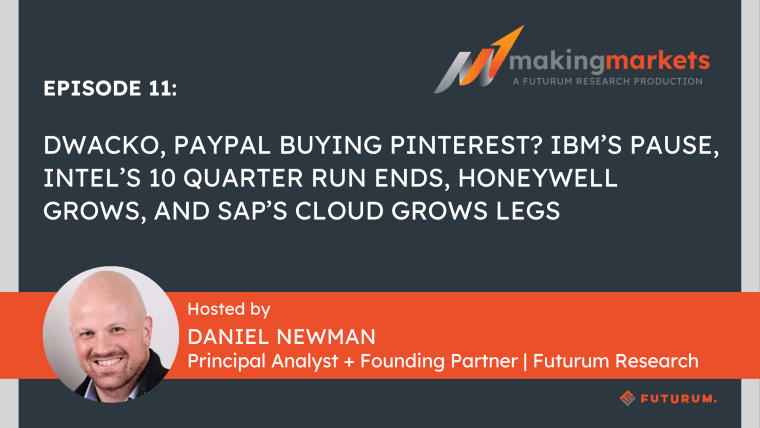 In this week's edition, we dive into the craziness that ensued when former President Donald Trump announced his new Truth Social which would go public via SPAC.
We also look at the PayPal Acquisition of Pinterest and why that may be a clever tie-up.
A quick run down of earnings for Intel, IBM, Honeywell, and SAP.
Upcoming guests on the show include HPE CEO Antonio Neri, Poly CEO Dave Shull, Juniper CEO Rami Rahim, and Luminar CEO Austin Russell.
You can grab the video here (and subscribe to our YouTube channel if you've not yet done so).
You can also listen below or stream the audio on your favorite podcast platform — and if you've not yet subscribed, let's fix that!
Disclaimer: The Making Markets podcast is for information and entertainment purposes only. Over the course of this podcast, we may talk about companies that are publicly traded and we may even reference that fact and their equity share price, but please do not take anything that we say as a recommendation about what you should do with your investment dollars. We are not investment advisors and we do not ask that you treat us as such. 
Transcript:
Daniel Newman: What a DWACKY week it was. Trump's social network? PayPal acquiring Pinterest. A whole bunch of tech earnings, from the likes of IBM, Intel, SAP, and Honeywell. And find out who will be joining the show in the next two weeks. It's going to be good, so strap in. All this and more, coming up on this week's Making Markets.
Announcer: This is the Making Markets Podcast, brought to you by Futurum Research. We bring you top executives from the world's most exciting technology companies, bridging the gap between strategy, markets, innovation, and the companies featured on the show. The Making Markets Podcast is for information and entertainment purposes only. Please do not take anything reflected in this show as investment advice. Now, your host, Principal Analyst and Founding Partner of Futurum Research, Daniel Newman.
Daniel Newman: Hey everybody, welcome back to another episode of Making Markets. I'm your host, Daniel Newman. I'm excited to be back with you, and hoping you will be ready for quite an episode, as we have a lot of ground to cover this week. On Making Markets, we try to find the most interesting stories in tech, and we try to dive in between the lines, get into those whites spaces. "What are we not hearing? What do we need to know? Who are the companies that we should be paying attention to?" And so much more.
So in this week's edition, I'm going to be talking about, starting with this whole DWACK SPAC. And we're going to talk a little bit about this PayPal deal. And of course, I'm going to go around the horn on a few of the big tech earnings that have happened this week. And like I said, I am really excited about a number of guests that we have coming onto the show over the next few weeks, so I want to get everybody fired up for that, so that hopefully you'll be coming back and joining us for those episodes.
I think the headline of this week, though, in tech, is this idea of a new social network being backed by President Donald Trump. Sorry, former President, Donald Trump. I should probably make sure that I get that right. SPACs themselves have been quite a predicament throughout the year. We saw this huge bluster of SPACs de-SPAC, go public, and we've watched the market absolutely obliterate them, by and large. Now, whether this obliteration has to do with the fact that this route to going public is a bit sideways, and it tends to go around traditional market makers; sort and folks that would typically make money don't make money, so they have to find other ways to monetize these SPACs.
But what I do know as a whole, is after the whole boon in SPACs that ran into February, we saw many of these companies get completely sabotaged. Some of them are names that I have holdings in, so I want to be very clear about that, companies like Skillz, companies like Desktop Metal, SoFi, 23andMe; all SPACs. All got crushed for many, many months. And some have finally escaped this back stronghold.
But Trump, and his new Trump Media and Technology Corporation came out earlier in the week, and said he was going to be launching a new social media platform called Truth Social. And this comes after it was de-platformed on both Twitter and Facebook, and he is going to have… Know, it's going to be a lot like Twitter. In fact, those that looked at the open source, it was basically open source Twitter. So this is a company with no product, no service to speak of yet, but an idea. And this idea saw the stock run from $10, I believe it was Wednesday morning; DWAC was the ticker, and it absolutely soared. I think at its highs, over $150, giving this thing a market cap of around $20 billion; meaning Trump is finally a billionaire, if he wasn't before, again. I'm not in the game of trying to determine that. But what is true is, with his, I believe 170 million shares that he was issued as part of this SPAC, that would've put his market value at it… It's a lot.
So the whole DWAC thing, and what's really kind of crazy about this, this has very little to do with Trump Media and Technologies product or service, but it does show that there seems to be a very large interest in an alternative platform. And, this also is just a tremendous example of the market's current exuberance. Right now, the market is absolutely willing to get behind anything where people feel they can make money. So, the fact that you saw like 470 million shares change hands; we saw this thing drive up 800%, I believe it was, at it's very, very highs.
And like I said, no product. So, you saw this thing become worth more than major media companies in a single day; and all because of the idea of having an alternative platform, and the fact that people are chasing this thing up. This is the stonk era. I'm pretty skeptical. I'd like to see code. I'd like to see a product. But I don't rule it past, with all this growth, with all this value. There's all kinds of different things that could be done from using that additional value to raise secondary rounds, to using that additional value to acquiring real technology that could become more valuable in the long run. But this whole thing is crazy. I call it DWACKY. It is DWACKO. This is not normal game stop. And AMC stuff seems normal, compared to what happened here with this SPAC.
All right, moving on. So, another pretty big announcement that came a little bit out of left field, was that PayPal, the mega payments company, and Fintech, and so much more, become sort of the brand for that, announced that it was going to be potentially exploring an acquisition. I'm not sure that it was publicly announced. I think it was more leaked, but then it got out, and now it's running. And long and short, PayPal acquiring Pinterest. To a lot of people, it seems weird. To me, it makes a ton of sense.
So here's my breakdown of it. We hear more and more about this metaverse, these two worlds colliding, or coming together, digital and physical. We know PayPal is one of the trusted sources to use for online payments. How can PayPal grow? Well, Pinterest is the ultimate shopping board, but there's not a whole lot of shopping that's done on Pinterest right now. You create your boards, and you're jacked out to different sites; but what if this became one big shopping mall of people who are shopping for luxury experiences for their homes, for clothing, for ideas, for parties?
Pinterest is the place. I know my wife did a ton of shopping on Pinterest for a house that we are moving into here in Austin. And it was a great way to kind of compare things and find things. But the problem was, that there was no real click through action available. So, if PayPal was to acquire Pinterest, I just see this as a mega shopping mall experience. And then you start layering things like XR in there. You start layering more automation. This could really explode the value of Pinterest.
And right now, with what Facebook's going through, again, same reason with the DWAC and the Trump SPAC, people are looking for alternatives. And people are going to look for other platforms. And when it comes to shopping, I still believe Pinterest and Instagram have left a tremendous amount of untapped potential. And with PayPal, this could really change the landscape. You've got safe purchasing, you've got all in app, you got buying behavior, you got a rundown, you got the ability for people to create these visual shopping carts, where they're looking for all the things that are important to them; and they can make purchases, simple purchases, luxury purchases. But I like the idea; so we'll see if it actually ends up happening, but I could see it as being a big growth opportunity for Pinterest, and something that PayPal and its technology could really gain some additional growth around. So those are two of the big headline stories.
Beyond the headlines, as I said in my show last week, the next couple weeks were going to be mega big weeks for tech earnings. This week was kind of a setup week. And we'll have way more to talk about next week. This week, we can talk about Intel, IBM, Honeywell, and SAP; and I'll get back to those in just a second. Why did I say it was a setup week? Well, if you didn't listen to the last week's episode, essentially, Intel setting up the chip space, and a lot of people wondering what's going on in the chip space. And then of course, IBM being the big tech company that everybody pretty much starts looking at what's going to be ahead for earnings. And IBM had a big story, with it spinning off Kyndryl; also tap into Honeywell and SAP.
In the next week, we're going to have a litany of big earnings. So next week you're going to see Amazon, you're going to see Apple, you're going to see Google. You're going to see Microsoft. You're going to see AMD, right behind it, Qualcomm. So many big earnings; Facebook as well, not to mention. So those are going to be ones to watch. And if you have a chance to tune in, I will be on Bloomberg Technology on Tuesday to talk about Google. I'm going to be on Cheddar on Monday, to set up the week's earnings for all of the big tech companies. And then on a Thursday, I believe it's Thursday, I will be on Yahoo Finance to talk about Amazon. So it's going to be a busy week next week. I will be talking about all of these different earnings.
So back to last week, though. Let's start with IBM. IBM was first, and IBM was an earnings that everybody's kind of been keeping their eye on. Overall, the company did fine. It came up just short on revenue. It beat just slightly on earnings. Its growth halted for a quarter, which was not surprising. But if you excluded the Kyndryl spinoff, which is really what this quarter was all about, the revenue would have been up. So what's really the thing to pay attention to, over the next couple of weeks, Kyndryl will be exiting officially. It'll be jettisoning from the IBM portfolio; it'll become its own company. It will spin off. And then IBM can focus in on its Cloud AI software business, which is where it believes it has the most growth. This is what we've heard for a long time from CEO, Arvind Krishna, that is what it was going to take grow. So, while a lot of Wall Street came down pretty hard on IBM, I tend to actually think it doesn't matter. I know it's hard to say this quarter doesn't matter, but this quarter actually really doesn't matter.
Now, GTS is out, RedHat is in. The focus is going to have to be hybrid Cloud. It's going to have to start to grow more. As I've said, if IBM wants to once again, return to being a growth name, it needs to start growing more than a few percent; it has to at least grow faster than inflation. But nonetheless, I think what's going to have to happen is the growth of Cloud is going to have to be explosive. And then, it's going to have to be backed up by the rest of the business units performing.
The other thing that really kind of hurt IBM this quarter is it's getting into the late cycle with its Z, or Zed-series mainframe, z15; Ross Mauri's team sure are in the precipice of launching the next generation. And the mainframe, why am I talking about this? Well, the bottom line is this. GTS has been a boat anchor, but systems is also one of the numbers that has to be positive for IBM to grow. And when mainframe gets late cycle, the numbers start to fall off, and then systems, the whole business unit can't keep up. So when that next mainframe cycle launches, I also believe that will be a catapult forward. It's more cyclical, but it's important.
So, Kyndryl out, IBM focusing on the hybrid Cloud enterprise. Hybrid cloud business needs to start growing that business faster than Red Hat is today. And it needs to be keeping up with, what I believe, the public IS companies are, in that particular category. And then the rest of the business needs to operate more normally, and therefore putting it all together, and giving it the ability to grow at that single-digit, upper single-digit percent rate.
The next big one that I'm going to spend a little more time on before doing a quick rundown on two other earnings for Honeywell and SAP is going to be Intel. So, the chip shortage, supply chain, everything right now seems to be focused on chips. And Intel has been in spotlight. And this hasn't really just been during the shortage, it's been over the past few years. The company's been facing challenges with market share erosion from improved competition from the likes of Lisa Su and AMD, Jensen Wong and the Invidia team, continuing to really dominate in the discreet GPU category for AI training, and making more and more of a dent in inference and high performance computing.
But Intel's been one of those companies that even when it's doing well, it just faces a higher level of scrutiny. And this quarter is another quarter where the company got hit really hard, even though overall it did pretty well. It beat on earnings. There were some one-time events that made the earnings look a little bit better than they actually were; but it beat by .$60; $1.71 versus $1.11. On the revenue side, the company came up just short, $18.1 versus $18.24. Now, this is still overall growth on the year, but it didn't meet the expectations. And like I said, the company was really hit hard for that.
Why did it miss? Well, first of all, after quarters of being over 30% growth, just the last quarter in its client computing groups, CCG, that came in down. Now, part of why is that down? Well, we've got the supply constraints. Part of why this is down; we're hearing from IDC and Gartner, they think demand might be slowing a little bit. IDC thinks it's growing a little bit, Gartner thinks it's actually contracting. I tend to believe it's still growing. Secular trends are not changing, and people are still going to need PCs. But these shortages… And it's not just about Intel's shortages in its own chips, it's lagging edge technologies and chips that are slowing USB controllers from being able to put into PCs, which are not enabling them to be shipped. And then units fall. Some ASPs might be up somewhat because the demand, but it's just not enough to yield growth right now.
But, now for CCG, what I can tell you is that people are going to be looking very, very closely in saying, "Hey. How does AMD do? How does AMD do next week?" And so, I'm kind of watching that. Because if AMD's growth is less than it's been, then this might make more sense.
Now, the other thing that everybody needs to pay attention to with the client group, is that Apple's rolling off you. We all know Apple went to arm and arm with its M1; and as M1 becomes more popular, and more of the standard Apple for its Mac, iMac, and different PCs. Sorry, not PCs, it's Macs, but it's different computers. What ends up happening is, the Intel number that was in there, rolls off. So had that number not been… So if you compare it, based upon the fact that the loss of the Apple business has long been calculated and figured into the share price, what you would notice is that CCG actually grew.
On a brighter note, DCG is seeing more and more momentum; this is the Data Center Group, after it kind of switched places with client after last quarter, a couple quarters. Data Center struggled, but you also have to remember that the year-over-year for Data Center came off of two of the company's record breaking results.
This quarter, it came back; it had a 10% growth. That's pretty strong. A couple things are happening, here. First of all, the company has seen its Ice Lake shipments usurp; it's 14 nm. So we're seeing it really move into a primarily 10 nm for its Data Center. That's really important, because a lot of people have been strained on the company, thinking it had fallen much further behind AMD and TSM, and a 7 nm. The thing to also remember about Intel's 10 nm, is that it's actually very equivalent to what TSM calls a 7 nm process. So, from a process and a technology standpoint, I think Intel is definitely catching up and competing.
One other thing that I really am pleased to see, is that the adjacencies business with companies like Intel, companies like Qualcomm; a big focus has been diversifying beyond PC and data center servers, right? You've seen them in whether it's been memory, whether it's been Edge and IoT, whether it's been automotive. Well for Intel, a couple of its bets are really starting to bear fruit. The first one being its mobile iBusiness unit; this unit saw back-to-back record quarters, 39% growth on the year-over-year basis. And Intel on the mobile iBusiness itself has recently this year, just over the last past few quarters, announced eight new design wins. They have partnerships with 13 of the top 15 automakers, now. And then, on the IoT side, or IOTG, as Intel likes to refer to it, also had a record-breaking quarter; and it became a billion-dollar-a-quarter business. And so, we're starting to see that diversification; 50% year-over-year growth for IoT.
So, with what Intel's doing, it's breaking ground on two new fabs. It's spending $20 billion at least. It's going to be bringing more and more Foundry services back to the US. It's going to be manufacturing chips for the likes of Amazon. Now it has partnerships with Qualcomm. I expect other leading edge companies here in the US are going to have to use Intel to manufacture their chips. I feel positive that Intel is going to be turning a corner. No doubt challenges are ahead. The chip shortage is going to last for some time, so it's not over. It's going to still be a tough series of events, and Intel's got its work cut out for it, but Pat Gelsinger is, I think he's up for the task. So keep an eye on Intel. Pretty tough street reaction, but I do expect the company to snap back.
A couple other quick earnings, just to wrap up on, is SAP. Very interesting quarter, really starting to track this company more closely; long been scrutinized for not being able to get its customers moving to the Cloud quickly enough. This quarter sort of was a pivot, there. The company launched what was called RISE with SAP. This was all about its partnerships. SAP does not have infrastructure, as a service. So as you're moving your SAP instances to the Cloud, it's all about a series of partners to enable to do this.
And for most companies, that maybe was a little bit of a slowdown; maybe it was that it was too much complexity, too many different vendors to work with. Well, RISE basically took all the different vendors, took all the complexity out of it, and said, "Hey. We're going to allow SAP users to have a single BOM, and be able to move to the Cloud. And this quarter, I think we're starting to see this work. Its Cloud revenue went up 20%, and its Cloud backlog for S/4, which is their big instance, went up 60%, which means that essentially the amount of recurring revenue for the company is going to surge in the Cloud, giving it a really positive indicator.
There's lots of competition for SAP. Oracle's always most notable. Salesforce is definitely going to be a challenger, as well as my Microsoft. And they're also, in some cases partners, and it depends, because Incipia is a very diversified company, just like all the others are. So sometimes they're partnering, sometimes they're competing. But what I do like to see, is SAP needs to grow its Cloud business. It hasn't grown enough; it's starting to grow more. This was a good result for the company. We talk about this more in future episodes.
Then, the last one I want to talk about Friday morning, Honeywell came out with its results. The company came in a little bit under on its revenue, 8.5 versus 8.7, and came a little bit over on its earnings. And overall, it seems like the company's going steady. Some folks were disappointed that its Guidance put it a little bit below what the street was expecting, but it wasn't off by much.
The Honeywell story that I like to focus on, because we don't do a lot of industrials here. So some people are like, "Why are you covering Honeywell?" Well, Honeywell has been really working hard on this pivot tech, especially at the edge, IoT with its Forge platform. You might see its commercials running on CNBC. The company is building technologies that everything from buildings to jet engines are putting off data. And this is what's kind of the hard or the industrial edge. And this is going to be one of the biggest creators of data on the planet.
Well, Honeywell has made major investments with Forge and its edge technologies, to be able to maximize that data, become more of an analytics company partner, more closely with your enterprise software providers, to really maximize the ability for companies to use industrial data. So, I'm watching very closely on growth there, and the company's narrative there. Now it's been a little quiet on that front, and I'm really eager, even hoping to get Darius Adamczyk back on the show. He spoke at our Six Five Summit. I think it'd be great if he'd come back, because I really want to talk about that tech bend.
The other thing has been the company's quantum business, which quietly over the next quarter, is going to merge with CQC, and become a publicly… Well, I speculate, will become a publicly traded company in this new merger, but it will be largely held by Honeywell. So we'll see if that ends up happening, the publicly traded. But at the very least, it is going to be spun off. The quantum bet has been a big bet for Honeywell. We've talked a ton about it; ion-trapping technology, it's continued improvement in the tech.
And quantum, we're just hearing generally speaking more and more from; this didn't really play a big part into the earnings this quarter, but it's going to be something, a story to watch out, because this will be a company that will be held by Honeywell. My overall impressions are, Honeywell is very stable. It's business is growing at about 9% overall revenue growth. But I think it needs to keep pushing that envelope on its tech story if it wants to start to be fully valued for its long-term potential. And I'll be talking more about that over the next several quarters.
All right. So, that's the week. Let's quickly touch on what's coming up. I'm very excited about the shows that I have coming up over the next couple of weeks. Just a handful of names I'll be talking to in the next two weeks, three weeks, I've got the HPE CEO, Antonio Neri joining the show. I've got Poly CEO, Dave Shull coming on. Talk about collaboration. I got Juniper CEO, Rami Rahim, who's going to join the show two weeks out. And then right after that, I'll have Luminar CEO, Austin Russell; what an exciting young man. And I actually ran into him yesterday at the F1 race. Great to see him; hope your travels, Austin, if you happen to be running up, to get to Indianapolis for that autonomous Indi car event. I want to see a picture. So Nicole, you or Austin send that over to me if you happen to be listening to the show.
And that's it for the week. But, "That's it?" That was a lot. So, thanks for tuning in. We'll see you later.
Announcer: Thank you for tuning in to Making Markets. Enjoy what you heard? Please subscribe, to get every episode on your favorite podcast platform. You can also watch us on the web, at futurumresearch.com/makingmarkets. Until next time, this is Making Markets, your essential show for market news, analysis, and commentary on today's most innovative tech companies.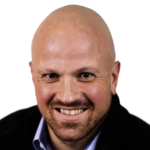 Daniel Newman is the Principal Analyst of Futurum Research and the CEO of Broadsuite Media Group. Living his life at the intersection of people and technology, Daniel works with the world's largest technology brands exploring Digital Transformation and how it is influencing the enterprise. Read Full Bio