Making Markets EP7: Adobe Delivers a Record Breaking Q3, Salesforce Moons, Dell Securities Day, and Chip Supply lags
Making Markets EP7: Adobe Delivers a Record Breaking Q3, Salesforce Moons, Dell Securities Day, and Chip Supply lags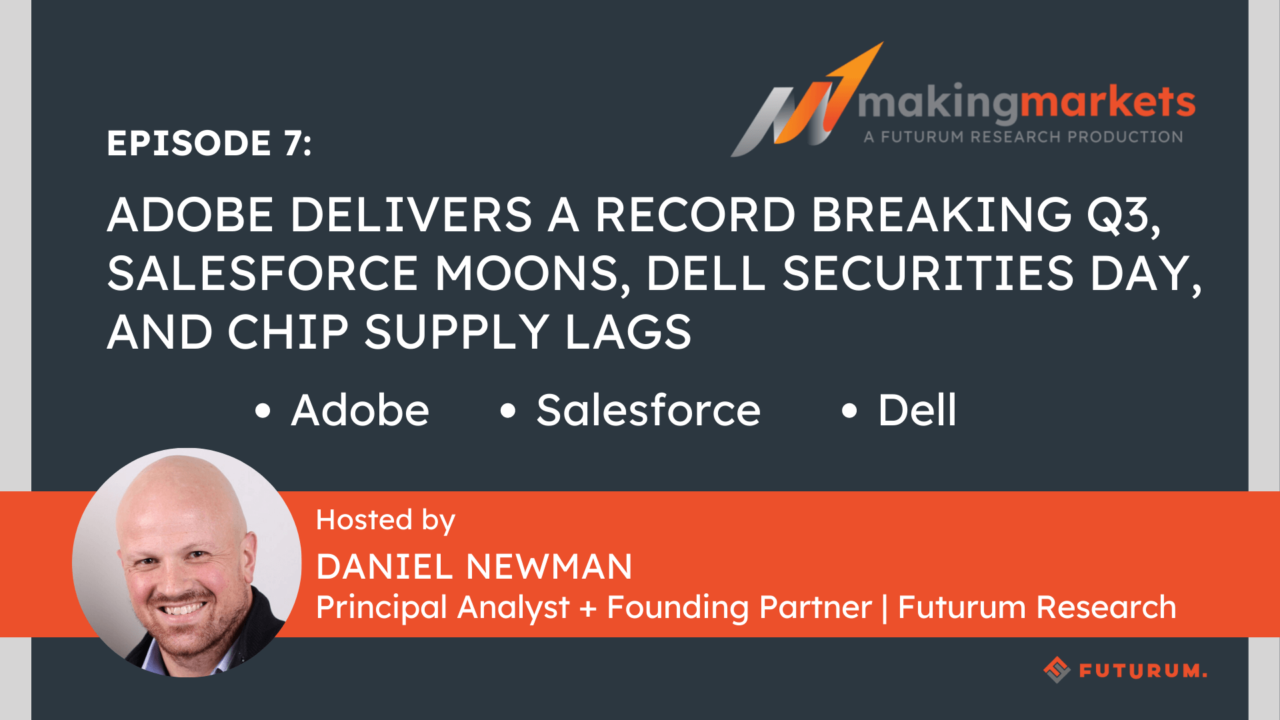 On this episode of the Making Markets Podcast, host Daniel Newman shares his insights on the market's positive reaction to earning, news and investor events for:
Adobe: Delivered record breaking revenue during its fiscal Q3 while continuing to grow recurring revenue. Beyond the performance, why Adobe is well positioned for sustained growth.
Dell: Hosted its annual securities analyst day where Michael Dell, Jeff Clarke, and the ELT provided a glimpse into the future after the VMware spin-off.
Salesforce: Salesforce saw its share price explode on raised guidance as the company's annual Dreamforce event leaned into its recent Slack acquisition.
Chip Shortage: New data suggests more than $210 billion in revenue has been lost for the automotive industry due to the lingering chip shortage. A deeper dive into the shortage and the outlook for automotive, and other industries hard hit by the shortage.
You can grab the video here (and subscribe to our YouTube channel if you've not yet done so).
You can also listen below or stream the audio on your favorite podcast platform — and if you've not yet subscribed, let's fix that!
Disclaimer: The Making Markets podcast is for information and entertainment purposes only. Over the course of this podcast, we may talk about companies that are publicly traded and we may even reference that fact and their equity share price, but please do not take anything that we say as a recommendation about what you should do with your investment dollars. We are not investment advisors and we do not ask that you treat us as such.
Transcript:
Daniel Newman: Record-breaking quarter for Adobe highlights a quiet week of earnings, but a big week in tech and markets. We'll break down Adobe's results, talk about Dell's investor conference, a quick look at Salesforce's Dreamforce 2021, and a revisit to a chippy topic that just won't subside. All this and more on this week's Making Markets.
Announcer: This is the Making Markets Podcast brought to you by Futurum Research. We bring you top executives from the world's most exciting technology companies, bridging the gap between strategy, markets, innovation, and the companies featured on the show.
The Making Markets Podcast is for information and entertainment purposes only. Please do not take anything reflected in this show as investment advice. Now your host, Principal Analyst and founding partner of Futurum Research, Daniel Newman.
Daniel Newman: Hey, everybody. When earnings reports slow down in the tech space, it is usually a calm before the storm. Come mid-October, tech will go from ringing the register to counting the cash in the drawers when many big names like Amazon, Apple, Google, Facebook, and so many more report and the health of the economy will undergo a closer inspection. Stimulus looks to be coming to an end in 2022 and largely this should be seen as a good thing. And the market's reaction this week to the Fed comments shows that to be true.
So we're going to talk about Adobe. We're going to talk about Salesforce. We're going to talk about Dell. We're going to talk about the chip industry and some data that came around and the automotive industry and some shortages, and that's going to make for a week, but there's a lot more coming. I appreciate you all tuning in. So let's start off talking about Adobe. The company that is maybe best known for Photoshop, flash or PDFs is so much more and it's revenue and the business is really showing some strength. Adobe delivered its third quarter results, another outstanding record breaking revenue quarter coming in just under four billion to 3.94. And this was a 22% year-on-year growth.
Now the company, it's an all the right segments. You hear about the experience economy. Well, Adobe is the experience economy. So much of its technology has to do with creating, distributing, and analyzing digital and physical, but a lot of digital events, what we're doing, where we're shopping, what we're looking at. This is what the Adobe experience platform is all about, and frankly, I am pretty overwhelmingly positive about where this company is going, its leadership, its products, services. The market seems to really like it. It's been very strong throughout the pandemic.
You know it's really a robust mix of digital media, creative software, world-class analytics platforms, and the company's growing fast. It's growing fast, growing in the right places, and it's growing in the right way. And this is where it's strength in recurring revenue, which came in right at where it was expected. Well, the company for those less familiar, it really breaks down its business and kind of these three different buckets. It's got its Creative Cloud, its Document Cloud and it's Experience Cloud. I like to kind of call it a full stack for brands that are looking to tell their stories.
And then on top of that, a platform and a stack of analytics softwares that help them understand how that storytelling is going in a meaningful experience data that it's solutions can offer. You know to [inaudible] take that one layer deeper, you want to understand how a consumer is interacting with a website or in a retail environment. This is where Adobe really shines in its experience data and its experienced platform, which is an area I've spent a lot of time on. But across the board, whether it's rendering and creating movies and advertising, whether it's advertising and media management, just so much going on here, and it's just a very interesting company.
And I think the results themselves, the growth of the company, 22%, the guidance looking forward seems to be really strong. Another strong year ahead. I believe the guidance to the next quarter came in at over four billion with another 20% growth in media and 22% in its experience segment along with 26% in recurring revenue growth. Grow in recurring revenue, playing in the analytics, the cloud space, subscription, a lot to like about Adobe, good quarter.
All right, let's keep moving. This week, Dell had its Securities Analyst Summit and it provided a glimpse into the investor community to securities analysts about its life after the VMware. There's a lot here, a lot to impact. The meeting went well into the business and there's no way I'm going to cover all this here, but I wanted to point out a couple of highlights that caught my attention. And also say that I'm really hoping that over the next few weeks I'm able to get one of the top execs from Dell to join the show to talk more about the VMware deal and to talk more about what Dell's outlook is going forward and what investors really should want to know.
From the meeting, one thing that was very clear is this VMware deal is likely to be done in November. And that is going to be the catalyst for a number of different actions that the company's going to take. First of all, the company is going to be pumping some of this cash back into its investor pool, it talked about $5 billion in planned buybacks that will take place. The company will also be looking to initiate a dividend, which it was able to announce here. And as I see it, this initiation of a dividend should be exciting to value investors that are looking at tech companies with strong growth and strong market share.
Speaking of market share, we're talking about the company that generated more than 80 billion in revenue from its two main businesses, its client business and its infrastructure business. It's seen significant market share gains in the past five years in a number of key categories, including PC, server, hyper-converged infrastructure. The company also is known for its strong supply chain, its growing services footprint. You may have heard about Dell APEX. APEX is the subscription-based private cloud or hybrid cloud services that basically allow for consumption-like adoption of different technologies, storage, compute.
You may be familiar with HPE's GreenLake or Lenovo's TruScale. Well, Dell is also now deeply entrenched in this space with APEX and this is going to be an area to watch, very positive overall. Also, the company talked about its ESG and sustainability. It seems to have a strong footprint there. I think that's going to be table stakes going forward. And it's a good thing that Dell is already there because when you make products manufactured at the rate and scale that they do, you have a pretty big impact on the world. And so improving your carbon footprint matters. This is going to matter more and it's something you're going to hear more about me as we look at more about from me as we talk about more of these big tech companies. There's more on this one so stay tuned.
Salesforce had quite a big day, the company actually on the 23rd, which is the day here that I'm recording saw its stock jumped massively, 7%. This came on the back of an improved fiscal guidance for both its 2022 and 2023 years really meeting Marc Benioff, CEO of Salesforce's plans to grow the company at a very, very rapid pace. This will take the company by the end of 2023 and to over 31.65 billion if its able to meet these targets. This comes in ahead of guidance and the market seemed to love this. Optimism was high. Stock rose by like $18 today.
And this also took place right in the middle of the company's Dreamforce at the Dreamforce event. Besides the Foo Fighters and a lot of those that follow Salesforce may be familiar with Ohana. It was also one of the first in person events to take place from a major tech company. Now to be fair, it wasn't fully live only about a thousand live attendees joined the event and that took something like 10,000 PCR tests to make it happen. But CEO Marc Benioff did give a pretty impassioned keynote where he talked about the Health Cloud and how the company's technology and its Q-tips and QR codes were so closely connected and how it was basically enabling them to be there in person. And I like that. I like getting back out there.
So there's a lot to like about using the cloud, using technology to streamline a process and make it safer for people to get where they want to go. The 199,000 or so people that normally would attend Dreamforce and weren't able to this year. Well, there was a positive news there too because over the last month you probably heard or maybe you heard about Salesforce+. This was the new platform that Salesforce was rolling out to distribute more information. Think of it as an Apple+ or a Netflix for business enterprise trailblazer Salesforce-related content. And the company, of course, with so many of its attendees not able to be there for the live event and was able to really utilize the Salesforce+ concept and platform to be able to deliver the Salesforce event content to the people.
Benioff also talked about some really broad and important topics. He talked about politics. He talked about the economy. Talked about trust. This is all stuff that we've come to know Marc Benioff to talk about. I like that he speaks candidly, takes his role and his position and his influence seriously. You know, I think overall some of the more profound things he talked about was his concerns around Facebook. The company recently had more negative press as reports of its knowledge of its impact on young girls and their self-image has come out and Benioff talked about that. He talked about all the fake information or misinformation that gets out on Facebook and how it's really impacting the world.
And I just like the fact that someone's holding Mark Zuckerberg and Facebook's feet to the fire. I understand the value of the platform. I understand people love using Facebook, but come on. The company could do better. It's good to have CEOs, recognized names, leaders that are building very successful businesses out there talking about it. And the only other thing that really came into focus for me at Dreamforce was the Slack acquisition or as I like to call it the Slackisition. Ton of focus both technologically and strategically on how these things are going to come together. Benioff's calling it a digital headquarters.
I've been calling it an operating system for work. And it's basically because I believe deep down that we are going to be working front and center through a collaboration platform both synchronous and asynchronous, we're going to work in and out of it. And it's basically at this point I've written about this on MarketWatch and other places. It's a two-company show when it comes to this true operating system for future of work or hybrid work. And it's coming down to Salesforce with the Slack acquisition and a number of different integrations and connections. And then of course, Microsoft, which is building an almost completely vertically integrated stack that can handle all of this.
And I love watching the innovation. I love watching the competition. This was big time in focus, going to be something to watch. Kind of interested in seeing how productivity and Salesforce not having something to up with Office 365 at scale. It does have Quip, but how that's going to impact the ability to fully deploy and realize the objectives of this digital headquarters or operating system for work. But it seems the company's in a great direction. The market is reacting very positively to the news, to its upward guidance and of course to Dreamforce.
And that takes me to the final topic of the day .I woke up this morning, grabbed a cup of coffee and I saw my friends on Squawk Box talking about the new data that came out that suggested that almost $210 billion in revenue had been lost this year for automakers due to the chip shortage. Now for the last 18 months, we've been talking about the chip shortage on and off, it's gone in of focus. It's gone out of focus. It seems that largely people are getting the phones and the laptops they need, but we've all seen throughout the pandemic there's been moments where you can't get those things. You couldn't get laptops. You couldn't get servers. You couldn't get cars.
Sometimes you're seeing these pictures of parking lots full of F-150 pickup trucks that could not be completed because of maybe a few dollar PCI chip or a network chip that could not be procured because our supply chain is messed up. Another Bloomberg report had that 210 billion bigger, pegged at closer to 110 billion, but also it shown that the delays throughout the pandemic from the last several years have almost doubled in terms of the amount of time it takes to procure these key components.
Essentially, the White House is trying to take action here. It's been trying to take action at the very least notably in the media since Joe Biden took office, he did that 100-day review. It created a new framework for closing and improving on the vulnerabilities. There's been mentions of plans to invest billions. We've heard the likes of Intel, GlobalFoundries and others stepping up their plans to build more fabs here stateside, also TSMC and Samsung are building, but this takes time. The ability to just start making more chips isn't really possible.
And then of course we have some serious concerns and headwinds coming from China and everything that's going on this week, the Evergrande news, which isn't directly tech-related so not talking much about here, but the fact that a major real estate developer, an investment could come crumbling down sent the market in spiral early in the week, and now it's come back based upon some of the new Fed notes. Some of the tapering news has maybe given some encouragement towards the economy's normalization and growth. But coming full circle here, the chip shortage just doesn't seem to be going away anytime soon.
Cars are way behind. I've heard from countless CEOs of large IT OEMs and bars. They cannot get enough chips to meet all the demand that's available. So basically earnings will be better and we're going to see that at the end of October because at the end of the month, we're going to have a lot of reporting. We're going to have the chip makers Intel and AMD, that should give some real insights into chip volumes and demand. But we're also going to hear from those that are directly tied to those companies. We're going to hear from Apple. We're going to hear from Google, Amazon, we'll hear from Qualcomm, which is always a big bellwether when it comes to mobile devices.
And as we hear from more automotive companies, we're going to see how much this chip shortage is really impacting the overall market. But with the Fed talking about normalization with tapering stimulus, earnings are going to have to be strong if we want to see the economy keep plowing ahead and forward. And of course in order for the earnings to be strong, these companies have to be able to meet the demand. And so all goes back to shortages and supply, getting those substrates in order, being able to produce and yield more chips. And we're just not there yet. It's a problem. It's going to take some time to fix. I think we're going to keep hearing about it for months and probably years to come.
And hopefully what we're going to see is some serious investment go into repatriating some of this, to not overly committing to Taiwan, and having the risk of China in play. Basically, being able to make sure that we can make enough chips for what we need and we can scale up as necessary. There's some promising things happening as I mentioned, Intel, and a few others that are planning to build more fabs, but we still have a long way to go. And there you have it this week, Adobe, Dell, Salesforce and the chip shortage all in focus here on Making Markets.
Announcer: Thank you for tuning in to Making Markets. Enjoyed what you heard? Please subscribe to get every episode on your favorite podcast platform. You can also watch us on the web at futurumresearch.com/makingmarkets. Until next time, this is Making Markets, your essential show for market news, analysis and commentary on today's most innovative tech companies.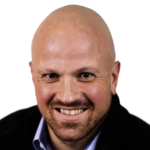 Daniel Newman is the Principal Analyst of Futurum Research and the CEO of Broadsuite Media Group. Living his life at the intersection of people and technology, Daniel works with the world's largest technology brands exploring Digital Transformation and how it is influencing the enterprise. Read Full Bio