How Microsoft's HoloLens is Changing Medicine—and Surgery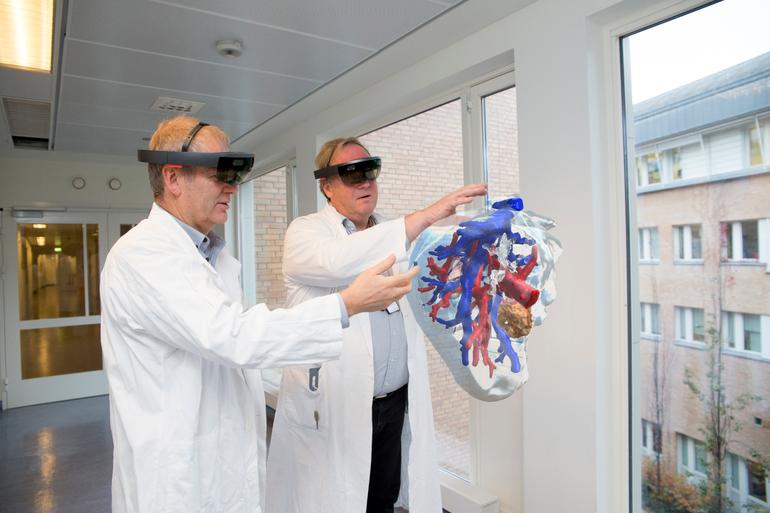 Listen to this article now
The Augmented Reality (AR) market is strong—so strong, in fact, that it's projected to reach a value of $1.3 trillion by 2035. AR has many applications in enterprise, defense, and other industries, but one stands out as having the potential to be revolutionized: I'm talking about medical education and surgery. Recent developments have made it abundantly clear that Microsoft's HoloLens is paving the way for AR's disruption in the field of medicine. Here's what you need to know.
Why HoloLens?
The technology behind HoloLens is a form of augmented reality called mixed reality. Mixed reality is more immersive than assisted reality—a distinction I recently broke down in detail. Read: Why Augmented Reality is Going to Far Outpace Virtual Reality. This essentially means that a person wearing HoloLens can interact with holographic objects—not just look at them in 3D—thanks to depth sensors and tracking devices. When that person is a medical student or surgeon and the holographic object is a three-dimensional AR model of an entire body or even a specific organ, doors begin to open.
The Value of HoloLens in Medical Education
Medical students traditionally get their first "hands-on" experiences with human anatomy in a cadaver lab. Traditional cadaver labs are filled with expensive equipment and harsh chemicals, and they can be crowded when space or the number of available cadavers run short.
Some universities—such as Case Western in Cleveland—are changing the way medical students learn anatomy by bringing AR into the picture. In 2019, Case Western plans to open a health education campus that trades cadavers for the AR capabilities of the HoloLens. Here's how it works: Students will don a headset, and professors will walk them through an interactive anatomy lesson (see image below).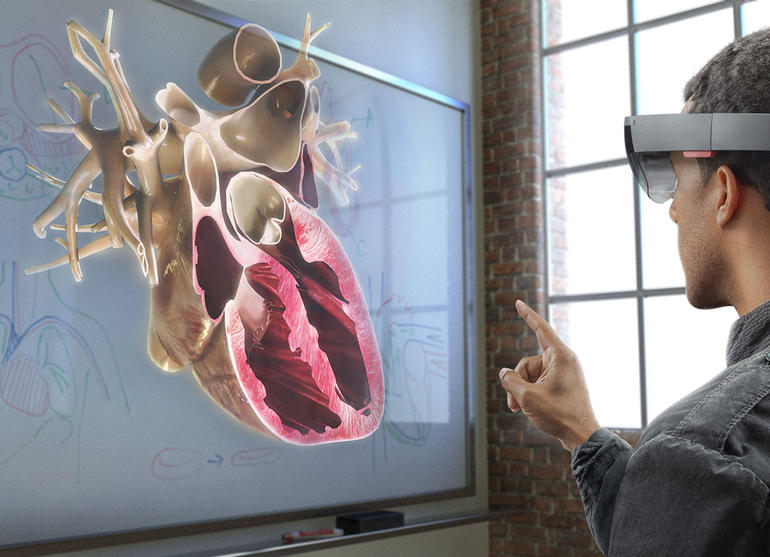 Developers at Case Western began to interface with the HoloLens in 2015 and continue to develop their IT capabilities and virtual education content to support the new technology. A key consideration, according to Mark Griswold, a Case Western professor interviewed by ZDNet, is to make sure students are able to learn about anatomy effectively using this new model. After a recent trial run of the headsets, all the students indicated they'd like to continue using AR—a good sign for the technology and for the university so heavily invested in it.
It's important to draw a distinction here—virtual anatomy classes are not intended to replace actual dissection, at least, not in Case Western's approach. To bridge this gap, students will spend two weeks off-campus in a traditional anatomy lab, allowing them to witness how all aspects of their education come together in an actual human patient.
The Value of HoloLens in Surgery
Microsoft's HoloLens isn't just used in medical classrooms, it's also used in the field. Microsoft recently awarded a Health Innovation Award to researchers at the Intervention Center at Oslo University Hospital for their decade-long work in turning two-dimensional images into augmented reality models of organs to be used before and even during surgery. To make the models using what's called picture segmentation, researchers brought in data from other hospital scanning equipment like MRI machines. Currently, Oslo has tested its technology for working with patients suffering from liver cancer or heart conditions, but more applications are on the horizon.
Here's how it works: Using projections from their HoloLens headsets, surgeons can visualize precisely what they'll encounter when they perform difficult surgeries (see image below). In surgery itself, the glasses give surgeons a roadmap to successfully navigate around organs.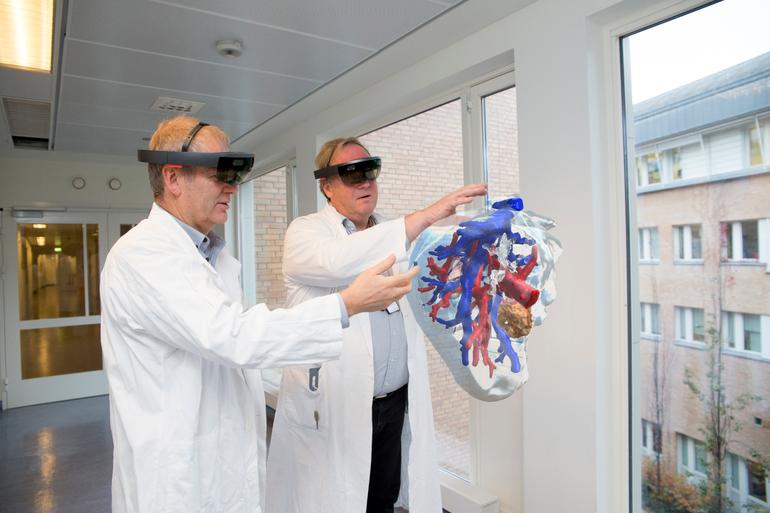 Source: Hanne Kristine Fjellheim/Sopra Steria/ZDNet
What's Next
We've always known technology and medicine go hand-in-hand. AI is emerging as a tool that can take that relationship to a whole different level, and we'll be watching every step of the way.
Additional Resources on This Topic
Augmented Reality: Changing the Practice of Medicine
The Doctor Can See You Now: The Surgeons Using Google Glass in the Operating Theater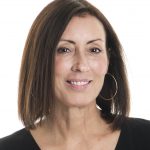 Shelly Kramer is a Principal Analyst and Founding Partner at Futurum Research. A serial entrepreneur with a technology centric focus, she has worked alongside some of the world's largest brands to embrace disruption and spur innovation, understand and address the realities of the connected customer, and help navigate the process of digital transformation. She brings 20 years' experience as a brand strategist to her work at Futurum, and has deep experience helping global companies with marketing challenges, GTM strategies, messaging development, and driving strategy and digital transformation for B2B brands across multiple verticals. Shelly's coverage areas include Collaboration/CX/SaaS, platforms, ESG, and Cybersecurity, as well as topics and trends related to the Future of Work, the transformation of the workplace and how people and technology are driving that transformation. A transplanted New Yorker, she has learned to love life in the Midwest, and has firsthand experience that some of the most innovative minds and most successful companies in the world also happen to live in "flyover country."