Highlights from the Huawei Analyst Summit 2018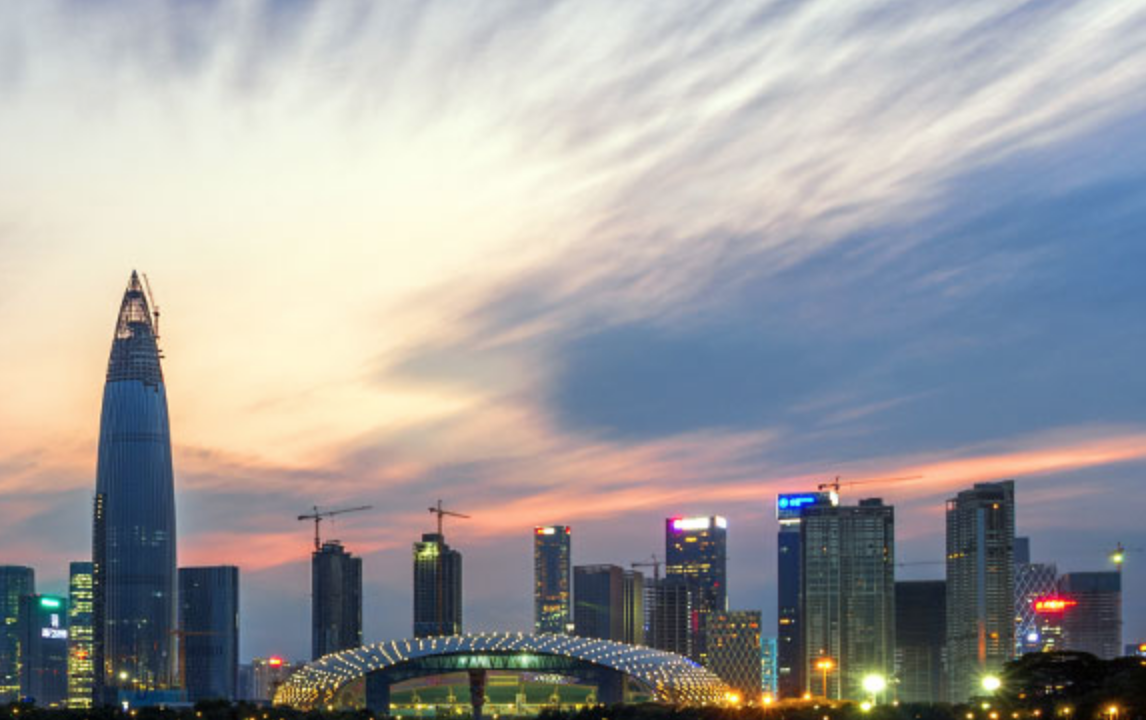 Listen to this article now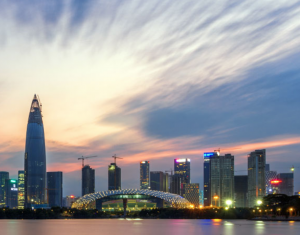 I'm covering the Huawei Global Analyst Summit in Shenzhen, China this week and here are some highlights from the opening keynotes.
Overall, the theme of the Summit and the messaging has been dramatically different this year in one key way—5G did not take center stage. This year's Summit has been largely focused on digital transformation and the value of intelligent networks, powered by Artificial Intelligence. Huawei's value proposition is that these intelligent networks, combined with the core business offerings of the company—cloud, networks, and devices—can aid in the process of more rapid digital transformation for the company's customers.
Eric Xu, Deputy Chairman of the Board and Rotating CEO of Huawei, kicked off the two day event. Mr. Xu began by acknowledging that the world is changing quickly, profoundly impacting every person, every home, and every organization, which of course is not news to anyone in attendance. Innovation, efficiencies, and supreme experiences for every area of life is what people and businesses today seek and that is Huawei's key message at HAS2018—and what the company is focused on delivering.
Mr. Xu looked at the room filled with fully-immersed digital users—many of whom were operating multiple devices simultaneously while sitting in the audience—and reminded the group of one important thing: While all of us here in the room have access to such easy-to-use experiences, this is not true of everyone around the world. Every person, home, or organization doesn't yet have this kind of access, and can't yet have this kind of access. Changing this has been the goal of Huawei for some time now—to change that. It's also been a fundamental part of the company's business strategy, this focus on rural areas, so that's a familiar message.
The key messaging: Huawei is committed to a fully-connected, intelligent world, that spans people, homes, and organizations is the foundation of the company's strategy.
Following are some stats and information shared that might be of interest…
People and Connectivity
As mentioned, around the world there are many people who are not yet able to use the internet or devices the way those of us in developed countries do.
Today there are some 4 billion people not yet connected to the internet, and some 5 billion people without a smartphone. Some 40 percent of mobile users are without access to mobile broadband and mobile traffic per user per day is at about 0.03 GB.
Fast forward to 2025, a short seven years away, and it's predicted that mobile users will be at 6.5 million, with 8 billion smartphones in use, 80 percent of users having access to mobile broadband and mobile traffic per user per day of 1 GB. We'll also see some 40 percent of cars being connected the network and some 440 million VR/AR users. That represents a lot of change in a very short period of time and in order for this to happen, networks must be built and deployed to support this explosion in traffic and usage. While this is a nod to 5G, it was also clear that existing networks can be used to effect some of this change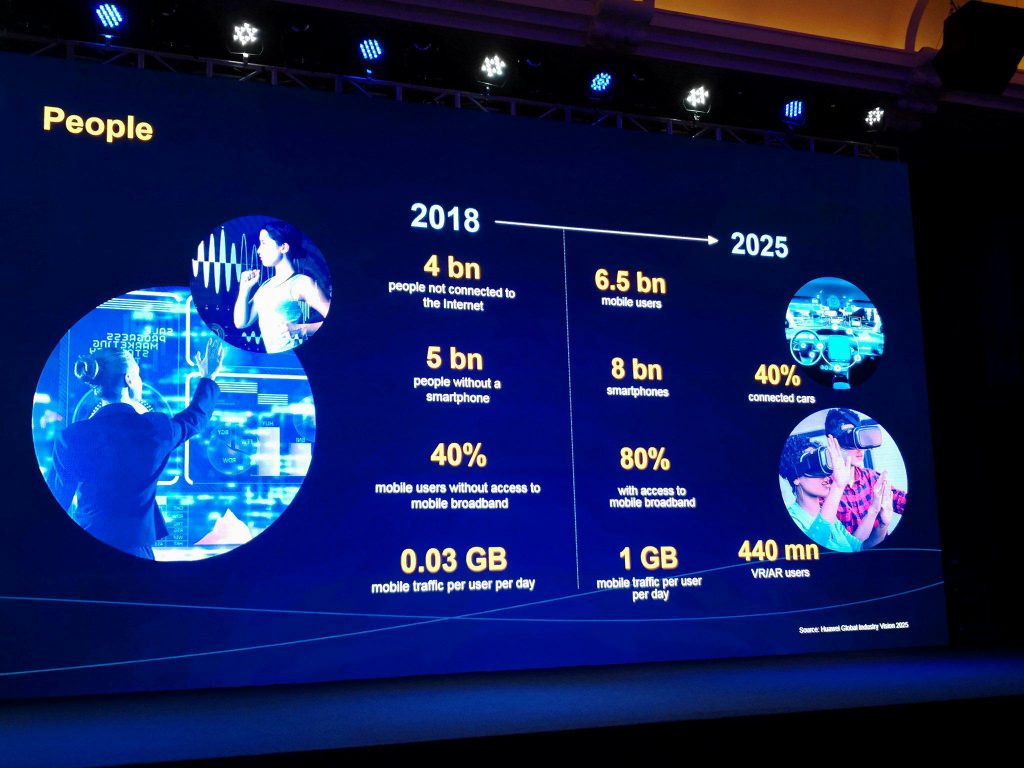 Homes and Connectivity
In 2018, in a world where the democratization of broadband is very low, less than 40 percent of homes have broadband access and less than one percent of homes have Gbit/s broadband service. It's predicted that by 2025, we'll see 1.5 percent to 12 percent of homes equipped with smart robots. We'll likely see 30 percent of homes with Gbit/s broadband and 75 percent of homes with broadband service. Lastly, it's predicted that we'll see some 2.6 billion to 20 billion connected home devices. Think about your own life and your homes as you read this: How many connected devices does your home sport? In my home, we're at about 15 connected devices. Think about how quickly this will multiple in a fairly short period of time—it's a little mind-blowing, isn't it?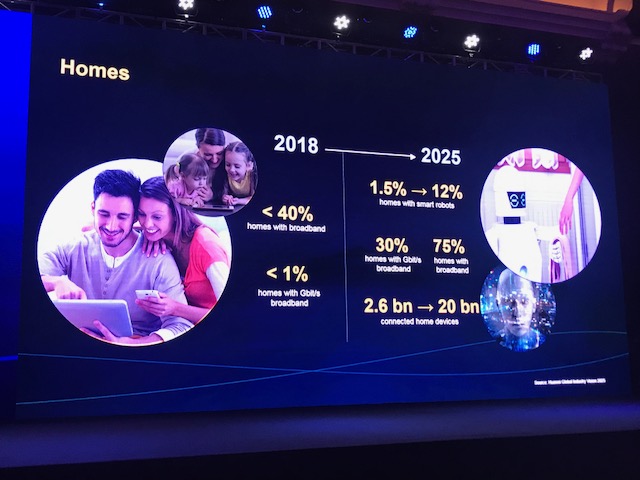 Connectivity of Organizations
In 2018, in spite of "digital transformation" being the buzzword du jour, the reality is that there are few organizations who are truly fully engaged in the digital transformation process. For instance, data presented by Huawei today data suggests that we see less than 13 percent of organizations using data visualization, less than 10 percent of enterprise applications in the cloud, and less than 5 percent of enterprises who have or are experimenting with Artificial Intelligence (AI). Note that in addition to a cloud offering, there is a suite of services related to digital transformation that is a separate business offering of Huawei's that I'll touch on in a later post.
By comparison, in 2025, Huawei predicts that we'll see some 80 percent of organizations using data visualization, 85 percent of all enterprise applications in the cloud, and 86 percent of enterprises who have and are experimenting with and using AI to improve efficiencies and drive innovation.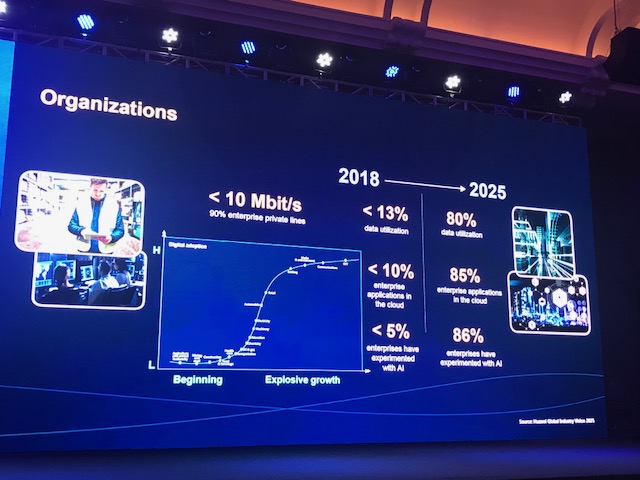 As a side note, it's really difficult to see in the above slide (my apologies, it's always impossible to nab a seat in the middle of the room), but in the box is an overview of digital adoption by industry that tracks adoption and growth. If you look carefully, you'll note that the early entrants to the game are agriculture and animal husbandry.  I've written before about Huawei customers and connected cows and how farmers and ranchers are using IoT-connected cows to track and monitor their herds, keep them safe, and monitor health. If that interests you, read more on that here: Reshaping the World With Mobile MMB 2017.
We're also seeing some adoption in industries like construction, mining and steel, and food and beverage, but the greatest use cases are much more exciting and include smart cities, autonomous driving/connected cars, banking, retail, media and entertainment and communications. So much is on the very near horizon.
Smart Devices and ICT Infrastructure: Powering the Intelligent World
The theme of this year's Summit is focused on Huawei's vision and commitment to executing on a goal of bringing the benefits of technology to every person, every home, and every organization, largely powered by intelligent devices and AI.
This passion is defined by the Huawei team as enabling more empowered people, more fulfilling home lives, and more innovative organizations. The enabling technology here is AI, which Huawei believes can be used in all areas, and to elevate products and solutions to new levels.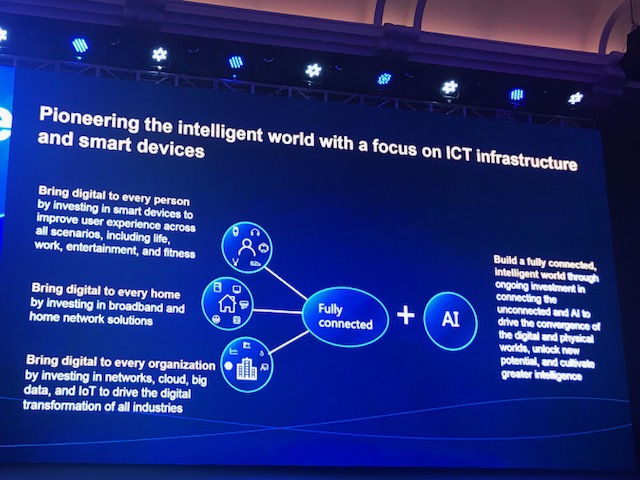 As mentioned earlier, during the course of the last year the company's focus has been on how to integrate AI with both devices and cloud networks and developing ways to use AI more effectively, and to create intelligent networks that deliver better solutions.
The goal of bringing digital to every person by investing in smart devices to improve user experience across all scenarios including life, work, entertainment, and fitness (a nod here to the consumer division focused on hardware—mobile devices, tablets, laptops, smart watches, etc.). For homes, naturally this means investing in broadband and home network solutions, and for organizations, this means investing in networks, cloud, big data, and IoT to help drive the digital transformation of all industries.
The objective as a whole is to bring AI into cloud, networks, and devices to provide more competitive devices and better solutions, as well as pioneering the intelligent world with a focus in ICT infrastructure and smart devices.
Specific to business applications, this includes delivering solutions like the ones articulated on the slide below: ecommerce, manufacturing, retail, gaming, finance, various cloud solutions, IoT, video, and then network solutions like computing, storage, networks, and security.
Specific to the carrier networks, the combination of cloud technology (networks) and intelligence—what Huawei calls "SoftCOM AI" and a new architecture. This will result in a carrier network that will be data centric. With the integration of AI into the equation, the result will be a self-healing, autonomous network that can serve to increase efficiencies and reduce operating costs. Bottom line: A healthier telecom industry means better value for end users, better use of resources and efficiencies for carriers, and much better value for vendors. This evolution is personified by Huawei's focus on Intelligence, now and in the future.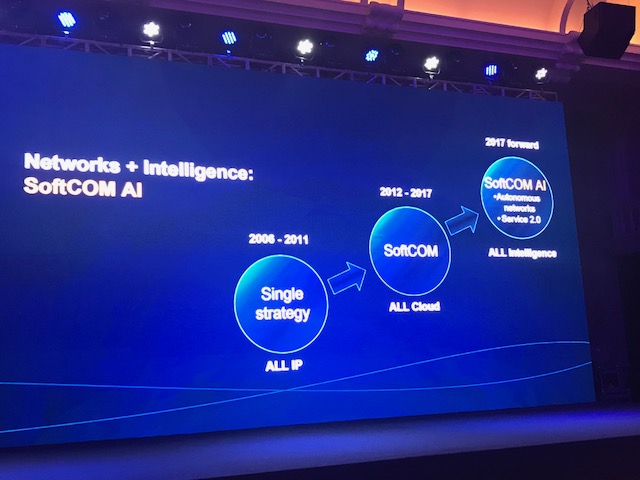 A Heathier Telecom Industry?
Obviously, a key part of Huawei's customer base is the telecom industry, and finding a way to promote a healthier telecom industry is good business. The benefits are many and include:
Value for end users
Better experience
Better connection
Network always available.
For Carriers
Leap & O&M efficiency
Leap in resource utilization
Leap in energy efficiency
Value for Vendors
New intelligent product features
Leap in service efficiency
Tap into the installed base throughout the network lifecycle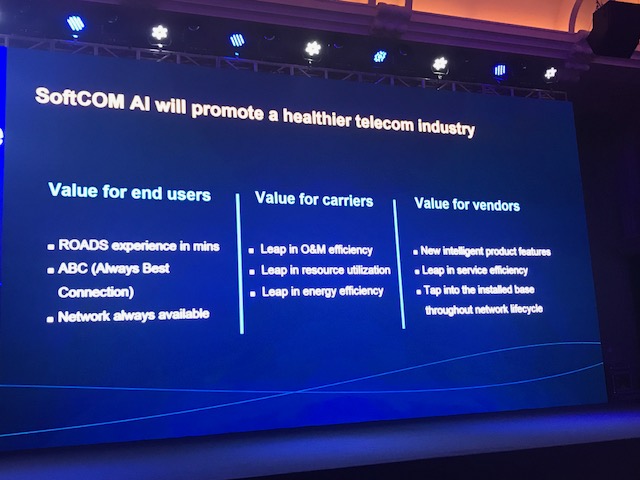 Huawei's Cloud Strategy
This opening presentation touched on the company's cloud strategy, something Huawei has clearly set its sights on. Cloud is viewed as "fertile soil to nurture new digital and intelligent services for all organizations," and entering into this market with a cloud offering that competes against the likes of Azure and AWS is part of Huawei's bold move to provide a wide array of services to its customers. This will definitely be something to watch.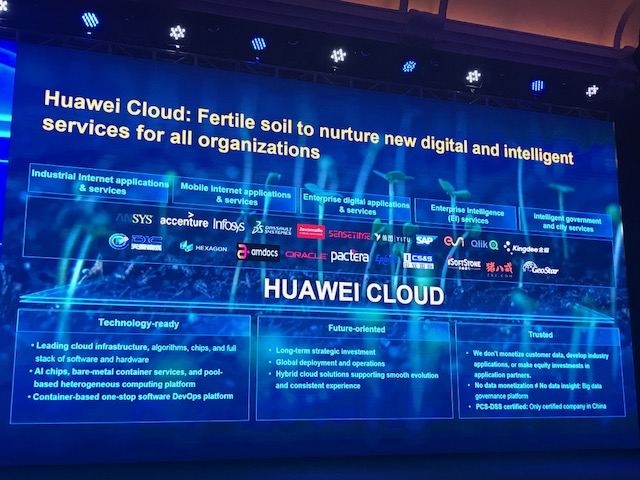 Huawei and Enterprise Intelligence
As part of its cloud strategy, Huawei is combining cloud and intelligence, and building an Enterprise Intelligence (EI) platform that is intended to allow all business and government organizations to use AI more easily across all functions and all solutions.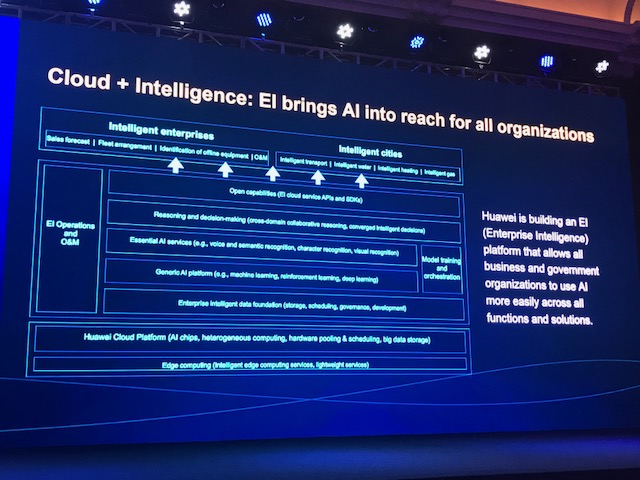 Across the board there's one key message here: Huawei is full stack. Across all scenarios.
Conclusion
As a final takeaway, it's impossible to walk away from a Huawei event without being impressed by the company's commitment to R&D, which they call an "intense R&D investment." This is a company that knows what it wants, and is committed to getting there. In order to ensure that happens, the company has committed to a 15 percent investment of annual revenues in R&D over the next ten years. What does that equate to in dollars for the rapidly growing company? For 2017, that meant an investment of $89.7B CNY or some $14.2B US and for the period from 2008 to 2017, that has amounted to a whopping $394B CNY or $62B US.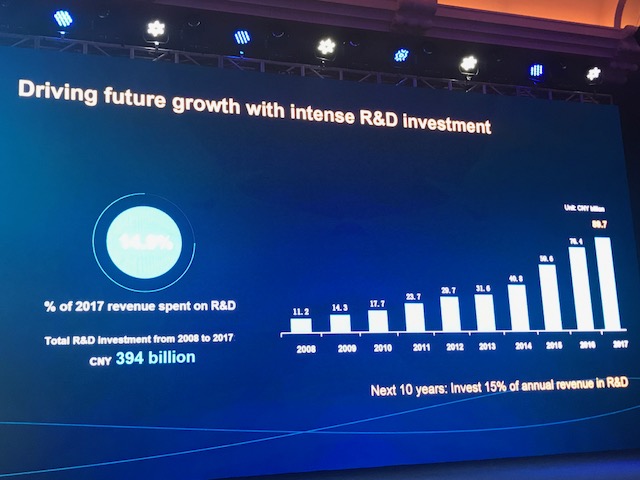 I was invited to the Huawei Global Analyst Summit 2018 as a guest of Huawei, who has covered my airfare and lodging. Please note the thoughts shared here are my own and are not influenced by Huawei in any way.
Why the interest in a Chinese technology company? That's an easy one. In many ways, China, and companies like Huawei are leading the way when it comes to research and development, Artificial Intelligence, the IoT and applications and use cases throughout enterprise, industries, governments, utilities, as well as working to drive and enable the process of digital transformation for businesses across a myriad of verticals. At a time when some countries are shunning a global outlook and looking inward, Huawei is partnering with some of the world's biggest companies and working in virtually every corner of the world.
I believe that the future is one fueled by smart adoption of technology, collaboration, strong partnerships, vision that includes bringing services, connectivity, data security, commerce, agility, and fostering innovation. That is much of what I see personified in Huawei as a brand and personified in the many people I've been fortunate to meet and interview who are working in all corners of the world to help bring the company's vision to reality and to serve its customers better. This commitment is one of the reasons for the rapid growth the company has experienced, and this determination and commitment to reaching some pretty lofty goals are in many ways the personification of the culture and work ethic that's so much a part of this company.
The future is in our hands, but it's the rare instance where any one company can do it alone. Huawei seems to understand that, and to my way of thinking, they are one to watch.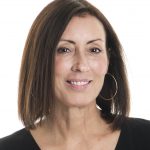 Shelly Kramer is a Principal Analyst and Founding Partner at Futurum Research. A serial entrepreneur with a technology centric focus, she has worked alongside some of the world's largest brands to embrace disruption and spur innovation, understand and address the realities of the connected customer, and help navigate the process of digital transformation. She brings 20 years' experience as a brand strategist to her work at Futurum, and has deep experience helping global companies with marketing challenges, GTM strategies, messaging development, and driving strategy and digital transformation for B2B brands across multiple verticals. Shelly's coverage areas include Collaboration/CX/SaaS, platforms, ESG, and Cybersecurity, as well as topics and trends related to the Future of Work, the transformation of the workplace and how people and technology are driving that transformation. A transplanted New Yorker, she has learned to love life in the Midwest, and has firsthand experience that some of the most innovative minds and most successful companies in the world also happen to live in "flyover country."